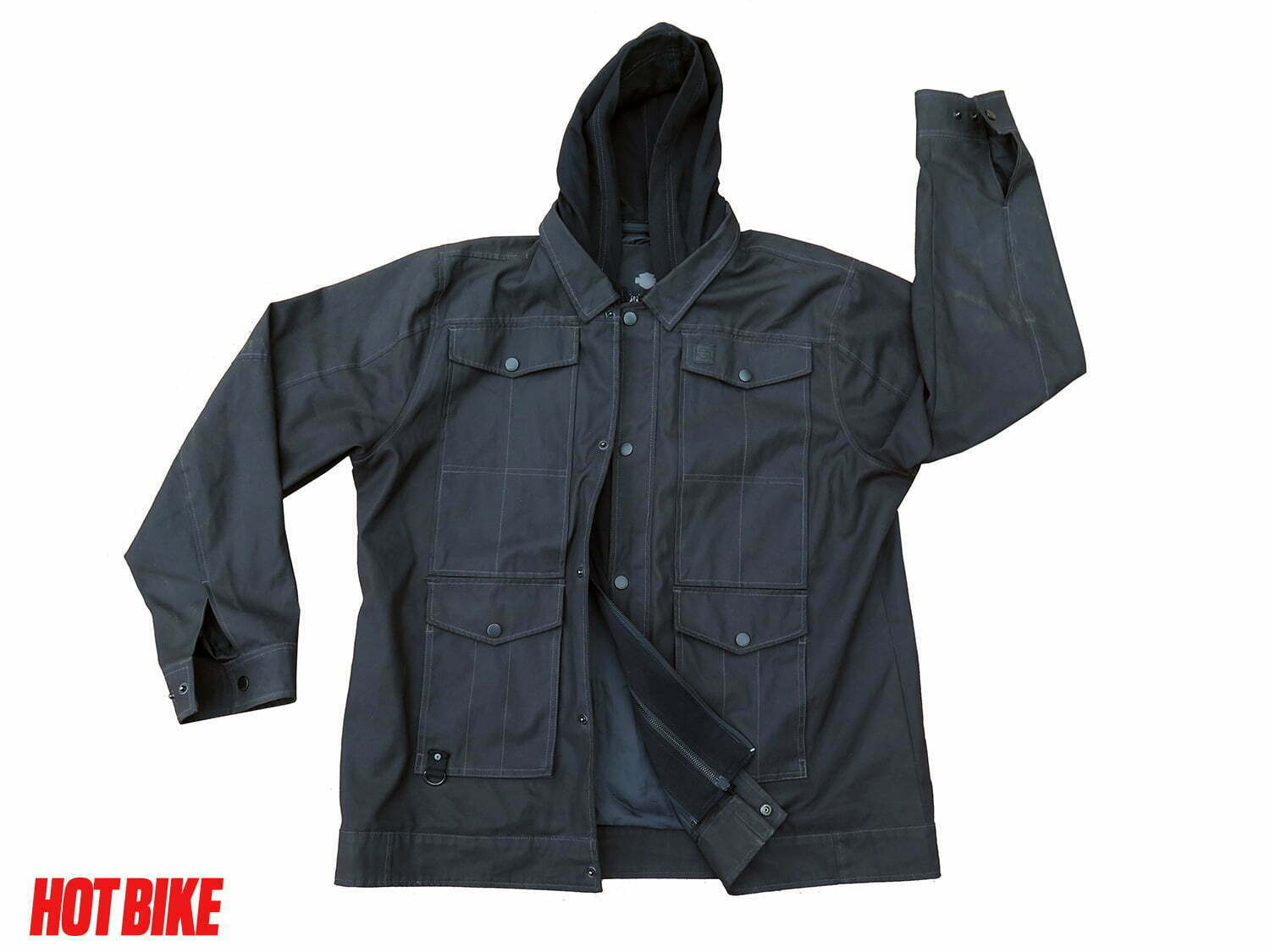 The Crawford Cargo Jacket is part of Harley-Davidson's Black Label collection. The Black Label collection is the MoCo's more contemporary, street style apparel line with subliminal branding.
I have been wearing the Crawford for a few months now on a daily basis. While this jacket is not intended for long hauls and extreme conditions, I have found it great for commuting to the office and day rides in fair weather. This 100% cotton canvas wax coated jacket is full of features such as : Zip-off cotton polyester fleece hood and inner placket, snap front and cuffs, snap-down collar and snap flap front cargo pockets, horizontal interior pocket. I like to carry a lot of stuff in my jacket while I ride so the cargo pockets were right up my alley. Reading glasses, compact digital camera, cell phone and an energy bar all found a comfy home in those pockets with room to spare with the snap flaps providing nearly instantaneous access.
The wax coating works great at repelling light rain and keeps you from getting soaked should the weather take a quick turn.
I wore the Crawford in varying temperatures ranging from the 50° range to well over 100°. The Crawford performed well in these conditions with just a change of a base layer. It's multitude of buttons and zippers allow you to fine tune it's ventilation according to your liking or weather needs.
The Crawford doesn't have any type of padding or provisions for adding any. It is not intended for heavy duty riding. There are other jackets in Harley's apparel line for that.
If you are in the market for a classic, stylish casual jacket that can pull double duty on the bike as well as out on the town, then this is for you. I have found myself wearing it off the bike a ton due to it's great looks and quality construction and function.
The Stark Mesh and Leather Glove are constructed from leather and 100% polyester mesh featuring an ergonomic thumb, pre-curved fingers, power stretch knuckles, padded palm , neoprene cuff, adjustable closure and touchscreen compatible index finger and thumb. I can vouch for the functionality of the touchscreen finger and thumb.It took me a few gas stops to get used to it but once I did it was a very welcomed feature when checking the map app on my phone for directions to a good lunch spot.
I'm not a big fan of a lot of palm padding on gloves so these were just my style. I find that a lot of padding bunches up when I'm riding and cramps my hands. The cowhide leather provided great traction on the grips and form fitted to my hands after one nice long ride. Comfortable sums up the Stark gloves really well.
The polyester mesh provided some nice airflow on warmer days and weren't overly cool when the temps dipped down the scale.
The construction and durability of the Stark gloves is great. I have been wearing them daily for a few months now ( commuting and long weekend rides) with zero signs of wear.I'm pretty hard on gloves and usually after a few weeks gloves start to show some signs of wear. Big thumbs up for these.
If there is one thing I have to nitpick about, it's the inside tags, they are numerous and huge. Luckily this can be remedied quick and easy with a pair of scissors or pocket knife.
If you're in the need for some comfortable and durable daily riding gloves, the Stark gloves are a great choice.
For more info on both, go to: H-D.com