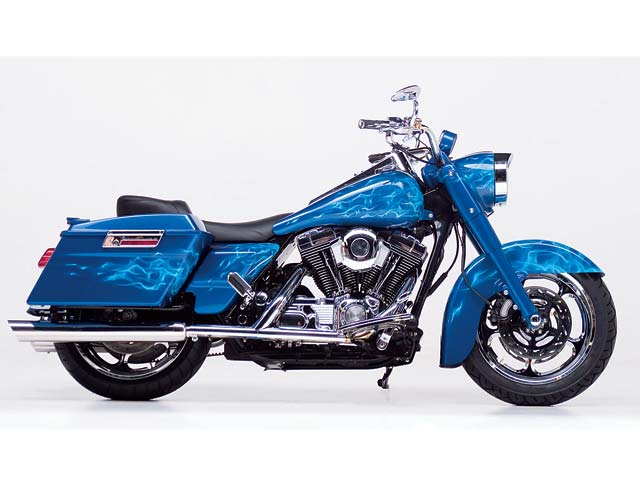 ** Rucker Performance and Bruce Rossmeyer Create New Alliance**Rucker Performance announced a new collaboration with Bruce Rossmeyer's Harley-Davidson and Daytona Boss to customize 120 pre-owned police, fire, and rescue Road Kings for its "Enforcer" line within the next year.
Pre-owned '05 and '06 Road King police, fire, and rescue motorcycles will undergo complete facelifts that include upgrades such as a 200mm wide-tire conversion kit, a Screamin' Eagle 96ci motor, chrome handlebar package, chrome 18-inch wheels, customized fuel tanks, fenders and saddle bags, a custom-fitted seat, painted frontend, and a headlight molding and graphics package with Toxic Paint upgrades.
"I am excited about our collaboration with Daytona Boss, my internal customizing department, and Bill Rucker of Rucker Performance to provide the world's first wide-tire production customized Harley-Davidson touring motorcycle," said Bruce Rossmeyer, CEO of 13 separate Harley-Davidson locations. "We will be offering our full bike-care warranty, which is similar to the Harley-Davidson fender-to-fender warranty, with the purchase of this Enforcer."
The pre-owned customized Enforcer motorcycles will be available for sale at all of Bruce Rossmeyer's locations. For more information, please call (954) 724-2800, or visit www.BruceRossmeyer.com and www.ruckerperformance.com.