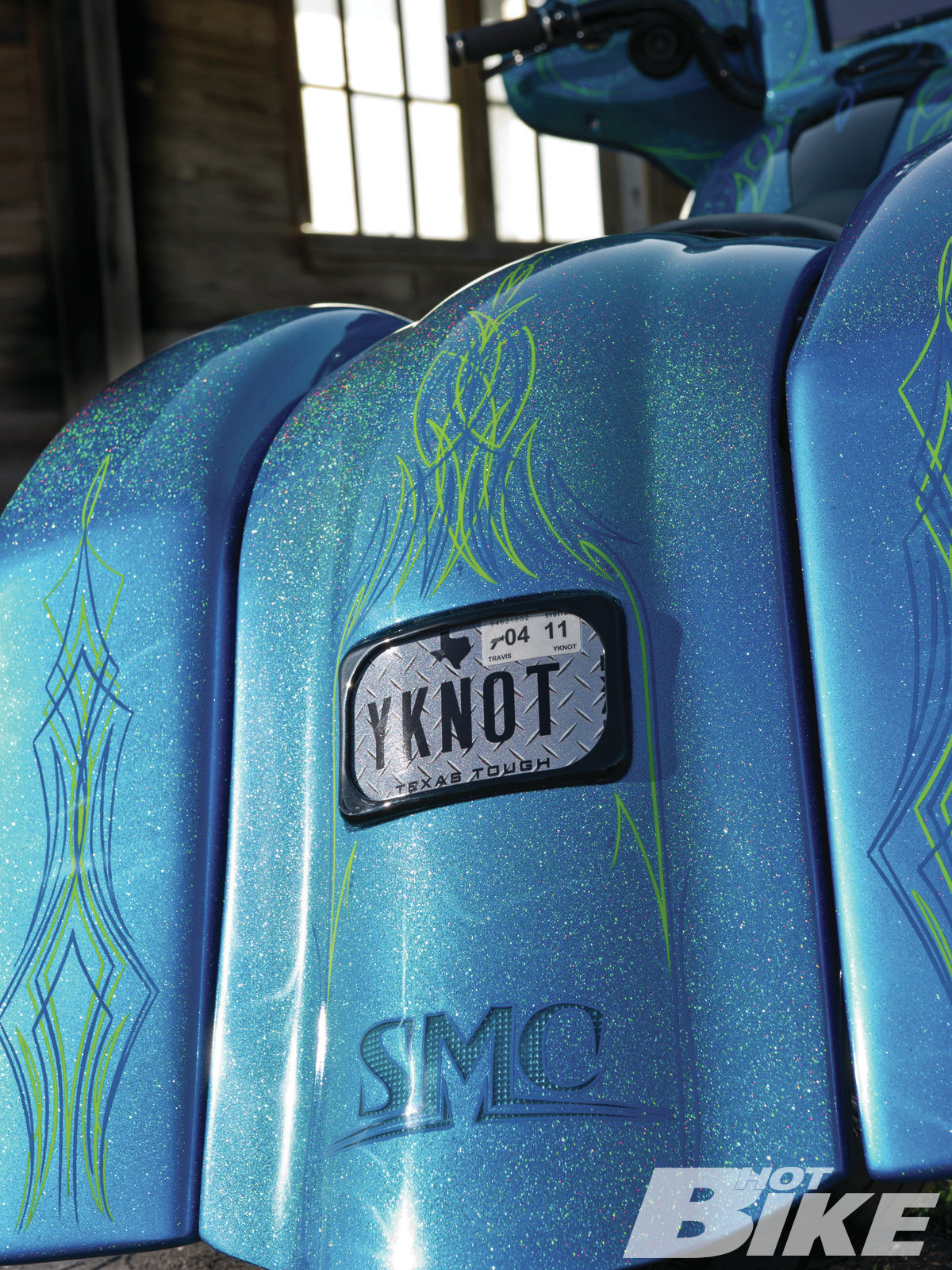 If you recall a few years ago, the proliferation of custom bike builders popping up all over the country and everyone cashing in on their overpriced houses had people dumping their used Harleys for next to nothing to get a leg over the custom bike of their dreams. It wasn't too long ago a guy could cruise the Cycle Trader, Craigslist, or eBay and find dozens of smoking deals on used Harleys. While the busted economy also helped dump a ton of used Harleys onto the market, it seems more and more people have caught onto this trend, making those smoking deals a little bit harder to find.
Sure the used market is still often the first place many people look for their "new" ride or project, but another market where people are scoring great deals on bikes is gaining momentum: the used and abused market. Now we're not talking about excessively high-mileage bikes, or bikes with a few dings and bruises. We're talking about bikes that were crashed and written off as totaled by insurance agencies and have to be registered as a salvaged title in order to get back on the road. Michael Wishon is one those aforementioned people.
Hailing from Austin, Texas, it was on a warm, muggy Austin evening hanging at a bike night event that Michael saw a done-up Street Glide roll by and he turned to his buddy, Bronson of Southern Metal Choppers and said ,"That's it, that's what I want to do. I want to take that bike and make it my own, stretch it, drop it, and build the sickest Street Glide in Austin." Being a man of few, but direct words, Bronson's reply to that proclamation was "I have a few ideas for you." And with that the plan to build this incredible bagger began.
---
"After some major reconstructive surgery, a makeover, and rehab, Michael got exactly what he wanted, a hot, fresh-looking girl to ride around on that turns heads everywhere they go."
---
Michael got a line on an '05 FLHTCU that was deemed totaled, but with a price tag of $7,500 and a wad of cash from recently selling his house and with the help of Bronson and the rest of the SMC team, the bike could be resurrected and saved from being melted and recycled into someone's new patio furniture. "When he unloaded the bike off the trailer, it was in pretty bad shape," Bronson tells us. "The fairing was busted up, the crash bar was folded back against the cylinder head, cylinder fins were broken off, the trans case was cracked, it was missing the left-side cover and saddlebag, and all the sheetmetal was dented. Like I said, bad shape." However before SMC blew the thing apart, Bronson asked Michael if he wanted to take it on one last ride. Always down for an adventure, Michael obliged and putted down the block and pulled back into the shop and shut the battered ol' girl down. It seems that short last ride was all she could muster because as her heart came to a quiet stop, the floorboard dropped to the pavement. Needless to say it was going to take a lot more than just a nip and tuck to get this girl to be the center of attention.
The bike was torn down to the frame where the neck was then stretched 2 inches and raked out to 48 degrees. Next, a Mean Street frontend was modified to accept an internal air ride system that would allow the front to drop 2 inches with the push of a button. To get the full stop-and-drop effect, an Arnott Air Ride system was mounted in the rear. For that "look at me" wow factor, a massive 26-inch black powdercoated Renegade wheel was secured between the fork legs and a 360 Brake setup was utilized so everyone could get a great view of the massive hoop. Out back a matching 18-inch wheel with a Renegade rotor and H-D caliper were used.
When it came to rejuvenating the skin, a simple Botox procedure wasn't going to suffice, so a few transplants and some heavy reconstructive surgery was in order. Up front she got a major facelift with the headlight section completely cut out then remolded to house two small staggered (cross-eyed girls can be sexy too) HID headlights. On the backside the inner fairing was completely reshaped with the convexed ears cut out then reshaped into slight concaves. To dress up the ears and let the little lady sing like a songbird a pair of Polk tweeters and mids were punched through. The center of the inner fairing was crafted to accept a double-din Clarion touch screen head unit. And while most women wax their uni-brow, the molded edge running over the top of the inner fairing really adds to the beauty and uniqueness of this gal. Over the backbone, a Russ Wernimont stretched tank and dash were secured, while at the rear a custom SMC rear fender provides a nice shapely ass. Accentuating her backside would be the smooth rolling hips of the fully custom saddlebags. We all know women love exotic bags and these bags built by SMC's painter/fiberglass man, Curt, a.k.a. Dirty, take the cake. With hours spent under the knife in fiberglass surgery, Dirty created these incredible bags that provide the long sleek look with a unique hidden hinge/latch and pneumatic side-opening system that opens with the push of the button.
Once all the major slicing, dicing, and stitching was done the once beat and battered girl was taking shape into a fresh young beauty, all she needed was a little heart surgery and a nice glittery glow on her skin. So once again she was stripped down to the bare frame where all the unsightly tabs and bumps were nicked off and she was given a nice smooth, molded finish. Bronson then gave the orders for Curt to shower her in a custom mix blue with lots of extra flake; like 1 1/2 pounds worth of metallic flake. To add some extra highlights to the girl's fresh skin and frame, Dirty artistically applied some light brushwork. While the frame and bodywork were being showered in blue and flake, some bypass surgery was underway on the heart. The meek and haggard pumper was beefed up to 96ci with some fresh cylinders and new pistons. To help expel all those nasty fumes, SMC crafted a set of short but sweet pipes that slip down between the front of a new H-D five-speed trans and cam cover. Once the heart was back in order, the rocker boxes, cam cover, and trans side cover were sent to the tanning bed over at Sport Chrome for a deep black chrome finish.
With everything was back in the SMC shop, reassembly began with some major surgery to the wiring harness, resulting in about a 2/3 reduction in the amount wires being used. Some custom 1-1/4-inch handlebars were made, with internal throttle and a clutch perch welded to the front left side for a really clean and smooth look. The switches for the bags and air ride were hidden under either side of the side panels. To help give her a more slimmed appearance and accentuate the long stretched look, a set of Accutronix forward controls with Avon pegs were added instead of the more traditional fat and bulky floorboards.
After some major reconstructive surgery, a makeover, and rehab, Michael got exactly what he wanted, a hot, fresh-looking girl to ride around on that turns heads everywhere they go. And according to Bronson, even with the massive wheel up front, with the additional rake and stretch, she rides and handles like a dream.
This ol' girl just proves that not only can you salvage an ugly duckling and turn her into a beautiful swan, but she can make a great cover model too. HB
Specifications
| | |
| --- | --- |
| Bike Owner | Michael Wishon |
| Shop Name | Southern Metal Choppers (SMC) |
| Shop Phone | (512) 833-5044 |
| Shop Website | southernmetalchoppers.com |
| Year/Make/Model | '05/H-D/FLHTCU |
| Fabrication | SMC |
| Assembly | SMC |
| Build Time | Three months |
| | |
| --- | --- |
| Engine | |
| Year/Manufacturer | '05/H-D |
| Type/Size | Twin Cam/96ci |
| Builder | H-D/ SMC |
| Cases | H-D |
| Cylinders | H-D |
| Heads | H-D |
| Rocker Boxes | H-D |
| EFI | H-D/SMC |
| Air Cleaner | RSD |
| Exhaust | SMC |
| | |
| --- | --- |
| Transmission | |
| Year/Manufacturer/Type | H-D |
| Case | H-D |
| Clutch | BDL |
| Primary Drive | BDL |
| | |
| --- | --- |
| Frame | |
| Year/Manufacturer | '05/H-D/SMC |
| Rake | 48 degrees |
| Stretch | 2 inches in the neck |
| | |
| --- | --- |
| Suspension | |
| Manufacturer Front | Mean Street/SMC |
| Length | Stock |
| Triple Trees | HHI |
| Manufacturer Rear | Arnott |
| Swingarm | SMC |
| | |
| --- | --- |
| Wheels, Tires, And Brakes | |
| Manufacturer Front/Type | Renegade Wheels/Spearfish |
| Size-Height/Width | 26x 3.75 |
| Tire/Size | Vee Rubber/120/50-26 |
| Caliper | 360 Brake |
| Rotor | 360 Brake |
| Manufacturer Rear/Type | Renegade Wheels/Spearfish |
| Size-Height/Width | 18x 5.5 |
| Tire/Size | Metzeler200/50-18 |
| Caliper | H-D |
| Rotor | Renegade |
| | |
| --- | --- |
| Finish/Paint | |
| Color | Custom mix blue with flake |
| Painter | SMC |
| Graphics | SMC |
| | |
| --- | --- |
| Accessories | |
| Front Fender | B'Cool/SMC |
| Rear Fender | SMC |
| Fender Struts | SMC |
| Gas Tank & Cap | RWD |
| Oil Tank | H-D |
| Handlebars | SMC |
| Hand Controls | SMC |
| Foot Controls | Accutronix |
| Footpegs | Avon |
| Headlight | HID/SMC |
| Taillight | SMC |
| License Mount | SMC |
| Seat | Fat Lucky's |
| Saddlebags | SMC |
| Saddlebag Latches | SMC |
| Audio | Clarion/Polk Audio |