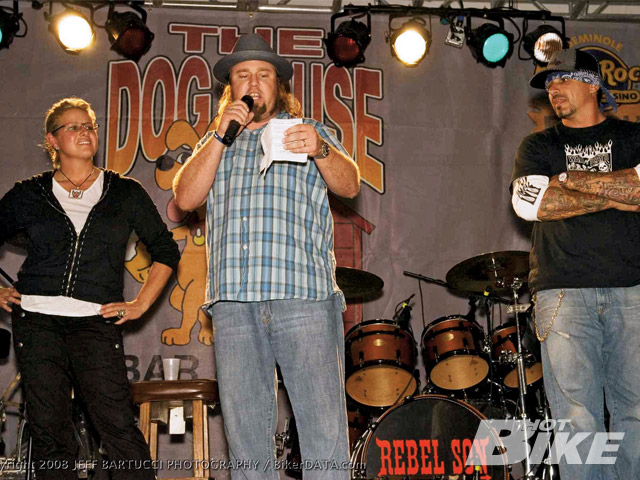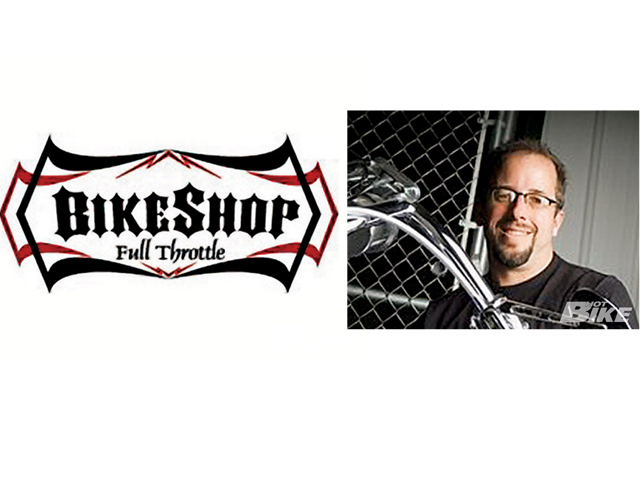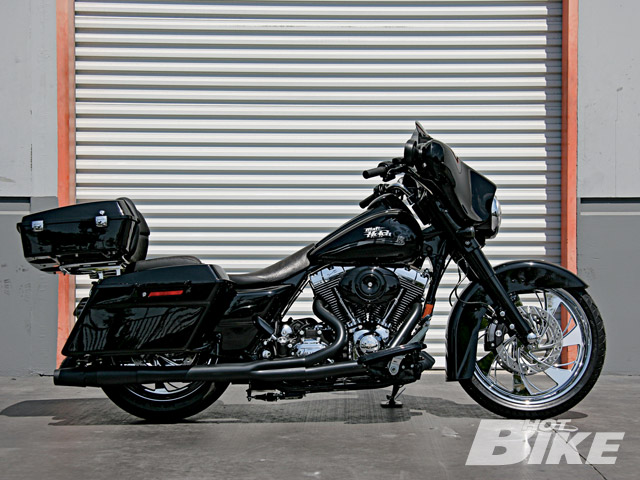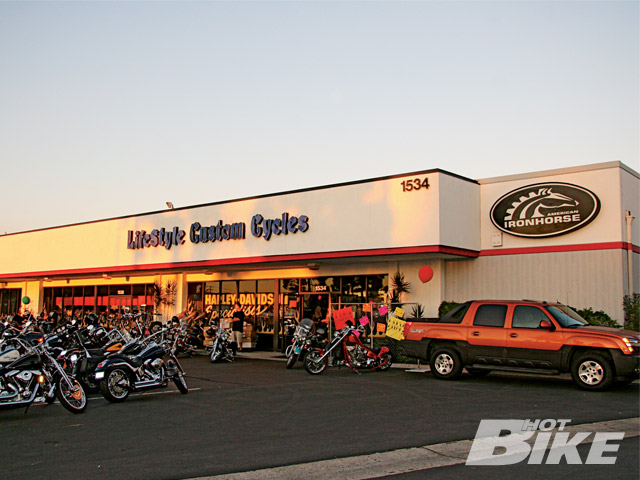 Dog House Rock And Roll
In case you missed it, the Seminole Hard Rock Roadhouse stopped by the Dog House Bar and Grille on Main Street in Daytona during Biketoberfest. It was a multi-day/night party with rockin' music, hot women, amazing bikes, and a great vibe. Thursday night was the Biker Fusion event hosted by Billy Lane, Christian Clayton, and Shelly Rossmeyer. The event gave the public the opportunity to mingle with the industry's A-list while raising money for Soldier's Angels, an organization committed to increasing the morale of deployed troops, helping veterans return home healthy, and bringing comfort to wounded soldiers. The Biker Fusion event raised more than $10,000 in proceeds for the Soldier's Angels organization.
One Stop Shopping
Friday, October 10, 2008, marked the Live Launch of BridgeWorks latest web-based parts shop, BikeShop Full Throttle.
Eliminating the need for motorcycle shops to thumb through stacks of catalogs looking for parts, BikeShop Full Throttle (BSFT) is a web-based electronic catalog, which includes all of the major distributors and more than 850 manufacturers. The launch of BikeShop Full Throttle LIVE opens up BikeShopFT dealers' sales to the world as customers anywhere can log in to surf, shop, and place orders 24/7 interactively, selecting the participating BSFT dealer they want to get the order through. To help facilitate the launch and continue leading BridgeWorks to the forefront of online technology in the motorcycle industry, BridgeWorks has brought on Kent Reed, former general manager of MC Advantages, as its Global Operations Director.
Special Edition Bagger
Matt Hotch collaborated with his local H-D dealership on a bike that you could just walk in and ride out on a complete bagger, ready to go. After Matt met up with the folks from Anaheim-Fullerton Harley-Davidson, this '08 FLHX Matt Hotch Edition Street Glide came together, and is the only one that exists out there. Since Matt and the dealer wanted the bagger complete, they concentrated on the bike's setup, performance, and handling so no upgrades were needed. Features of the Street Glide include the wheels, which were designed by Matt, the custom Bitchin' Rich solo seat with a removable suction cup passenger seat, the detachable Tour Pak and Tour Pak backrest with adjustable Tour Pak mount, Patrick Racing engraved heads with Matt Hotch edition emblem, and a Memphis audio system with a Sony head unit buried in the custom saddlebags. Other key features include the custom-painted tank and Tour Pak, painted inner fairing autographed by Matt, and air suspension that automatically adjusts ride height, along with a rear tri-link stabilizer system.
International Rider
Have you ever wanted to ride your Harley along the white sandy beaches and crystal blue water of some luxurious island in the Caribbean? Well, Entertainment and Travel Alternative (ETA) offers just that. Just think, one day you could be riding in Barbados and the next in Bermuda, and best of all you don't have to navigate yourself from one island to the next. Your transportation from lush island to lush island is one of Royal Caribbean's luxurious cruise ships. Trips are offered in 7, 8, 9, 12 and 13 night cruises departing from Florida and New Jersey. ETA guests and their motorcycles are the first to depart the ship in each port once the ship has been cleared by the authorities, and they return approximately 30 minutes prior to the ship's departure. The island rides are fully escorted by local ETA representatives as well as a number of local riders will be there to assist with any traffic control.
Ladies Night At Lifestyle Cycles
LifeStyle Cycles in Anaheim, California, invited women riders and enthusiasts on September 25, 2008, to attend the shop's Second Annual Ladies Night event, and yes, men could come play too. Since the first year was such a success, LifeStyle brought many of the activities back to this year's event and added some new things. The result was positive and well received by folks, with crowds doubling from last year and plenty more support from companies in the motorcycle industry. Women, and if they brought their male counterpart, were greeted at the door with roses, then had the next few hours to browse the shop for apparel and parts, as well as enjoy live music outdoors, with plenty of free food and drinks to go around. Crowds could also peruse the goods from companies such as Performance Machine, Ride Wright Wheels, and Rock and Roll Custom Paintworks. Women could snatch up goodies from Mary Kay, and many others. Prizes were also awarded for best tattoo and many trophies were handed out during the bike show.