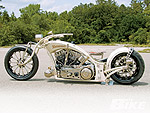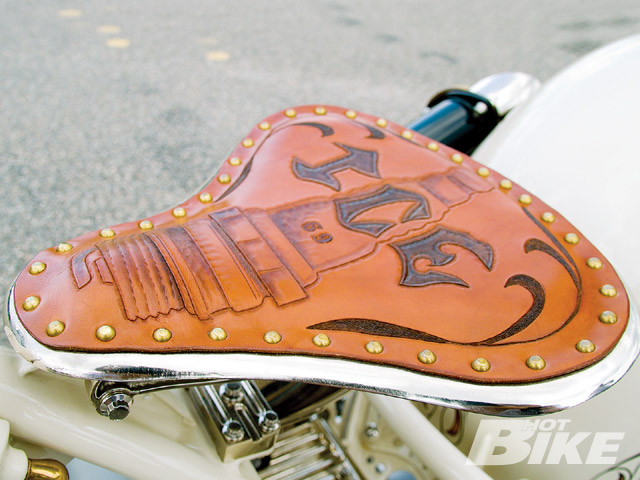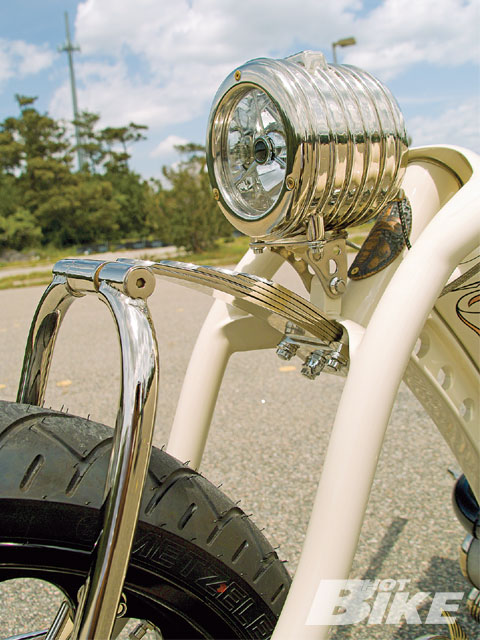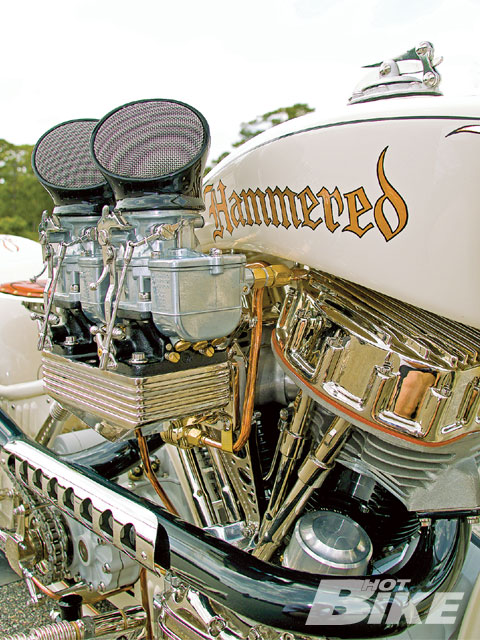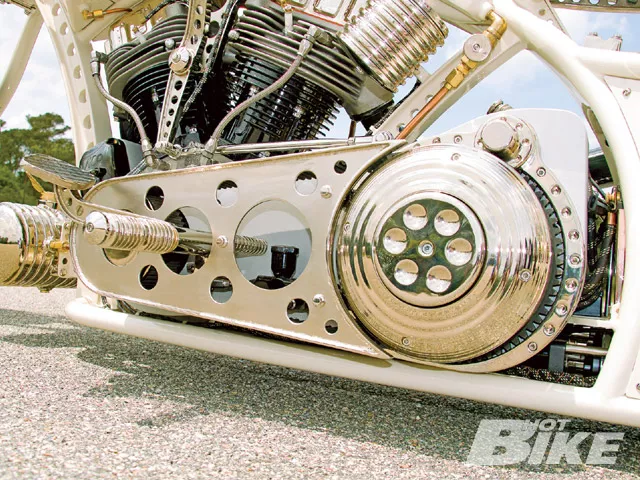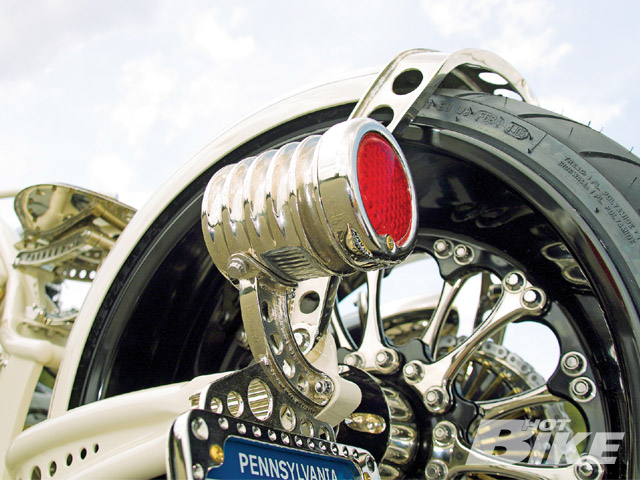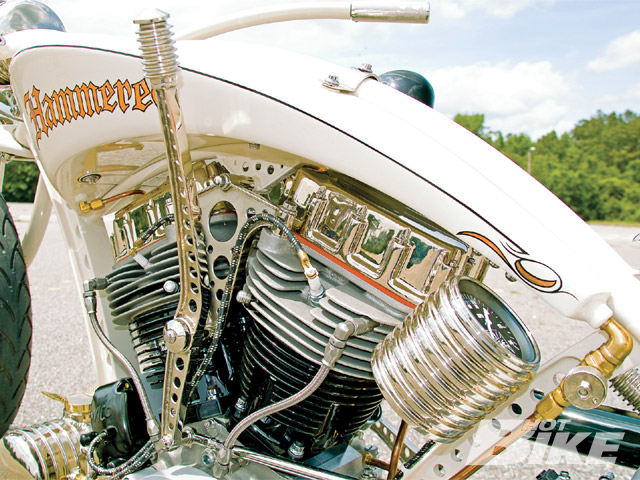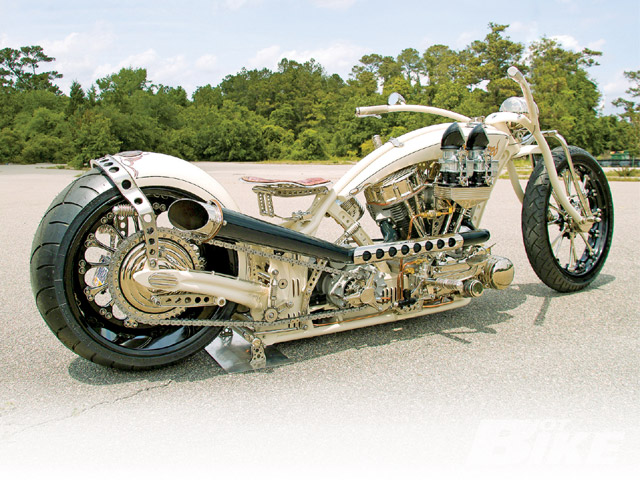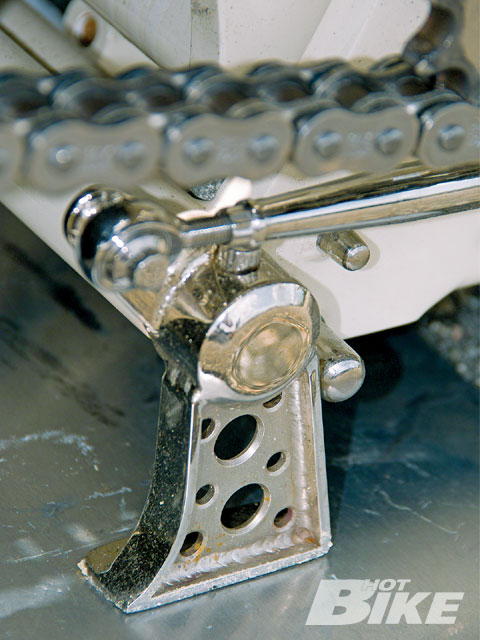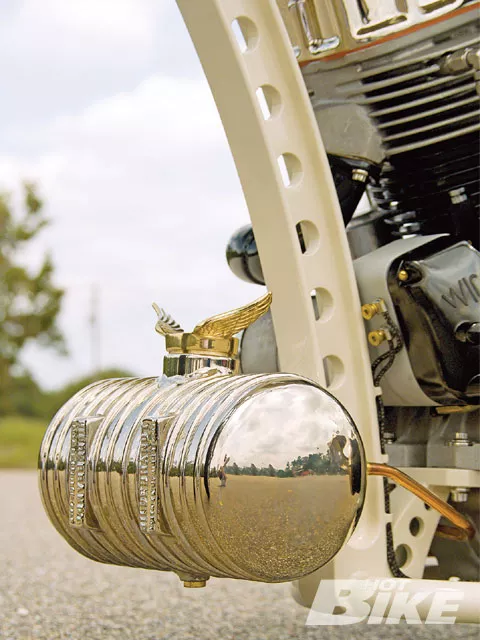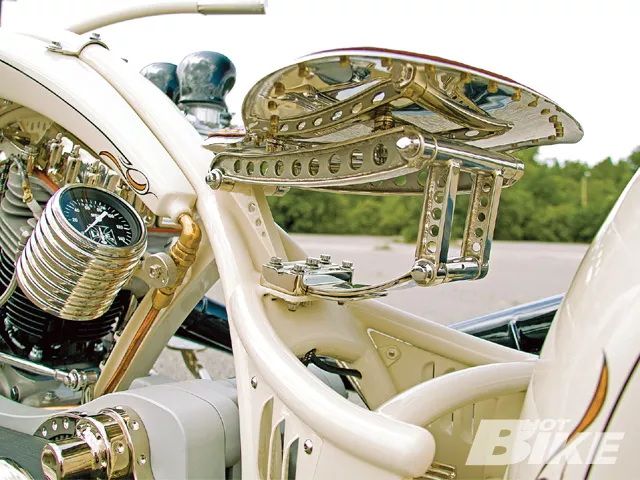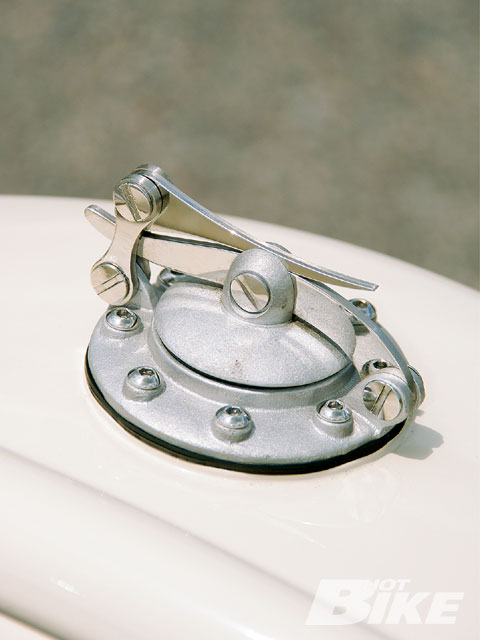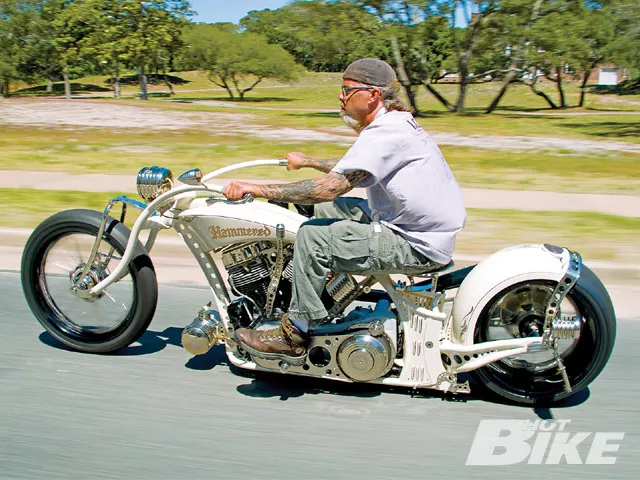 Some bike builders look to the bottom of a coffee cup for inspiration for their next build, some follow the trend-setting herd, while others look to styles of the past. Jeff Kessel of Independent Cycle East (ICE) in Hanover, Pennsylvania, and owner of the custom before you named "Hammered," has always been inspired as a builder by all the two- and four-wheel creations he's seen over many years. As a street rod enthusiast since 1989, Jeff has always had a love for the nostalgic era.
Since Jeff's father was a body man, cars were always a part of his life from the time he was four years old. "I would spend time in the shop with my dad," Jeff said. "My father was hard-nosed about being the best at whatever you did. I would have to say my dad was truly my biggest inspiration." Jeff's other inspiration occurred when he competed in the 2008 AMD World Championship in Sturgis. "I knew I had to compete with all my talented friends," Jeff said, "and I knew I had to take the Hammered bike to the next level." The custom took on the form of becoming Jeff's own personal bike that represented ICE. "My other builder, Jon Little, and I knew we had to hand build or re-fabricate as many parts as possible," Jeff said. "We wanted to bring a vintage look to the bike." But they also wanted to incorporate an up-to-date version of a custom–both vintage and ingenuity. "I started to go back a little bit to the past, where I spent a lot of time attending street rod shows," Jeff said.
Reminiscing on the creations from his past, Jeff soon had a rush of ideas, including nostalgic elements he could incorporate into the Hammered bike. Setting the ideas aside for now, Jeff and his crew concentrated on the build and got started with one of Independent's famous Lowlife frames. After cutting the frame in half, Jeff contacted his nephew, Justin Ross, who CNC milled the I-beam downtube out of a 40-inch long by 10-inch wide and 2-inch thick hunk of steel. After the work was completed, they secured a 103ci Panhead from Accurate Engineering between the framerails, and then handmade an exhaust to take care of spent gases and added a gloss black special finish to it. After installing a five-speed, right-side-drive Baker Torque Box and modifying a BDL primary drive, the drivetrain was complete and they could get started on the suspension. In the front, ICE contracted Dave Cook of Cook Customs for a frontend, then ICE handmade a leaf spring to accent it, followed by fabricating a set of pullback handlebars.
Since the ICE crew wanted the Hammered bike to be as low as possible, they installed a Legend Air Ride system and made a lever-operated kickstand, with the lever mounted in the starter area. As for braking power, the front brake is a Cook Customs inverted lever on the left side of the handlebars. The master cylinder is under the gas tank. There are so many details on the bike, even down to the wheels, that Jeff commented on truly how time consuming yet enjoyable the project was for the crew. Check out the Ness wheels wrapped in Metzeler rubber with ICE hubs and Ness spokes that were nickel-plated with an added 360 brake to keep the front wheel sanitary.
Since Jeff knew he had to take the Hammered bike to the next level, almost every part was fabricated or reworked and cool details were added to make it unique. "It's a project I enjoyed," Jeff said, "yet I was also tense over all the particulars that would drive the ordinary builder insane." There's a fuel pump in the bottom of the bike to feed the Stromberg 97 carbs. ICE custom-made the rear fender that has a copper-engraved emblem that was designed by Jeff's friend and tattoo artist, Bryan, of Baltimore St. Tattoo. ICE fabricated the pan and leaf spring for the seat while Jason Hart from Chopsmiths covered it in leather. The bike also has many old cast aluminum car parts on it, such as the cast oil filter cover for the headlight and taillight. When it came to electrical work, Jeff phoned his buddy who owns an old wiring harness machine for vintage racecars and had him make the harness. To finish the bike off, Cliff and Skip Custom Painting laid a one-off tan color over the metal to give it a vintage look and added copper leaf and subtle graphics.
Whether it's hanging onto inspiration however you get it or looking to the past for insight, one thing Jeff is sure of when it comes to building bikes: You have to give it your best every time. Hammered is certainly one of the greatest examples for the ICE crew, and the attention it gets has proven that to them. At the time of writing, the Hammered bike, after being selected at the Rat's Hole Show in Daytona, will be on its way to a bike show in Germany. Let us know how it goes!
Spec Sheet
| | |
| --- | --- |
| BIKE OWNER | Jeff Kessel |
| SHOP NAME | Independent Cycle East (ICE) |
| SHOP PHONE | (717) 870-4109 |
| SHOP WEBSITE | www.independentcycleeast.com |
| YEAR/MAKE/MODEL | '08/ICE/Hammered |
| FABRICATION | ICE, Jeff Kessel, Jon Little, Dennis Troll |
| ASSEMBLY | ICE |
| BUILD TIME | 2,000 hours |
| | |
| --- | --- |
| ENGINE | |
| YEAR/MANUFACTURER | '06/Accurate Engineering |
| TYPE/SIZE | Panhead/103ci |
| BUILDER | Accurate Engineering |
| CASES | Accurate Engineering |
| CYLINDERS | Accurate Engineering |
| HEADS | Accurate Engineering |
| ROCKER BOXES | Custom Cycle Engineering, nickel plated |
| CARBURETOR | Two Stromberg 97's |
| AIR CLEANER | Hot rod |
| EXHAUST | ICE |
| | |
| --- | --- |
| TRANSMISSION | |
| YEAR/MANUFACTURER/TYPE | '06/Baker/ five-speed right-side-drive Torque Box |
| CASE | Baker |
| CLUTCH | BDL 2-inch |
| PRIMARY DRIVE | BDL/ICE |
| | |
| --- | --- |
| FRAME | |
| YEAR/MANUFACTURER | '07 ICE/Lowlife |
| RAKE | 39 degrees |
| STRETCH | N/A |
| | |
| --- | --- |
| SUSPENSION | |
| MANUFACTURER FRONT | Cook Customs/ICE |
| MODIFICATIONS | Handmade front with leaf spring |
| TRIPLE TREES | Cook Customs |
| MANUFACTURER REAR | {{{Legend}}} Air Ride |
| SWINGARM | ICE |
| | |
| --- | --- |
| WHEELS, TIRES, AND BRAKES | |
| MANUFACTURER FRONT | Ness |
| SIZE-WIDTH/HEIGHT | 21×3.5 |
| TIRE/SIZE | Metzeler/120/21 |
| CALIPER | 360 Brake |
| ROTOR | 360 Brake |
| MANUFACTURER REAR | Ness |
| SIZE-WIDTH/HEIGHT | 18×10.5 |
| TIRE/SIZE | Metzeler/280/18 |
| CALIPER | Eurocomp drum/ICE |
| ROTOR | None |
| | |
| --- | --- |
| FINISH/PAINT | |
| COLOR | Tan/Copper Leaf |
| PAINTER | Cliff and Skip Custom Painting |
| GRAPHICS | Skip Eckerd |
| PLATING/POLISHING | Browns Plating, Tony Smith, John Stambaugh |
| POWDERCOAT | Coating Concepts |
| | |
| --- | --- |
| ACCESSORIES | |
| REAR FENDER | ICE |
| FENDER STRUTS | ICE |
| GAS TANK & CAP | ICE, Crime Scene Choppers |
| OIL TANK | ICE |
| GAUGES | Classic speedo one-off with ICE logo |
| HANDLEBARS | ICE |
| MIRRORS | Joker/ICE |
| HAND CONTROLS | Cook Customs/ICE |
| FOOT CONTROLS | ICE |
| FOOTPEGS | ICE |
| HEADLIGHT | ICE |
| TAILLIGHT | ICE |
| TURN SIGNALS | ICE |
| LICENSE MOUNT | ICE |
| SEAT | ICE/Chopsmith |