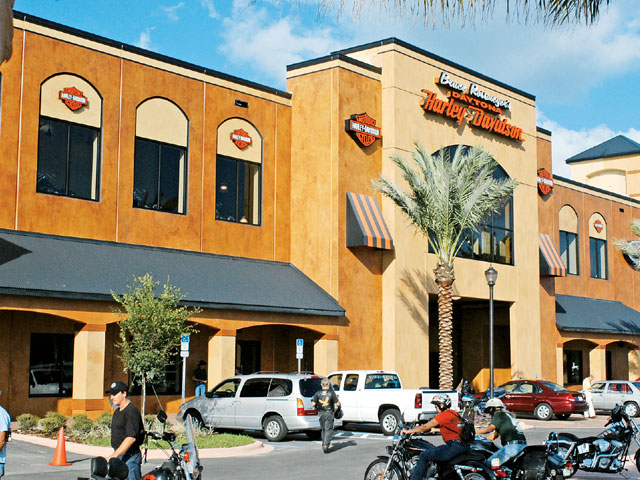 The sphere that encompasses Daytona Bike Week keeps expanding. Aside from all the activities going on in Daytona Beach along Main St. and out at Daytona International Speedway, there's a lot of excitement waiting for you just a short ride away in Ormond Beach. "Destination Daytona" is the new 150-acre mega motorcycle complex, complete with the brand-new 109,000-square-foot Bruce Rossmeyer Daytona Harley-Davidson dealership as part of the experience.
Located at the intersection of US 1 and I-95, the "World's Largest Harley-Davidson Dealership" opened its doors on October 21st, just in time for Biketoberfest. Joining in on the grand opening celebration was the 2005 Seminole Hard Rock Roadhouse tour. The Roadhouse used Destination Daytona as the third stop of a nationwide tour that showcased the hottest custom bikes on the road and four of the nation's most talented custom bike builders: Jesse Rooke of Rooke Customs in Phoenix, AZ; Roland Sands from Roland Sands Design in La Palma, CA; Johnny Chop from Southern California; and Doug Keim of New Jersey's Creative Cycles, all of whom put on a show of creativity, artistry, and engineering talent. The tour also featured beautiful Hard Rock models, Hawaiian Tropic pageants, the Roadhouse Bar, and a Build-Off Challenge.
People crowded the 53,953-square-foot showroom with more than 400 motorcycles on the floor, perused Harley-Davidson apparel in the 9,800-square-foot Motor Clothes area, and checked out the 45,897-square-foot parts and service department. Also open for guests to enjoy was Destination Daytona's hotel and condominium village, as well as themed restaurants and bars, including Bruster's Real Ice Cream, Krispy Kreme, Saints and Sinners Pub, Hot Dog Heaven, and more. The site is also home to the Daytona Beach Area Convention and Visitors Bureau's "Official Visitor Information Center." Furthermore, two additional buildings dedicated to motorcycle-related businesses, such as custom painting, add to the biker's paradise. During future events J&P; Cycles, famous for parts and accessories for your bike, will be setting up shop on the property. To seal the deal, 20 acres of parking facilities with shuttle services will be provided. Coming later to Destination Daytona will be 15 acres dedicated to the American Motorcycle Institute, one of the most highly regarded technical schools in the country, as well as the future site of a high-rise hotel.
Make sure you get out to Ormond Beach and Destination Daytona for this year's Daytona Bike Week. The action will be nonstop. Bruce Rossmeyer's World's Largest Harley-Davidson dealership is located at 1637 N. US 1, Ormond Beach, FL 32174. For more information, please call (386) 724-2800, or visit www.BruceRossmeyer.com.