AIMExpo2017 took place over the weekend and companies across our industry threw down their latest and greatest toys just like you'd expect. Honestly, that's a good part of the reason why people go. We magazine folk can yammer on all we want to you in our test reviews but there's nothing better than seeing a cool new part or accessory in real life for yourself. Sena Technologies showed off its 30K Mesh Intercom and Momentum Smart Helmets at the event. If you didn't get to the expo yourself, here's an overview of both products instead.
30K Mesh Intercom Communication System
Rev up your ride with mesh intercom technology, the next generation of motorcycle communication. With one click of a button, seamlessly connect to a virtually unlimited number of riders within a mile range using the 30K's public mode feature. When a rider from the group falls out of range, the rest of the group remains seamlessly connected thanks to the self healing aspect of Sena's mesh technology. In private mode a rider can create a group with up to 16 riders and an endless amount of guests can listen in. The 30K is still Bluetooth 4.1 compatible and able to connect to up to 3 other Sena and non-Sena Bluetooth device. In addition to the technological advance of mesh technology the 30K packs the same feature set as previous Sena devices such as audio multitasking, take and make phone calls, listen to music, hear turn-by-turn GPS direction, and much more. The 30K will be available in early Q4 2017 and retails for $329 single / $579 dual pack.
Momentum Smart Helmet Series
The wait is almost over, the Momentum smart helmet series is coming and will be on display at AIMExpo. The series includes the highly anticipated and long awaited INC helmet. Sena has engineered this helmet from the ground up and for the first time riders will be able to hear our industry-leading technology the way it was meant to be heard, the ideal integration of Sena's technology creates an unrivaled audio experience. Hear Sena the way it was meant to be heard with our line of the first-ever fully Bluetooth integrated full face motorcycle helmets.
All models are DOT approved and aerodynamically designed from composite fiberglass shell with multi-density EPS for added protection in the case of impact. The Momentum series features an intricate ventilation system with chin and forehead air intakes, along with an exhaust port in the rear of the helmet to keep riders cool throughout their journey. The helmet's visor is scratch and UV resistant, pinlock ready(Max Vision 120), and features a quick release system for ease of use. The Momentum's quick dry lining is constructed with laser-cut foam and is completely removable and washable along with the chin curtain. The modern design full-face helmet also features a reinforced, nylon strap d-ring retention system for a secure and comfortable fit.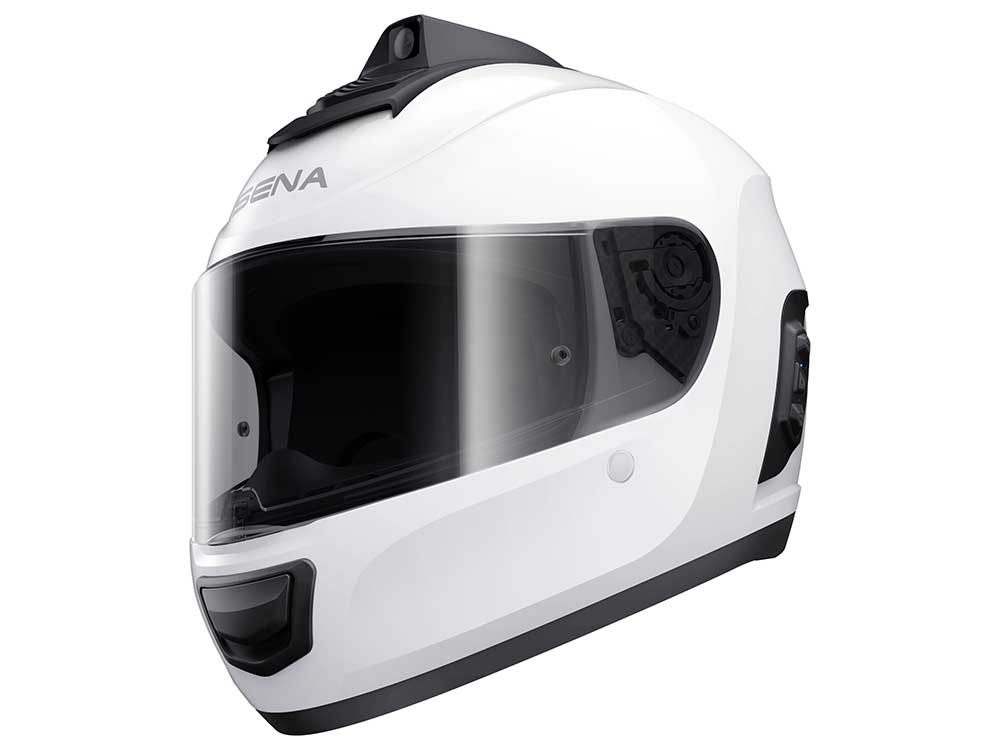 This year AIMExpo will see more exhibitors than ever before, including Harley Davidson, Honda, Yamaha, Indian, Kawasaki, Suzuki and many more. The 2016 show saw nearly 19,000 attendees from over 50 countries. The show will be open to the public Saturday September 23 from 9AM-6PM, and Sunday September 24th from 10AM-5PM. Sena will be located at Booth #1311. For more information and tickets to the show please visit AIMExpo's website.
For information on Sena Technologies, Inc. and it's full product line please visit sena.com.