When metal shaping and choosing a hammer for a desired effect there are a great many hammer options. When you're choosing an anvil there are many options available as well. Obviously that includes lots of different sizes and shapes of anvils. That also includes anvils that can be harder or softer than the hammer that will be striking them. Let me make something clear, I consider any surface that receives or absorbs a hammer blow when used in metal shaping an anvil. When talking about metal shaping don't just think of a horned blacksmith's anvil when using the term.
With all that being said, one thing any metal shaper should have at his disposal is a shot bag, panel bag or beater bag. It can be called many things but still serves the same purpose. A panel bag is most typically a round leather bag filled with sand or shot. You can of course find bags of varying shape and size. If you ask enough you'll also find a debate amongst metal shapers as to what you should fill your bag with. I have always used sand. It's easy to get and it's cheap.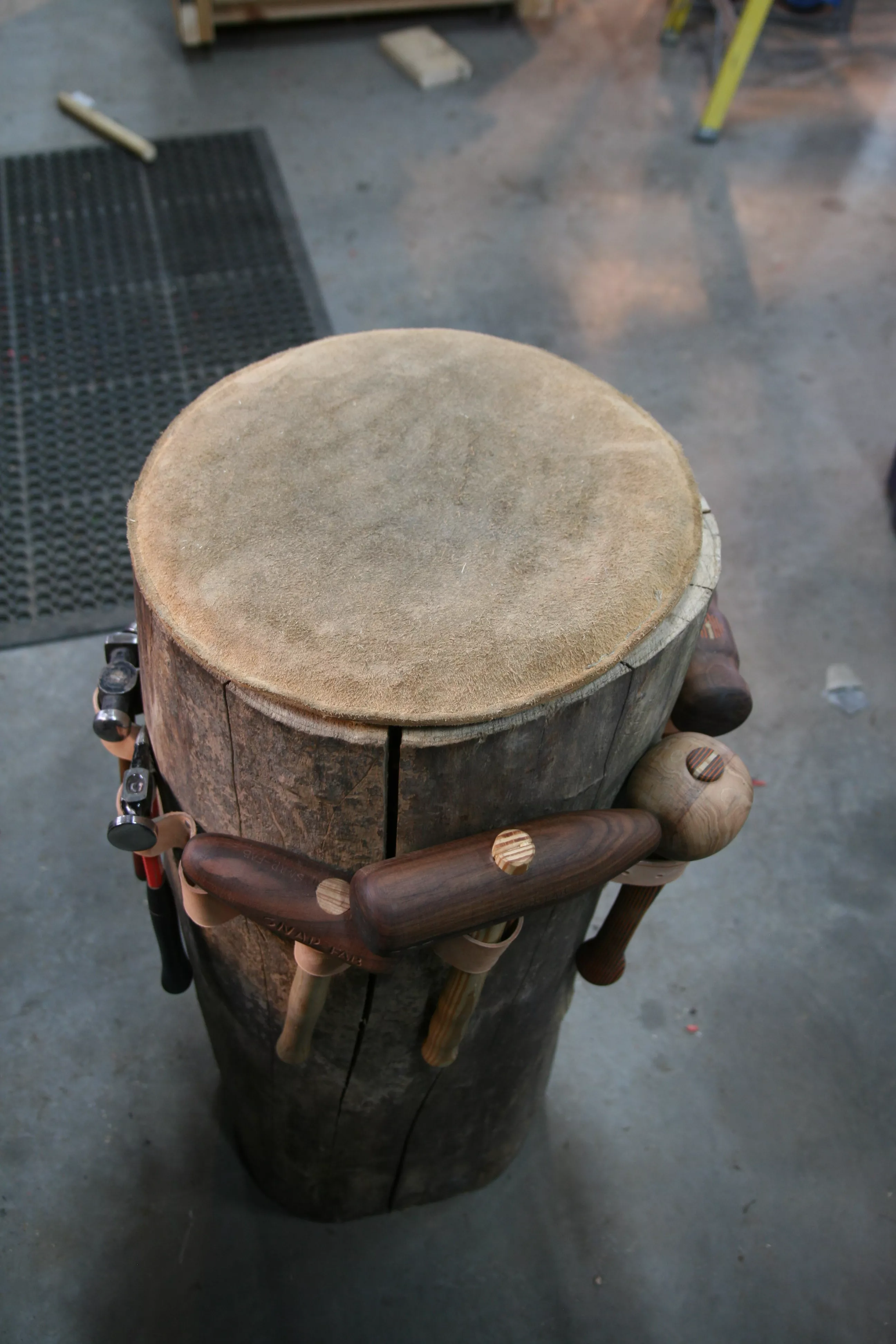 My bag is approximately 15 inches in diameter. Only because I made it specifically to fit my hammering stump. But I know many metal shapers who swear by either steel or lead shot. The only downfall I have ever heard about lead shot is that the shot can flatten over time when beaten by a hammer repeatedly. I'd have to assume it would take a long time to do so. Quite honestly, they will all serve the same purpose. That purpose being to offer support behind the material you are working but at the same time disperse the energy of the hammer blows to allow the hammer to shape the metal rather than just stretching it.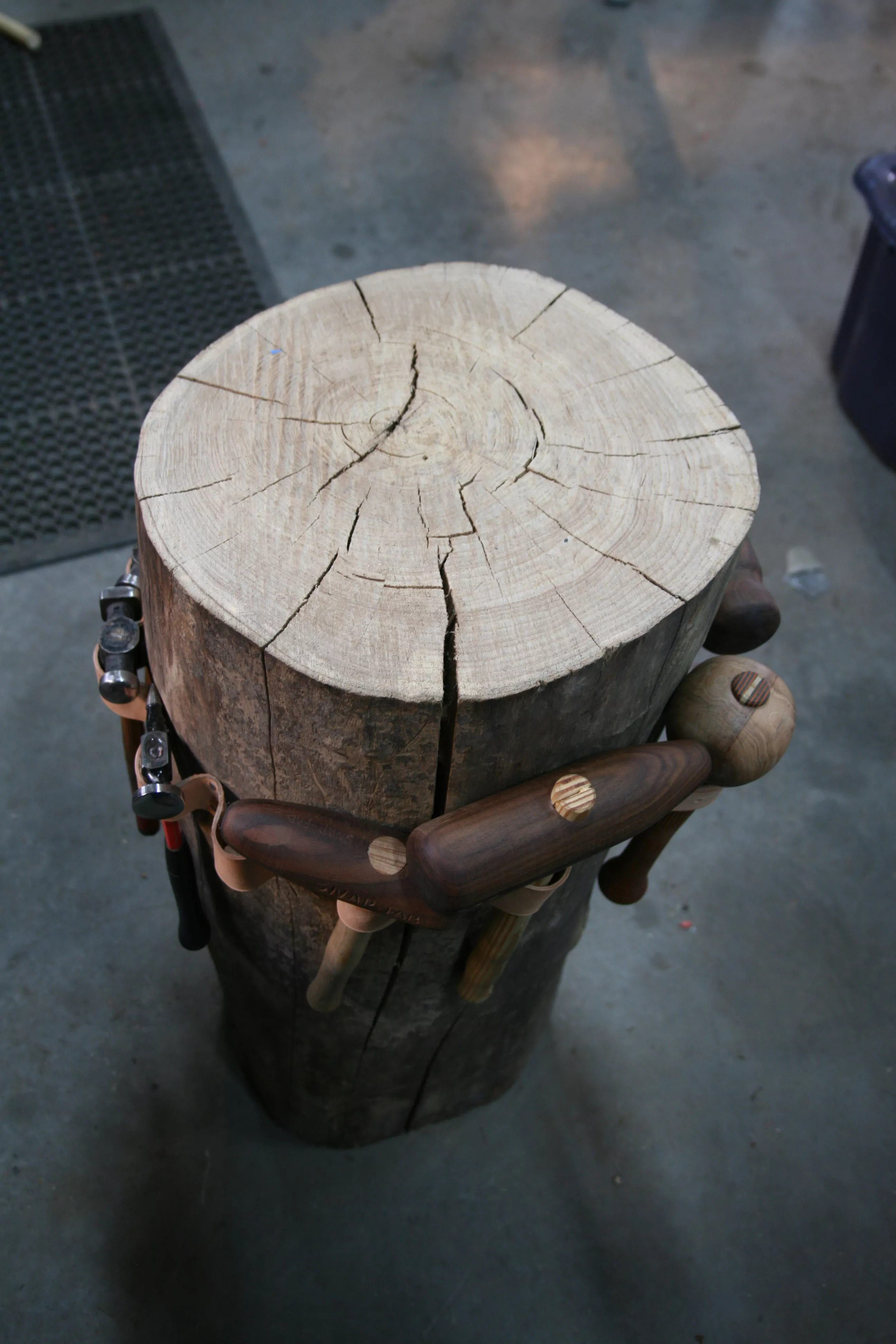 The basic principle to understand about a shrinking stump is this: When a metal hammer strikes a sheet of metal that is backed by a metal anvil the sheet will stretch because it is absorbing all the forces created by the hammer and anvil. In order for a metal hammer to shrink sheet metal it must be backed by a wooden anvil. The wooden anvil allows the hammer to shape the sheet metal in the shrinking process and the wooden anvil absorbs the forces applied by the hammer to prevent stretching. I delve deeper into creating a shrinking stump here.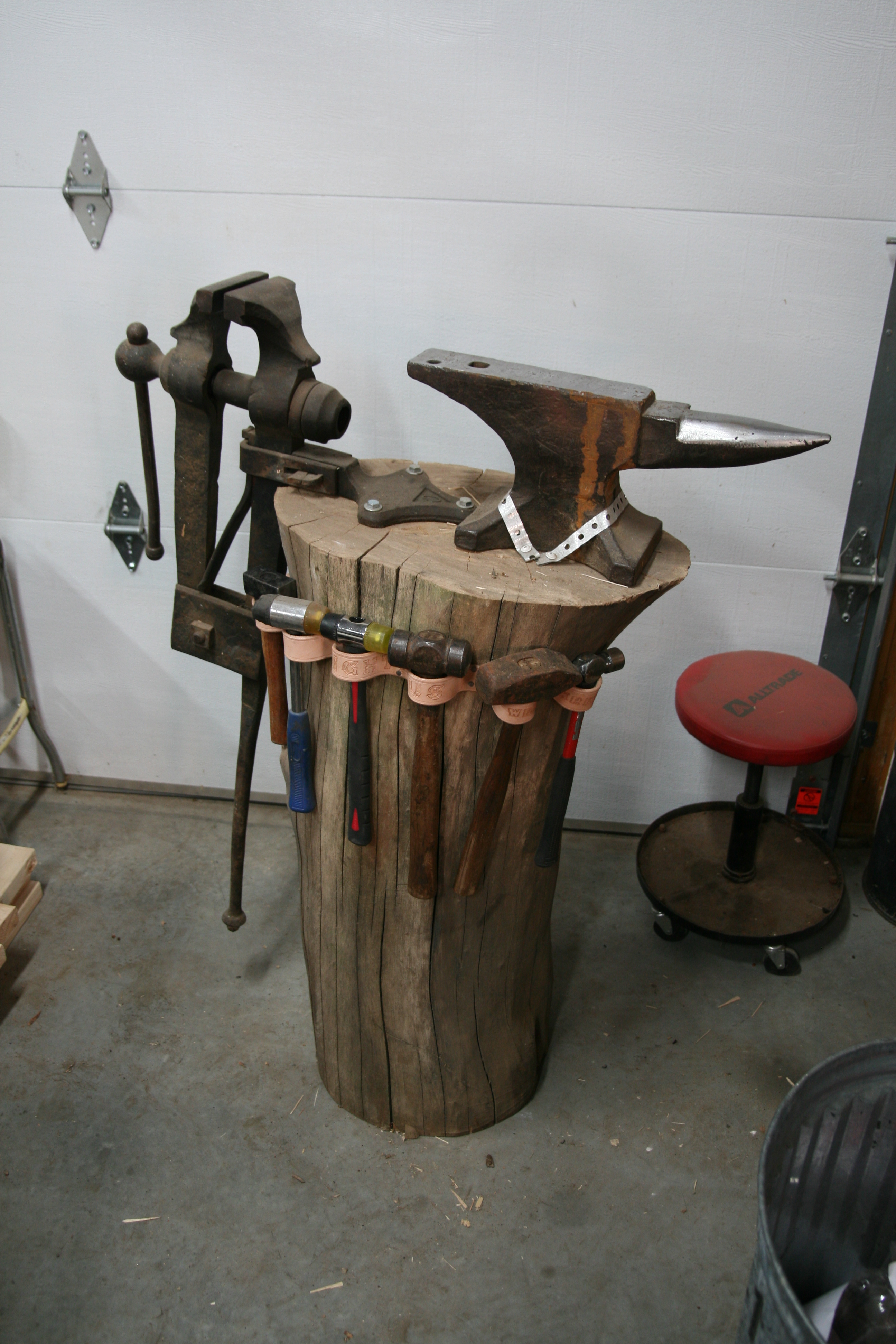 If you are on the hunt for a used anvil you'll typically find that the older the anvil the better. Mine is an old Trenton anvil, it has a good bounce and a good ring. Now if we were talking about forging a person could get all snobbish about his/her anvil and how superior it is. Argue forged anvils Vs cast anvils? Who made the best anvils? The English, Germans, Swedish or the U.S.? I don't know that any of that really matters when it comes to shaping sheet metal. An anvil made from a section of rail road track can serve the same purpose and render the desired results. All of that to say a solid heavy anvil at a reasonable price is as good as any in my opinion. I know a blacksmith worth his salt who would argue that opinion however.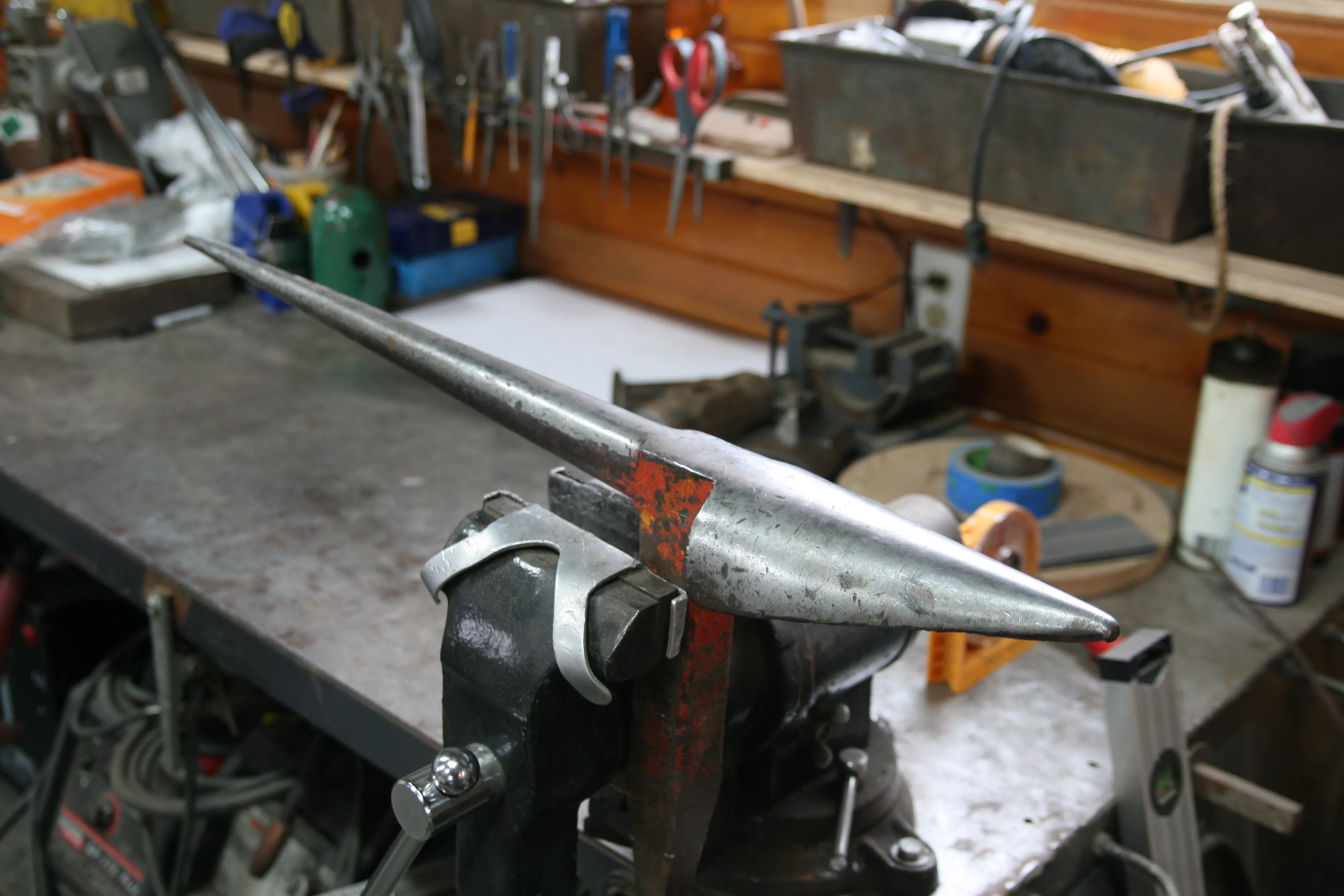 I don't own a stake plate so I'll just clamp it in a vice when I need to use it. I really like this anvil for working tight curves or rolling edges for obvious reasons. I could go broke trying to collect all the tinsmith anvils that I wish I had.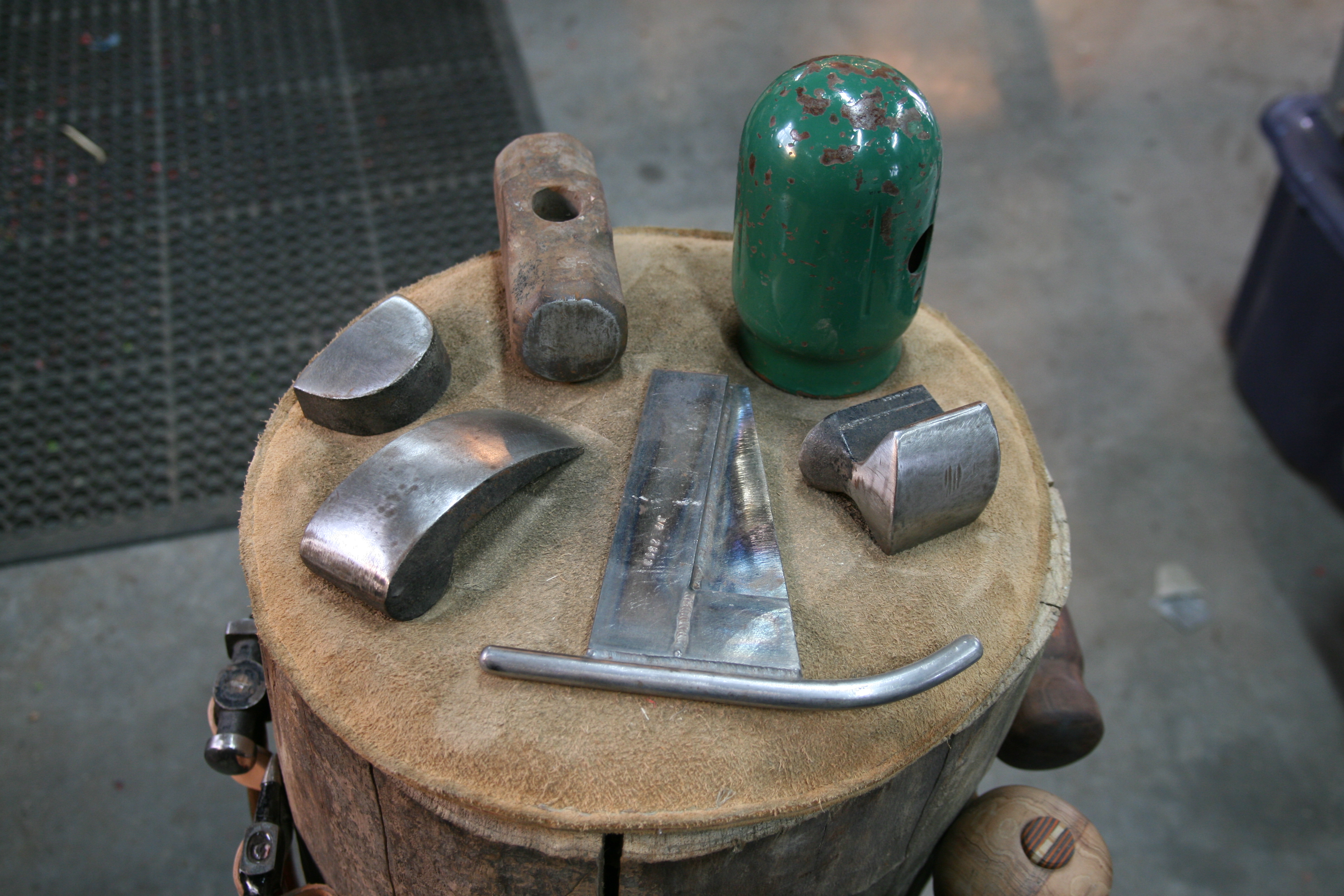 Even though this has been brief it should have provided you with a good idea of what types of anvils can commonly be used for metal shaping. As we continue we'll revisit these tools and put them to use in future projects.