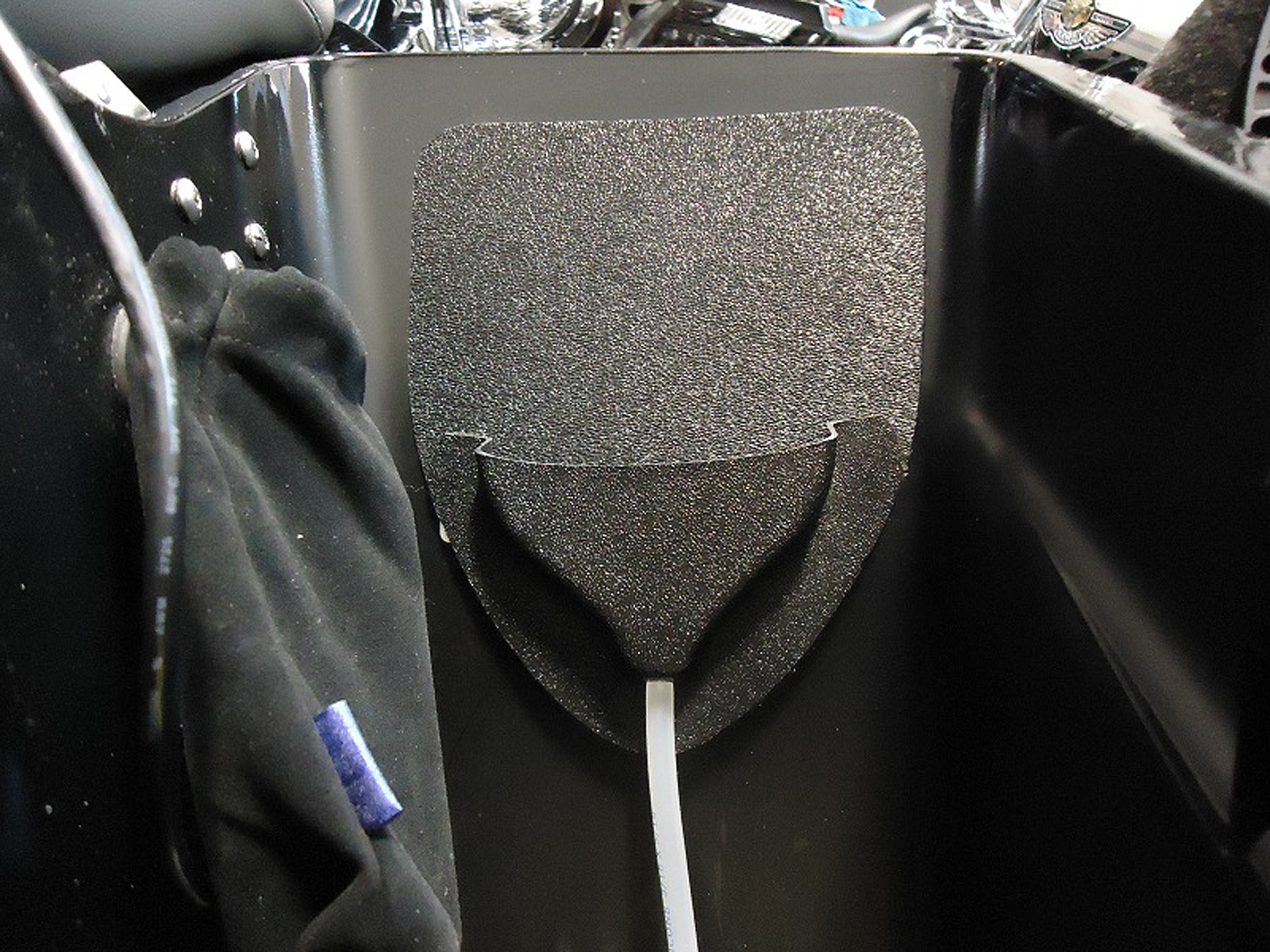 Waterproof cover:
Finally, a waterproof cover for aftermarket radios on Harleys, from Sidecar Cycles. Works on Electra Glide batwing fairings & shark-nosed Road Glides). Gloss black lexan surrounds a really cool smoked black bubble. Pressure fit silicone rubber gasket ensures water tight seal. Easily removable with a gloved hand. Will work with any Hawg-Wired install kit, or our own Sidecar Cycles install kit. Comes complete with fleece-lined carrying case for storage when not on bike. Cost $125.00
Stereo Installation Kit:
The only install kit on the market that allows any car radio to be rear-mounted, ensuring a super clean look. Gloss black lexan faceplate surrounds the radio, eliminating the flat black radio trim ring. The kit isolates the radio from the bike chassis, eliminating the potential for ground-loops and annoying interference. An ABS cover protects the top of the radio chassis from any water inside the fairing, also provides a great mounting location for an amplifier or other electronics. Easy installation. All hardware included. Awesome combination when combined with the Sidecar Cycles waterproof cover. Cost $125.00
Rear saddlebag speaker system:
An industry first!! Why change your stock saddlebag lids. Send them to Sidecar Cycles and we will cut a perfect opening in the front, install a flush grill and our unique enclosure, inside the lid, that accepts any 6.5″ speaker. Takes up minimal space inside the bag!! Forces the sound forwards toward the rider. Awesome sound! Comes complete with wire harness and water drainage system (installation is optional). No need for expensive paint work! In this day and age of recycling, why waste your money on new lids and paint work, when you already have a set of perfectly good lids we can simply modify. Works best with Hawg-Wired 6.5″ ZX speakers or any high-end car speaker.
http://www.sidecarcycles.com/
Phone: 1-877-884-4472