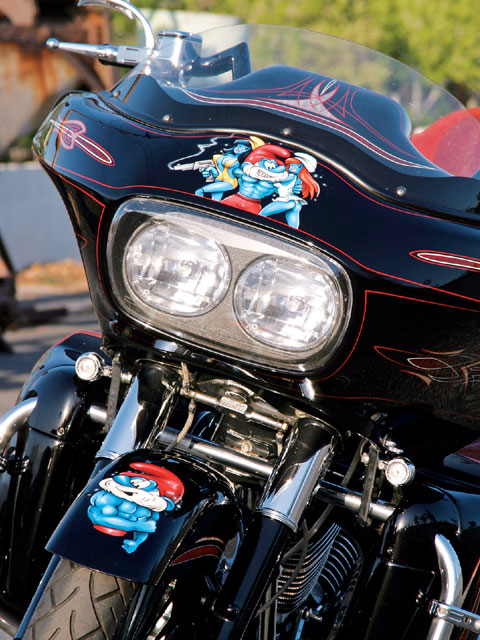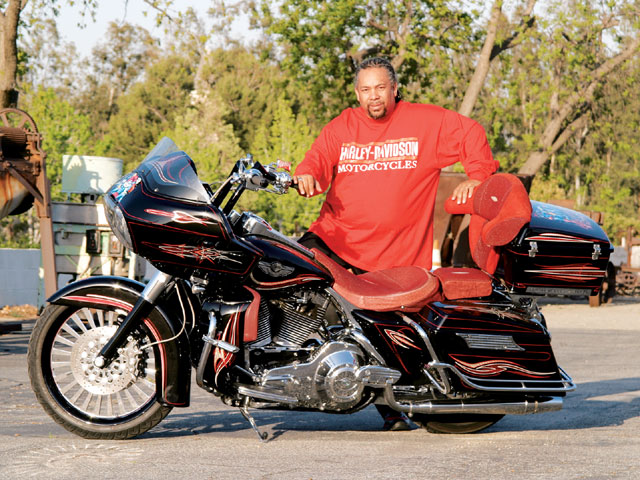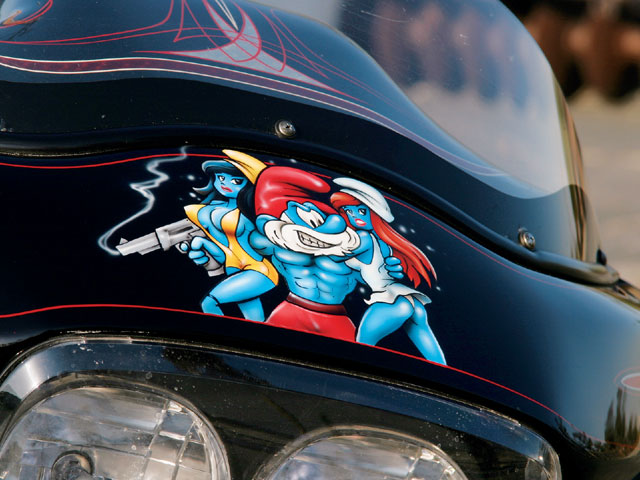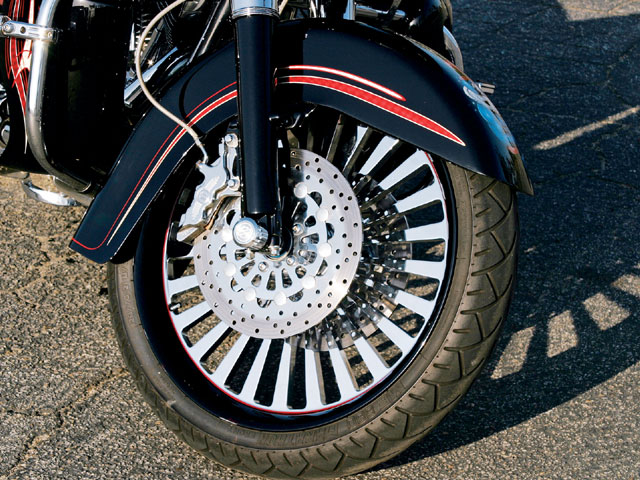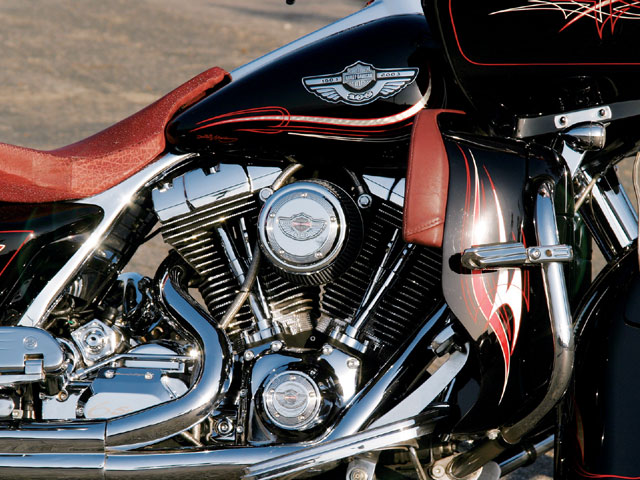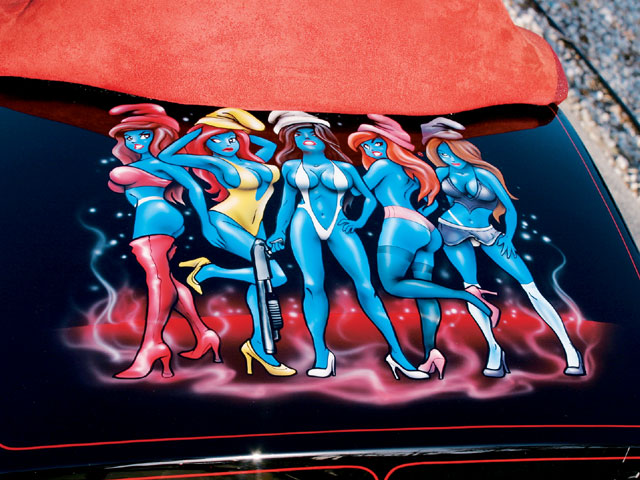 Here at HOT BIKE we get a lot of rides-Harleys, hogs, whatever you want to call them-submitted by our readers. "Pick of the Pen" is an opportunity to dedicate a few pages to our favorite reader-submitted bike each month. This month's bike is from owner Keith "Smurf" Cummings of Compton, CA. Here's the story of Smurf's Road Glide, in his own words.
I bought this bike in August 2003 to replace my stolen '02 FLHT. My Uncle Kebo and I both had anniversary bikes-he just took a different turn and broke his bike down to the frame, then repainted and chromed it.
I said I would never paint my bike unless it was to redo the anniversary colors. Well, after someone decided to give me some special graphics with a nail, I decided it was time for me to do something about it. I got together with Colby and Matt at Anaheim/Fullerton Harley-Davidson and told them I needed to do something wild to keep up with my Uncle Kebo's anniversary FLHT, which was featured in the May 2005 issue of HOT BIKE. Colby and Matt hooked me up with Danny Martinez at Martinez Custom Paint and Chrome. I remember my brother, Big Punchie, telling me, "They can do a bomb-ass paint job, and you'll be stunned how fast they can do it." Well, I took that thought and ran with it. I wanted to stay as close to the original anniversary black as possible but still have a nice fade to it in the sunlight, so Danny hit it with a black base with a red candy topcoat. Since my nickname is "Smurf," Danny and I took off with that theme. But I didn't want just any Smurfs-they had to be Smurfs from the "hood," and Danny made that happen.
Contrary to popular belief, I had to have a little muscle to chirp that tire, and Matt at Anaheim/ Fullerton H-D took care of that with a 107 Zipper's kit and a Screamin' Eagle six-speed to keep it cruising up and down those sunny California roads and highways. The shine on the motor came from Keith over at Diamond Heads in Vegas. I wanted this bike to be a sleeper, so Keith hooked me up by diamond cutting all the way down to the bottom of the cylinders, cutting over where it said "Zipper's." Then Matt hid the horn so people could get a better look at the left side of the bike when I blow past them on the freeway.
There were a couple more custom things I added, like the stingray and hippo seat from Jerry Van Ambrug Leathers and Exotic Hides. I bumped up the audio system with a new Kenwood head unit, four Alpine 6×9 speakers in the bags, and a 450-watt Alpine amp. Handle Bar Lee made the handlebars; they're called Meat Hooks and are usually made to fit Road Kings, but he made a set to fit my RG. Oh, and I can't forget the wheels. Check 'em out-they don't have a lip; it's all smooth. Cory from CLK Enterprises cut the wheels right there in his house. Believe it or not, this cat has a $100-grand CNC machine in his garage.
This ain't no show bike-I ride this bike all over California and the rest of the country. Keep your eyes peeled…there's no telling where you might see Poppa Smurf and the Smurfettes cruising by.