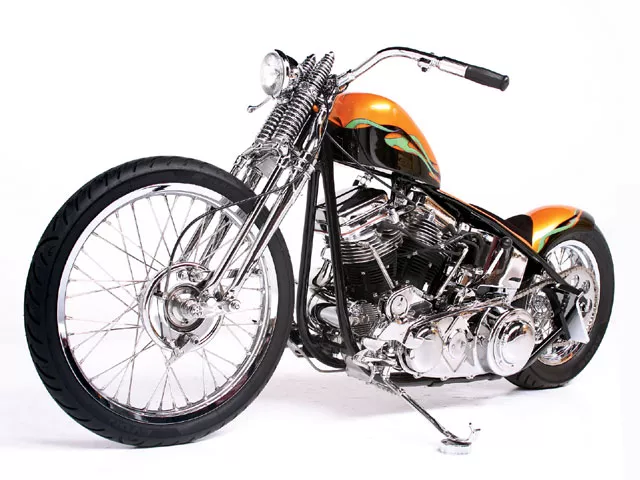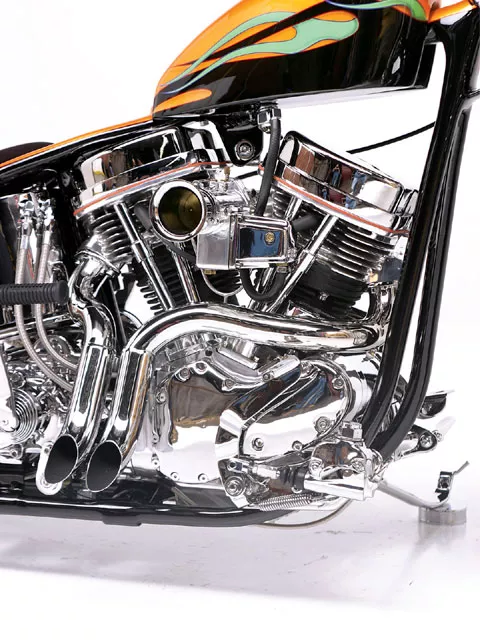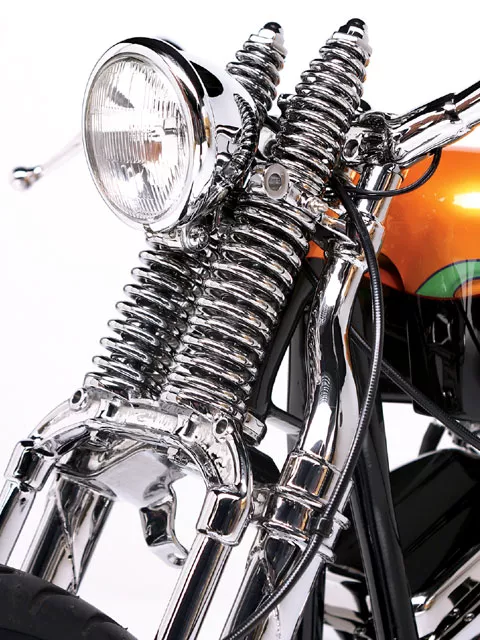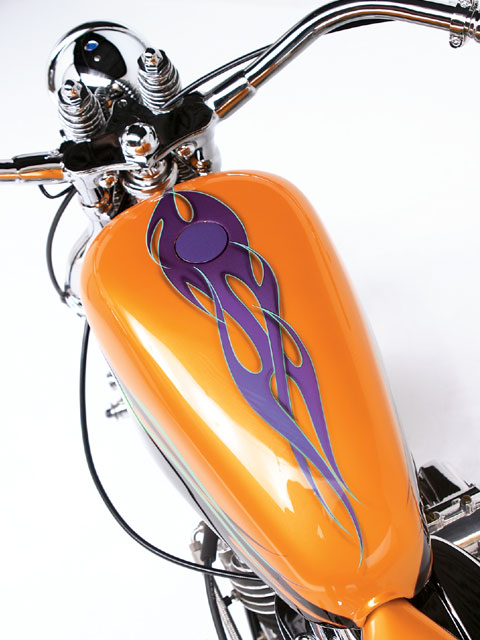 Back in 1978, you'd have found Billy Aaron cruising the byways of Maryland on his '61 Panhead. Actually, it was a Pan bottom carrying Shovel jugs and heads. He worked in a bike shop at the time, with that scoot being his daily rider. If the motor didn't confuse a few people, the frame sure did. Billy had a wrecked wishbone frame that he loved-particularly the rear axle blocks. So he did what any self-respecting biker would do and got out the cutting torch. He took the rear rigid section of the Pan frame and spliced it to a Glide seat post and neck. All he had to do was shim the tranny up 1/2-inch to get the motor and tranny to work.
Time passed, and Billy and his wife Beth ended up residing in Texas along with his stable of old sleds. About five years ago, Billy decided to spruce up his beloved Panhead. He wanted it lean and fast, but still keep it more retro than modern. Starting with the motor, he decided to go with high-performance goodies from the best companies in the industry. It all started with a set of Delkron cases that were stuffed with S&S; Racing flywheels carrying Carillo rods. Cast-iron Axtell cylinders filled with J&E; slugs contribute to the 96 cubic inches that breathe life through a set of worked STD heads. Baisley roller rockers, moved by a Crane cam, activate Rowe Black valves to get the air in and out. Gas-mixing duties were left up to a classic S&S; L-body carb setup with a free-flowing S&S; velocity stack. A set of chromed Martin Bros. pipes hangs off the right side of the motor, giving the mill both bark and oomph. Paughco Panhead rocker-box covers complement the cases, continuing the feel of the build.
It took a while to get done, but this was one of the last complete motors that Axtell ever built. Once the motor was back and mocked up in the frame, Billy got to work on the rest of the project. The 30-degree-necked frame was gone over by Joe Martin, who used molding where needed and covered the metal with some black PPG paint. A Springer frontend was chosen to hold the hand-laced 21-inch aluminum Excel rim. In fact, both wheels were strung up with H-D hubs and Buchanan stainless steel spokes right on Billy's kitchen table. When Billy was having some trouble getting the wheels true, Beth took over as the expert wheel builder. For period's sake, an old H-D drum brake sits centered up front, while a modern PM rotor and caliper slow down the rear.
Sheetmetal, done by Billy and Joe Martin, was designed to be both classic and understated. A flat-bottom Sportster peanut tank was worked to fit atop the backbone with concealed tank mounts, and a West Coast Choppers rear fender was cut and massaged to cover the fender struts while hugging the 150mm rubber. The seat pan flows from the back of the gas tank right into the rear fender. Once all the welding and cutting was done, Joe shot the multicolored paint before laying down some tasty flames. Rounding out the skins is a simple chromed Paughco horseshoe oil tank that fills in the area under the seat pan. Fitted under the oil bag is a chromed '60 four-speed H-D transmission that's been refilled with Andrews gears. Keeping leaks at bay is a Primo beltdrive primary covered with a Panhead-era primary cover.
Rounding out a build like this was left up to mostly stock H-D parts, as well as nostalgic pieces such as the spoon footpegs. The headlight is actually a spotlight off a dresser, and there are no blinkers or mirrors-and only a single taillight integrated into the left-side license-plate bracket. Due to the foot clutch and hand shift, there is only a single lever controlling the front brake on the highway-style handlebars. No switches, no gauges, no starter motor, no excuses. This scoot was built to ride in the style of yesteryear with just a hint of a modern touch. We're looking forward to Billy's next adventure with this trusty old Panhead.
| | |
| --- | --- |
| SPEC SHEET | |
| GENERAL | |
| OWNER | Billy Aaron |
| YEAR/MAKE | '02/Custom |
| FABRICATION | Joe Martin & Owner |
| ASSEMBLY | Owner |
| BUILD TIME | Too long |
| | |
| --- | --- |
| ENGINE | |
| YEAR/TYPE/SIZE | '02/Panhead/96ci |
| BUILDER | Axtell & Owner |
| CASES | Delkron |
| FLYWHEELS | S&S; Racing |
| RODS | Carillo |
| PISTONS | J&E; |
| CYLINDERS | Axtell |
| HEADS | STD |
| VALVES | Rowe |
| ROCKERS | Baisley |
| ROCKER BOXES | Paughco |
| PUSHRODS | Andrews |
| PUSHROD TUBES | V-Twin |
| CAM | Crane |
| LIFTERS | JIMS |
| CARBURETOR | S&S; L-Body |
| AIR CLEANER | S&S; |
| IGNITION | Mallory |
| EXHAUST | Martin Bros. |
| | |
| --- | --- |
| TRANSMISSION | |
| YEAR/TYPE | '60/H-D four-speed |
| CASE | H-D |
| GEARS | Andrews |
| CLUTCH | Primo |
| PRIMARY DRIVE | Primo |
| | |
| --- | --- |
| FRAME | |
| YEAR/TYPE | '52 & '66/H-D Rigid |
| RAKE | 30 degrees |
| STRETCH | None |
| | |
| --- | --- |
| SUSPENSION | |
| FRONT | V-Twin Springer |
| REAR | |
| SWINGARM | None |
| | |
| --- | --- |
| WHEELS, TIRES, AND BRAKES | |
| FRONT | {{{Excel}}} |
| BUILDER/SIZE | Owner & Beth/21×3.0 |
| TIRE/SIZE | Avon |
| BRAKE | H-D drum |
| REAR | Excel |
| BUILDER/SIZE | Owner & Beth/16×4.0 |
| TIRE/SIZE | Avon/150/{{{80}}}-16 |
| CALIPER | Performance Machine |
| ROTOR | Performance Machine |
| | |
| --- | --- |
| FINISH/PAINT | |
| COLORS | PPG Silver Base/Candy Orange, Black, Green |
| PAINTER | Joe Martin |
| GRAPHICS | Joe Martin |
| MOLDING | Joe Martin |
| | |
| --- | --- |
| ACCESSORIES | |
| FRONT FENDER | None |
| REAR FENDER | Jesse James/Joe Martin/Owner |
| FENDER STRUTS | Joe Martin/Owner |
| GAS TANK/CAP | H-D Sportster/Matt Hotch Designs |
| OIL TANK | Paughco |
| DASH | None |
| GAUGES | Nope |
| HANDLEBARS | V-Twin |
| MIRRORS | No |
| HAND CONTROLS | V-Twin |
| FOOT CONTROLS | H-D |
| FOOTPEGS | Spoon |
| HEADLIGHT | H-D spotlight |
| TAILLIGHT | V-Twin |
| TURN SIGNALS | None |
| LICENSE MOUNT | V-Twin |
| SEAT | Dallas Craig |