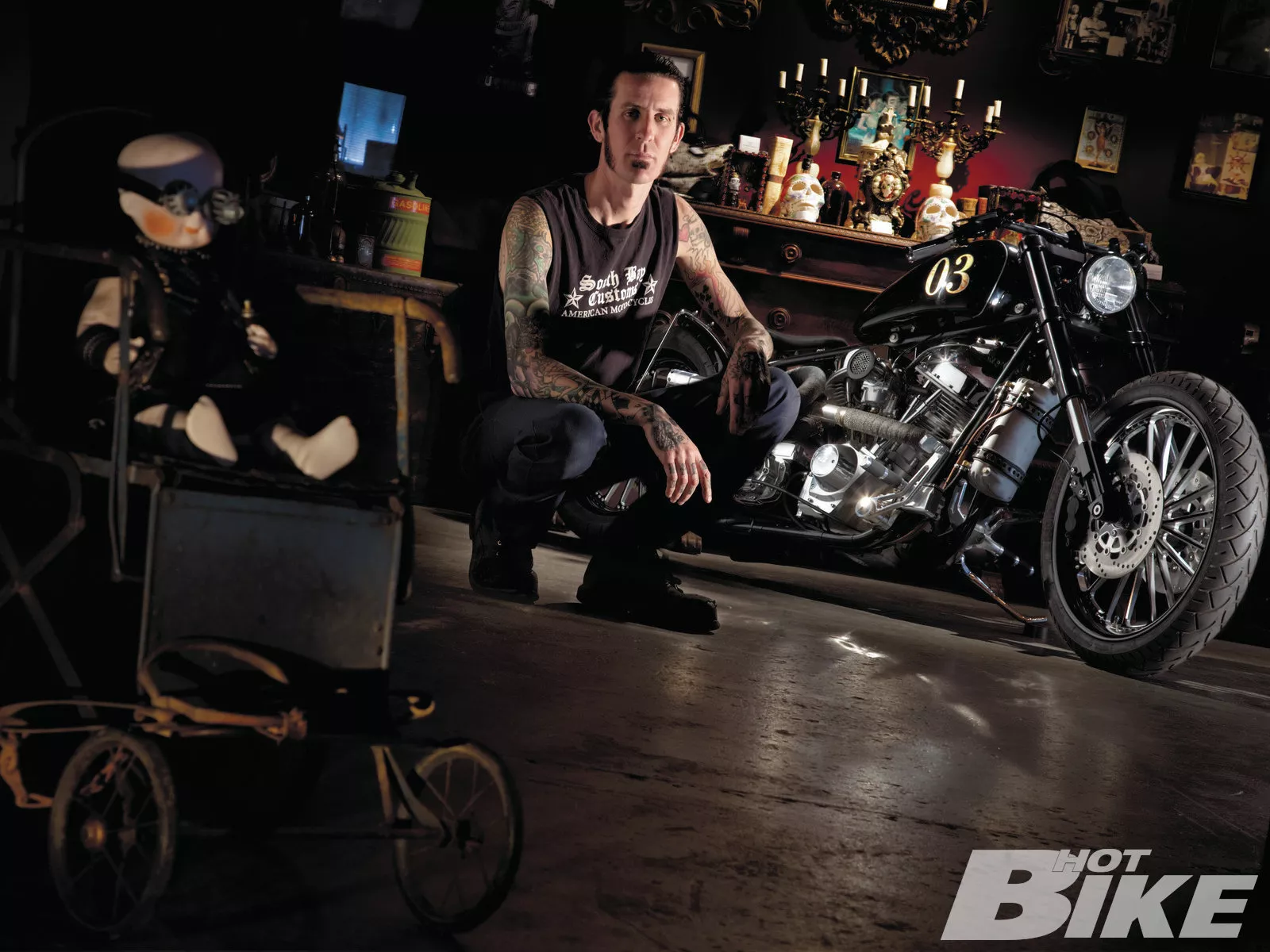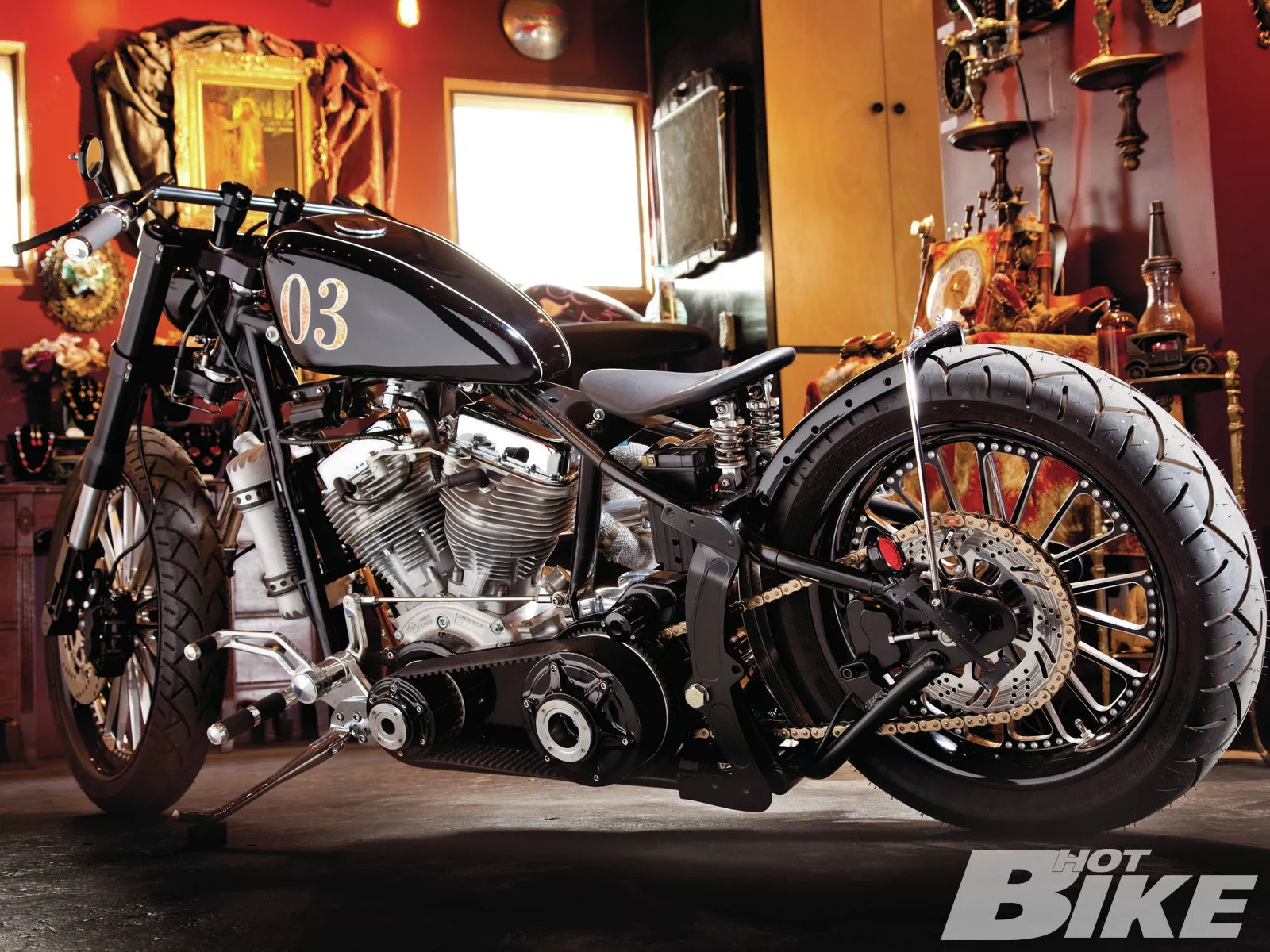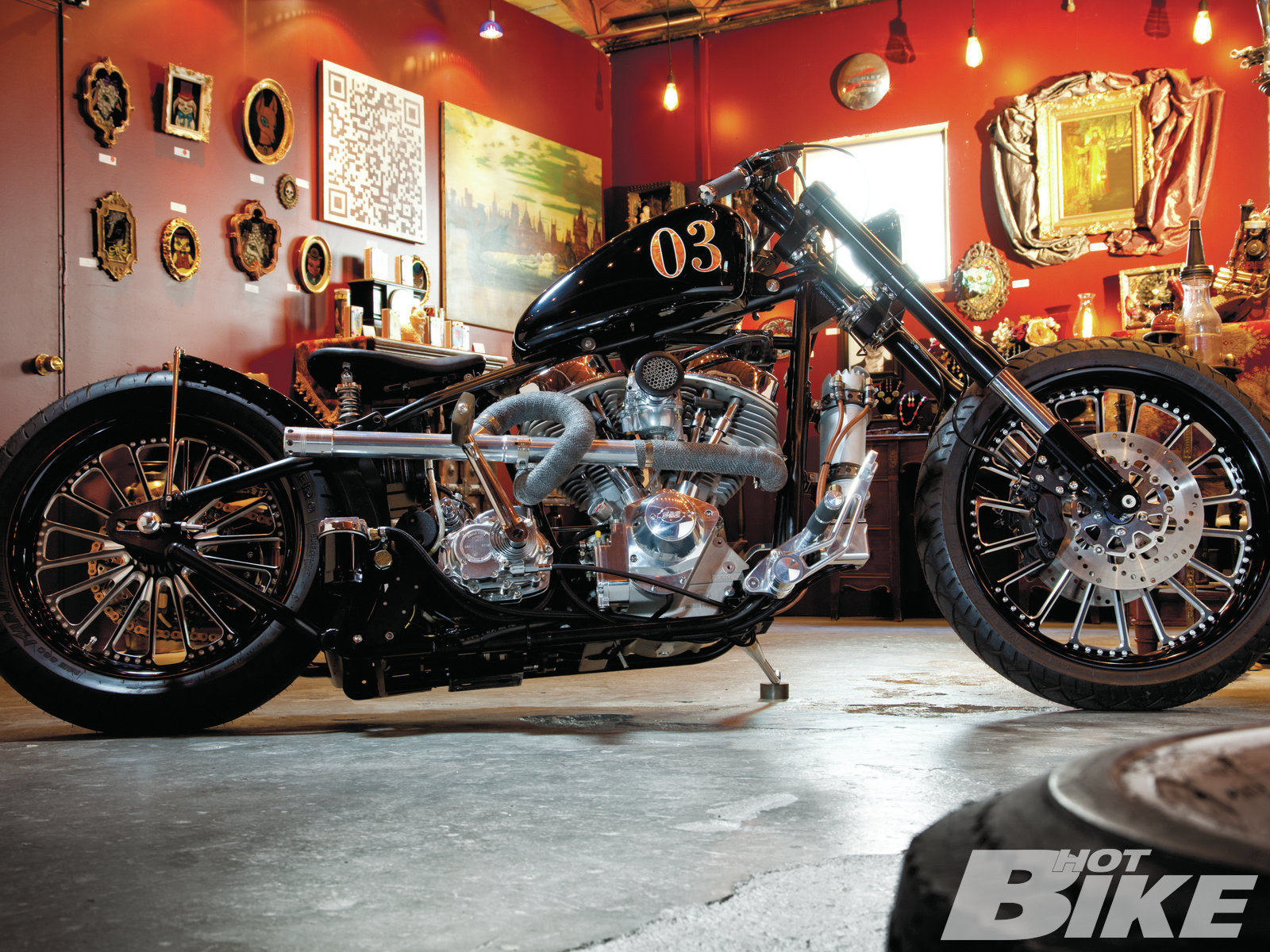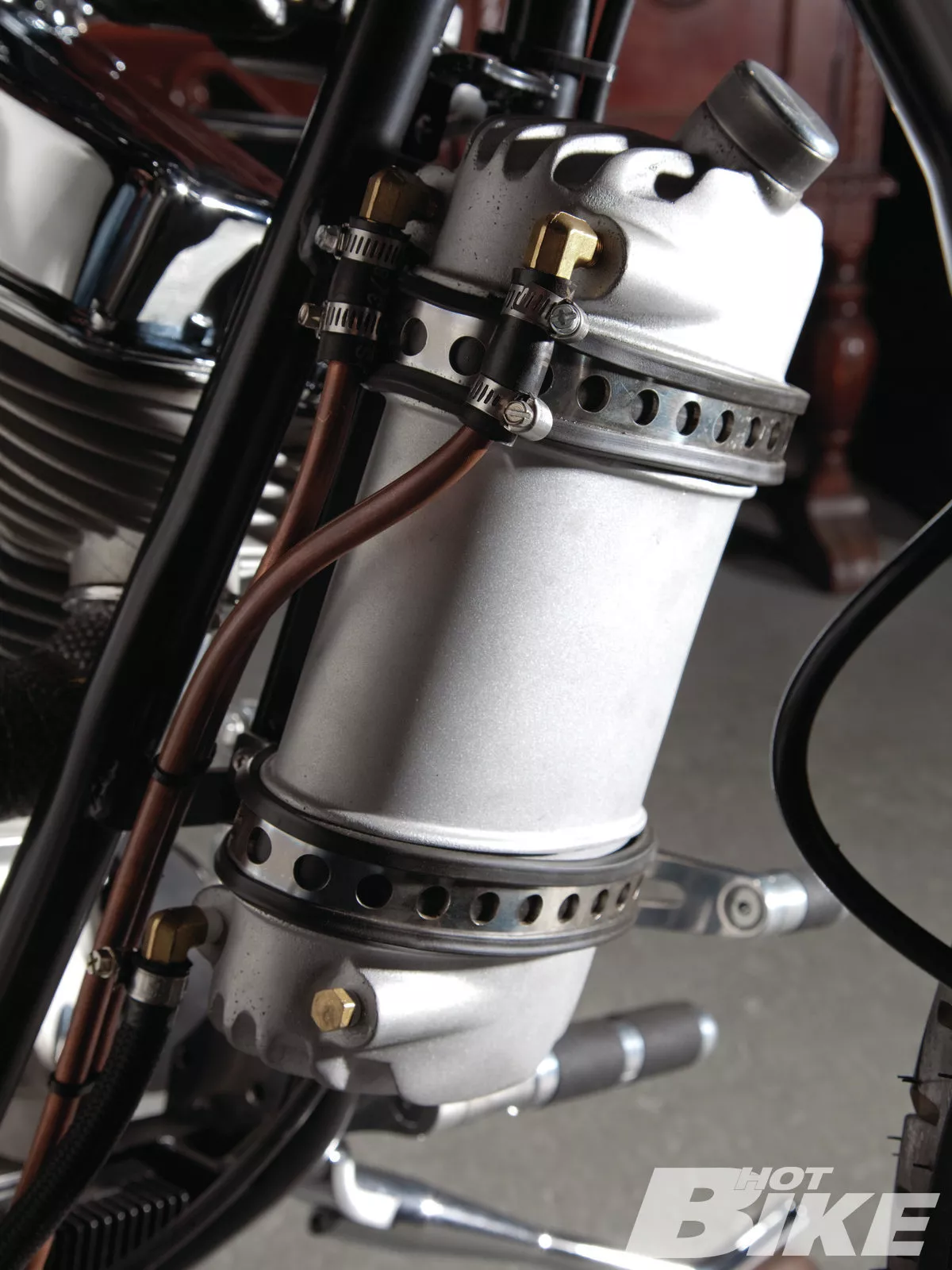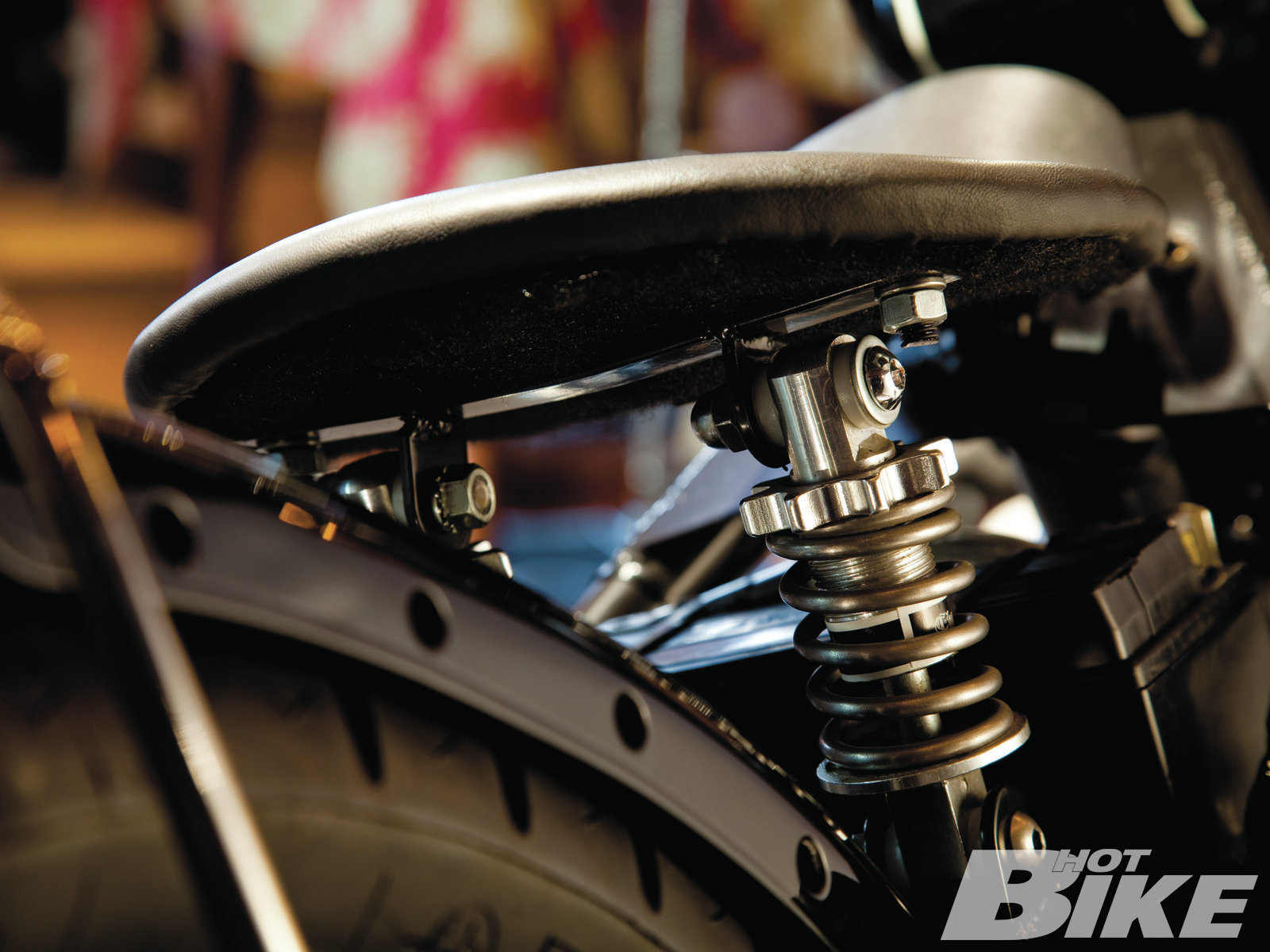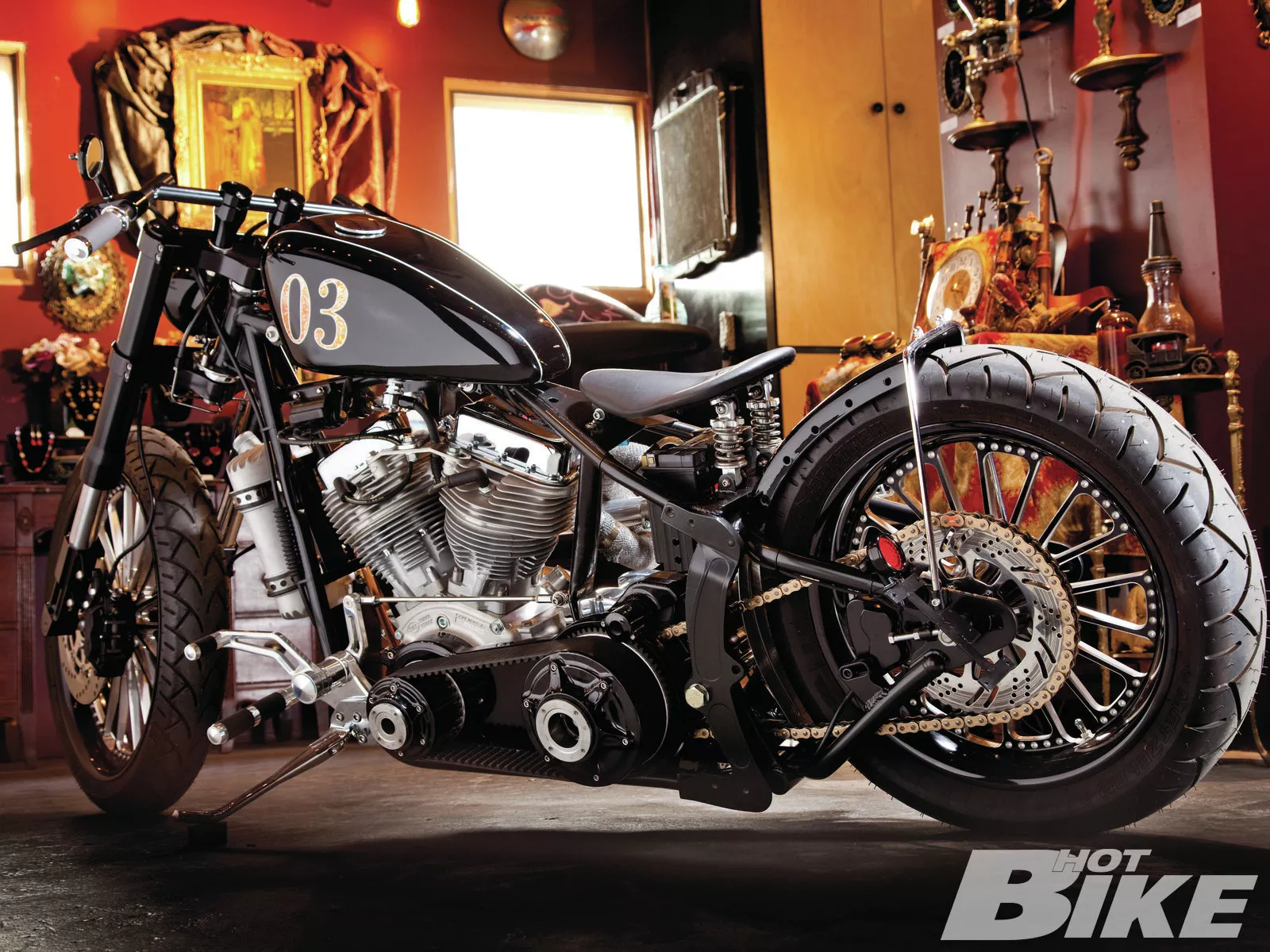 Many bike builders have been called artists, and they are in some sense, but there are other builders that are masters of their trade that have a knack for incorporating their eye for the unusual into other media as well. Michael Schreiber, owner of South Bay Customs in El Segundo, California, has a taste for more than just art of the wheeled and motored type.
Not long ago, Michael created Jacob's Ladder (think the old electric machines from Frankenstein or more specifically, Nicolai Tesla) out of an old springer frontend. And that's just what he does with old, leftover parts from builds he knows he'll never use again. "I have a hard time getting rid of unused parts, and I can't bear to scrap things, I mean what are you supposed to do with an old timing gear from an old car after it's been worn out?" Michael stated. "It's cheaper to buy a new one than to fix it, but it still looks cool and mechanical, why not create a movie poster frame out of it or something?" That kind of thinking is what leads to sleek bike designs like his latest motorcycle, a Softail-style S&S Panhead-powered machine with top-of-the-line suspension.
<div class="st-block quote text-
Notice: Undefined index: st_text_align in C:laragonwwwhotbike-importblocksquote.php on line 1
">
I obviously have to test the bikes I build before I can let a customer take it home. And I gotta say, this one handles way better than my daily-rider Softail Standard.
Unlike the rest of the build, the beginnings of the bike were rather ordinary—a customer came by South Bay Customs looking for a full-custom build. "My friend, Ron Rodriguez, wanted me to build him a custom bike with suspension. We talked a bit about it, and we eventually decided to power it with a Panhead-style motor," said Michael. With the basic design in mind, Michael picked out a Paughco Softail-style frame with stock dimensions and an S&S; 93ci Panhead-style motor. They decided that suspension components were needed next, followed by the wheels. "It wasn't a rigid, so Ron and I thought should handle well, so I picked up a set of Legend Air Ride shocks for the rear and an inverted 55mm Storz/Ceriani for the front," Michael stated. Complementing the performance suspension, he acquired a pair of Brembo four-piston calipers mounted on either side of the fork, halting a set of EBC rotors attached to an RSD 21-inch billet wheel. A matching 18×4 1/2-inch RSD wheel was secured within the Paughco swingarm along with an HHI four-piston caliper and sprotor brake to stop the rear of the bike.
Panheads aren't exactly commonplace, but the real customization began after assembling the chassis. Michael started to make the bike truly unique by shaving off all the frame's unnecessary brackets. He then made a tiny rear fender to cover less than a quarter of the rear tire's diameter; supported by a set of handmade fender struts. A pair of low-profile, hard-angled handlebars were fabricated to rest in shorty risers atop the Storz-Ceriani triple trees. The motor's appearance wasn't glossed over either. "I took one of the velocity stacks off of a Hillborn fuel-injection unit originally designed for a Ford 351ci Windsor. I trimmed it down and fashioned it to fit on the S&S; carb," said Michael. He capped the short stack with the fuel-injection's screen, thereby allowing for a little more leg room for the rider. The exhaust system was also given the South Bay Customs treatment. "Low pipes tend to drag in the corners, so I opted for a mount higher on the frame. I was always thinking about the performance (with some obvious sacrifices for looks) and made the headers the same length; ending in a two-into-one shape," stated Michael. "The pipes have been such a hit at the recent shows I've been to that I'm going to start producing a production version, soon." Behind the motor, a Baker six-speed Frankentranny (it's a five-speed case with a starter ear provision, six-speed gears, and a kick-starter, too) was installed and coupled to the motor with a 2.4-inch-wide, open-belt Baker Synchronous primary minus the outer bearing support and inner belt cover.
In a seemingly short year's time, South Bay was ready to deliver the bike to its customer, Ron. "I obviously have to test the bikes I build before I can let a customer take it home. And I gotta say, this one handles way better than my daily-rider Softail Standard," Michael commented. More than happy with the build, Ron rides the bike quite often—confident that when he arrives at a destination with the bike that there won't be another like his anywhere in the vicinity. Ron has stayed friends with the shop and he's generous with the bike, so there's a chance other people can get a close-up look at it. "We have art shows and bands play here at the shop about once every couple of months. Ron let's me borrow his bike whenever I need one for a display," said Michael. HB
Specifications
| | |
| --- | --- |
| Bike Owner | Ron Rodriguez |
| Shop Name | South Bay Customs |
| Shop Phone | (310) 982-1300 |
| Year/Make/Model | 2011 Special Construction |
| Fabrication | South Bay Customs |
| Assembly | South Bay Customs |
| Build Time | 12 months |
| | |
| Engine | |
| Year/Manufacturer | 2010/S&S |
| Type/size | Panhead/93ci |
| Builder | S&S |
| Cases | S&S |
| Cylinders | S&S |
| Heads | S&S Dual Plug |
| Rocker Boxes | S&S |
| Carb | S&S Super E |
| Air Cleaner | S&S |
| Exhaust | South Bay Customs |
| | |
| Transmission | |
| Year/Manufacturer/Type | 2010 Baker six-speed Kicker |
| Case | Baker |
| Clutch | Baker |
| Primary Drive | Baker Open Belt |
| | |
| Frame | |
| Year/Manufacturer | Paughco |
| Rake | 35 degrees |
| Stretch | N/A |
| | |
| Suspension | |
| Manufacturer Front | Storz/Ceriani 55mm Inverted |
| Length | Stock |
| Triple Trees | Storz/Ceriani |
| Manufacturer Rear | Legend Air-Ride |
| Swingarm | Paughco |
| | |
| Wheels, Tires, and Brakes | |
| Manufacturer Front/Type | RSD Billet |
| Size-Height/Width | 21×3.5 inches |
| Tire/Size | 120/70-21 |
| Caliper | Dual Brembo four-piston |
| Rotor | EBC |
| Manufacturer Rear | RSD Billet |
| Size-Height/Width | 18×4.5 inches |
| Tire/Size | 160/60-18 |
| Caliper | HHI four-piston Sprotor |
| Rotor | HHI |
| | |
| Finish/Paint | |
| Color Black | |
| Painter Chris Morrison | |
| Graphics Variegated Gold Leaf | |
| | |
| Accessories | |
| Front Fender | N/A |
| Rear Fender | South Bay Customs |
| Fender Struts | South Bay Customs |
| Gas Tank & Cap | H-D Sportster |
| Oil Tank | Crime Scene Choppers |
| Handlebars | South Bay Customs |
| Hand Controls | HHI |
| Foot Controls | Accutronix |
| Footpegs | Accutronix |
| Headlight | Swapmeet Halogen |
| Taillight | Todd's Cycle Martini |
| License Mount | South Bay Customs |
| Seat | South Bay Customs |