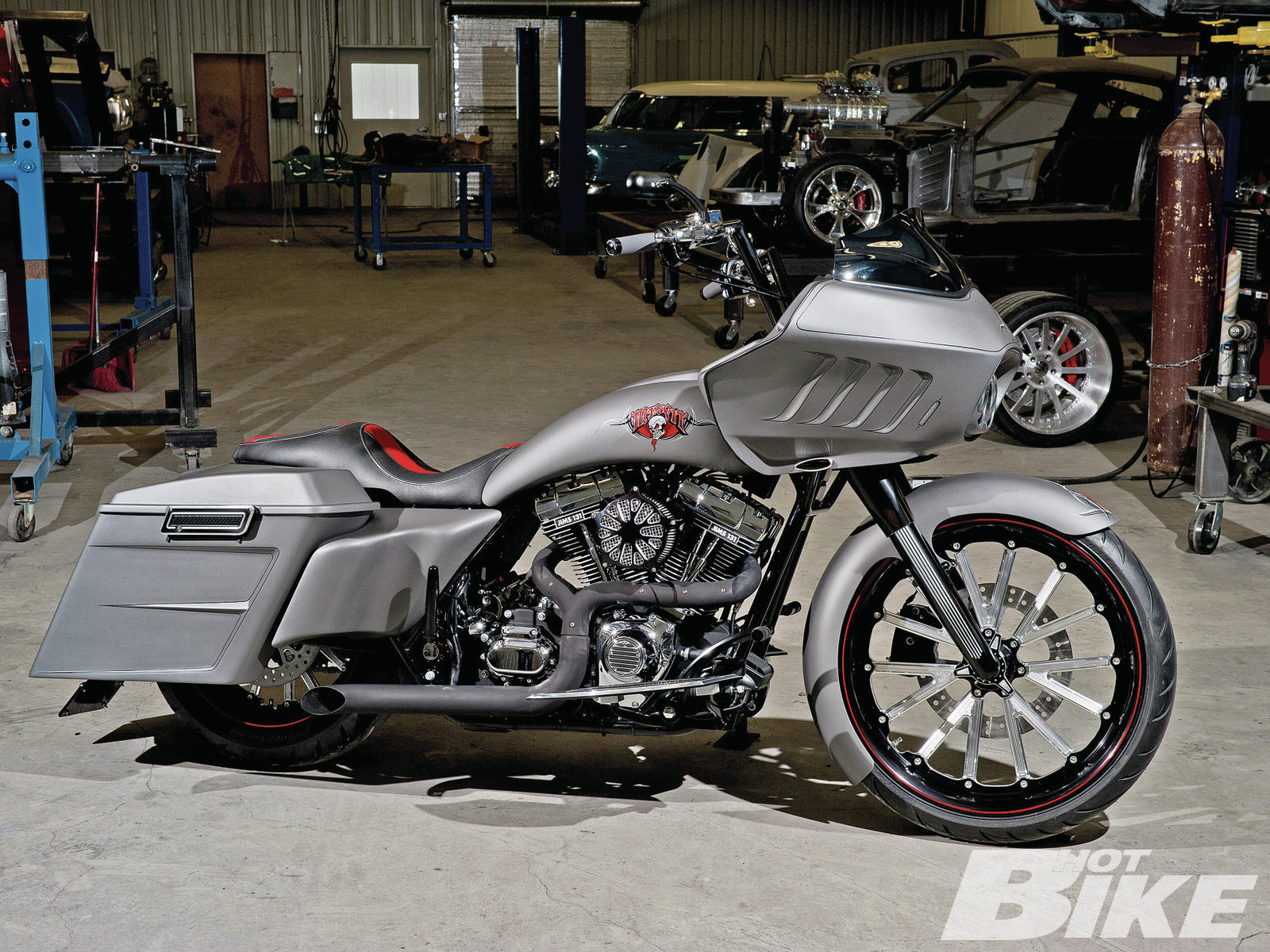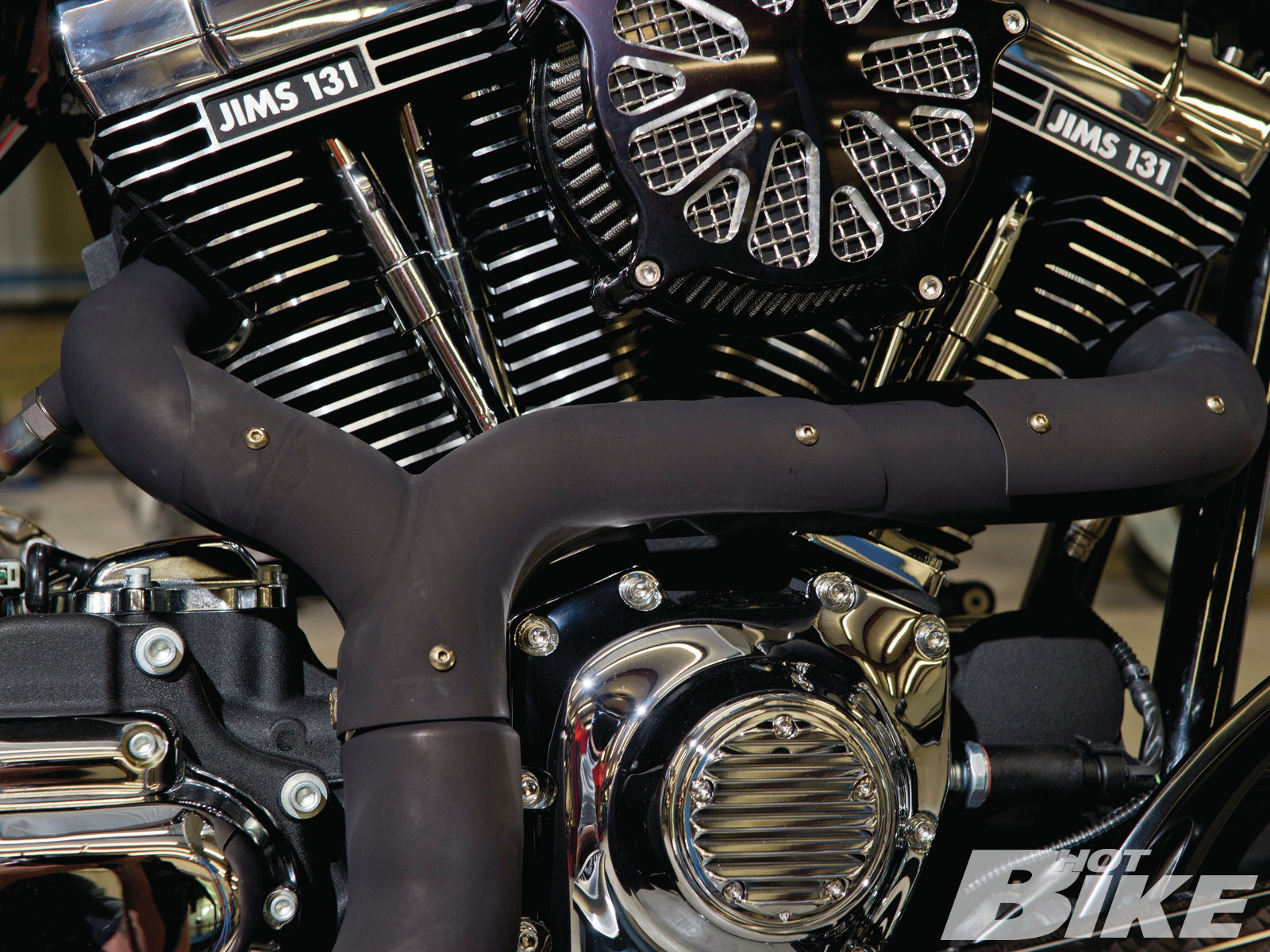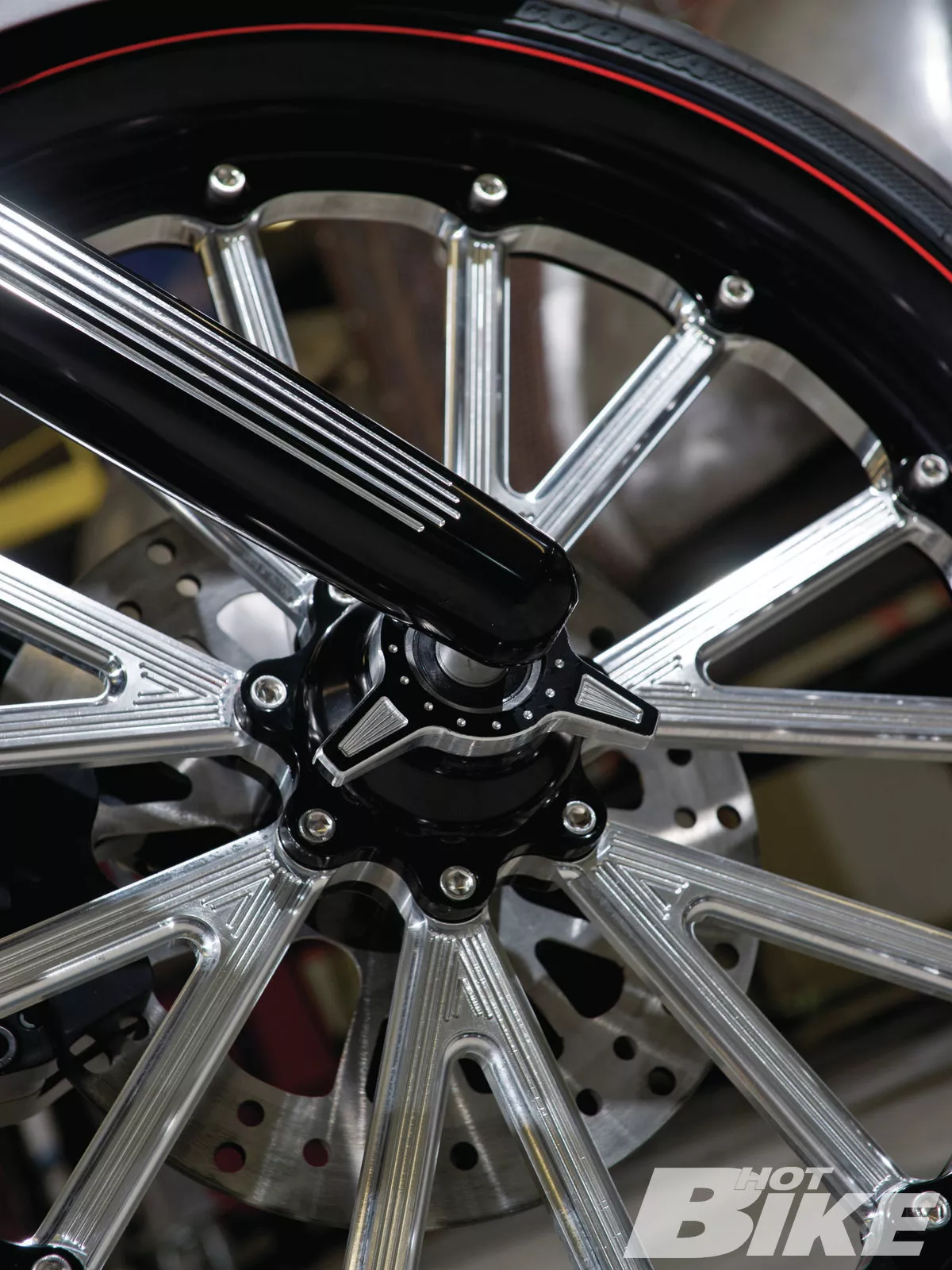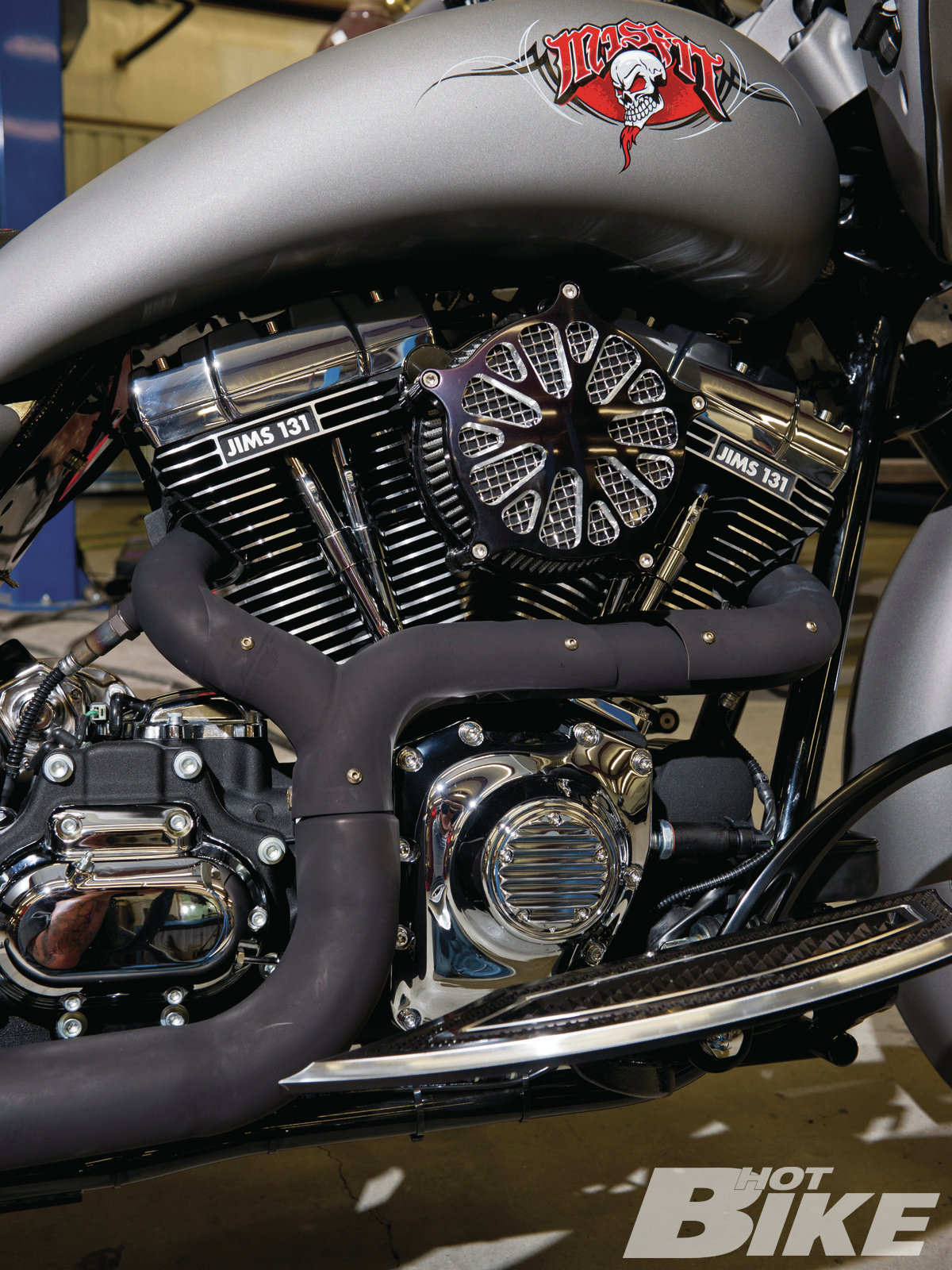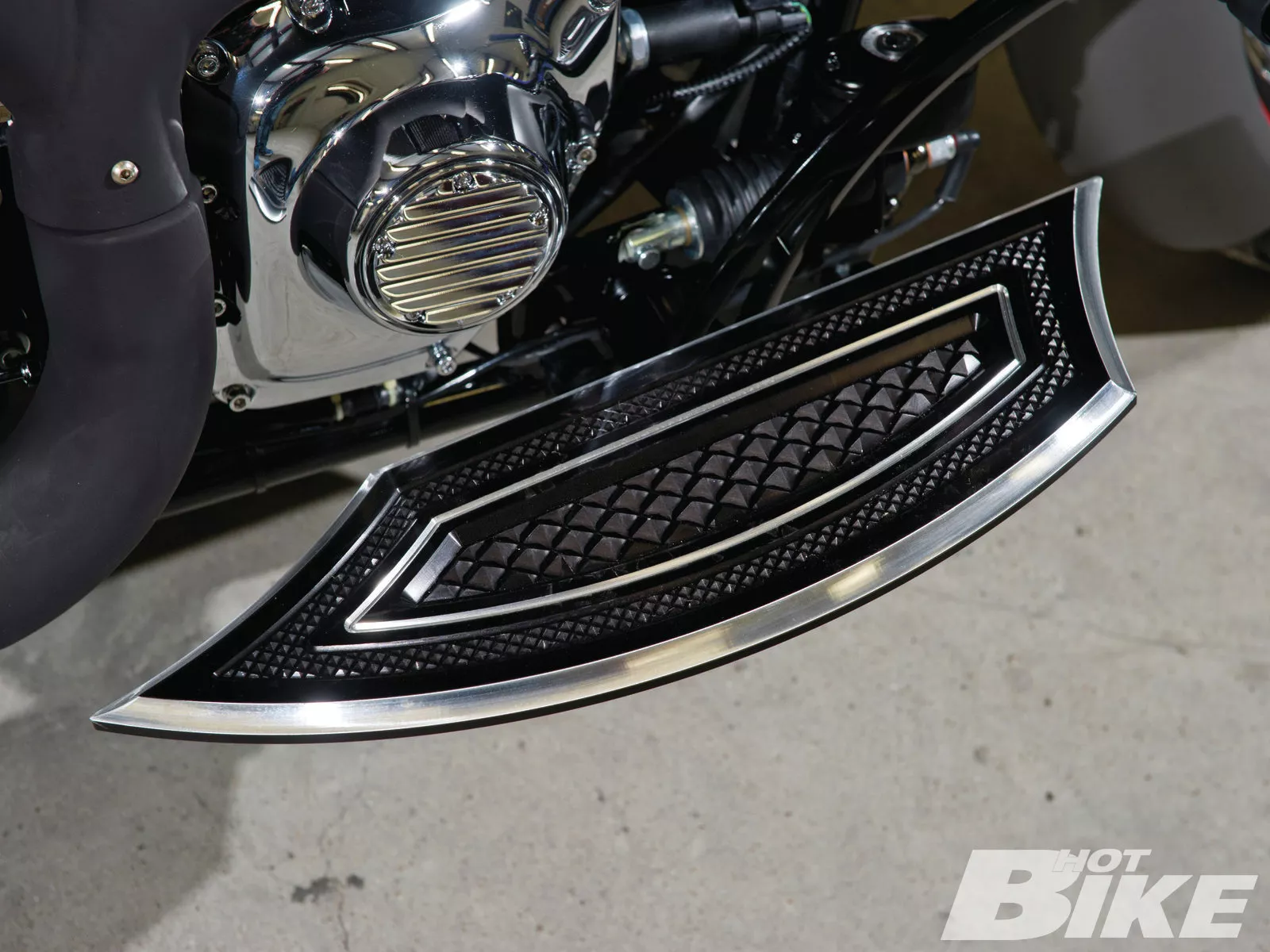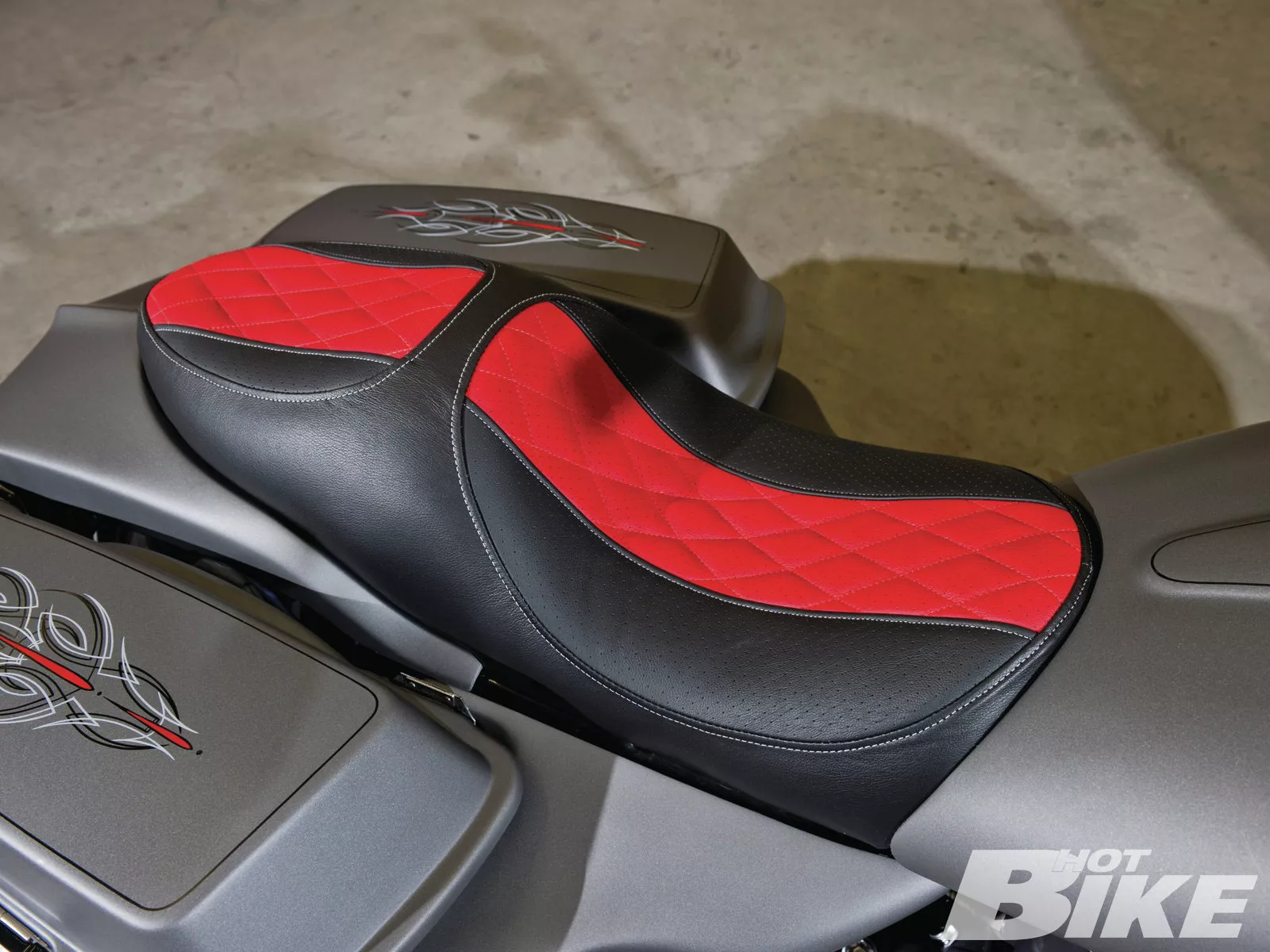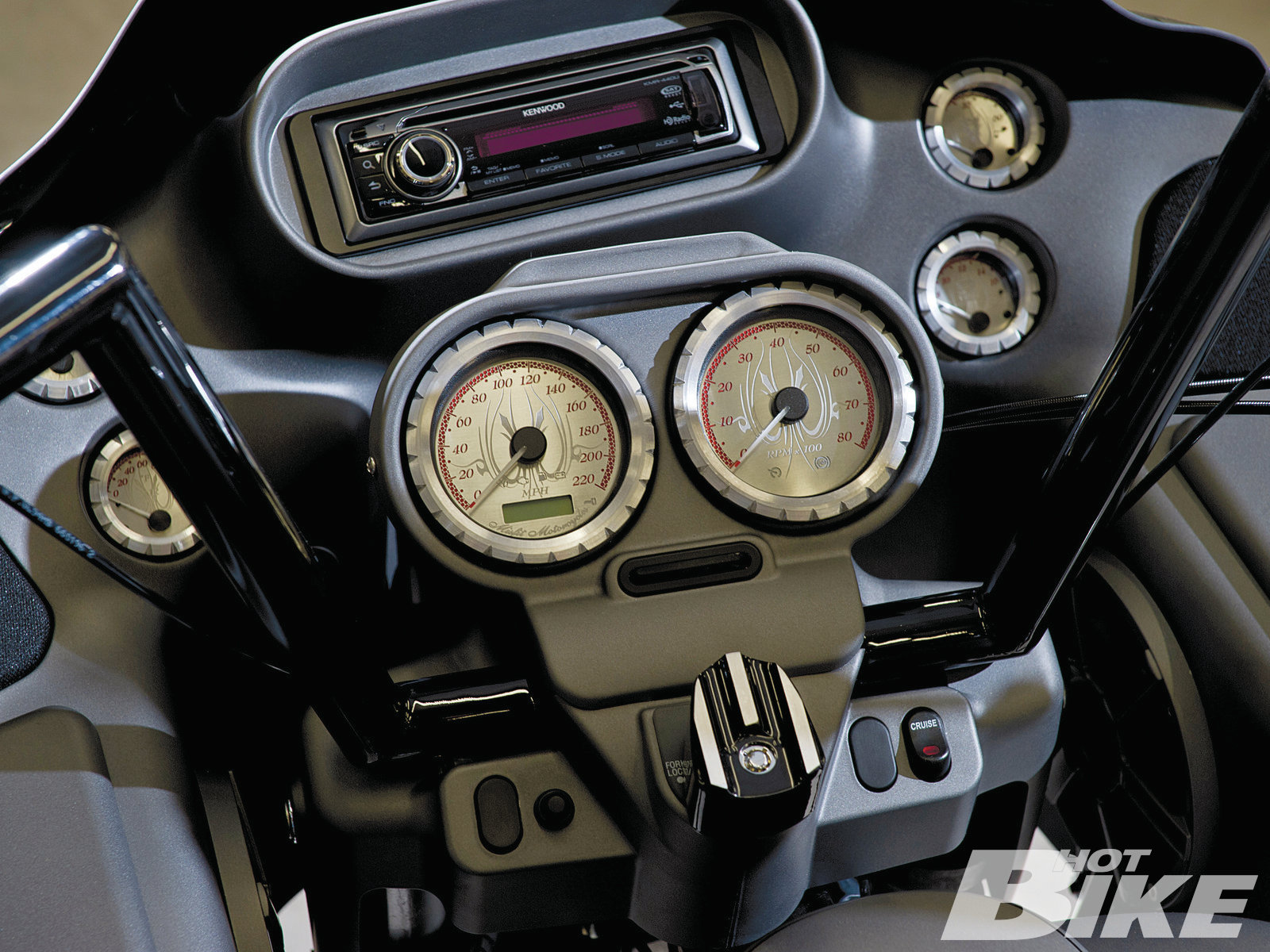 The customer wants to stay unknown," Chris Eder told us when we talked to him about this bagger. Misfit Baggers, which is now owned by Pickard USA, built it for a guy in Ireland who wants to remain anonymous. Which is weird because he chose to do so by buying the loudest motorcycle he could find.
What eventually became this silver beauty started out as a parts call and grew from there. "He called for a fairing and ended up buying three kits," Chris told us. "He called back three days later for a bike." Mr. Mystery Shopper chose most of his parts online and communicated them over the phone. Usually that's not enough to warrant us running a bike feature, so there's got to be something special, right?
Absolutely. In this case, it was a set of 10-inch subwoofers worked into Pickard USA's Heavy Hitter extended bags. Installing big sound like that on a set of motorcycle luggage isn't as big an issue if you don't mind wearing the same clothes for a week on a long trip. For those of us who don't like wearing crusty T-shirts, though, storage space on a road tour is a plus. Our Irish friend felt the same way. That upped the difficulty factor on the stereo bags exponentially. Misfit's solution: a flat subwoofer. Chris tells us that between that and gaining space from using extended bags, the bike only lost 10 percent of its carrying capacity. Cutouts hug the shocks for a precise fit, and a proper seal around the lids keeps the rain out. He also says they crank unbelievably loud sound like a car. "Nothing out there has true base like ours," Chris said. This was the first set and it was made by hand. However, the company has been refining the subwoofer saddlebags ever since. One of the upgrades: quick disconnection for both the bags and wiring. Come the middle of 2012, it's going to be released as a production item.
If the subwoofer saddlebags are the star of this show, the angular rear fender sandwiched between them is definitely a supporting player. Between the three of them, the parts lend a sharp cutoff to the motorcycle's profile. The look is a great match to the fairing, which blends curves and angles in a way reminiscent of a star fighter straight out of a sci-fi movie. A Cool-7 gas tank curves up from the side panels and seat into the fairing, uniting the lines out back with the lines and curves up front. It's all mounted to a Misfit bagger frame with the same dimensions as a stock Harley-Davidson touring bike. To run Pickard's Mach-7 23-inch wheel, they make bolt-on trees that kick it out so you don't have to cut the chassis. They would work with a stock Harley frame too while maintaining proper rake and trail to boot. What's more, Pickard USA guarantees no wobble as well.
<div class="st-block quote text-
Notice: Undefined index: st_text_align in C:laragonwwwhotbike-importblocksquote.php on line 1
">
It's hard to be stealthy when your scoot is powered by the roar of a 131ci JIMS Twin Cam engine, like this one.
Not only will 23-inch wheel looks and gigantic subwoofer sound get you noticed on the road, but combine them with a big motor and anonymity becomes impossible. It's hard to be stealthy when your scoot is powered by the roar of a 131ci JIMS Twin Cam engine, like this one. Unless you're Harry Potter, chances are you don't have a magic remote that can keep a powerplant like that quiet. You can have a lot of fun cranking the throttle on it, however, and I'm pretty sure our mystery owner does just that, wherever the hell he is. Pickard spiced it up with its own 2-into-1 exhaust and air cleaner. Open belt primaries aren't exactly standard for a bagger like this, but our Irish friend had one installed on this project. It sends all the mill's hard-charging ponies to a six-speed Harley transmission.
The black ceramic-coated pipe on this badass motorcycle gives it a bit of an industrial look. Flat metallic silver paint carries that aesthetic throughout the rest of the bike. It's offset by tribal graphics on the saddlebags and rear fender, as well as Misfit's logo on the tank and red striping on the wheels.
This baby may have started as a parts order but it grew into something much larger and louder. How could it not be, with a mammoth stereo system and (arguably) more ginormous motor to power it? Its anonymous owner succeeded in keeping his name out of this story. Keeping a low profile on the road though? Good luck with that. Let us know how that goes the first time you whack the throttle or plug in your MP3 player wherever you are. HB
| | |
| --- | --- |
| ### Specifications | |
| Bike Owner | Shipped to Ireland |
| Shop Name | Pickard USA |
| Shop Phone | (972) 231-1298 |
| Shop website | pickardbaggerparts.com |
| Year/Make/Model | '11/Misfit/Road Rage |
| Fabrication | Pickard USA |
| Assembly | Pickard USA |
| Build Time | Eight weeks |
| Engine | |
| Year Manufacturer | '11/JIMS USA |
| Type/size | Twin Cam/131ci |
| Builder | JIMS USA |
| Cases | JIMS USA |
| Cylinders | JIMS USA |
| Heads | JIMS USA |
| Rocker Boxes | JIMS USA |
| Carb | Zippers 60 MM |
| Air Cleaner | Pickard USA |
| Exhaust | Pickard USA |
| Transmission | |
| Year/Manufacturer/Type | '11/H-D/Six Speed |
| Case | H-D |
| Clutch | Tech Cycles |
| Primary Drive | Tech Cycles 2-inch |
| Frame | |
| Year/Manufacturer | '11/Misfit |
| Rake | 31 degrees |
| Stretch | Stock |
| Suspension | |
| Manufacturer Front | Progressive Suspension |
| Length | Stock |
| Triple Trees | Pickard USA bolt on Bagger Trees |
| Manufacturer Rear | Arnot Air Ride |
| Swingarm | '11 Misfit Baggers |
| Wheels, Tires, and Brakes | |
| Manufacturer Front/Type | Pickard USA Mach-7 |
| Size-Height/Width | 23×3.75-inch |
| Tire/Size | Avon 130/60 R23 |
| Caliper | HHI |
| Rotor | Pickard USA |
| Manufacturer Rear | Pickard USA |
| Size-Height/Width | 18×5.5-inch |
| Tire/Size | Avon 200/55R18 |
| Caliper | Performance Machine |
| Rotor | Pickard USA |
| Finish/Paint | |
| Color | Flat Metallic Silver |
| Painter | Chris Eder at Pickard USA |
| Graphics | Darren Wenzel at Gasoline Art |
| Accessories | |
| Front Fender | Pickard USA 23-inch |
| Rear Fender | Pickard USA |
| Fender Struts | Pickare USA |
| Gas Tank & Cap | Cool-7 |
| Oil Tank | Misfit Baggers |
| Handlebars | Pickard USA 12-inch Road Rage |
| Hand Controls | H-D |
| Foot Controls | Supreme Legends USA |
| Floor Boards | Eddie Trotta |
| Headlight | H-D |
| Taillight | Pickard USA |
| License Mount | Pickard USA |
| Seat | Stoney Paul and Pickard USA |
| Saddlebags | Pickard USA Heavy Hitter 10-inch Sub Bags |
| Saddlebag Latches | Eddie Trotta |
| Audio | Pickard USA and Arc Audio |