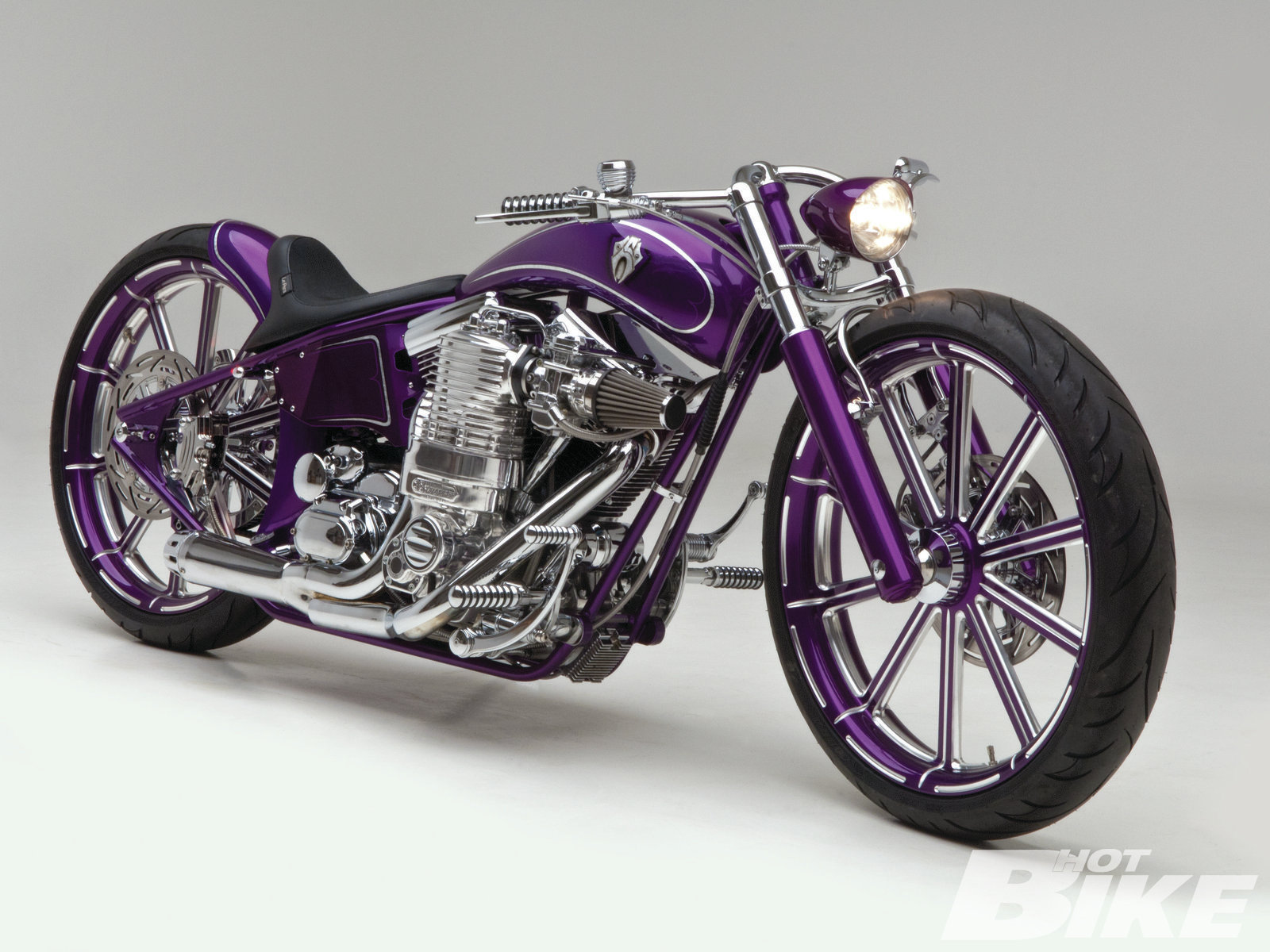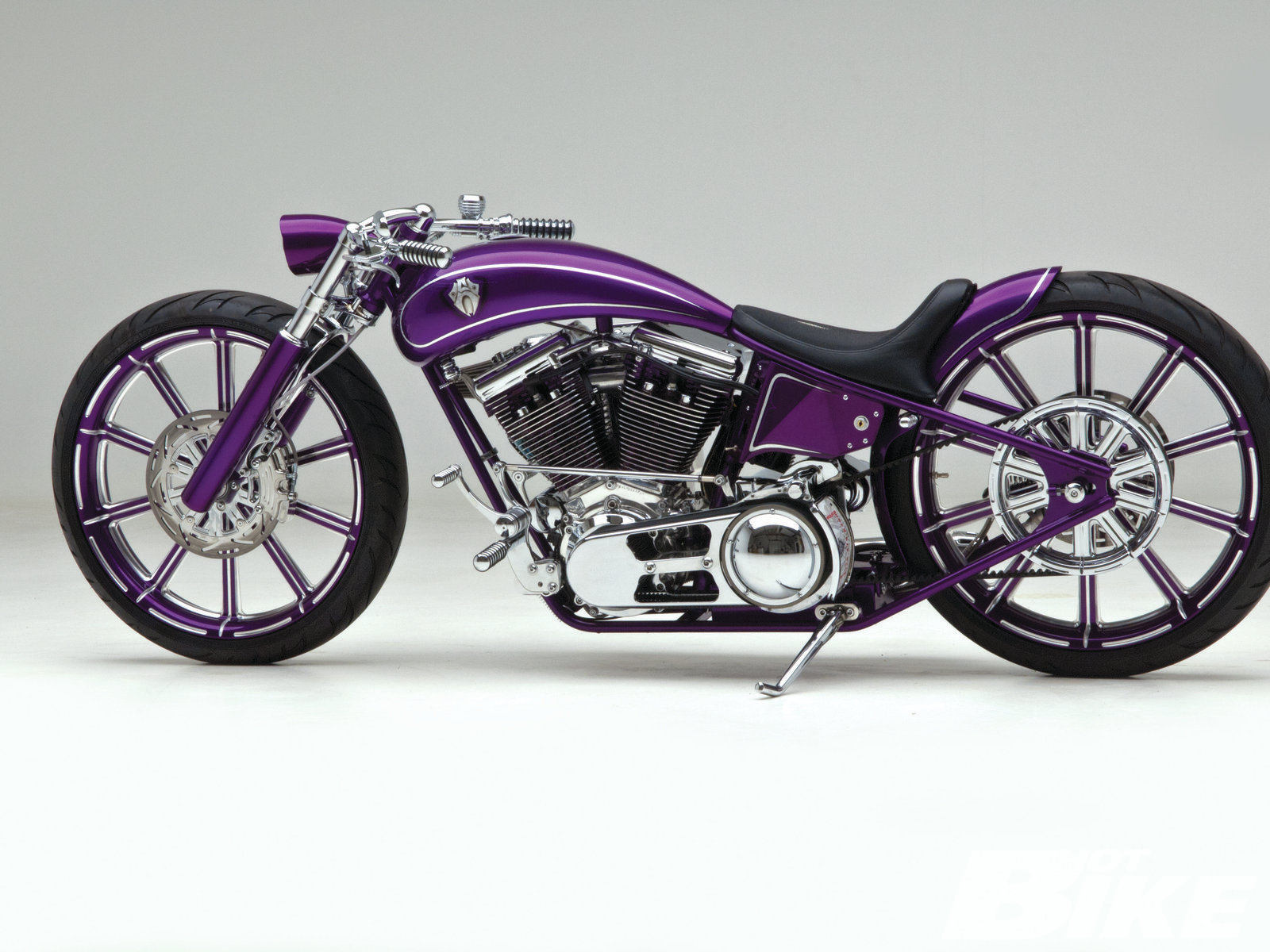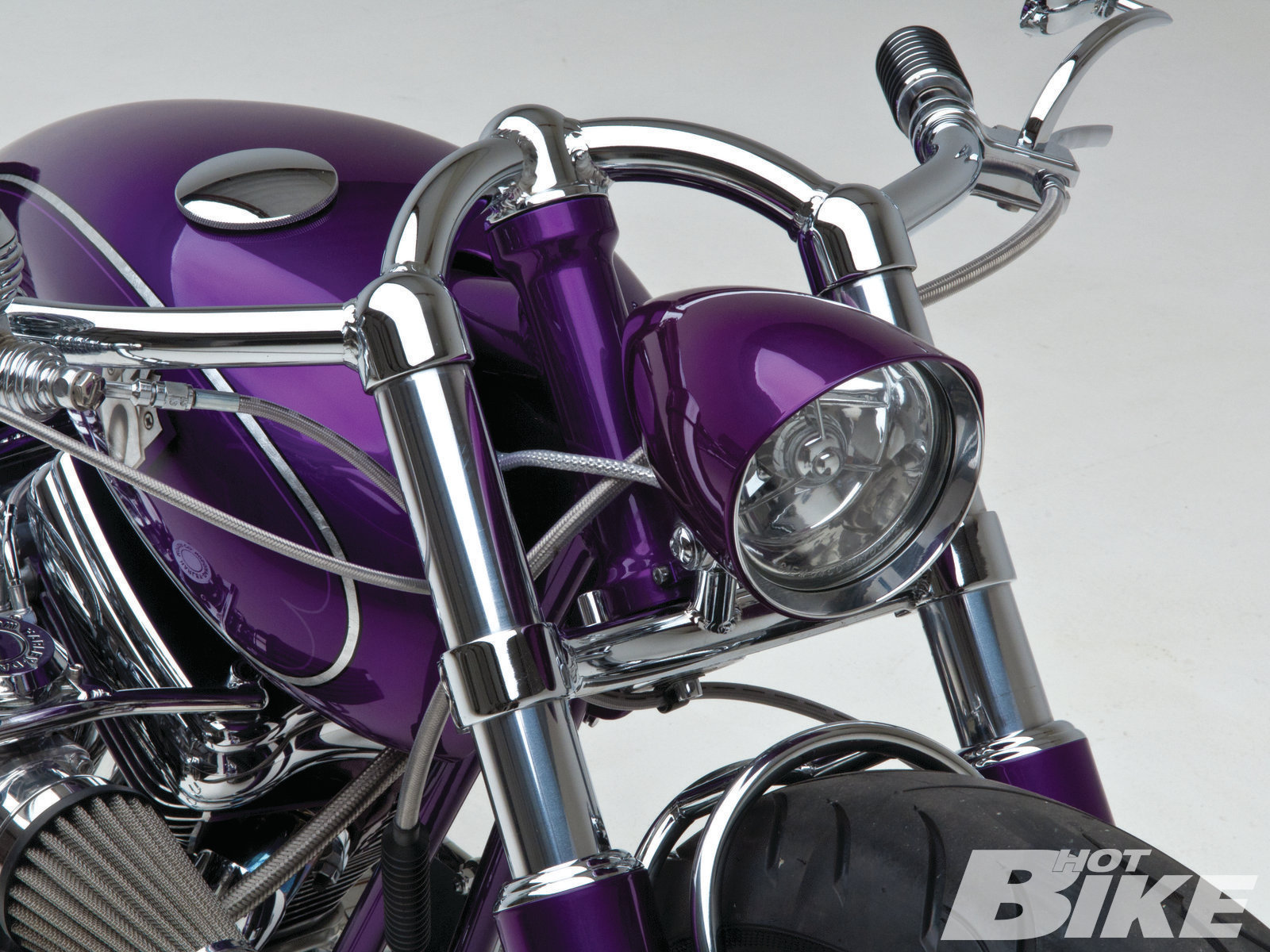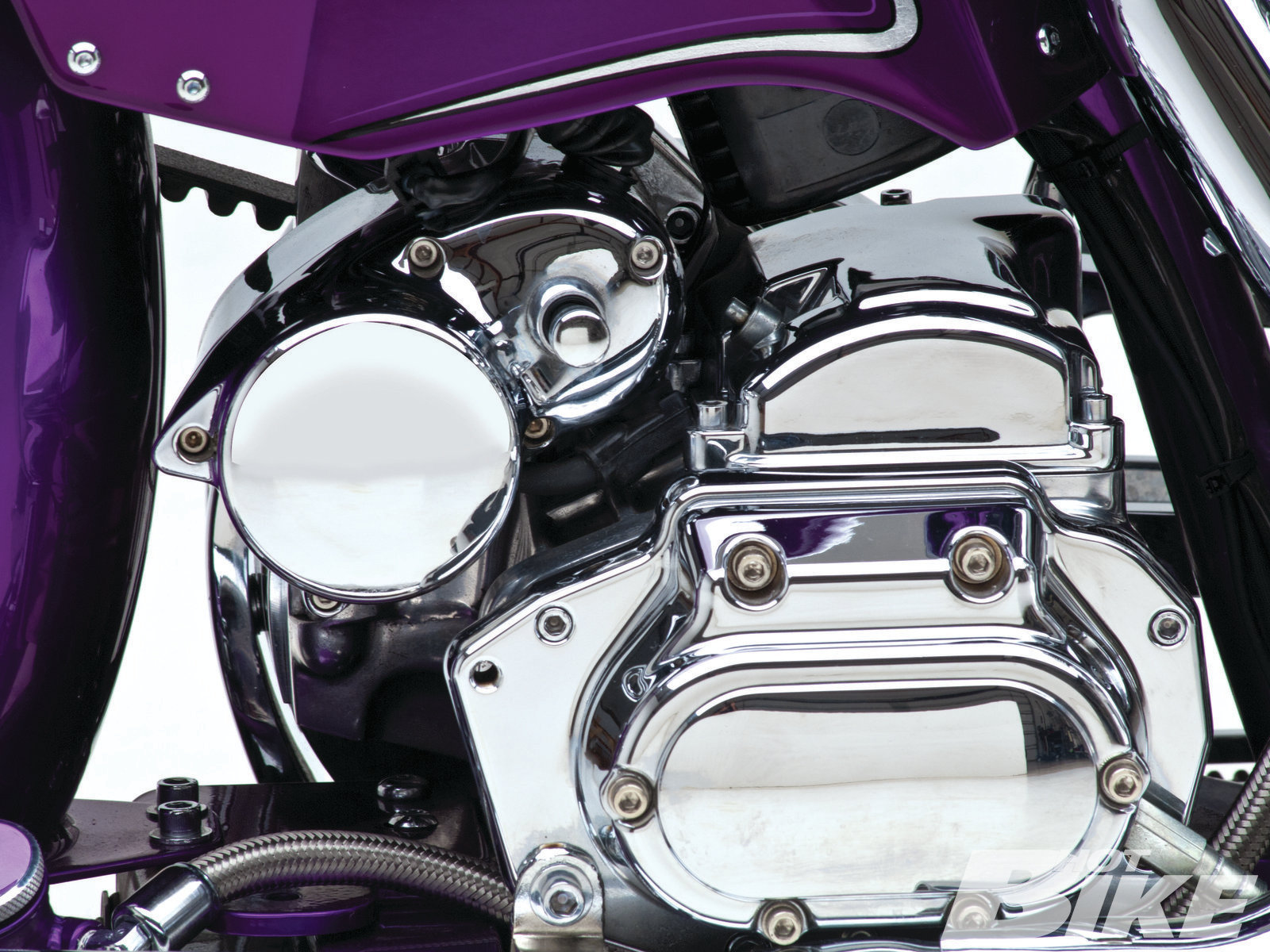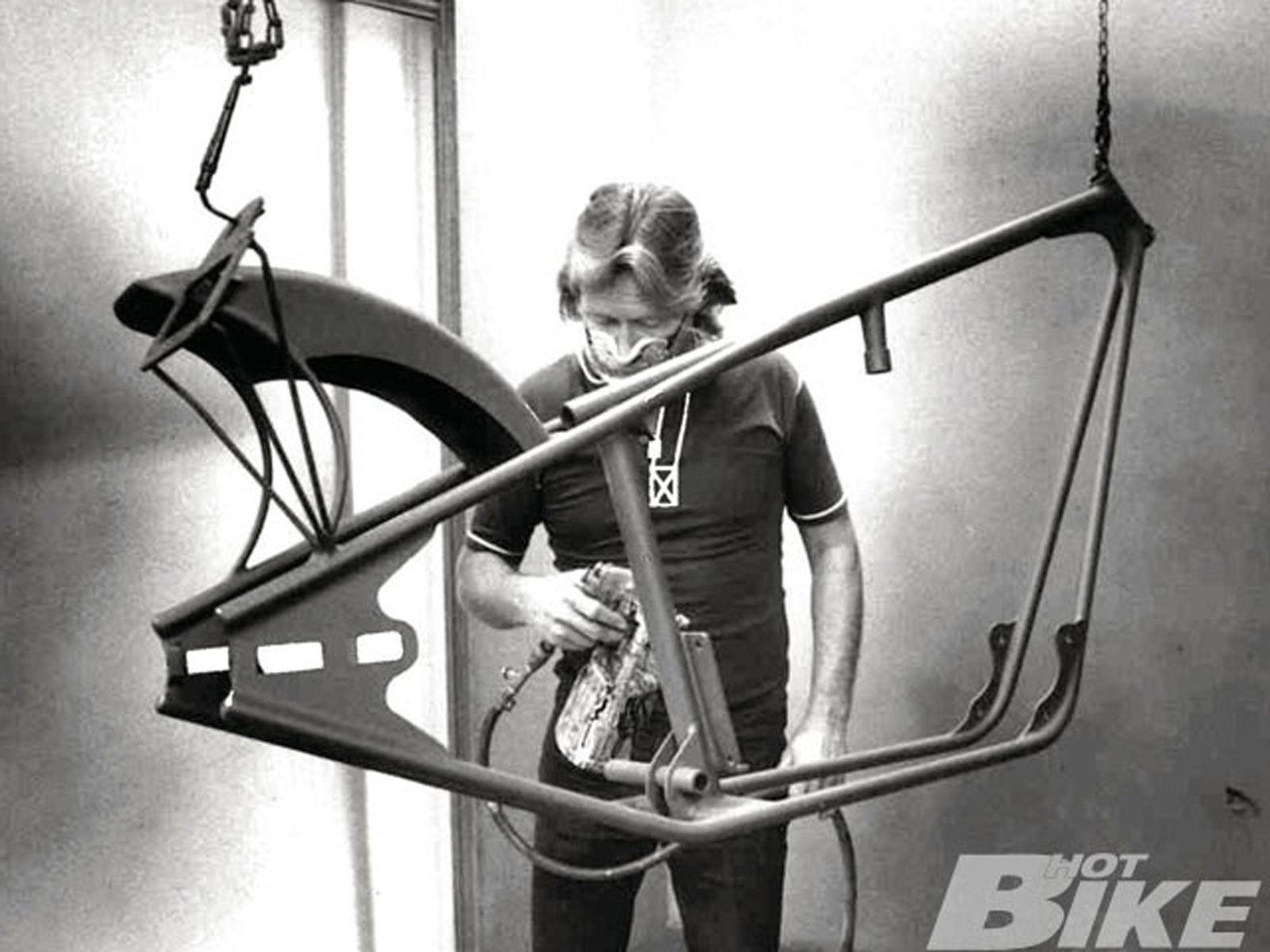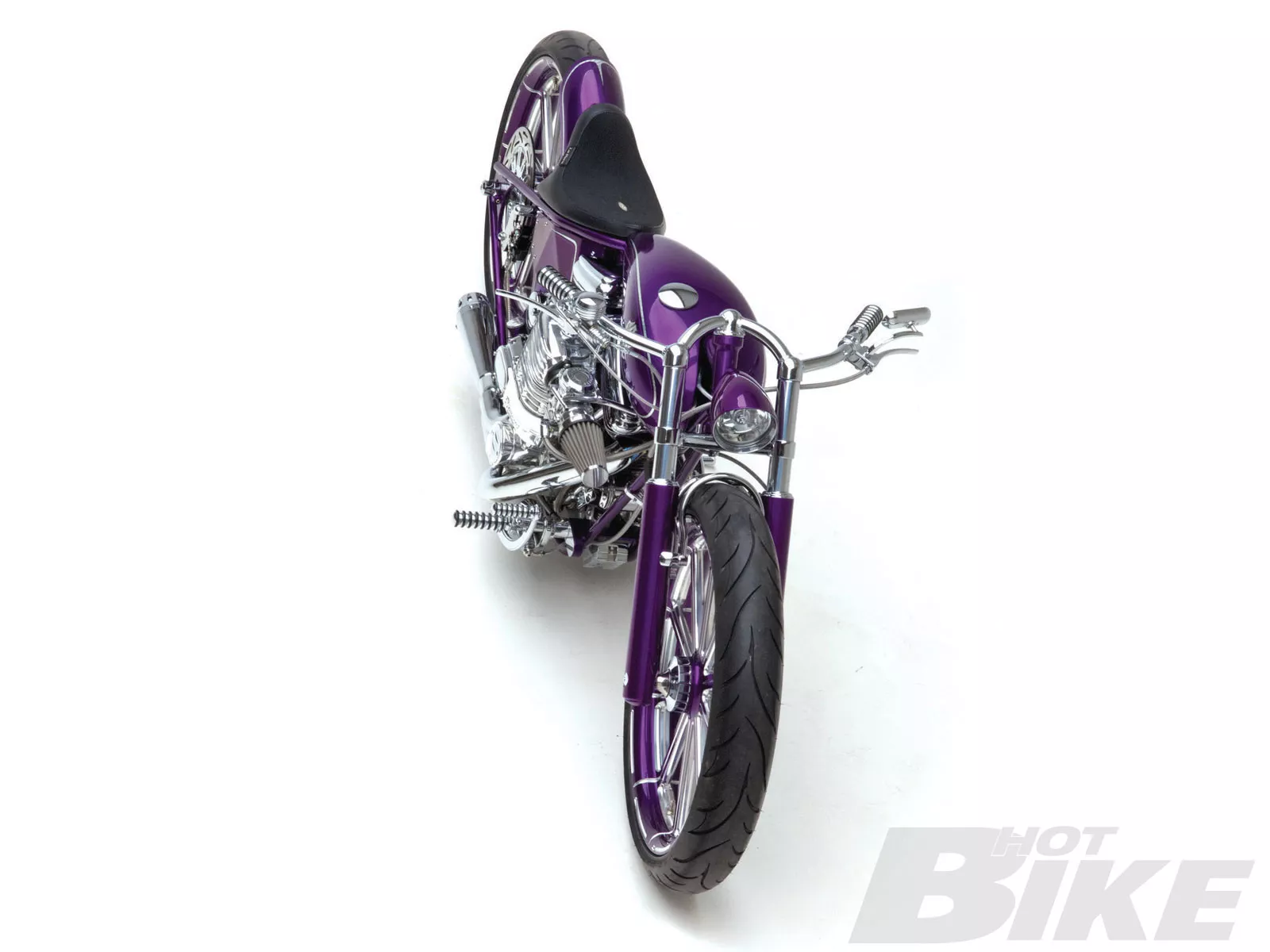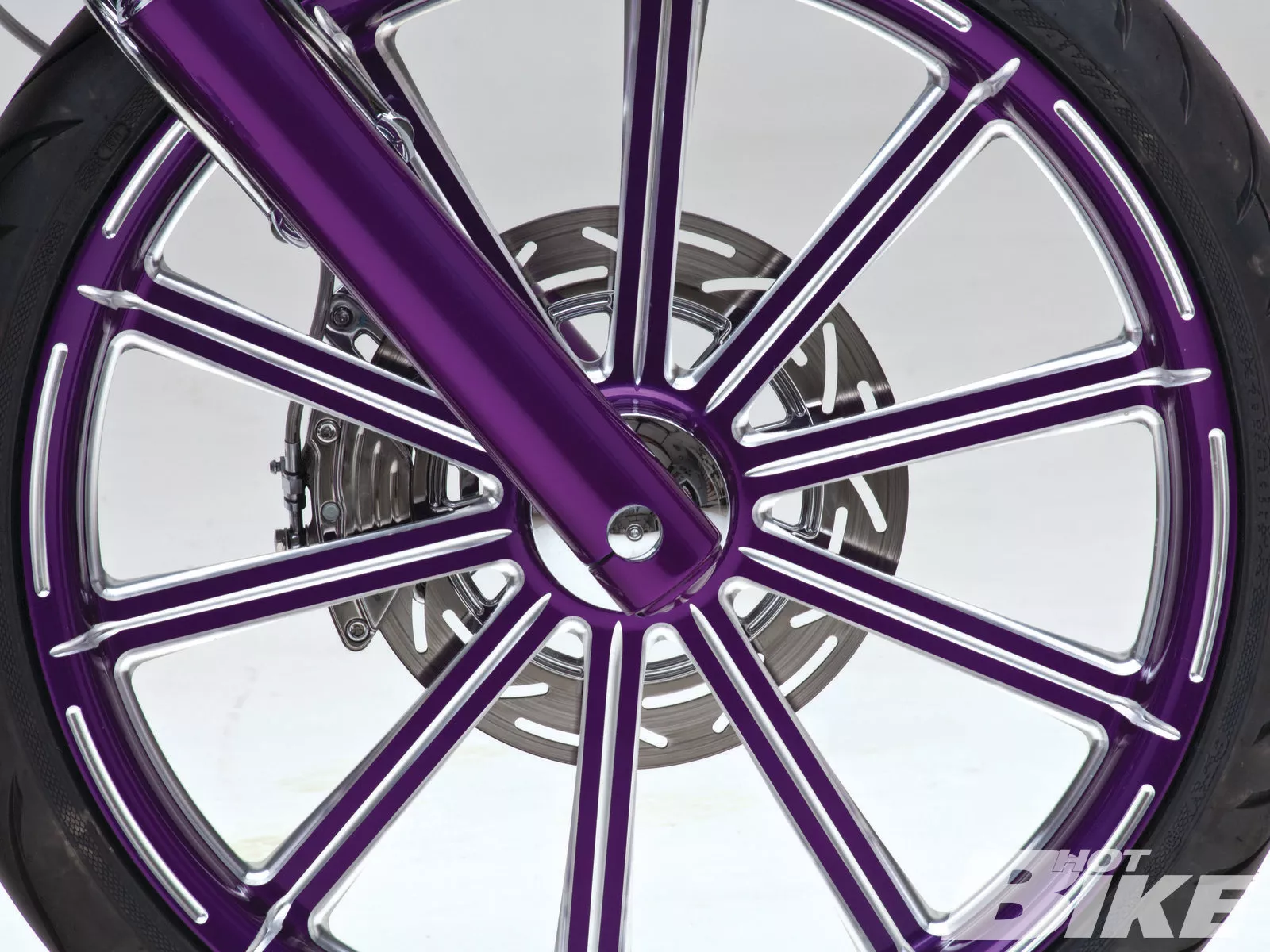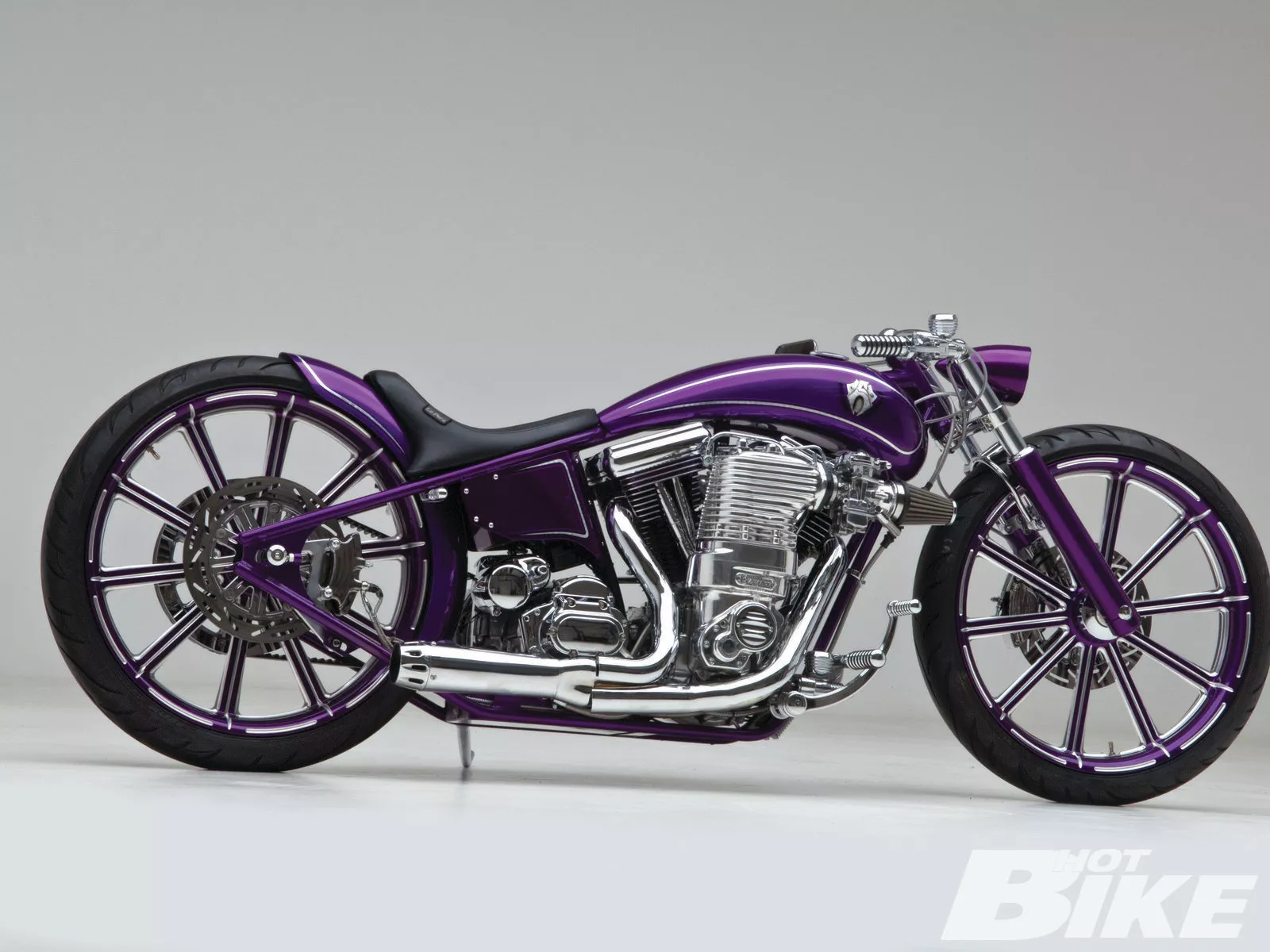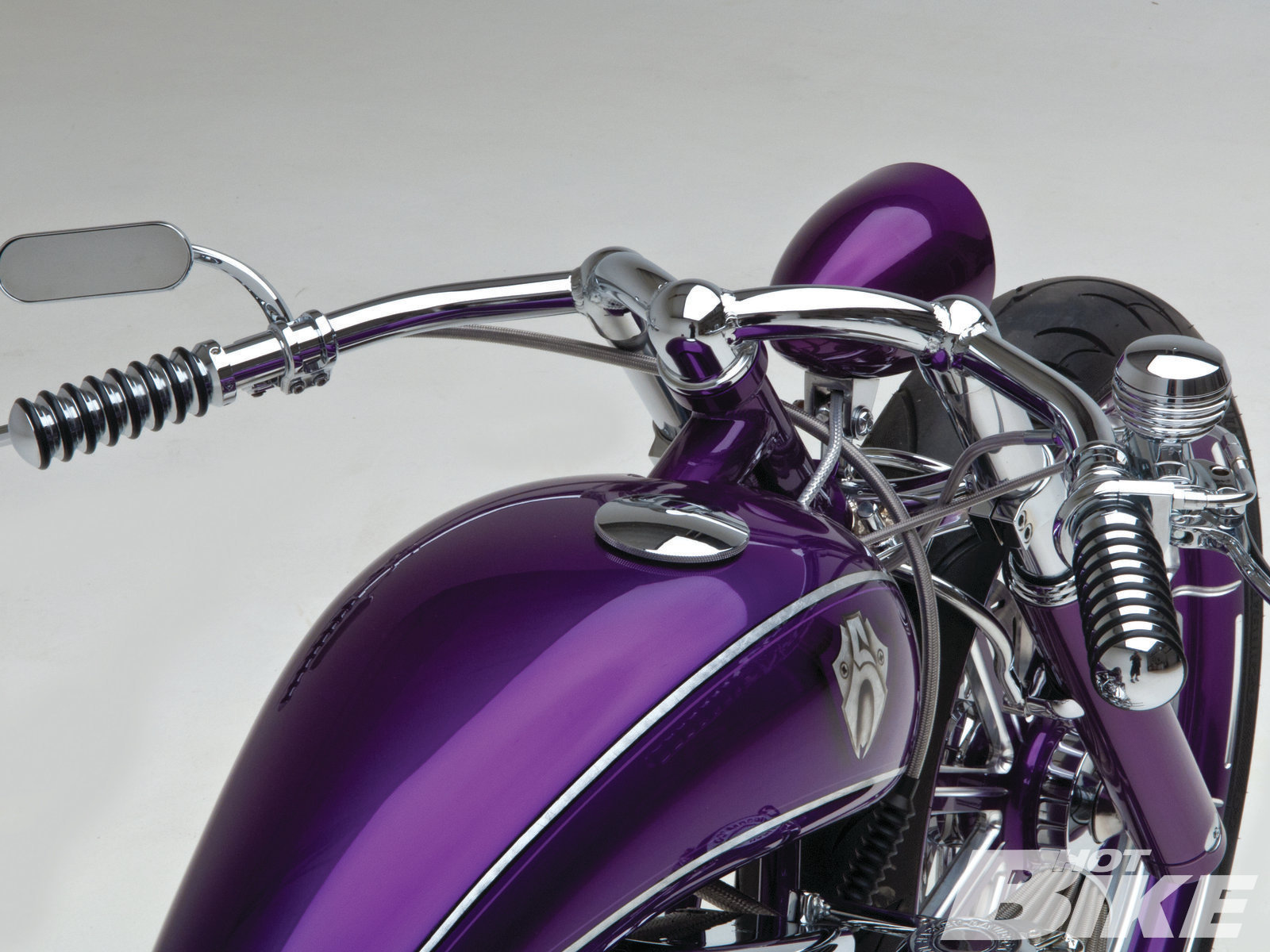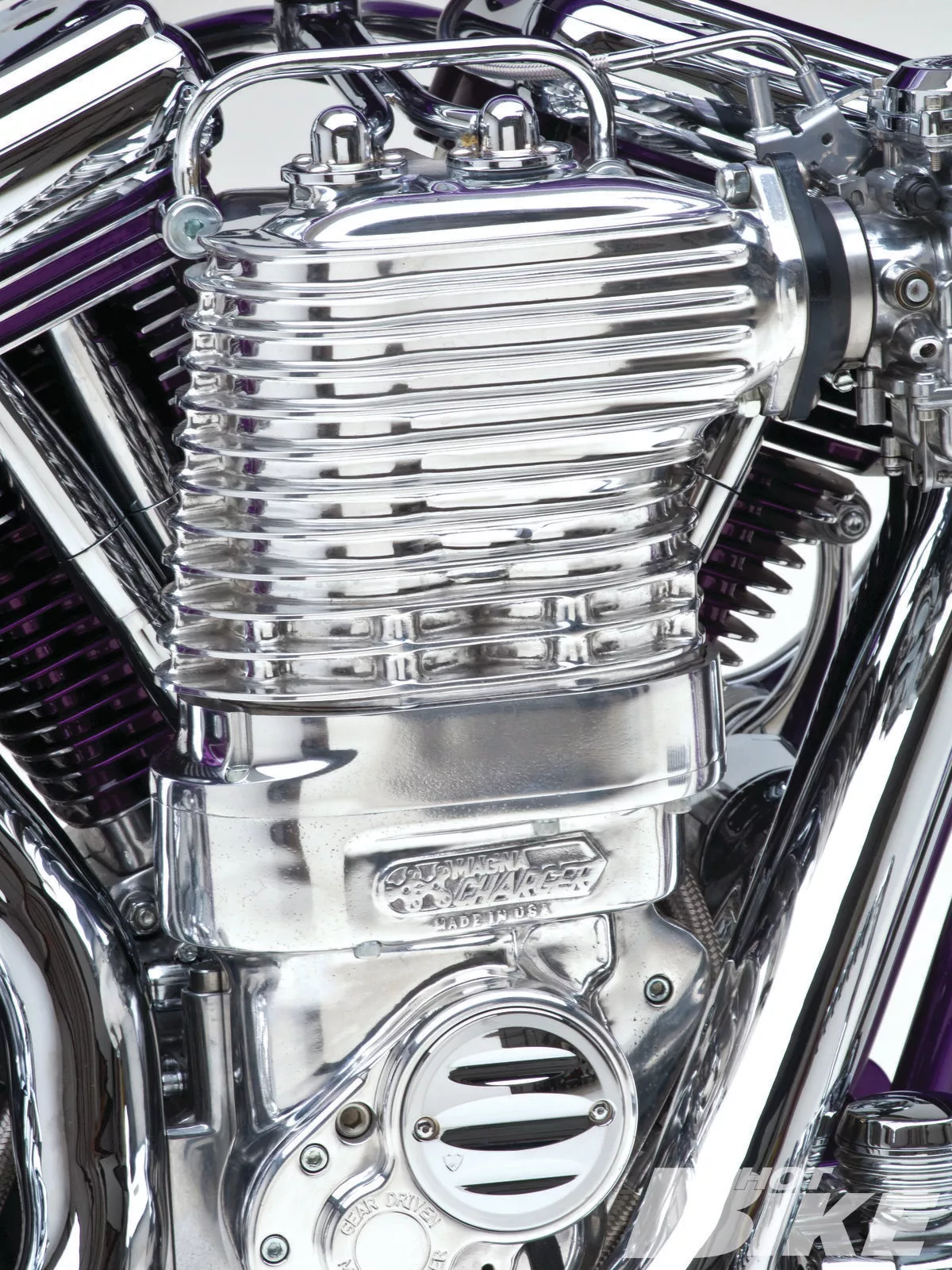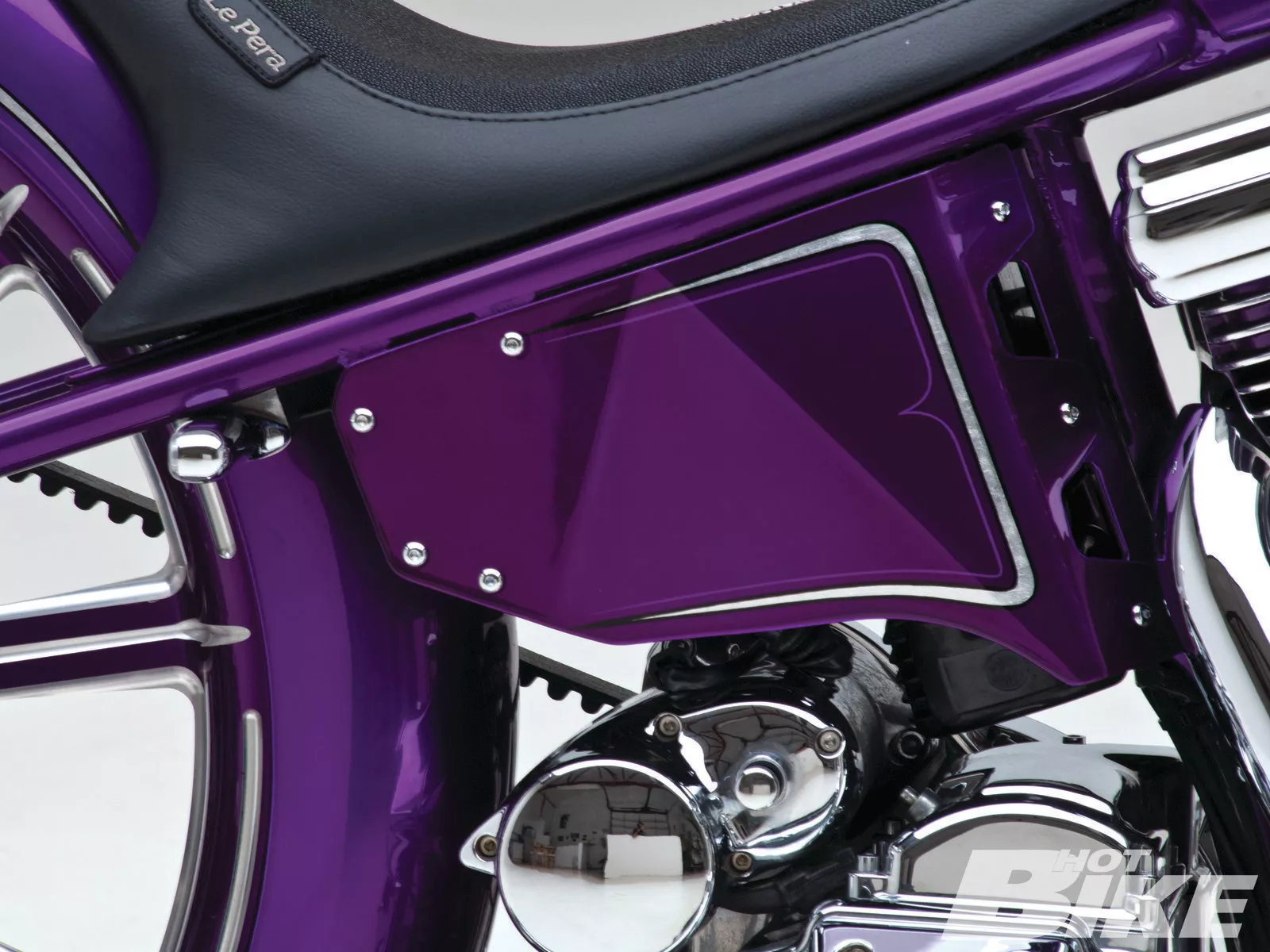 The circle is now complete. When I left you, I was but the learner. Now I am the master." Darth Vader, Star Wars: A New Hope
Since they've both procreated, I'm going to go out on a limb here and guess that neither Arlen nor Cory Ness are big enough Star Wars geeks to have duked it out with toy light sabers in costume. Cory's clean purple rigid here represents a return to the Ness family roots, though. It's a digger with his distinct take on that historic style.
Hop in the Way Back Machine with me for a minute and you'll understand. In the late '60s and early '70s, Arlen and Jim Davis collaborated on a new style of custom chassis rooted in Jim's motorcycle drag racing background. It was a longer, spindly skeleton with thin (7/8-inch) chromoly tubing for bones. That frame is the heart and soul of the digger style. This was among the first things Arlen did with the frames. Keep in mind that this was back when sometimes Arlen laid a stock frame on the ground on its side like in a crime scene and used chalk to trace and plan bringing out the neck. Digger bikes were also very narrow in comparison to most stock cruisers. Some had rocket or diamond gas tanks, too. Arlen won many an award with the digger style but eventually customer tastes gravitated towards frames made from fat tubing and the digger style went into hibernation.
Until recently. The fall of the modern chopper craze, coupled with the economic downturn we've all come to know and love, steered consumers away from creating ground-up customs and towards customizing stock rides. Against this backdrop, the Nesses created a few modern diggers. According to Cory, "Small tubing was where our heart was so we did a couple of diggers and got many good responses. We liked it and got a lot of good feedback." That led the Nesses toward making digger frames available for purchase for relatively cheap.
<div class="st-block quote text-
Notice: Undefined index: st_text_align in C:laragonwwwhotbike-importblocksquote.php on line 1
">
Both of the digger's Ness rims measure a tall 23 inches. Their spindly look is a great match to the chassis upon which this beautiful bike is based.
Bringing back the digger frame kindled the creative flame. Cory stoked the fire, though. "I hadn't made a bike for myself with a digger chassis yet and Sturgis wasn't too far around the corner," he says. It was the first ground-up project he'd created in a while. "It was a lot of fun to build and ride." With not too many ground-ups being built nowadays, a frame like this lets home builders create one without spending a ton of dough, using the digger chassis and a used, inexpensive motor such as the Evo Softail engine Cory tapped for his project.
"Basket case" might be a better descriptor for the motor and transmission in this digger than "used," however. At least, that's how Cory characterized it when we talked about the project. What's great about basket cases is that they're the desperate criminals of the motor world—their old lives are over and they have the equally desperate freedom of those with nothing to lose. Restoring their old lives as stockers is just as difficult as keeping the good and tossing the bad, if not more so. That being the case, there's no reason not to take some wild new direction with a semi-dead motor when rebuilding it. For Cory, that meant using a Magnuson Supercharger. When asked why the blower, he responded, "Why not? We happened to have one sitting around for a couple of years and it made sense. For blowers, it's a nice, compact one. Even though this is a narrow bike, the blower doesn't overpower anything aesthetically. Blower bikes are so much fun! We modified the stock CV carburetor and it runs dynamite. You don't even have to hit the throttle when you fire up the bike. It usually takes a lot of time dialing in a blower but with the carb changes we made, it's a lot easier. I haven't even had to change a set of plugs." Cory and Jim Jennings also created the short-but-sweet 2-into-1 exhaust for the digger. Its compact length gives onlookers an unobstructed view of the 23-inch rear wheel.
| | |
| --- | --- |
| ### Specifications | |
| Bike Owner | Cory Ness |
| Shop Name | Arlen Ness |
| Shop Phone | (925) 479-6350 |
| Shop website | arlenness.com |
| Year/Make/Model | 2010 Cory Ness Digger |
| Fabrication | Cory Ness/Jim Jennings |
| Assembly | Cory Ness/Team Ness |
| Build Time | Three months |
| Engine | |
| Year Manufacturer | '93/H-D |
| Type/size | Evolution/80 ci |
| Builder Cory | Ness/Jeff Border |
| Cases | H-D |
| Cylinders | H-D |
| Heads | H-D |
| Rocker Boxes | Ness |
| Carb | Magnuson Supercharger/CV carburetor |
| Air Cleaner | Ness |
| Exhaust | Ness 2-into-1 custom |
| Transmission | |
| Year/Manufacturer/Type | '93/H-D/Softail |
| Case | H-D |
| Clutch | BDL |
| Primary Drive | H-D |
| Frame | |
| Year/Manufacturer | '10/Ness Digger |
| Rake | 40 degrees |
| Stretch | 5 inches out |
| Suspension | |
| Manufacturer Front | Ness |
| Length | 4 inches under |
| Triple Trees | Special Construction by Ness |
| Wheels, Tires, and Brakes | |
| Manufacturer Front/Type | Ness 10 Gauge |
| Size-Height/Width | 23×3.5-inch |
| Tire/Size | Avon/23-inch |
| Caliper | Ness/PM four-piston |
| Rotor | Ness 10 Gauge |
| Manufacturer Rear | Ness 10 Gauge |
| Size-Height/Width | 23×3.5-inch |
| Tire/Size | Avon 23-inch |
| Caliper | Ness/PM four-piston |
| Rotor | Ness 10 Gauge |
| Finish/Paint | |
| Color | Violet |
| Painter | Daytec Powdercoat |
| Graphics | Steve Farone |
| Accessories | |
| Front Fender | Ness special construction fork brace) |
| Rear Fender | Team Ness |
| Gas Tank & Cap | Ness |
| Oil Tank | Ness Digger |
| Handlebars | Ness |
| Hand Controls | Ness Retro |
| Foot Controls | Ness Retro |
| Footpegs | Ness Retro |
| Headlight | 4-inch teardrop |
| Taillight | Ness Power LEDs |
| License Mount | Ness |
No, no. I did, in fact, say "rear wheel." Both of the digger's Ness rims measure a tall 23 inches. Their spindly look is a great match to the chassis upon which this beautiful bike is based. Its backbone is stretched 5 inches out to a neck that's raked 40 degrees. Measurements such as these are a great recipe for elongation. Cory didn't go to extreme lengths, though. The fork set is 4 inches under stock length, giving the bike an almost snub-nosed profile. Two synchronous curves really bring the frontend's look together, too—the top triple tree and the fork brace. Cory and Jim custom-made both of them just for this bike. They also integrated curved bars directly into the top tree instead of using risers or some other middleman to join them. The result is a type of uncluttered appearance that's rare even for a full-on custom motorcycle.
Realizing creative touches like the bars and trees on this bike may seem like they'd offer the biggest challenges, but there's one irresistible force that outranks them—time. The most challenging part for Team Ness was to get the bike finished in time for the 71st annual Sturgis Rally while juggling day-to-day work. The other edge of the temporal sword is the kick in the ass it gives you to make things happen. "Deadlines are great," Cory says. "They're the only way to get things done."
Cory had his digger ready to ride come the Sturgis Rally, though. He still has the digger and shows it off at different events, like Daytona Bike Week. It's gotten plenty of good feedback from the public, too. As for the digger frame's future, I asked him if there may be a Sportster version available at some point. "We can do that whenever we want, but yes, we'd like to," Cory answered. "We're not going to do anything like that immediately because we have other cool stuff going on." HB