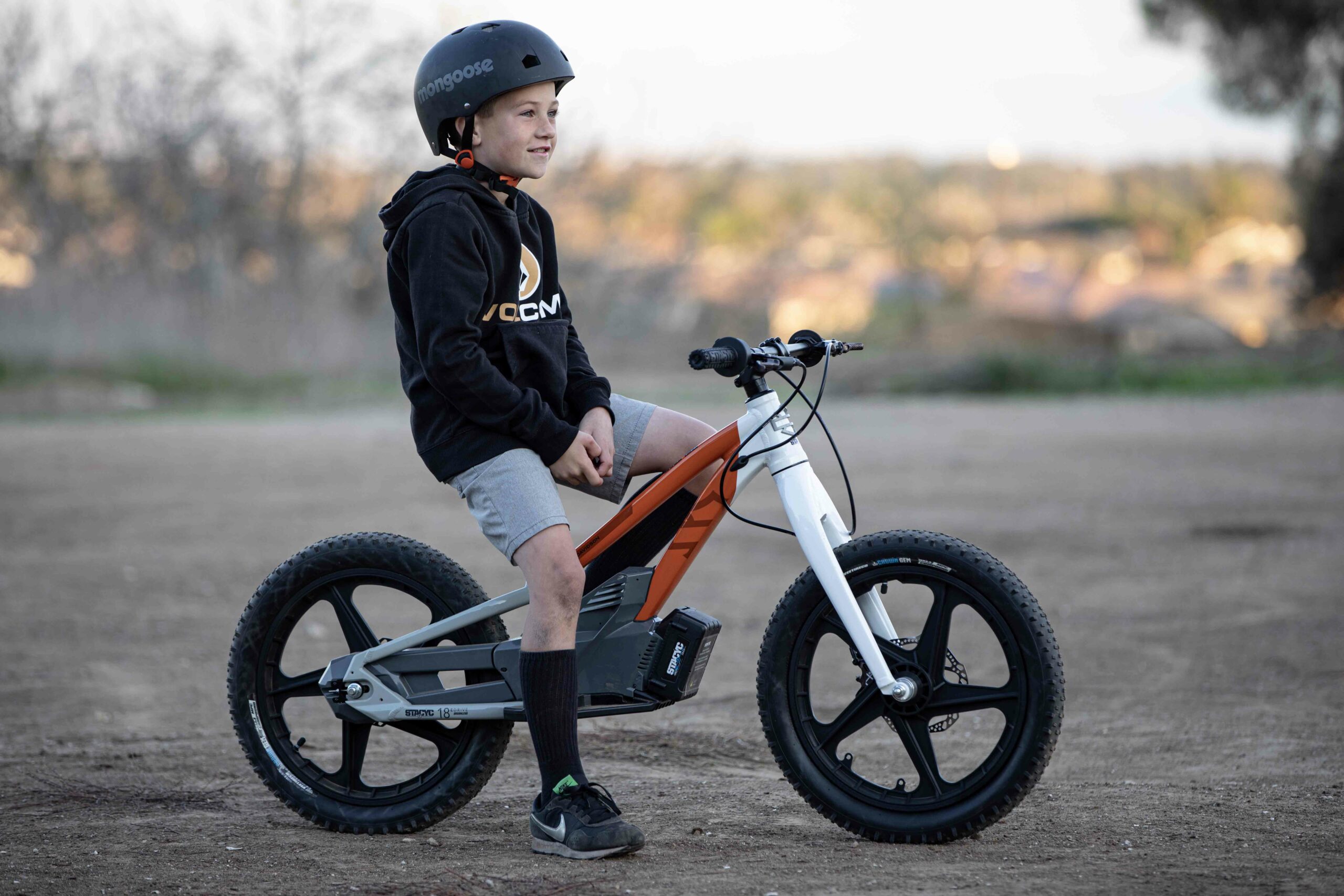 When I was a kid, I idolized Evel Knievel. Maybe it was the death defying stunts, or the simple danger involved with committing said stunts, but either way, I was in complete awe of the man. I think he contributed to my life on two wheels as a result. I used to practice my own death-defying stunts at the neighborhood dirt lot. Which looking back now, were more bruise-defying stunts. In the digital age, it's hard to get your kids outside and "playing" like we used to do. Sure, there are tons of cool tech opportunities afforded to them now, but sometimes it's good to get outside and have a little fun while getting dirty. Maybe even a scrape or two to boot.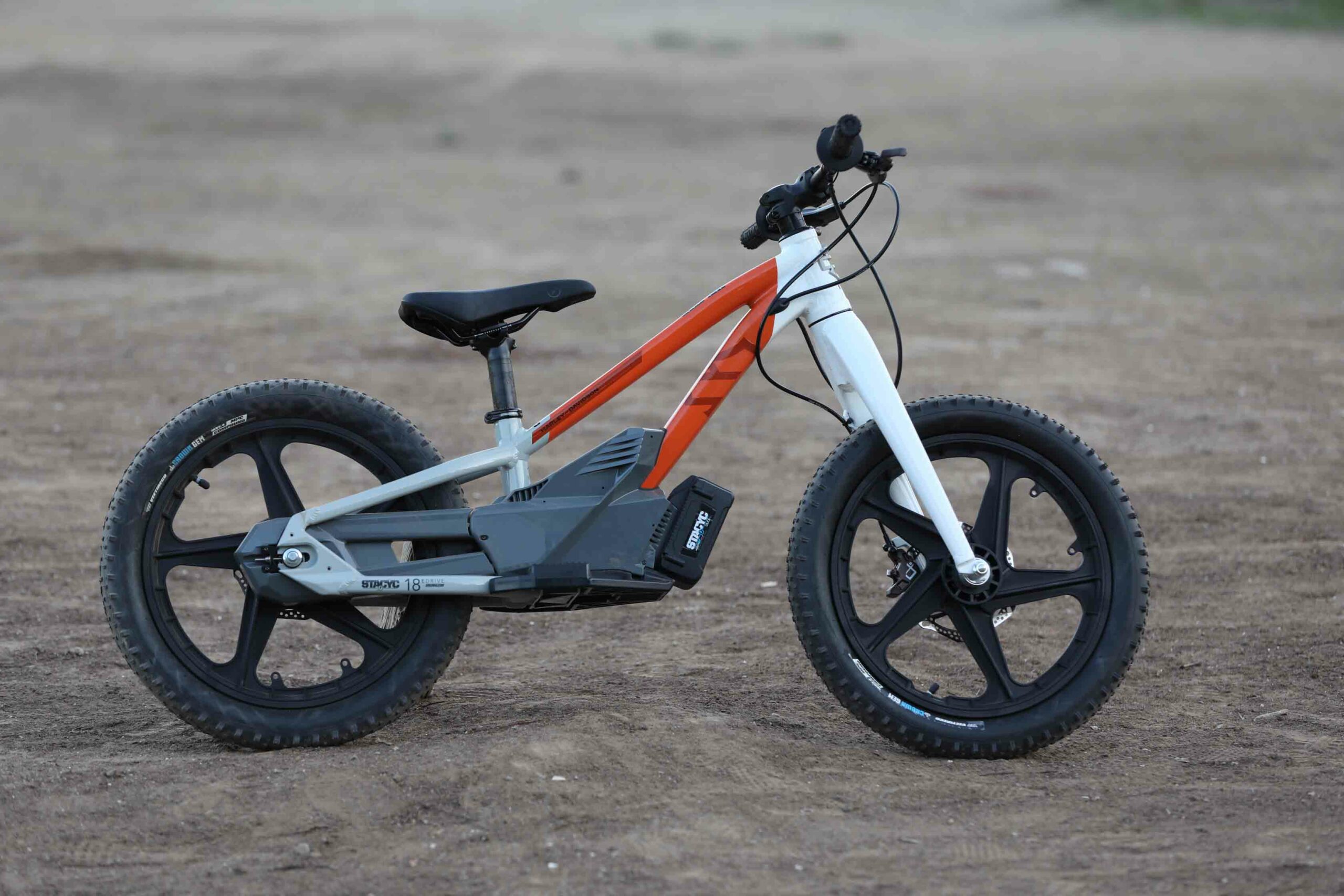 Now, I love motorcycles. My 10-year-old son, Brody, is starting to love them too. He started out at 3 years old on a PW50 and rode it til the wheels fell off. Literally. The training wheels that is. He had a couple of good spills because he was fearless when he started. But then a dose of reality set in and he decided to take a little break. He's been itching to get back out there. And I'm a firm believer that if you support the two-wheeled spirit in any shape or form, it will evolve to hopefully a long love affair with motorcycles. You know, like all of us, right?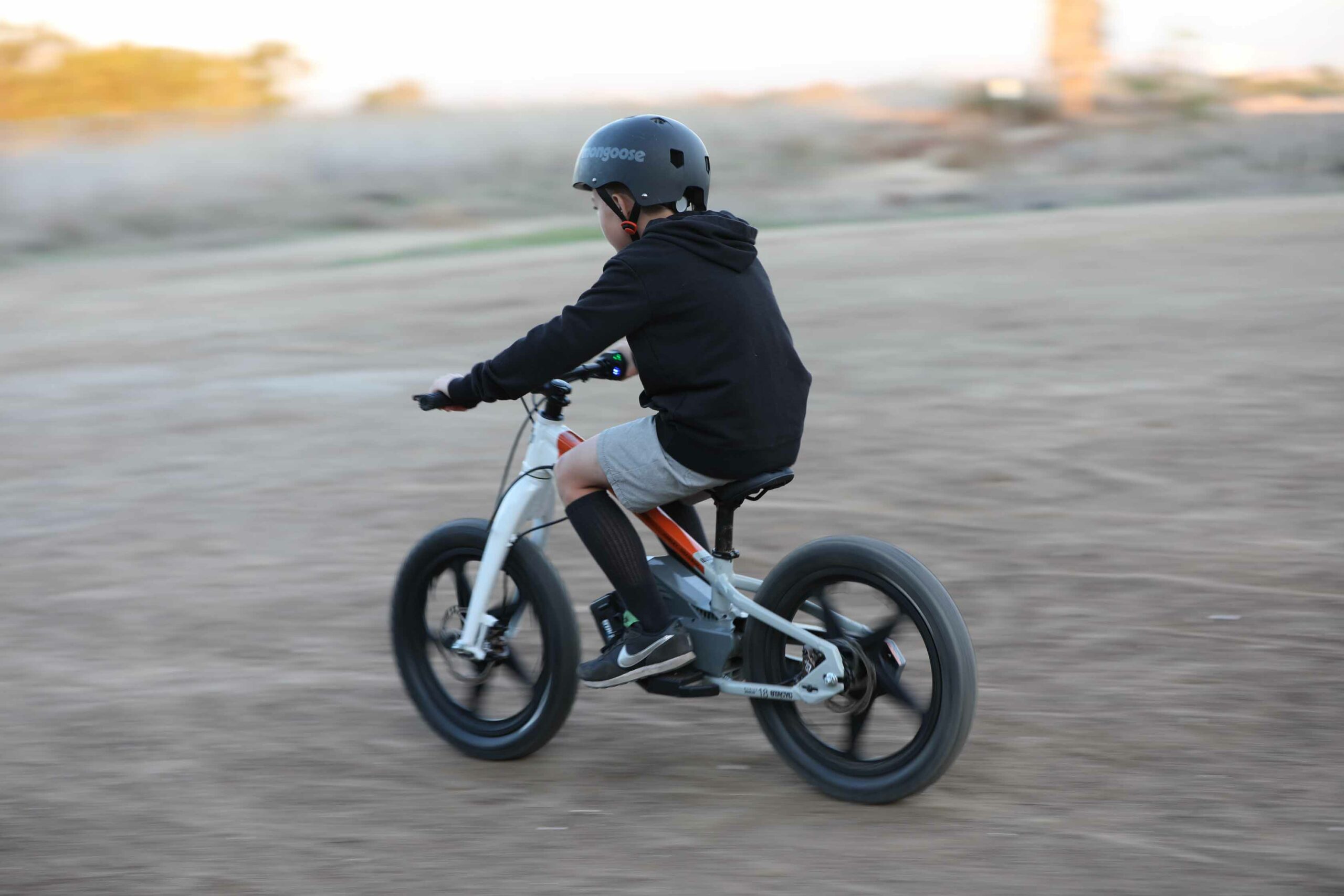 Brody and I are big fans of desert riding and just getting out there off the beaten path. It's definitely a commitment to packing gear and hitting the road for the weekend to rip around on two wheels. We were looking at some e-bikes for him to try because he said he wanted to ride at the local dirt lot here in Long Beach. 
We definitely knew of Stacyc's e-bikes since a couple kids were spotted riding some around the local dirt lot. I saw the wheels turning in his head. Things were happening. I know exactly how that goes. He was experiencing that moment of stoke. I had it. You've had it. Face it, we've all been there. And as long as it gets him out on two wheels and learning balance and throttle control, I'm all for it. We hit up the folks at Stacyc to see if they'd send out a bike for him to try. Being Hot Bike and all, they felt the Stacyc H-D 18eDrive would be the perfect fit for Brody's needs.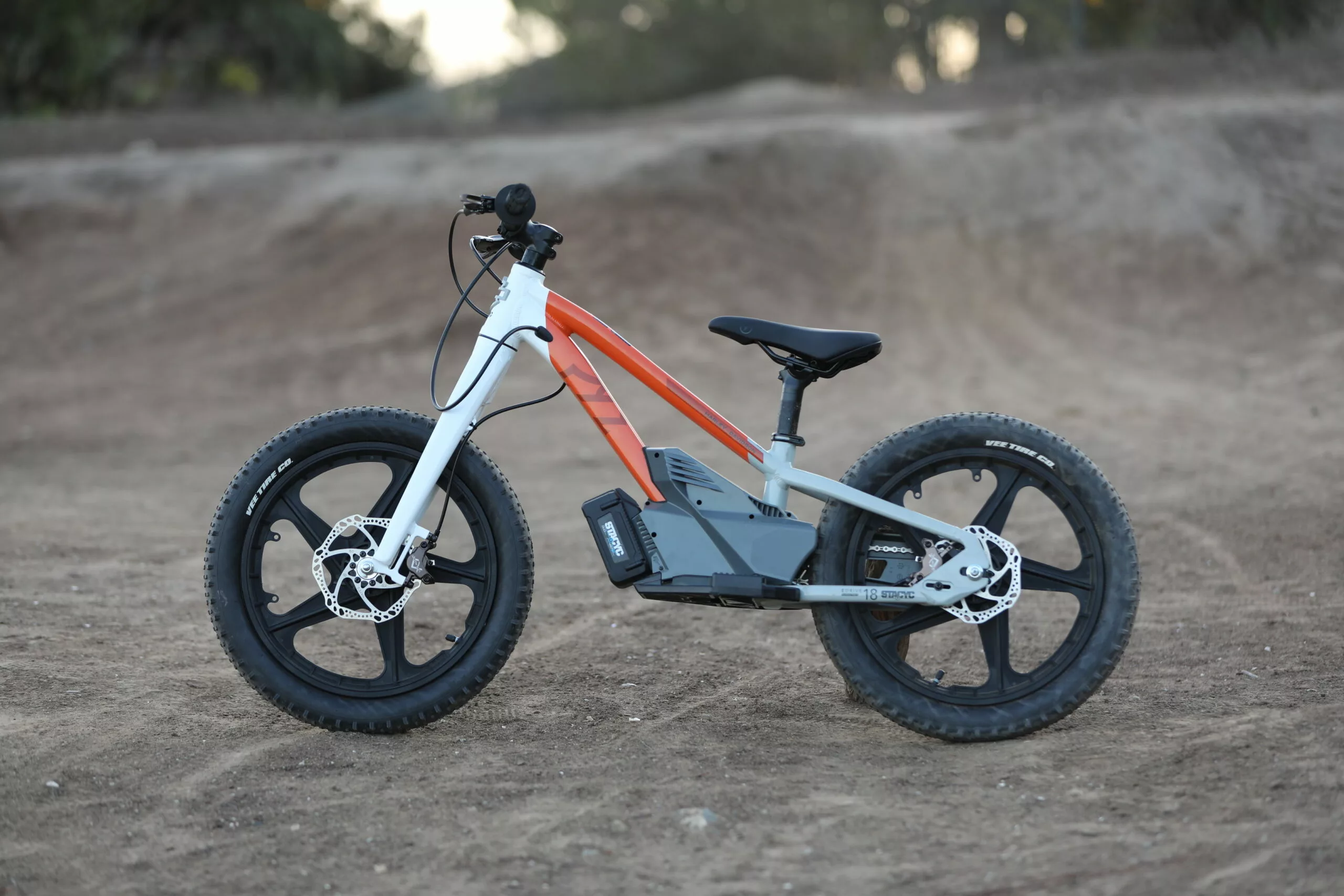 Featuring an all-new 36-volt Brushless motor platform, the 18eDrive comes with the power and range to tackle aggressive riding terrain or longer trips with me. We're not onto longer trips yet, but hopefully one day in the near future. 
The cool thing about Stacyc's 18eDrive is that it features three different power modes. When we received the bike, it was set to the lowest of the power modes as the default. Great idea actually, because after toggling through the modes and giving the quickest mode a try, Brody whiskey throttled the bike and almost took a pretty good spill. It's that daredevil spirit, I guess. After some earned humility, Brody went back to the default mode and rode that for a bit until he felt ready for the intermediate mode. His comfort level grew and then finally, he gave the full-power mode another shot, but this time he was prepared. And he loved it!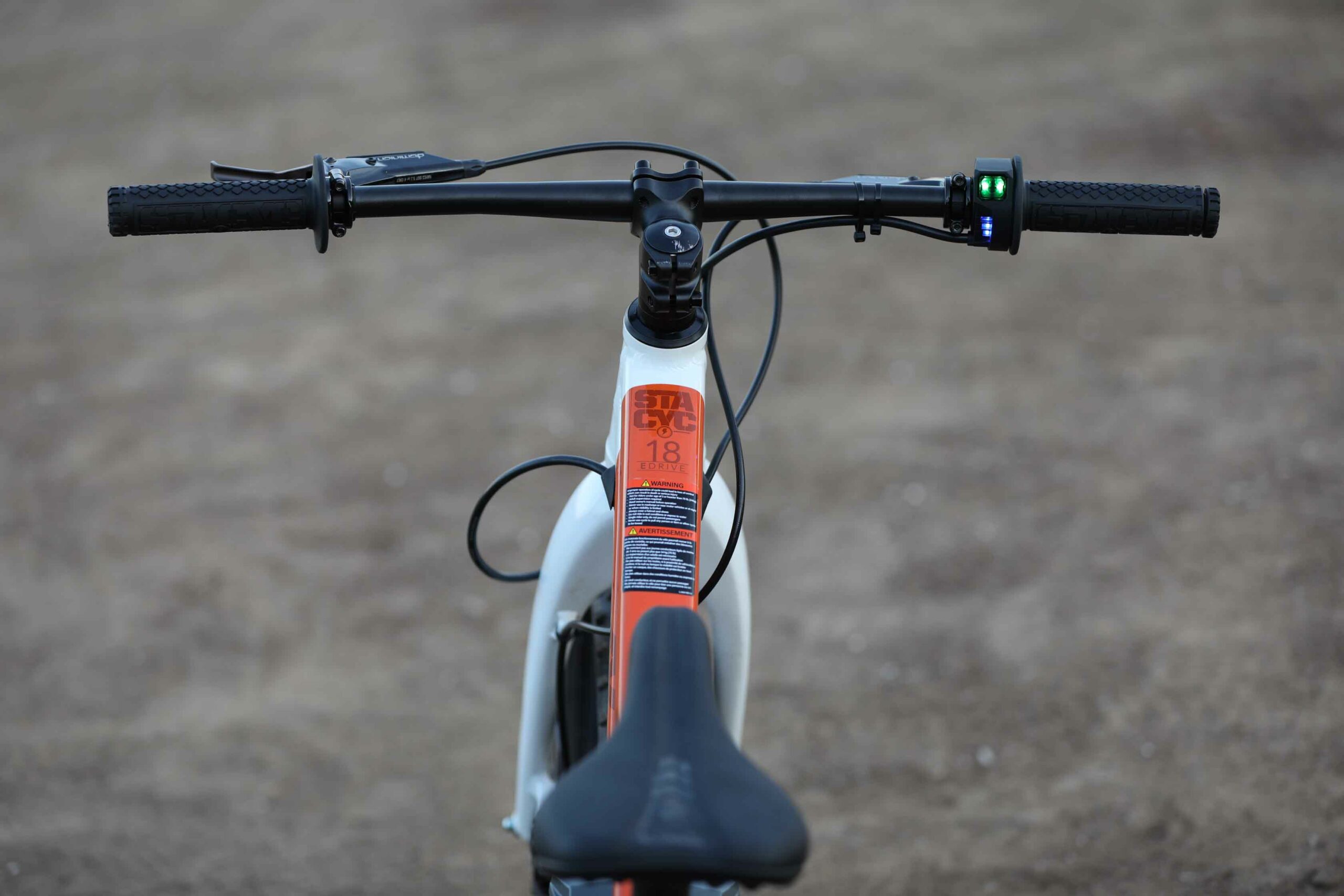 "When I saw it it, it looked kind of like a dirt bike because it didn't have any pedals on it and it just had the foot mounts," Brody says. "It looked cool and it looked like it went pretty fast. I was excited because I've never ridden an e-bike before."
Featuring a top speed of 18mph, and equipped with some serious stopping power via hydraulic disc brakes the Stacyc H-D 18eDrive has the ability to unlock endless opportunities and develop the skills your little rippers have dreamed of. It only weighs 31 pounds with the battery installed and so far it's been a great fit for his size, thanks to the traditional adjustable seat (made for kids between 8-10 and up to 115 pounds). Brody is a whopping 61 pounds and measures about 4-foot-5 inches tall. This 18e (versus the larger 20e) was a great fit for his overall stature.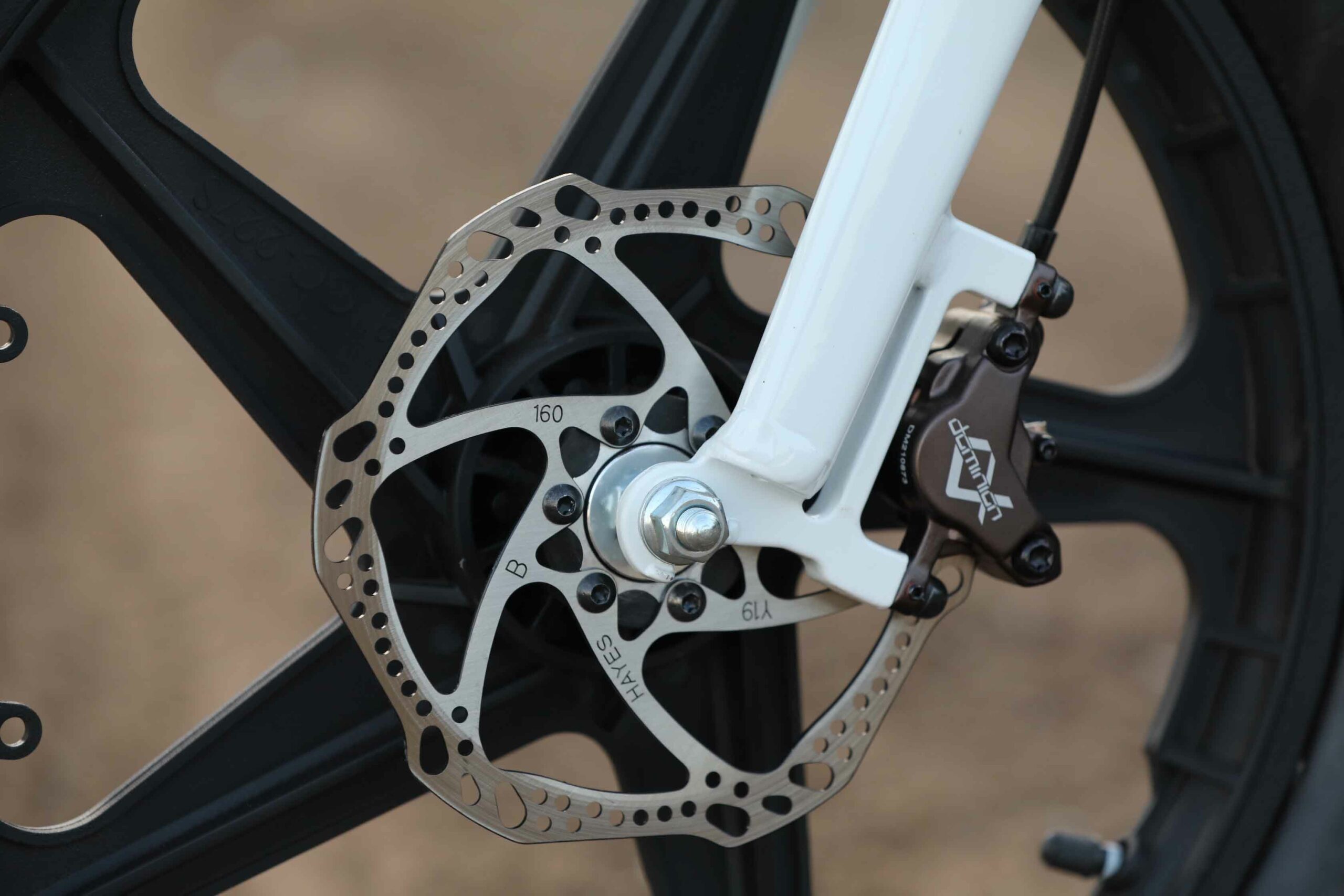 After getting a familiar with the Stacyc, Brody really liked the versatility of the different ride modes. "I was excited that I could change the mode because I didn't have to be stuck in the slow beginner mode anymore and I could go fast," Brody recalls. "After changing to the fast mode, it was fun, but I had trouble braking when going full throttle." This was moreso due to Brody's long bout of not riding and his inexperience with manipulating the throttle and the front brake. He says you have to go easy on the brake instead of gripping it with everything you have. "You have to kind of ease into the brake before you fully stop. I was going full throttle and I braked super hard and when I hit the front brake, because it's super close to the throttle, I kind of pulled back the throttle and also hit the brake super hard and it caused me to almost go over the bars, but instead I fell sideways."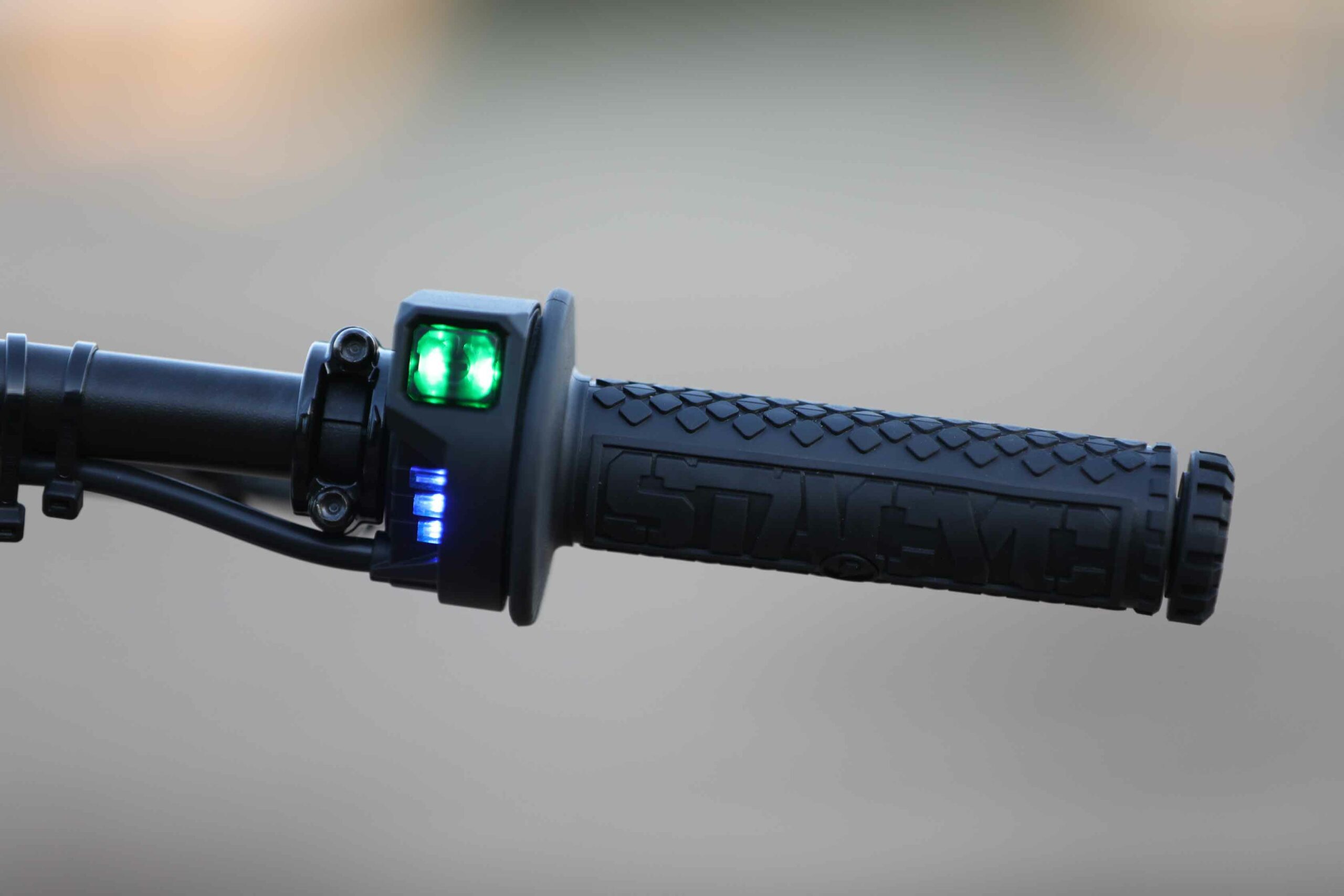 Brody was fine, but his ego was a bit bruised because of the spectators who witnessed his spill. "I was a little shaken up and I wanted to go to the medium mode after that," Brody says. "The medium mode was better; it still goes fast, it's like a good average and it's not too fast and it's not too slow." But of course, that didn't last very long, about a day really. "Then I wanted to go back to the fast mode because I gained my confidence back after going in the intermediate mode. I felt ready to go back. I was more aware of how to brake."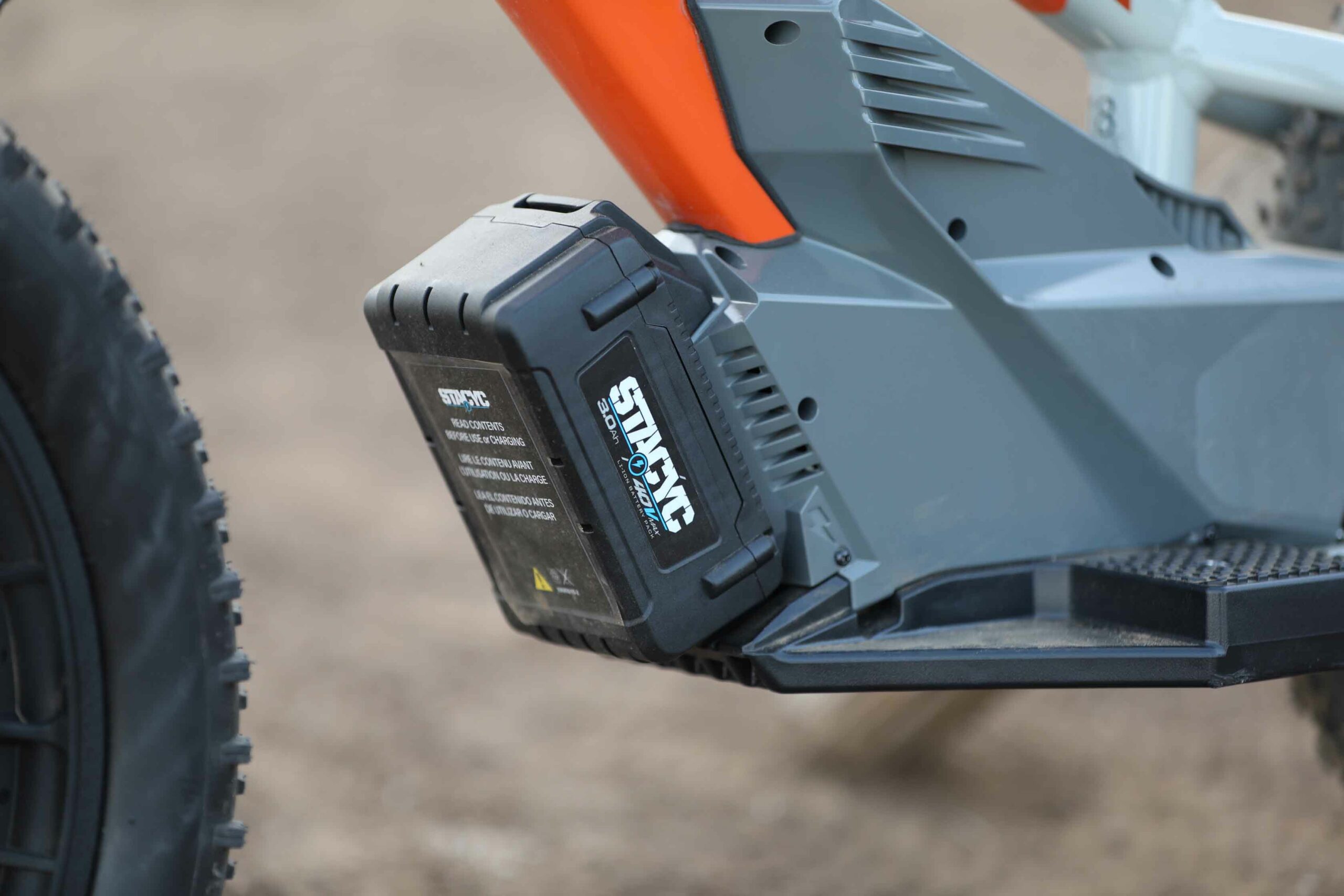 Perfect for 8-10 year olds under 115 pounds
Seat Height: 21" | 22-23" inseam

Weight: 31 lbs w/ battery

Full Aluminum frame w/ proprietary shaped tubes

18" Nylon wheels with sealed bearings and pneumatic tires

4 (custom) Crown Gem tires

Proprietary throttle assembly with STACYC custom grips

19mm custom flat handlebar

Hayes Dominion A2 brakes in front & rear

High-end Launch Edition Pan America paint scheme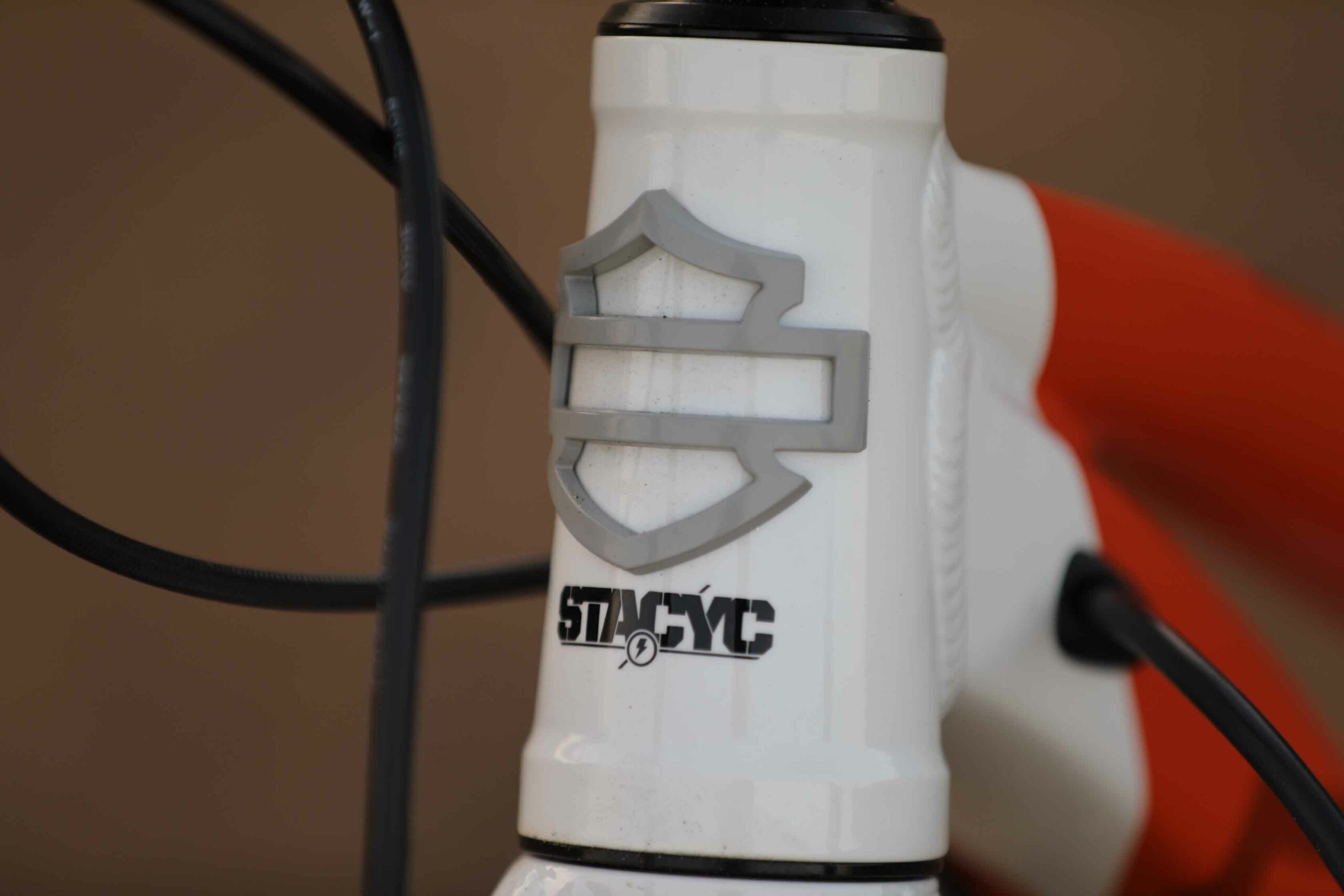 All-New – 36-volt Brushless motor platform w/ proprietary Cush Drive
Power selection modes:

Low/Training mode ~ 9mph

Med/Standard mode ~ 13.5mph

High/Advanced mode ~ 18mph

30-45 min run-time* | 1.5 hr charge time

Quick connect/ disconnect battery

40Vmax Voltage (36Vnom) 3Ah – 21700 battery

Industrial grade charger included
* Run-time is entirely dependent on terrain, hills and skill level