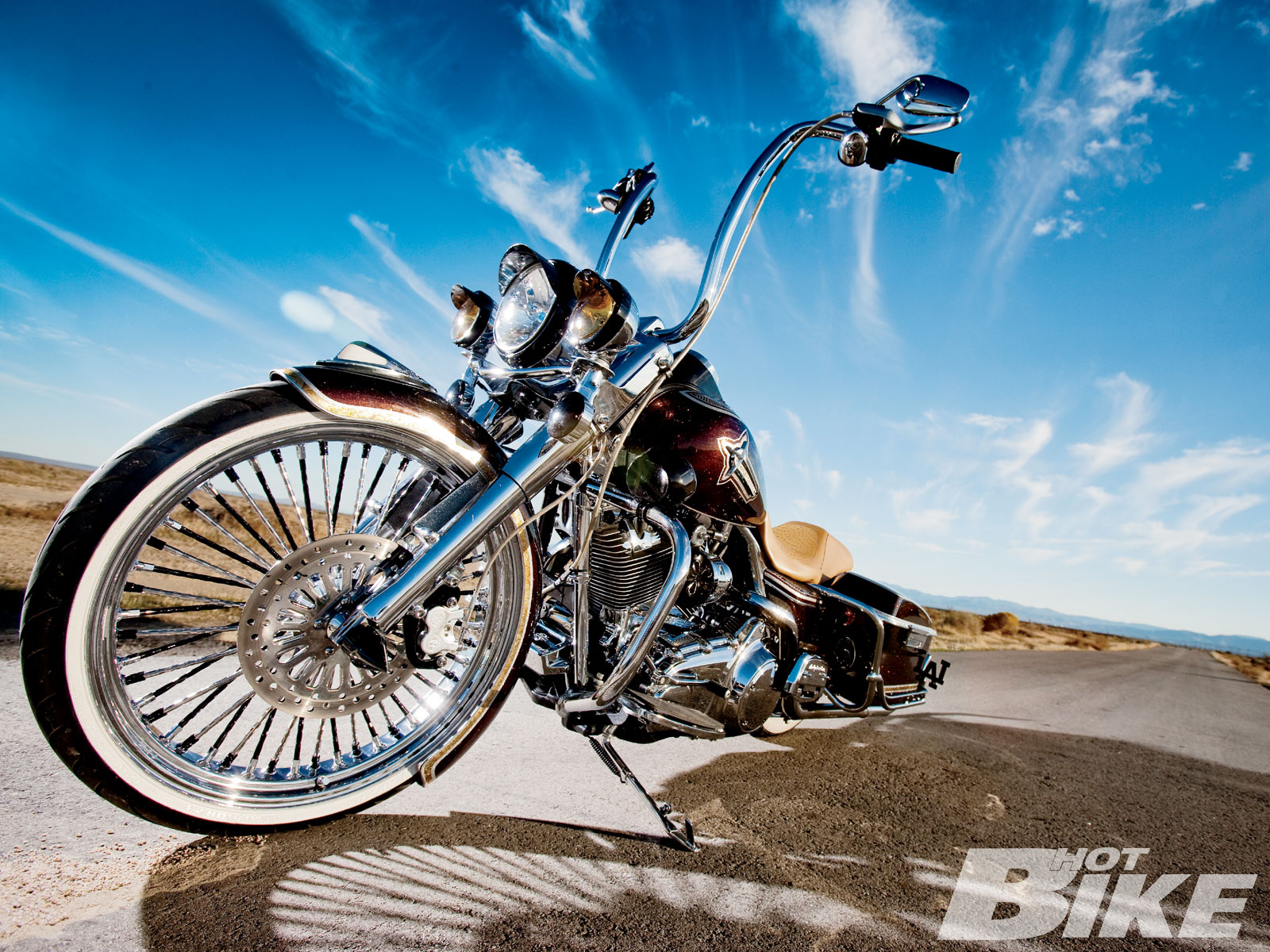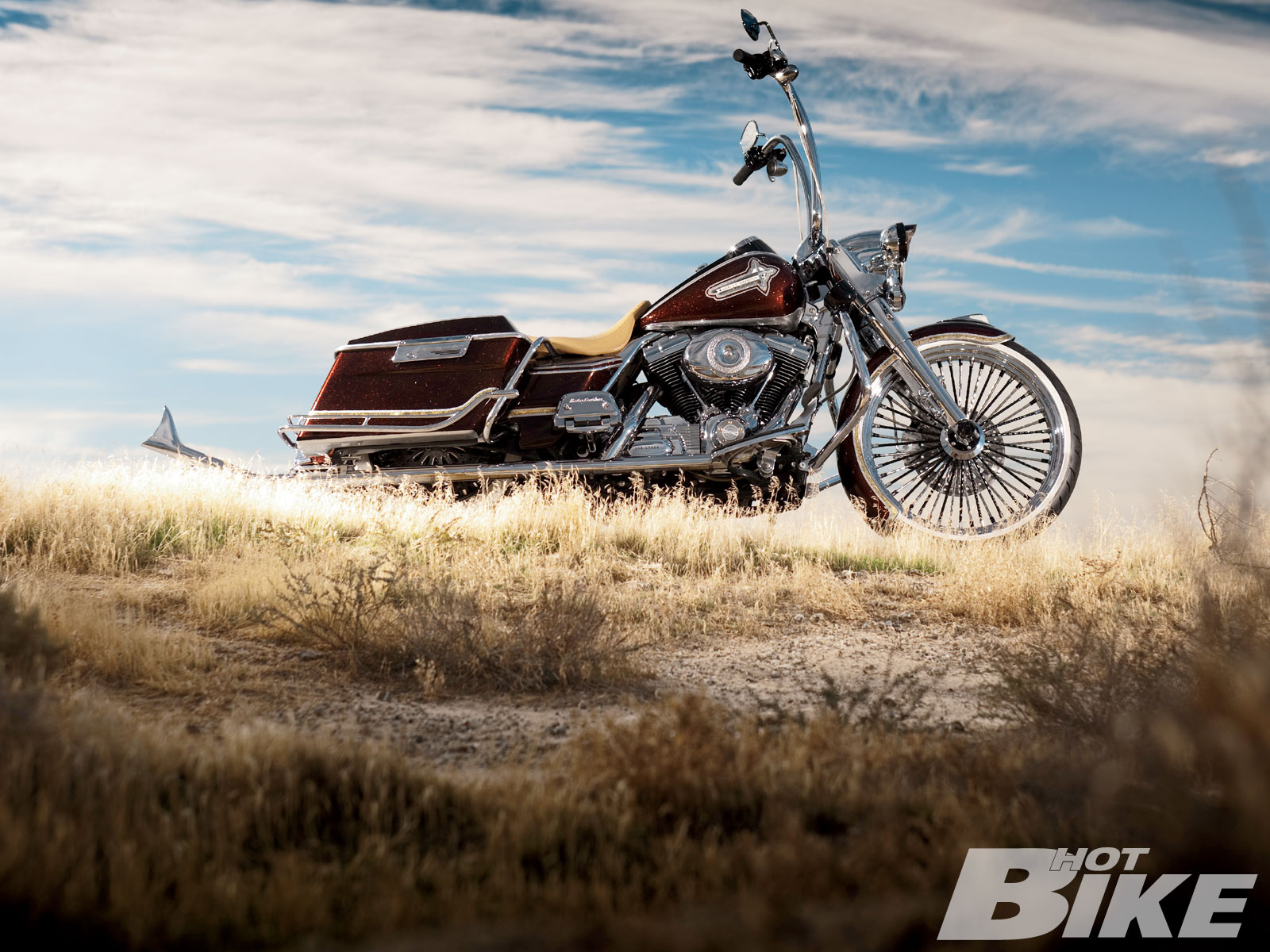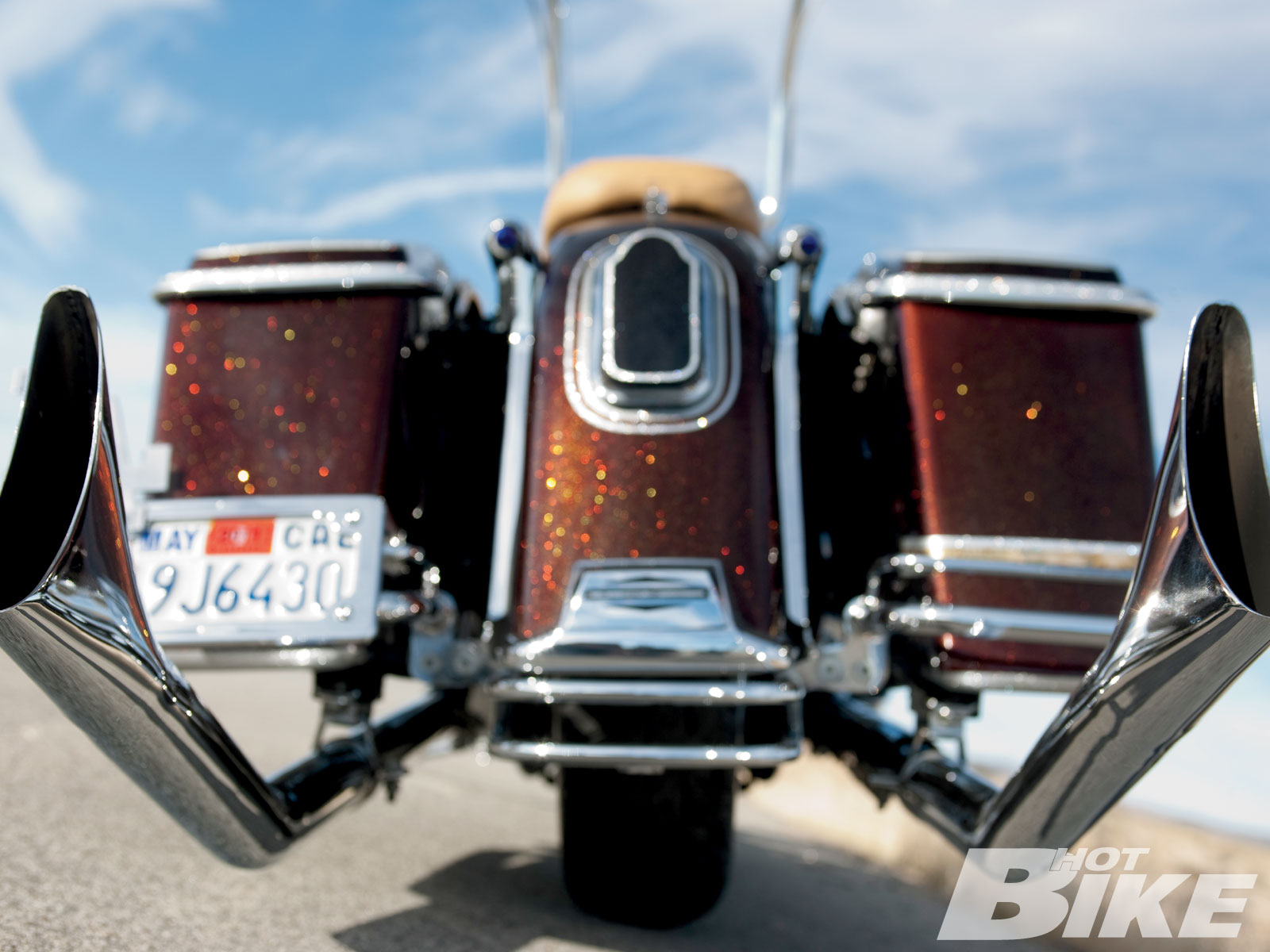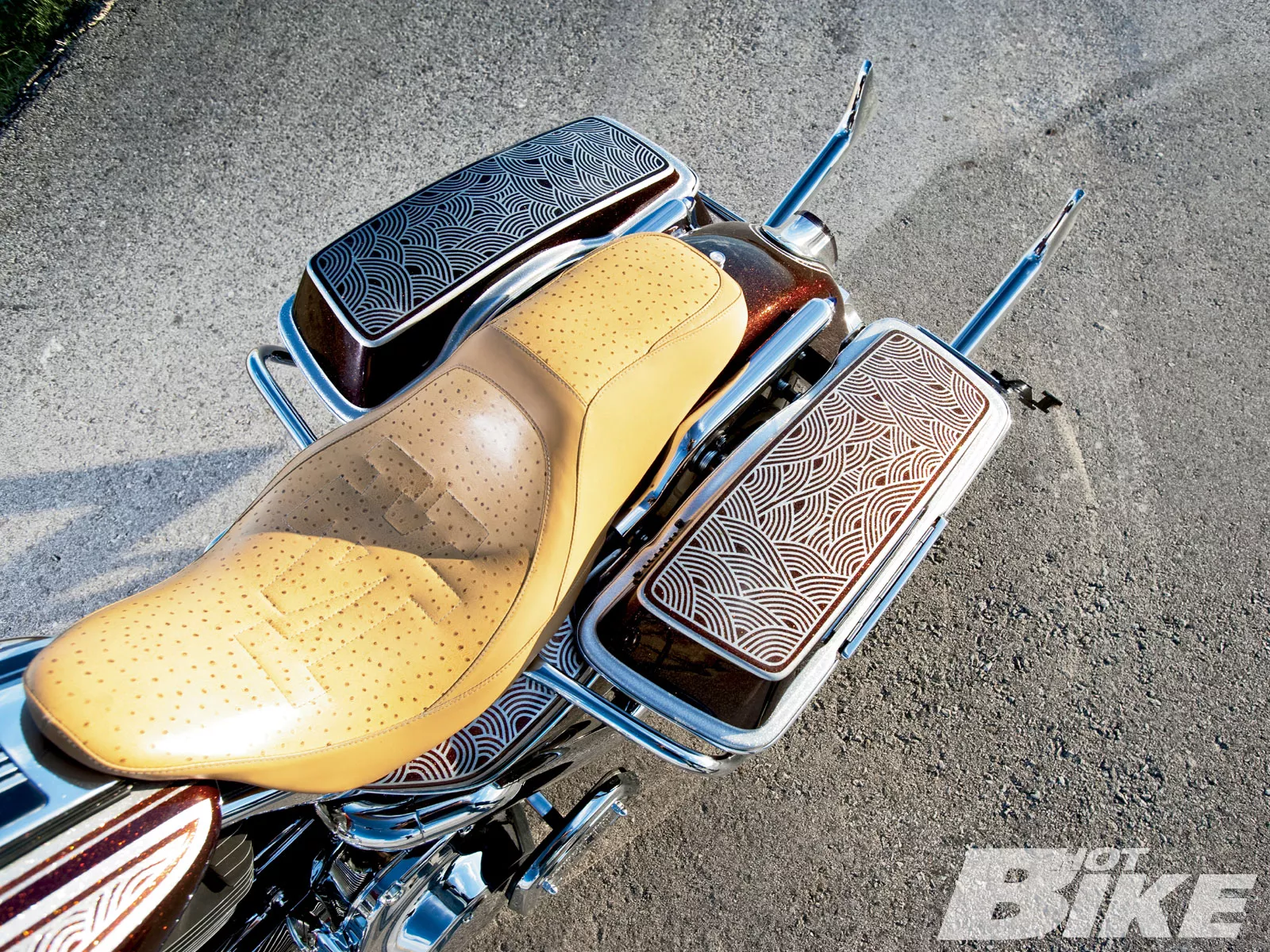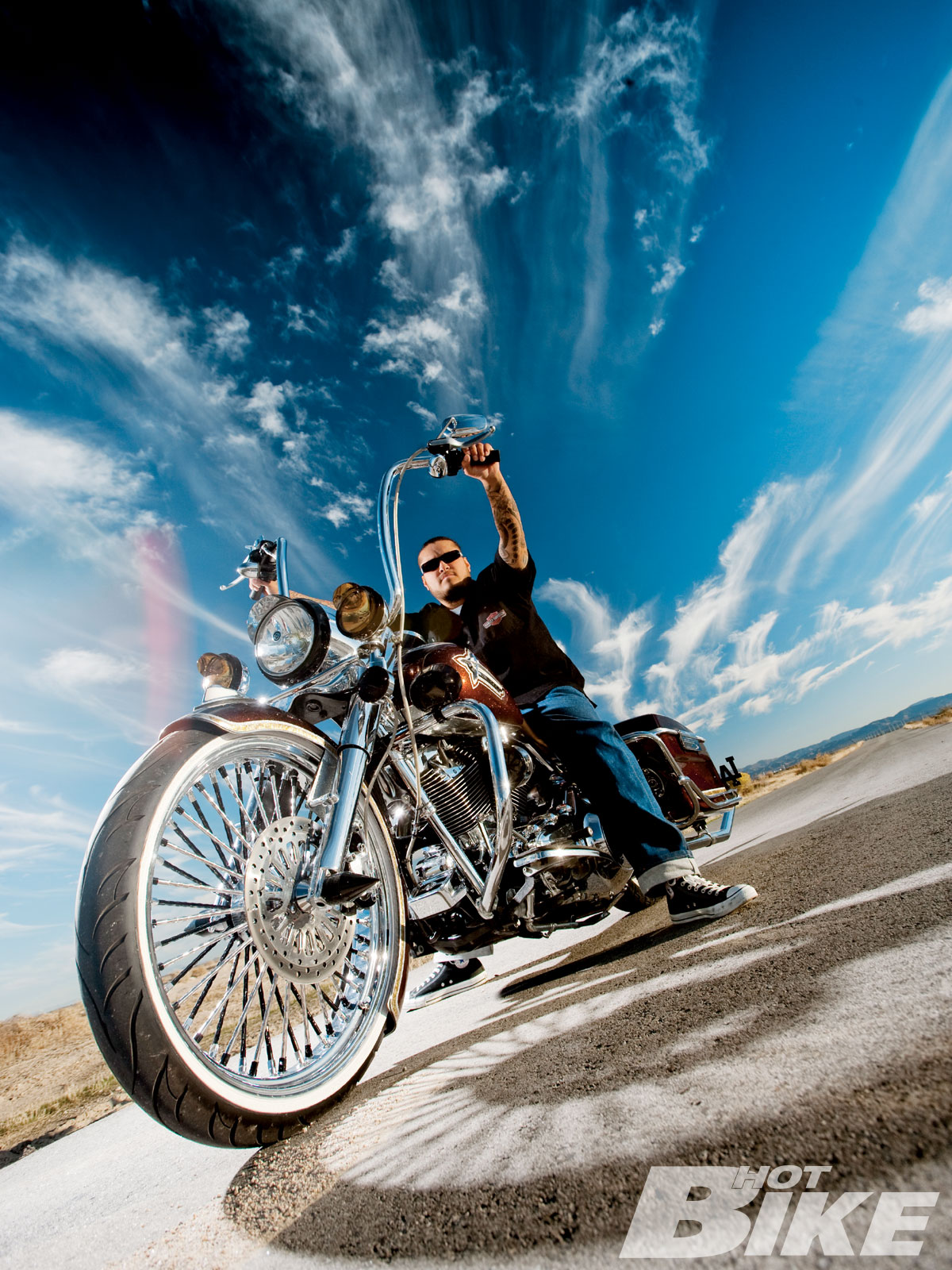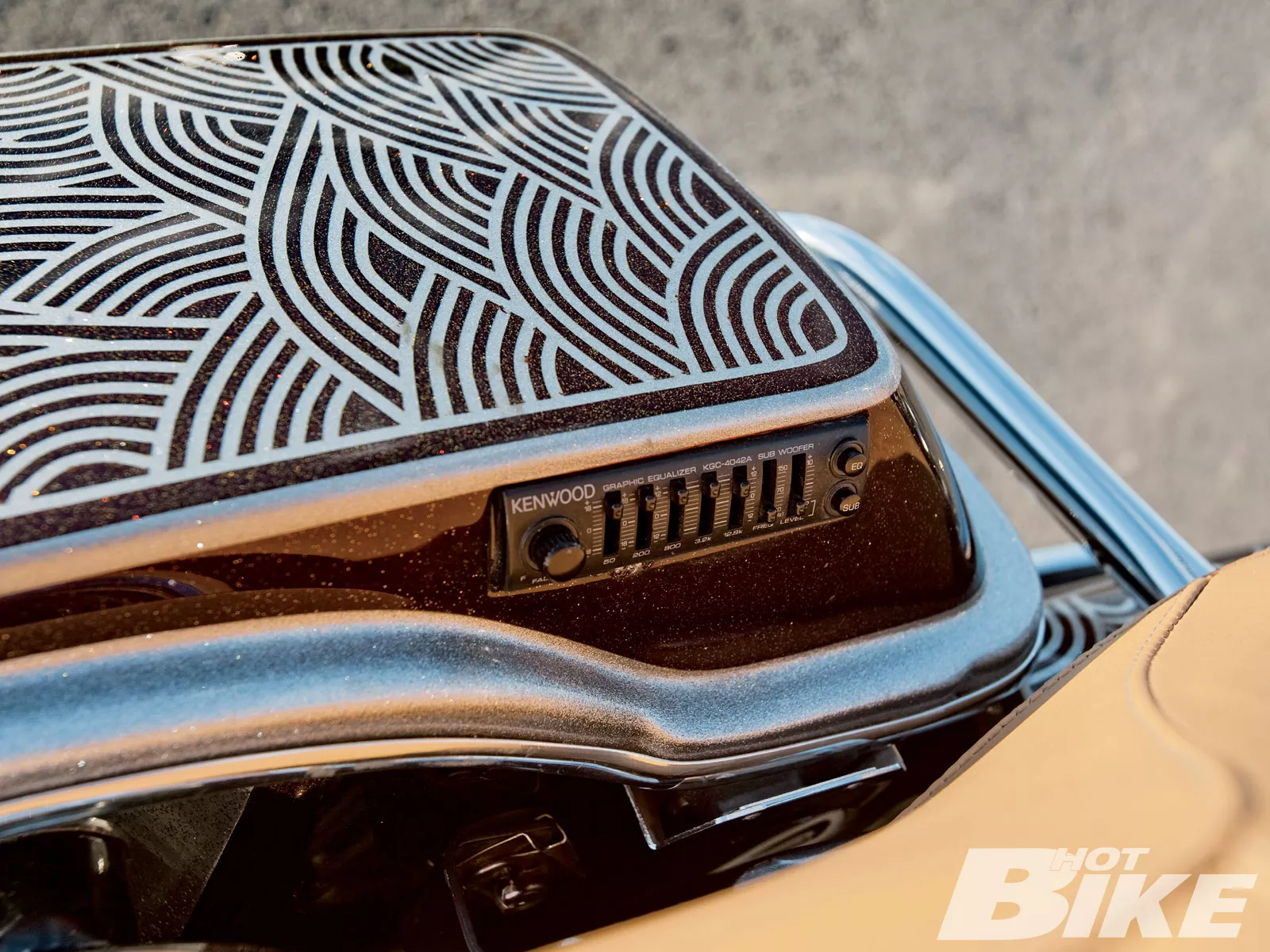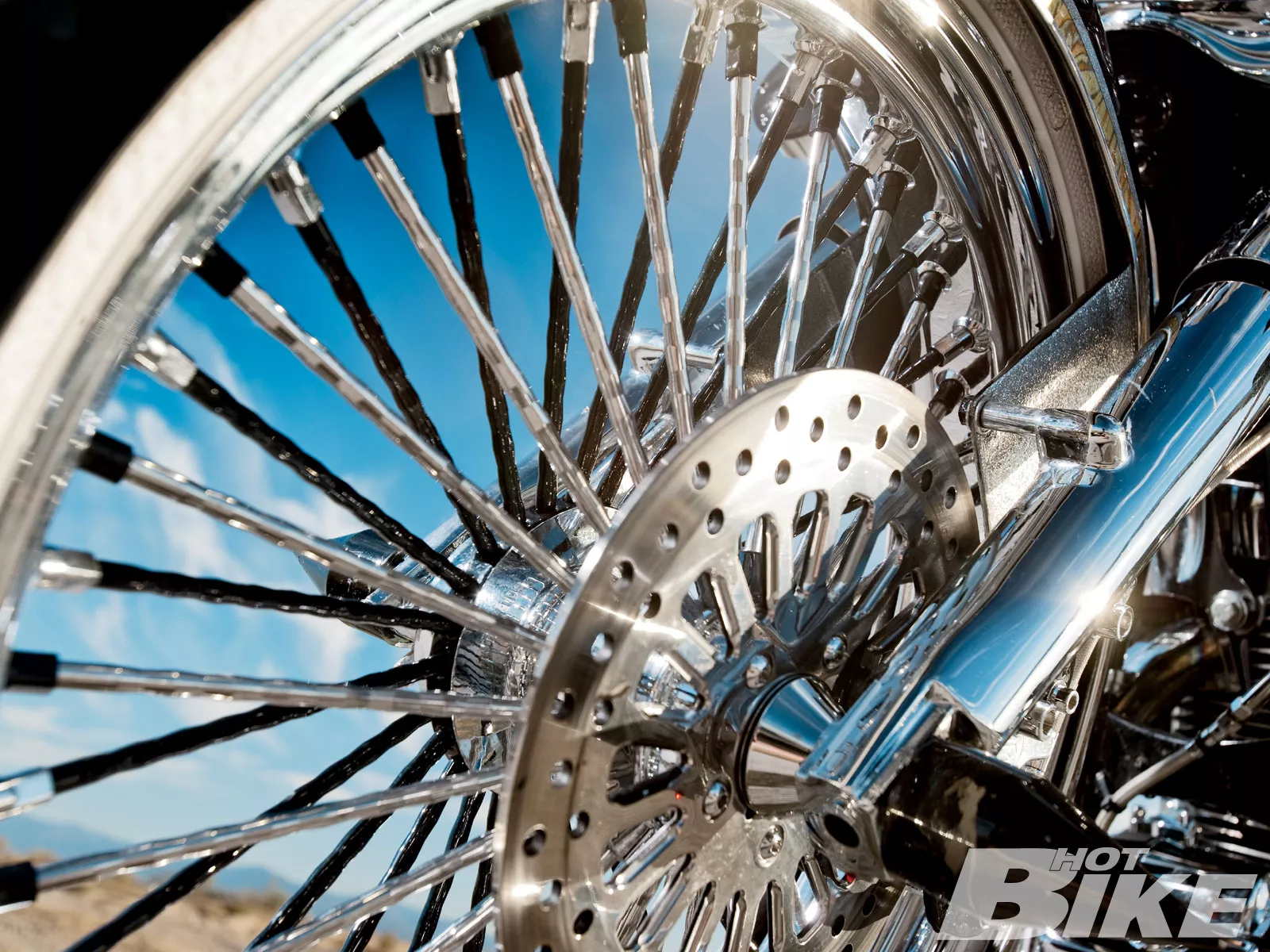 Angel Beltran of Southern California purchased this Road King brand new in 2008 and three days later tore into it adding new wheels, pipes, and paint-don't worry he owns an auto body shop so he's a painter/fabricator by trade. A few years later he decided to give the bike yet another makeover. Short on money but long on talent, Angel took it upon himself to do all the work and show off his skills. This time however, he was going for a more old-school, low-rider look. "I wanted to build a bike like they used to build cars back in the day, without a lot of money but with a lot of heart," Angel told us.
Actually the heart of this King was the first part Angel attacked, pulling the top end and adding a Screamin' Eagle 103 kit. With the engine back together, Angel took a set of straight true-dual pipes he had and welded in a faux crossover just for the effect of adding more chrome to the engine/trans area. The rear of the pipes were modified as well, as Angel bent some tubing to give the tail section a little upward kick, then welded on a pair of fishtails he picked up at a swap meet.
Up front Angel installed a 23-inch fat-spoke wheel wrapped in an Avon whitewall, with a matching 16 in the rear. He then took a 10-inch roadster fender he had lying around the shop, split it down the center, and narrowed and shaped it to hug the massive front wheel. To get the proper low-rider stance, he dipped the front a bit with a Progressive 1-inch lowering kit, then added a Legend Air Ride kit at the back. However, instead of using the Legend bags, he went with a set of Monroe shocks that his shop uses on the custom cars it builds. "The Monroes provide a nice ride and compress more. I can drop the rear like 4 1/2 inches," Angel commented.
<div class="st-block quote text-
Notice: Undefined index: st_text_align in C:laragonwwwhotbike-importblocksquote.php on line 1
">
A bike can't be called a true lowrider if it doesn't have the audio energy for bystanders to hear Chente' belting out "Volver Volver" from 2 miles away as you cruise the boulevard
A bike can't be called a true lowrider if it doesn't have the audio energy for bystanders to hear Chente' belting out "Volver Volver" from 2 miles away as you cruise the boulevard. So in order for everyone to experience the soulful yearnings of the king of ranchera music, Angel outfitted his king with a power-packed audio system that includes two Pioneer tweeters mounted in turn-signal housings on the handlebars, two Pioneer 3 1/2-inch speakers secured to the crash bar, four 6x9s in the saddlebags-two molded into the front of the bags and two molded into the sides facing the rear tire. To boost the output, two Pioneer amps were stuffed in the saddlebags and to make sure the crooner's tunes are hitting just right, Angel molded a compact equalizer into the lid of the left saddlebag.
When it came to paint, Angel held nothing back, laying down kandy gold flake followed by root beer brown then more kandy gold to get a burnt copper look. He also went on a taping frenzy laying out line upon line from front to back, ending with a maze of silver flake running along the bike almost like an Aztec motif. He also colored up the lighting by painting the headlight and spotlight trim rings and visors black, and smoking the turn signal lenses and rear tombstone-style taillight lens with black kandy.
After adding 20-inch pullback-style apes, an Ostrich leather seat with "LA" custom-stitched into it, Angel's King was finally complete. "This bike did take me a while to build, but only because I run an auto body shop full time and was only able to get to this with my spare time, which was very little," Angel told us. When we asked him what the hardest part of the project was, he replied, "Keeping the bike with an old-school look and keeping it low budget."
Looking at the bike you wouldn't think there's anything low budget about it. But doing all the work himself saved him a ton of money. Plus it makes for a nice business card for his shop.
| | |
| --- | --- |
| SPECIFICATIONS | |
| BIKE OWNER | Angel Beltran |
| SHOP NAME | Creative Auto Works |
| SHOP PHONE | (661) 729-2928 |
| YEAR/MAKE/MODEL | '08/H-D/Road King |
| FABRICATION | Angel Beltran-Creative Auto Works (CAW) |
| ASSEMBLY | Angel Beltran-CAW |
| BUILD TIME | Three months |
| | |
| --- | --- |
| ENGINE | |
| YEAR/MANUFACTURER | '08/H-D |
| TYPE/SIZE | TC/103ci |
| BUILDER | H-D |
| CASES | H-D |
| CYLINDERS | H-D SE |
| HEADS | H-D |
| ROCKER BOXES | H-D |
| EFI | H-D |
| AIR CLEANER | H-D SE |
| EXHAUST | CAW |
| | |
| --- | --- |
| TRANSMISSION | |
| YEAR/MANUFACTURER/TYPE | H-D/six-speed |
| CASE | H-D |
| CLUTCH | H-D |
| PRIMARY DRIVE | H-D |
| FRAME | |
| YEAR/MANUFACTURER | '08/H-D |
| RAKE | Stock |
| STRETCH | Stock |
| | |
| --- | --- |
| SUSPENSION | |
| MANUFACTURER FRONT | Progressive |
| LENGTH | 1 inch under |
| TRIPLE TREES | H-D |
| MANUFACTURER REAR | Legend Air Ride/Monroe Shocks |
| SWINGARM | H-D |
| | |
| --- | --- |
| WHEELS, TIRES, AND BRAKES | |
| MANUFACTURER FRONT/TYPE | Black Bike/ 50 spoke diamond cut |
| SIZE-HEIGHT/WIDTH | 23×3.5 |
| TIRE/SIZE | Avon/130/60-23 |
| CALIPER | PM |
| ROTOR | Black Bike |
| MANUFACTURER REAR/TYPE | Black Bike/50 spoke diamond cut |
| SIZE-HEIGHT/WIDTH | 16×4 |
| TIRE/SIZE | Avon/130/90-16 |
| CALIPER | H-D |
| ROTOR | Black Bike |
| | |
| --- | --- |
| FINISH/PAINT | |
| COLOR | Root Beer Brown, metal flake gold, silver metal flake, variegated gold |
| PAINTER | Angel Beltran |
| GRAPHICS | Angel Beltran |
| | |
| --- | --- |
| ACCESSORIES | |
| FRONT FENDER | CAW |
| REAR FENDER | H-D/CAW |
| FENDER STRUTS | H-D |
| GAS TANK AND CAP | H-D/flush mount LED |
| OIL TANK | H-D |
| HANDLEBARS | Carlini |
| HAND CONTROLS | H-D |
| FOOT CONTROLS | H-D |
| FOOTPEGS | H-D |
| HEADLIGHT | H-D/CAW |
| TAILLIGHT | Tombstone/CAW |
| LICENSE MOUNT | CAW |
| SEAT | Juan Ambriz Custom Upholstery |
| SADDLEBAGS | H-D/CAW |
| SADDLEBAG LATCHES | H-D |
| AUDIO | Pioneer: four 6x9s, two tweeters, two 3 1/2, two amps, EQ |