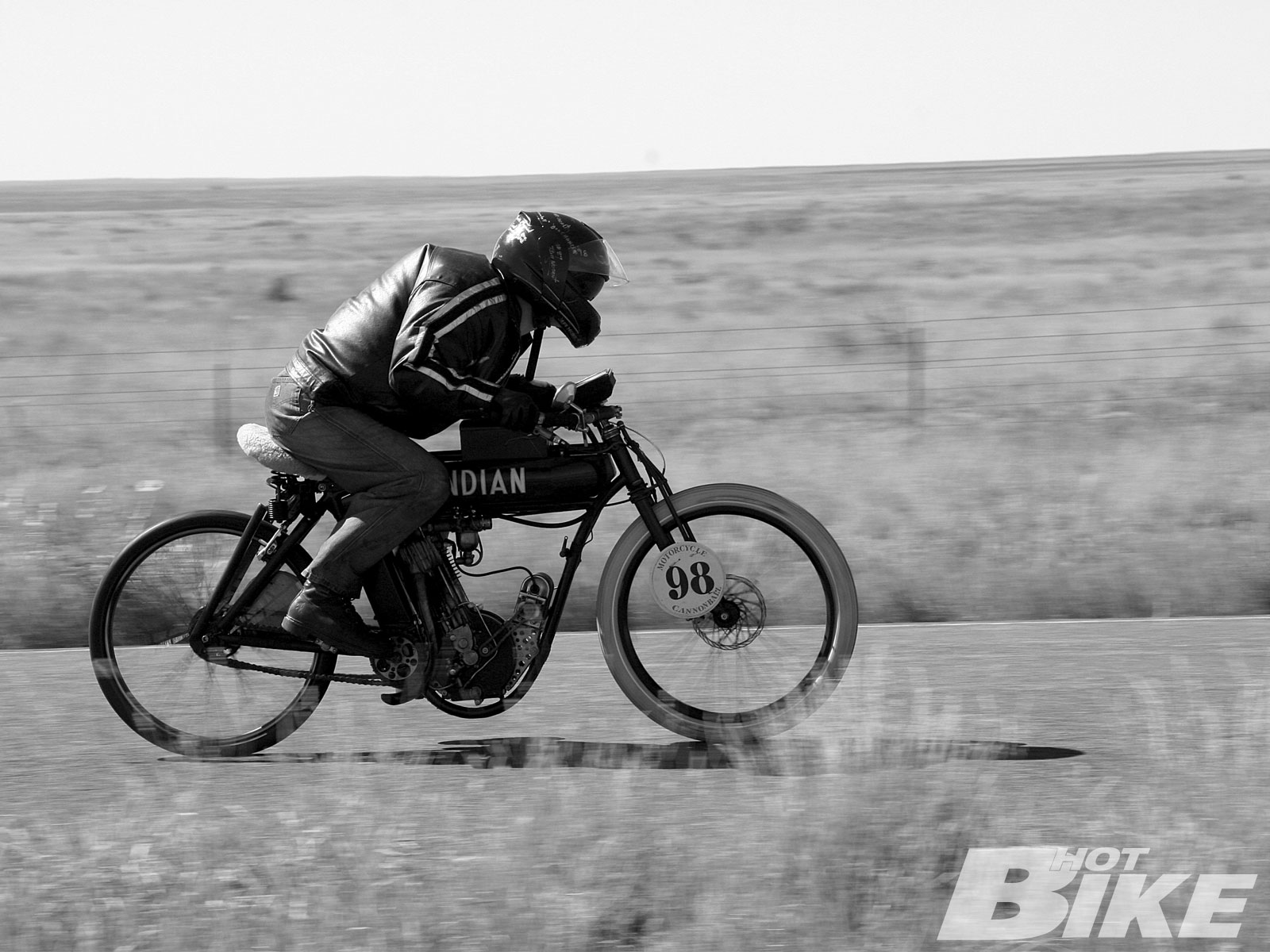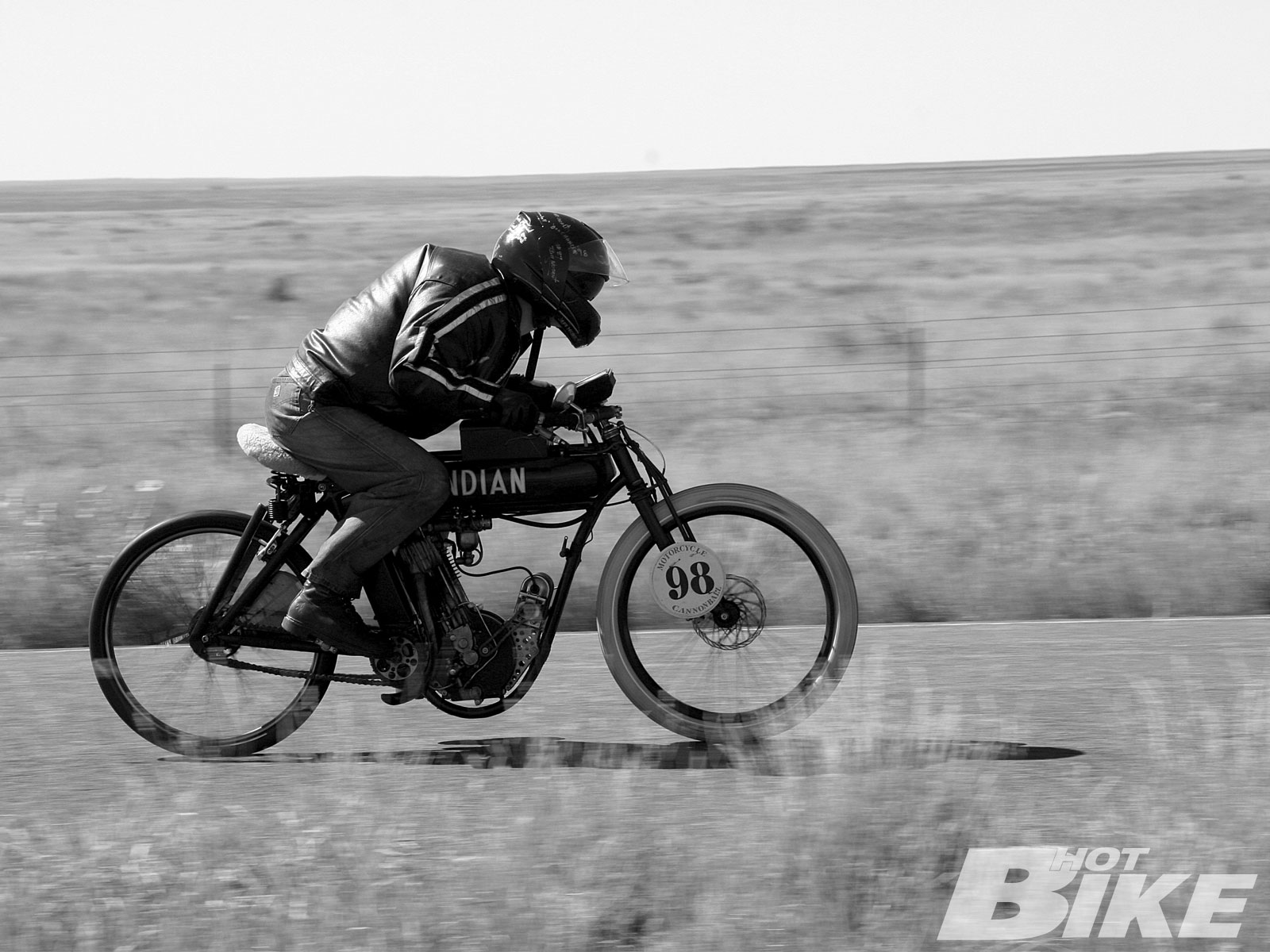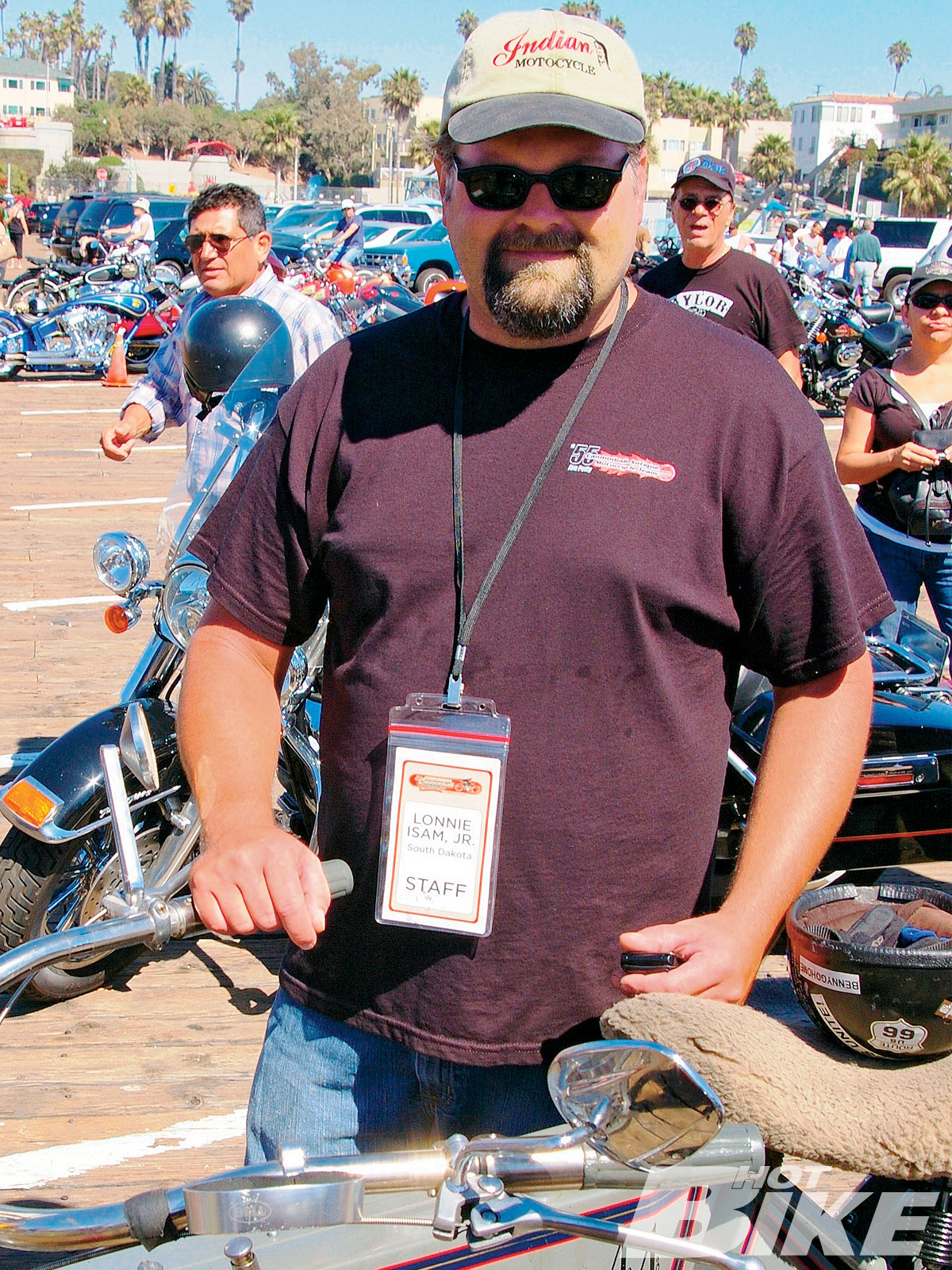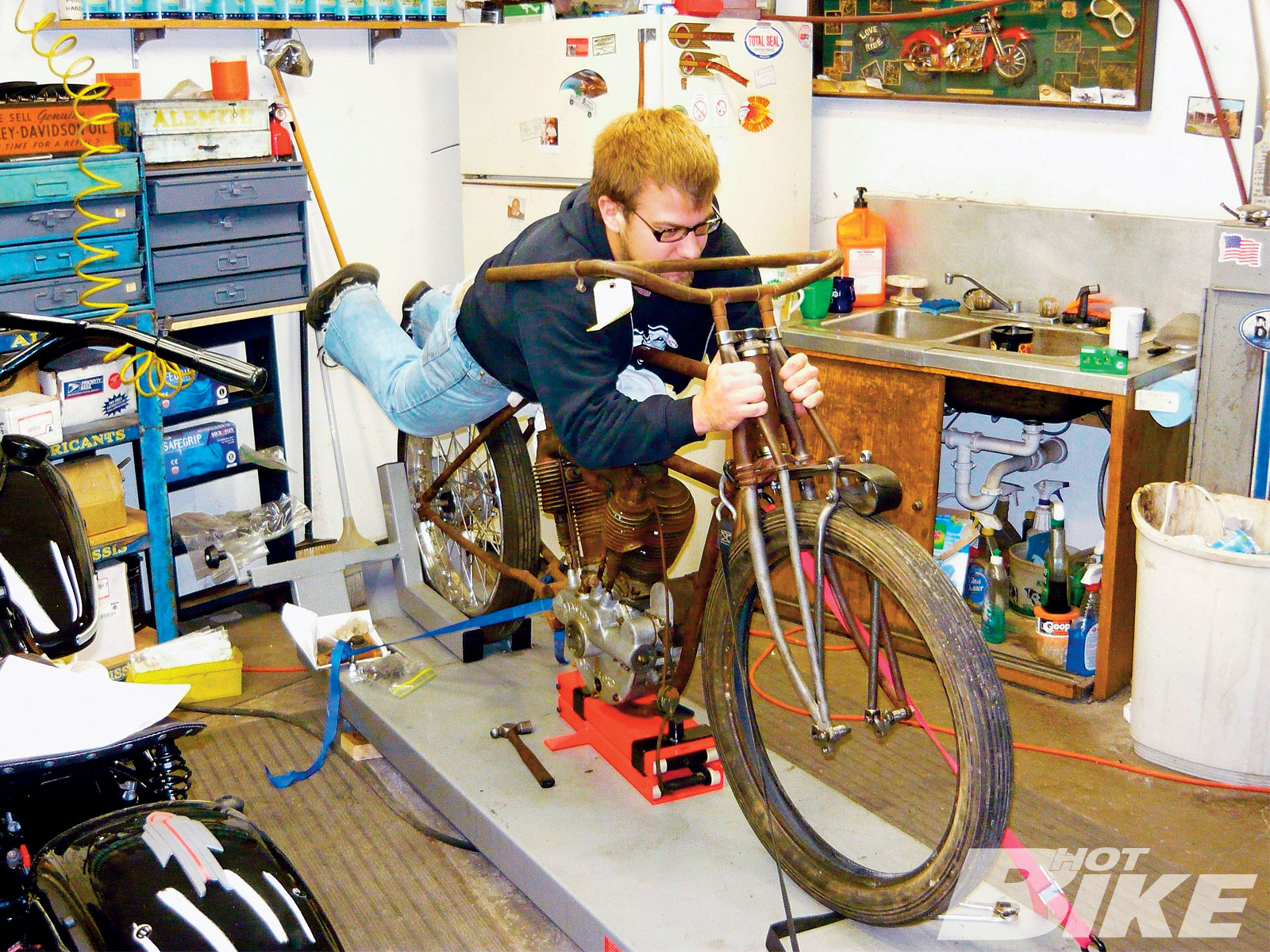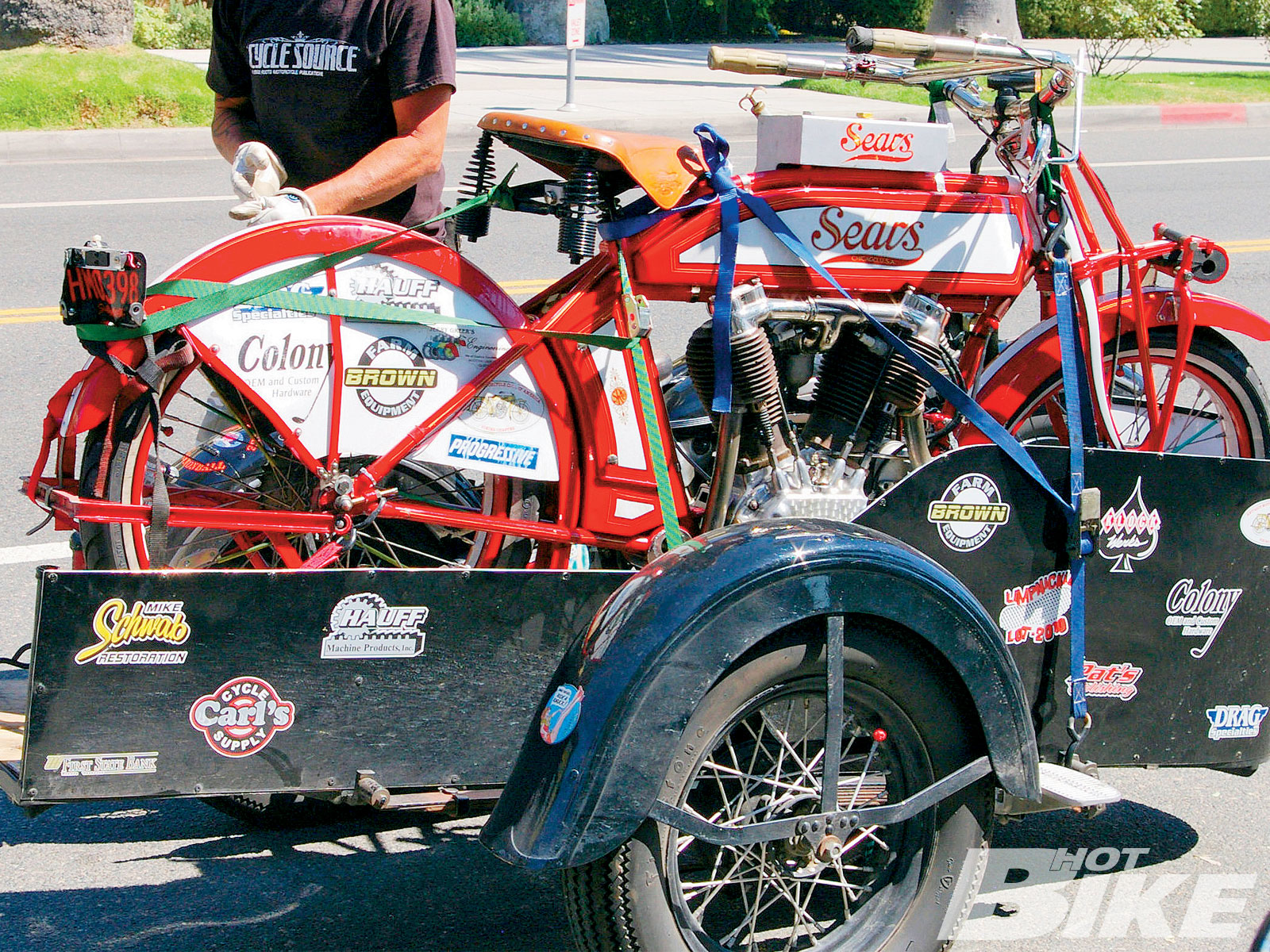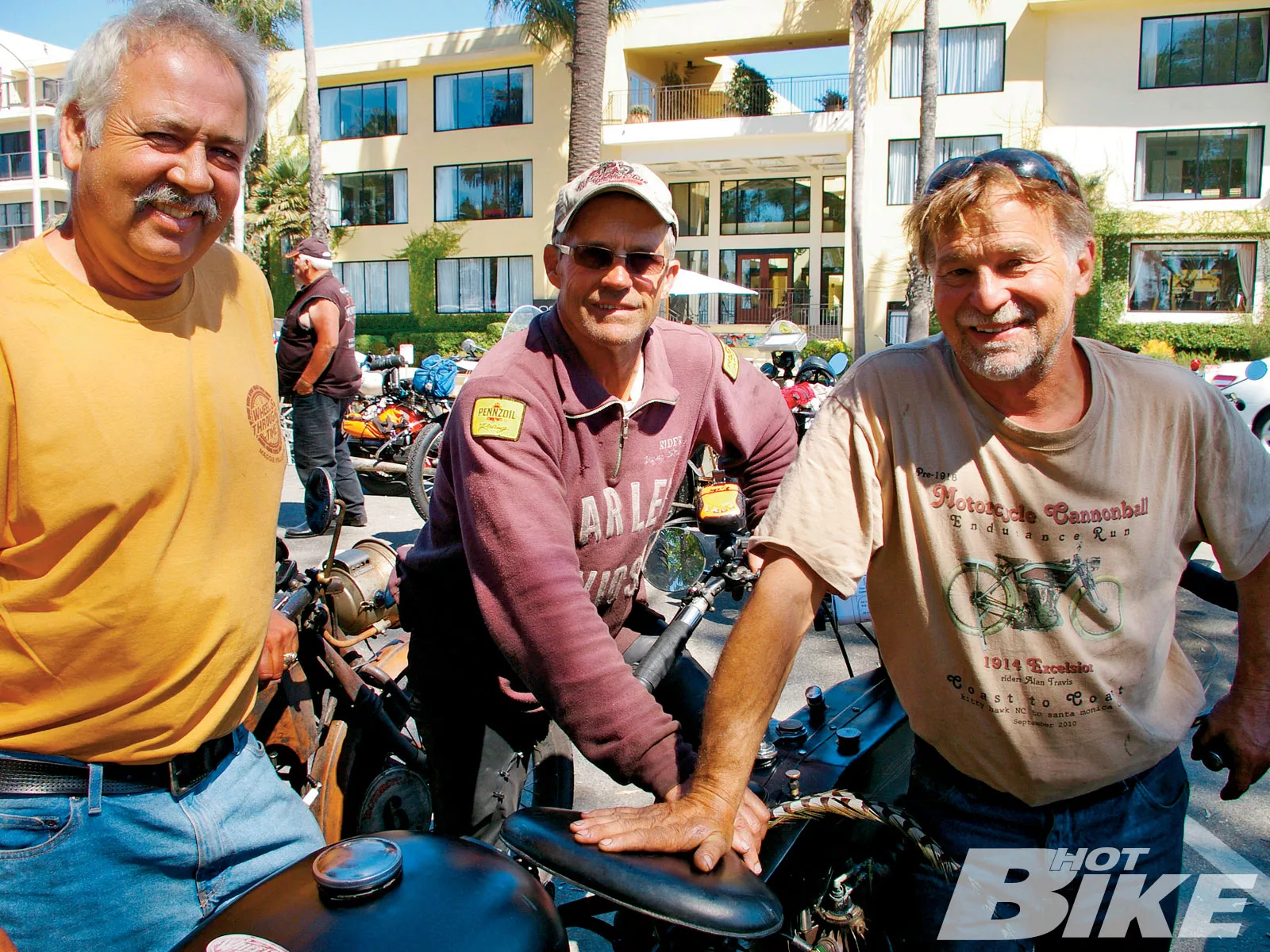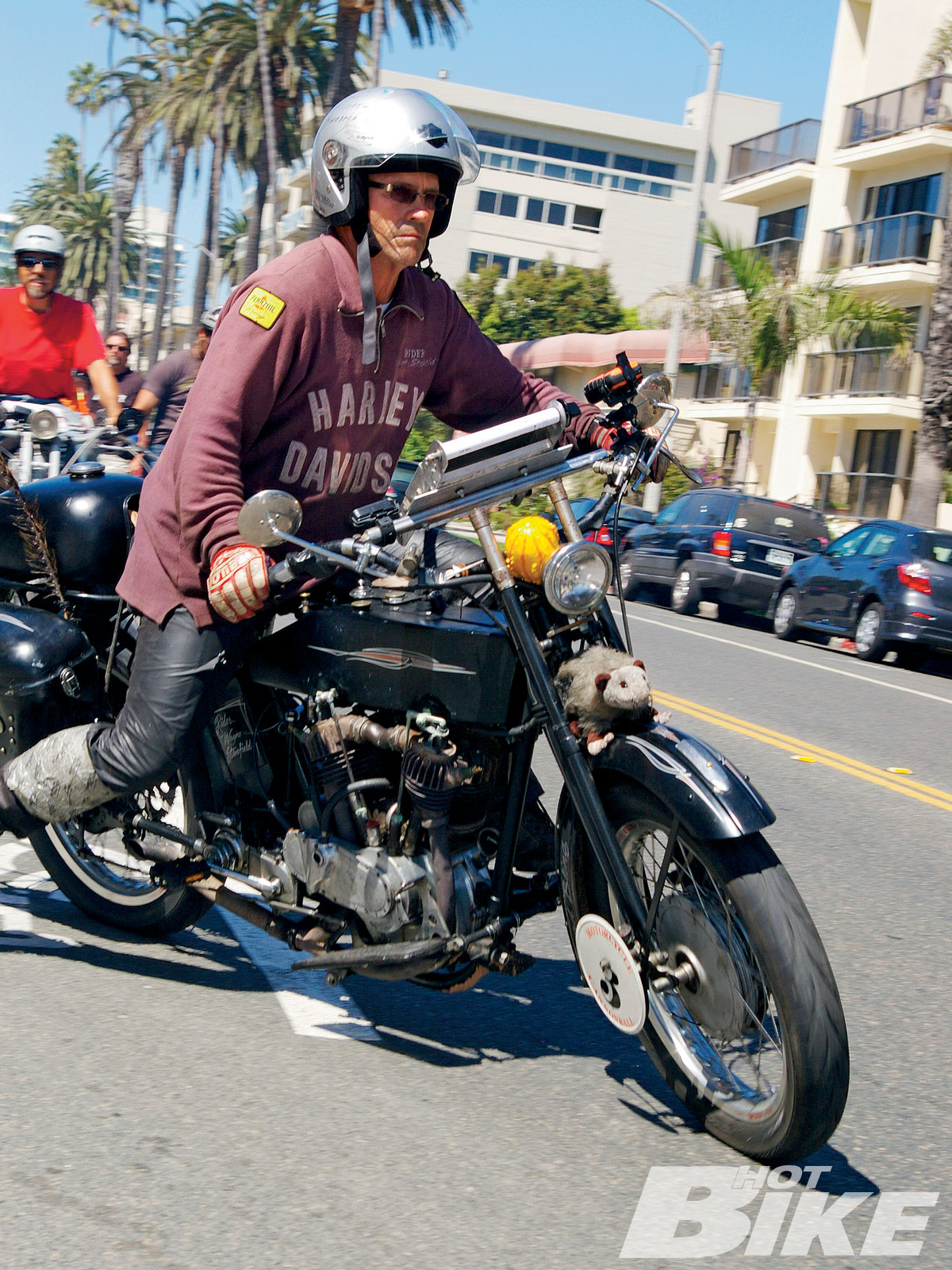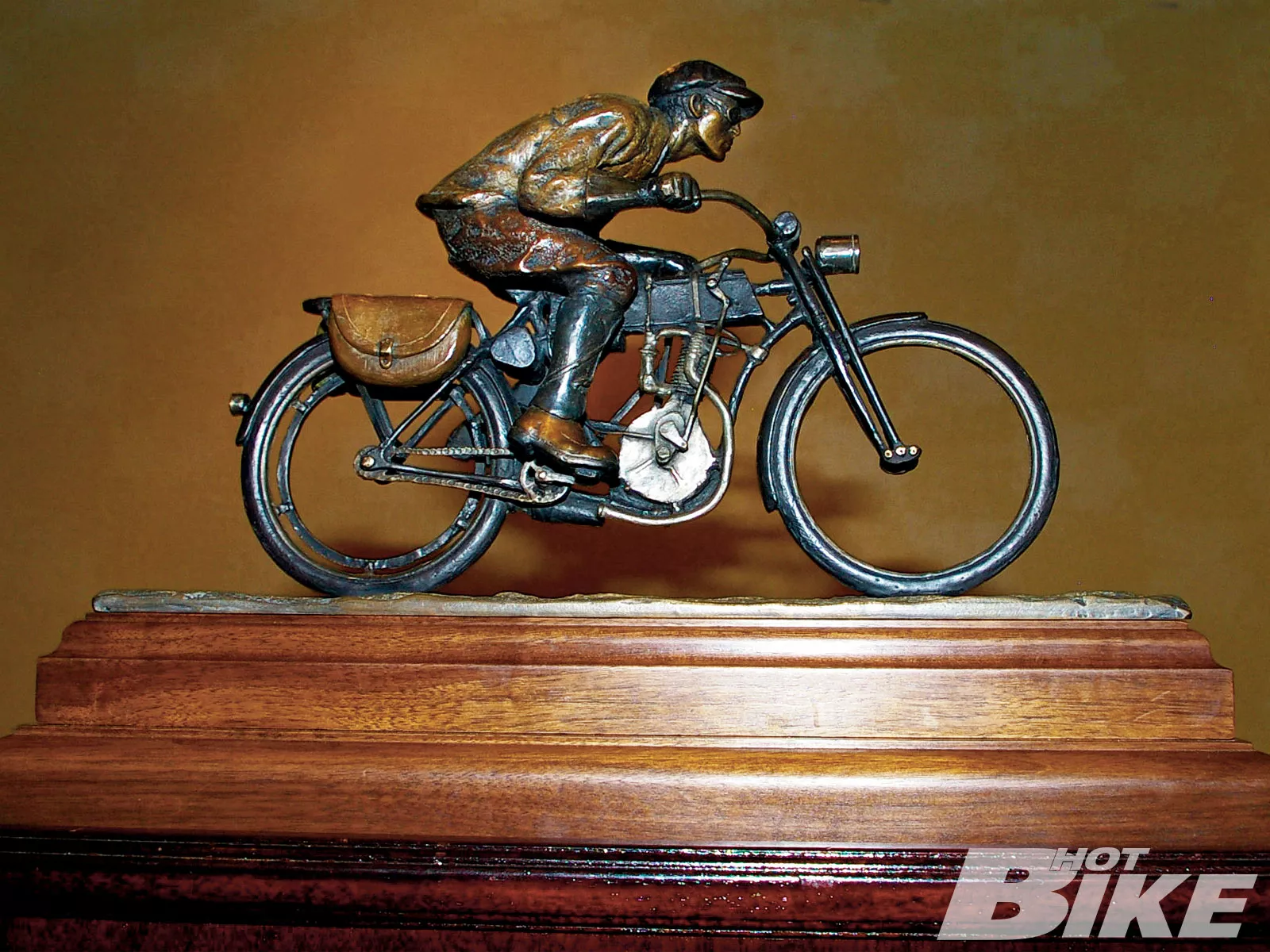 When Lonnie Isam Jr., honcho at Jurassic Racing in Sturgis, South Dakota, talked to some of his fellow vintage bike buddies about climbing on their old scooters and going for a ride, he let the cat out of the bag. Almost overnight he had nearly 100 people clamoring to take part in a 3,000-mile jaunt from the sand dunes of North Carolina to the beaches of Southern California. But a reality check clicked in when the concept of climbing mountains, traversing deserts, and having to deal with Sunday traffic in L.A. culled the number of entrants to an even 44.
The band of merry men, and two merry women, ran astride a literal wealth of antique machines, including a Flying Merkel, a Pope, a Henderson, and a slew of Harleys and Indians, all true-blue American precious metal built prior to 1916 (rules of the game). The Yanks were also joined by two Brit bikes: two BSAs. Actually it was not a race, rather a run, and therein lies the rub. For every mile you and your bike made each day during the allotted 16 days, you accumulated a point. One mile, one point; the goal to accrue as many of the 3,294 points/miles possible. The three classes were divided between single- and twin-cylinder machines and bikes with or without transmissions/clutches.
Bookmakers in Vegas, theoretically at least, would have given high odds on no one even finishing. At the Santa Monica Pier and the official western end of historic Route 66 and the finishing line for the Cannonball, all the naysayers were silenced. Thirty-eight of the bikes showed up, albeit some in tow, while no less than 10 of the riders achieved perfect scores. Keep in mind that not only were the bikes at least 95 years old, many of the riders themselves had seen a half century or more; a hale and hardy wild bunch indeed.
Several issues back, we ran a pre-race introduction to the Cannonball and spoke with a quartet of riders gearing up to take on the challenge. We wanted to get their take on the event once completed, if completed, and here's what we learned.
Matt Olsen – 1913/1914 Sears
Matt's dad Carl started Carl's Cycle Supply, the Aberdeen, South Dakota, shop specializing in vintage Harley Knuckleheads and Panhead restorations. At 18, Matt rode a '48 Panhead to the West Coast. In 2009, he rode not one but two Iron Butts in one month aboard Knuckleheads. At 25, he was the youngest rider in the Cannonball event for which he scratch-built a 1913-14 Sears, a twin-cylinder, single-speed machine powered by an original 70.62 Spacke engine as would have been built back in the day. He modified the bike to accommodate a disc brake and safety rims instead of the original clincher types for (some) safety's sake. These efforts unfortunately would prove insufficient to avoid the intervention of fate on a rural stretch of well-worn road.
"The first day was great but I had some carb problems. The next day was awesome, and I rode about 170 miles. But then I stuck my front piston and fortunately was able to make repairs at Dale Walksler's Wheels Through Time Museum, one of our scheduled stops. The next day was a great ride through Tennessee. The following day I made it about 70 miles into Alabama and was just cruising along at 55, enjoying everything. Then I felt something wasn't right with the rear hub and my attention was drawn to it. At the same time I hit this really rough patch of road."
Time seemed to slow down as Matt's front wheel dug into something and went careening off the road, smacked hard, bent the frame, and broke the fork legs. Arriving at the hospital still conscious, he learned his nose was also broken along with his forearm in two places. The usual two-hour operation took four and a half to pin it all back together. Still there was no giving up. Matt's friend Tim Yeates brought the Sears to Los Angeles so it would be there at the finish.
Says Matt from his home in South Dakota, "My girlfriend flew in from Brooklyn and has been taking awesome care me ever since. At the moment I'm gimping around and moving slowly, but moving. I'm mending up and plan to rebuild the Sears and ride it coast to coast in 2012. Yeah, the crash happened, but for me the Cannonball was the most fun I've had. Plus my bike turned into a donor bike for some of the other riders who needed parts to keep going. The riding was great, but the big blast was the parking lots at night when everybody was wrenching on their bikes. I got to work on other great bikes, even a Pope.
"The coolest part was that a couple guys standing around one night (one from Australia) each gave me a Pope engine case, so now I'm going to build a Pope. How cool is that? Call that a silver lining."
Mike Vils – 1913 Excelsior
Mike, a veteran speedway, GT, trials, and flat-track racer, rode a twin cylinder, chaindrive, three-speed 1,000cc 1913 Excelsior that he's owned and ridden in all kinds of events over the years during which he's restored many machines. He's on the board of directors for the Trailblazer's Club from whom he received major support for his Cannonball participation. The bike benefits from some "hop-ups," including Isky Cams that doubled the lift. Says Mike from his home in Long Beach, California, "These engines, when new, produced 6-7 hp, so we're talking 18 or so with the upgrades. I was flying."
Although the Cannonball was more of an endurance run, and top speed not officially a factor, Mike was often blasting past other riders at 60-plus mph. "That bike was going up the hills like a bus. I'm not a crazy person, but I am a wild man. Like when I came around a corner somewhere out in New Mexico and found a herd of burros standing in the road. I just dodged around them and kept going. I was passing bikes right and left, but of course very safely. I made 2,918 miles and lost only a few points when my motor seized on the third day of the run, spewing parts along the roadside. Dale Walksler actually dug through the underbrush and found them, then we fixed my bike in his super shop; five people turning wrenches on it.
"And another great aspect was the people we met across the country in the small towns we visited. It's over now, but I still can't sleep thinking about how great it was. For me it's the people that stand out, both the riders and the townsfolk. If you want to see and meet the American people, go on the back roads on a motorcycle. For me, the Cannonball was a life-changing experience. It's what you leave behind that counts and the positive affect you have on people. I wanted my three daughters and my nine-year-old granddaughter to know what I was all about. And that now includes the Cannonball."
Dale Walksler, Wayne Stanfield, David Klepst – 1915 Harley-Davidsons
The name Dale Walksler and vintage motorcycling is synonymous. He's the founder and curator of the Wheels Through Time Museum currently in Maggie Valley, North Carolina, and the nexus for one of the world's most fascinating collections of machines and memorabilia. It's also known as the "Museum that Runs," and Dale will prove the point by lighting up any of the hundreds of bikes under his care, including the V-twin Crocker on which he regularly burns rubber, inside the museum, for the enjoyment of its many visitors. Dale has clocked some serious miles, for example riding coast to coast in seven days on a Henderson four-cylinder, not to mention umpteen vintage rallies and winning the Race of the Century at the Barber Motorsports Park aboard his 1903 Indian single.
His teammate, Wayne Stanfield, is also in the record books with major endurance wins for bikes and cars including riding a '36 Harley from Ottawa to Mexico City as well as several Great America Races. His training, experience, and riding skills again brought him to the front of the pack. Although he had more flat tires than any other rider (two in 3 miles at one point), he still kept up the winning pace.
For the Cannonball, Dale prepared three 1915 1,000cc twin-cylinder Harley-Davidsons for himself, Wayne, and the third member of the team, buddy David Klepst. Both David, an experience race car competitor, and Wayne would be among the Top Ten, those few who achieved perfect scores for the run. Dale, was just two points shy of perfection himself, time lost to mechanical repairs. He also spent a good deal of his time helping other riders fix their bikes. True to form, Dale gave the better of the two bikes to his teammates.
Catching up with the trio as they rode into Santa Monica, Wayne summed up the overall performance of the three 95-year-old Milwaukee marvels. "We rode them during the day, maintenanced them every night, but on each leg of the run, we all crossed the finishing line on time." Wayne joked and added, "As for rebuilding the engines, we did that just for the fun of it, to see what was going on inside. As far as Dale losing those two little points, he just had to stop once when he saw a Dairy Queen. Seriously though, the bikes ran awesomely. If you add up the total miles we clocked on these bikes, it's almost 10,000. And it was incredible to see all these other competitors make it across America. Anybody who complains about riding one of today's modern bikes cross-country should think twice about what these early bikes could do.
"As far as the age factor, I'm 62 and a lot of the other guys are around the same age. We got about four hours of sleep most every night, but it was all we needed. Maybe it's because we come from a different generation that it seemed a pretty easy ride all the way. Sure it got our attention, like the big rainstorm in New Mexico where we were doing 55 mph through 2 inches of water on the freeway with these big trucks spraying us. People we met were amazed to hear how old these bikes are. When you think about it, we transported history across the country."
Dale added, "Each team was responsible for its own support and repairs. Our Wheels Through Time friend, Myron Pace, headed up our support crew, drove the truck, and was our all-around mechanic. He probably rebuilt about 100 magnetos along the way. And he always had a cold beer ready. My son, Matt, kept up with the run all the way, posting developments on our website. One of the run's stopovers was at our museum in Maggie Valley and there were thousands of people waiting to greet us. It was a great moment for all of us; one of many during the 16 days. Wayne was leading the pack all the way, and the adrenaline rush was pretty amazing. I rode with two great competitors, Wayne and David. We stuck to the rules and made no excuses and basically hauled ass. Wayne took home the Class II Third Place trophy and he, David, and I are taking back memories of the greatest ride we've ever enjoyed. Do it again? Hell yes. But maybe not in 16 days, maybe 10 to make it a little tougher. I think this unique, first-time event will generate interest in other cool, history-making rides."
One of the great surprises of the Cannonball was Katrin Boehner who brought the oldest bike, a 1907 British-built J.A.P. (John A. Prestwich) all the way from her home in Germany, and her first visit to the USA. Her bike was a single-cylinder, single-gear, beltdriven machine devoid of a transmission or front brake. It also had no clutch so that each time she had to stop during those 3,000 miles, the motor would cease running. But there was no push-button or even kick-starter because there was no starter at all. This required Katrin to "bump start" her machine countless times, taking a position running alongside and pushing the bike to generate an ignition spark, then throwing herself onto the saddle. It required strength, timing, and technique, (especially on uphill inclines) all of which she demonstrated with a high degree of proficiency. So outstanding was her performance, that in addition to earning enough points to win First Place in her class, Katrina was awarded the Grand Championship and presented at the closing ceremonies with a custom commissioned Cannonball Run sculpture by noted artist Jeff Decker, something she would take home to Germany along with the indelible images she experienced during the 16 days of camaraderie and high adventure. When asked if she would do it again, she smiled and said, "Definitely."