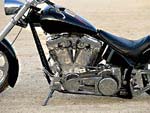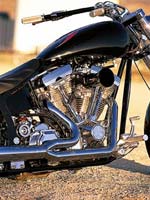 You've heard the saying, "The only difference between a man and a boy is the price of their toys." Well, Chad Swenson, a Sioux Falls, South Dakota, lawyer by day, was ready to trade in his current toy, a '99 Triumph Sprint ST, and move up to the big leagues. But Swenson wasn't sure if he should buy a bike or build one. All he knew was that it was time for a change. He wanted an American V-twin, so the Triumph would have to go. As he was picking at peoples brains for ideas, the name of Legends Air Suspension owner Jesse Jurrens came up a couple of times. Jesse also owns Independent Cycle, a bike shop that builds a few customs each year. Swenson was familiar with Legends, so he jumped on his soon-to-be-sold Triumph and made the hour-and-a-half ride to see Jurrens.
The two hit it off immediately, and it wasn't long before Swenson started to get a clear vision of what path to take. Before they knew it, there was a tentative plan in place to start spending the money from the soon-to-be sold Triumph.
To kick off the project, a '01 Daytec Softail-style frame was purchased. Daytec built the frame with just 2 inches of stretch and kicked the neck to 38 degrees. A couple of tabs were welded to the rear of the frame for a new air stock compressor mounting idea that Jesse had. Swenson's bike would be the first to try it out.
Slipped in between the frame pivot points is a Billet 4-U ball-milled, billet swing arm. It is linked to a Legend Air Suspension Air Ride system. Jurrens used a set of WP inverted tubes paired with a set of smooth Billet 4-U triple trees to put the 21-inch Performance Machine Player wheel in just the right spot. A 17×6-inch Player holds a Metzler 190/50 out back, while an 80/90 Metzler is used up front. Since Swenson had plans for a big-inch motor, he wanted to be able to keep all those ponies in check. To do this, Jurrens mounted a P.M. disc and caliper to the 21-incher, and a P.M. drive-side brake setup was used on the back wheel. comparing horsepower numbers of the new bike to the old one was like comparing apples to oranges. A 120-inch Merch monster was ordered. The factory polished motor has plenty of horsepower and a torque curve that sets the pace for V-Twins with comparable displacement. With the motor complete, Jurrens got the Merch breathing by means of a Mikuni carburetor, a Pro Pipe from Vance & Hines, and a Compu-Fire ignition module.
To transfer all the ground-pounding power the Merch has to offer, a 3-inch Billet 4-U primary and a Rivera hydraulic-operated clutch mounted are connected to a polished Baker six-speed transmission.
After seeing some of the sheetmetal work put out by Independent, Swenson gave Jesse the green light to go to town with his bike. Jesse went with the clean and simple look. He started by reworking a gas tank from Independent Gas Tank Company and a set of West Coast Choppers fenders. The rear fender had the license plate frenched into it and was hung by a set of internal struts fabbed by Independent Cycle.
Since the Daytec frame looked so good right out of the box, the decision was made to forego any molding. The frame and sheetmetal were sent to Deano's for a generous application of black basecoat. The black paint had barely dried when the parts were brought to Krash for a red and silver graphics treatment designed by Jurrens.
Swenson was antsy to ride because he hadn't been on a bike since he sold the Triumph. Being a lawyer can be very stressful — he needed a ride fix, and he needed it bad. So he dropped by the shop, and to his delight watched as Jesse was in the home stretch. The bike got its finishing touches with the addition of Independent Cycle bars, billet 4-U risers, P.M. hand controls, billet 4-U foot controls, Holy Terror foot pegs, and a taillight, a Headwinds headlight, and a custom Danny Gray seat.
Swenson threw his leg over the bike, thanked Jesse, fired it up, and went for a long, long ride.
| | |
| --- | --- |
| STRESS RELIEVER SPEC SHEET | |
| General | |
| Owner: | Chad Swensen |
| Make/Year: | '01 Special Construction |
| Fabrication: | CMMC |
| Assembly: | CMMC |
| Build Time: | One Year |
| Engine | |
| Size/Type: | Merch 120CI EVO |
| Cases: | Merch |
| Flywheels: | Merch |
| Rods: | Merch |
| Pistons: | Merch |
| Cylinders: | Merch |
| Heads: | Merch |
| Cam: | Merch |
| Carb: | Mikuni |
| Ignition: | Compu-Fire |
| Pipes: | Vance &anp; Hines |
| ** Transmission** | |
| Yeay/Type: | Baker Six-Speed |
| Case: | Baker |
| Gears: | Baker |
| Clutch: | Rivera |
| Primary Drive: | Belt |
| ** Frame/Suspension** | |
| Year/Type: | Daytec |
| Rake: | 38 Degrees |
| Stretch: | 2 inches |
| Swimg Arm: | Billet 4-U |
| Rear Suspension: | Legends |
| Forks: | Works Performance |
| Extension: | 3 Inches |
| Triple Trees: | Billet 4-U |
| ** Wheels, Tires and Brakes** | |
| Wheels: | |
| Front: | 21-Inch P.M. |
| Rear: | 17×6-Inch P.M. |
| Tires: | |
| Front: | Metzler |
| Rear: | Metzler |
| Brakes: | |
| Front: | P.M. |
| Rear: | P.M. |
| ** Finish** | |
| Molding: | None |
| Painter: | Deano's |
| Color: | Black |
| Graphics: | Krash |
| Chrome Plating: | Concours Chrome |
| Powdercoating: | None |
| ** Accessories** | |
| Bars: | Independent Cycle |
| Risers: | Billet 4-U |
| Hand Controls: | P.M. |
| Headlight: | Headwinds |
| Taillight: | Hooly Terror |
| Gauges: | None |
| Electrical: | Independent Cycle |
| Fuel Tank(s): | Independent Gas Company |
| Dash: | None |
| Oil Tank: | Daytec |
| Front Fender: | West Coast Choppers/ Independent Cycle |
| Rear Fender: | West Coast Choppers/ Independent Cycle |
| Fender Struts: | Internal |
| Pegs: | Holly Terror |
| Foot Controls: | Billet 4-U |
| Seat: | Danny Gray |