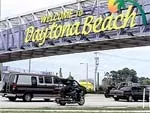 Harleys and Daytona go together like peanut butter and jelly. From that very first get-together on the beach back in 1941 to this year's event, nothing says motorcycles like Daytona Bike Week. Take hundreds of thousands of motorcycle enthusiasts – many from the colder regions of the country — call them down to the warm, sunny shores of Florida to kick off the riding season, and you can't expect it to be anything but fun.
It doesn't matter what your interests are; there is so much to do at Bike Week, it seems there is never enough time to take in all the activities. Without a doubt, Main Street was the place to see or be seen. From the early morning until the late-night hours, a constant parade of motorcycles cruised up one side of Main and back down the other. As a diversion from the onslaught of bikes cruising Main, one could easily do some shopping. Whether you were in the market for the latest T-shirt creations or needed new boots or gloves, it was all there to be had.
A short trip over to Beach St. and Ridgewood Ave. (depending on the traffic) revealed vendors of all kinds. All the major parts distributors such as Custom Chrome, Drag Specialties, Biker's Choice, J&P; Cycles, and Chrome Specialties were there. Around the next corner you could find some of the top custom builders in the industry — companies such as Arlen Ness, Jim Nasi Customs, Eddie Trotta's Thundercycle Designs, Kendall Johnson's Customs, Bourget's Bike Works, and Ron Simms. If you were looking for a complete engine, transmission, suspension, chassis, sheetmetal, or any other parts, the supply seemed endless.
As usual, the weather in Daytona was far better than the weather in many parts of the country. The fact that winter was still upon us made for interesting changes in the meteorological sense. Although the week started cold, windy, and wet, the enthusiasm was high, and no one's spirit seemed to be dampened. By the time the first weekend ended, things started to look better as a warming trend developed, making for great riding weather.
As the event progressed, it appeared that the number of people in attendance skyrocketed from the previous days. With the forecast looking great, many folks decided to jump on their scoots and join the party.
The 12th Annual Boardwalk Classic Bike Show was a great place to spend a couple of hours checking out all the killer entries competing in various categories. Speaking of bike shows, this year marked the first Rat's Hole Custom Chopper Show, held without its founder, Karl "Big Daddy Rat" Smith. Big Daddy died Monday, March 4, 2002, from a heart attack just five days before his annual chopper show.