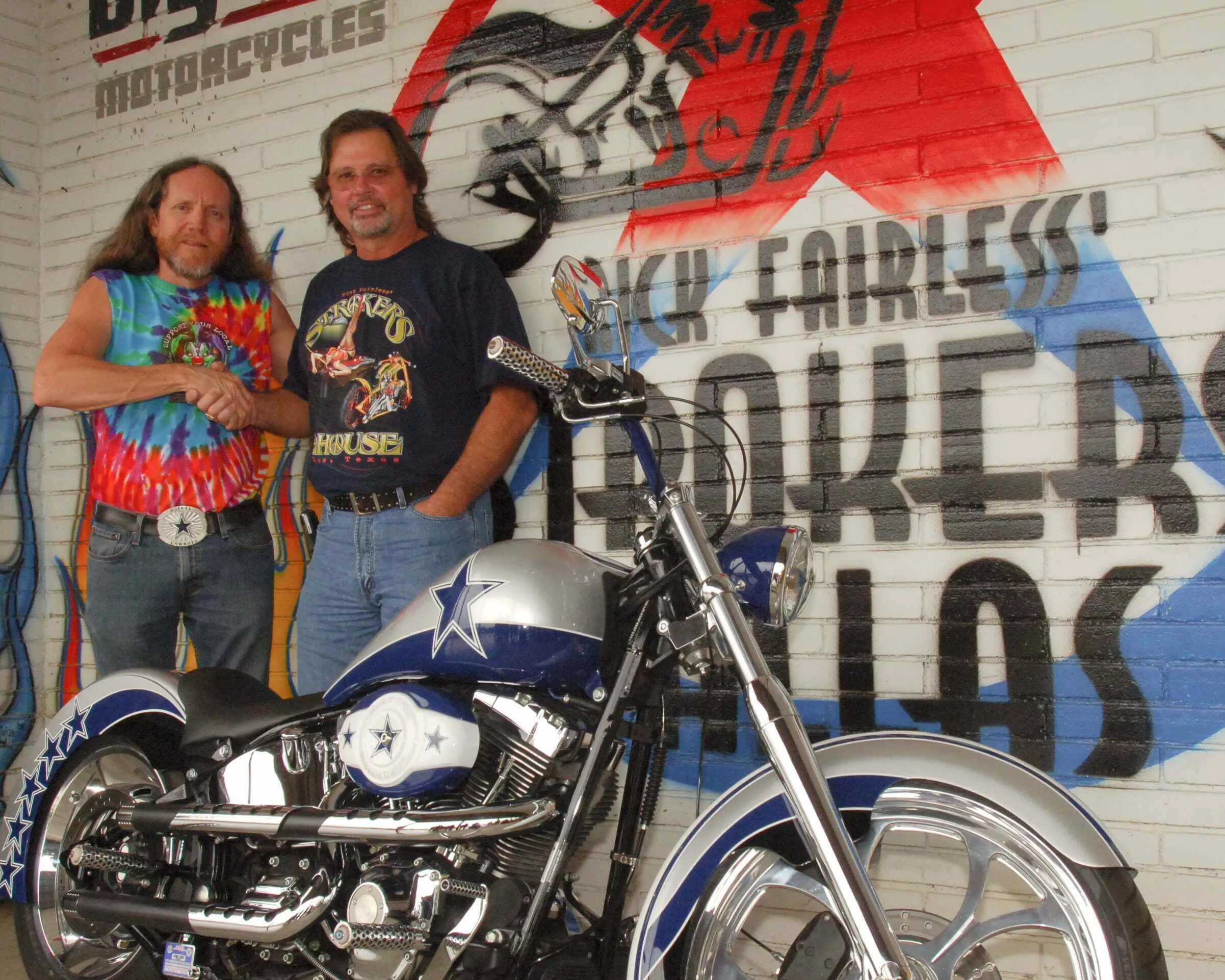 Rick Fairless and the team at Strokers Dallas raised $32,000 for Texas Scottish Rite Hospital for Children through the raffle of a customized Dallas Cowboys themed Harley Davidson motorcycle. Teaming up with Miller Lite, we were able to sell raffle tickets from July 4th- October 12th to raise money for the children of Texas.
STROKERS DALLAS, SPONSORS TEAM UP TO HELP TEXAS CHILDREN
Dallas, TX (December 10, 2008)- Rick Fairless' Strokers Dallas and Miller Lite joined forces this past Spring with an idea to raise money for Texas Scottish Rite Hospital for Children (TSRHC). Raffling off a customized Harley-Davidson motorcycle, the two groups succeeded in raising $32,000 for TSRHC in just over 3 months.
In conjunction with the Harley-Davidson 105th Anniversary, Strokers Dallas and Miller Lite teamed up to secure a 2007 Harley-Davidson softail motorcycle and turn it into a "Dallas Cowboys" themed ride. The process to get the paint and theme approved by the Dallas Cowboys was not an easy task, but it was well worth the effort.
"We went through several rounds of revisions with the Dallas Cowboys before we all agreed on a paint job that was exactly right," said Rick Fairless. "But in the end, it was cool because we are one of the very few who can say that their bike is officially endorsed by the Dallas Cowboys and was approved by Jerry Jones himself."
Once the bike was re-built and customized by the team at Strokers Dallas, it was used in a fundraiser for TSRHC. Strokers Dallas sold tickets online to win the motorcycle, at road shows and motorcycle rallies, and in their dealership for as little as $10 each. The bike was revealed at the beginning of July and was awarded at the Strokers Dallas Anniversary Party on October 12. The lucky winner was Steve Stanfield of Henderson, Texas, who bought his 5 tickets online.
Strokers Dallas recently presented TSRHC with a check for the $32,000 raised by the fundraiser.
"Texas Scottish Rite Hospital for Children patients, families and staff are so grateful to Strokers Dallas for their generous donation to the hospital," said Stephanie Brigger, Vice President of Development at Texas Scottish Rite Hospital for Children. "We really appreciate our relationship with Rick and Susan. Strokers Dallas is such a giving company that understands the hospital's mission of providing the highest quality medical care to Texas children, from birth to age 18, at no charge to patient families."
"It was a great honor to raise that much money for the Texas Scottish Rite Hospital for Children," Fairless noted. "I have been supporting them since I opened 13 years ago and I don't think there is a better cause here in Dallas. I look forward to many more years of raising money for TSRHC."
About Rick Fairless' Strokers Dallas:
Rick Fairless is one of the motorcycle industry's longtime custom bike builders whose custom rides have won major industry awards and have been featured in popular consumer magazines. He started Rick Fairless' Strokers Dallas in 1996 as one of the first custom bike dealerships in Dallas, and has continued to expand the property ever since. The dealership, which sits on over 2 acres and is joined by a fabrication shop on-site along with a bar/restaurant called Strokers Ice House and a tattoo and piercing parlor, Strokers Ink, has become the area's largest destination for custom bikes and a quintessential biker haven. Visit Rick Fairless' Strokers online at www.strokersdallas.com http://www.strokersdallas.com/ .
About Texas Scottish Rite Hospital for Children:
Texas Scottish Rite Hospital for Children is one of the nation's leading pediatric centers for the treatment of orthopedic conditions, certain related neurological disorders and learning disorders, such as dyslexia. There is no charge to patient families for treatment at the hospital, and admission is open to Texas children from birth to 18 years of age. For more information, to volunteer or to make a donation, please call (214) 559-5000 or
(800) 421-1121 or visit www.tsrhc.org http://www.tsrhc.org/ .