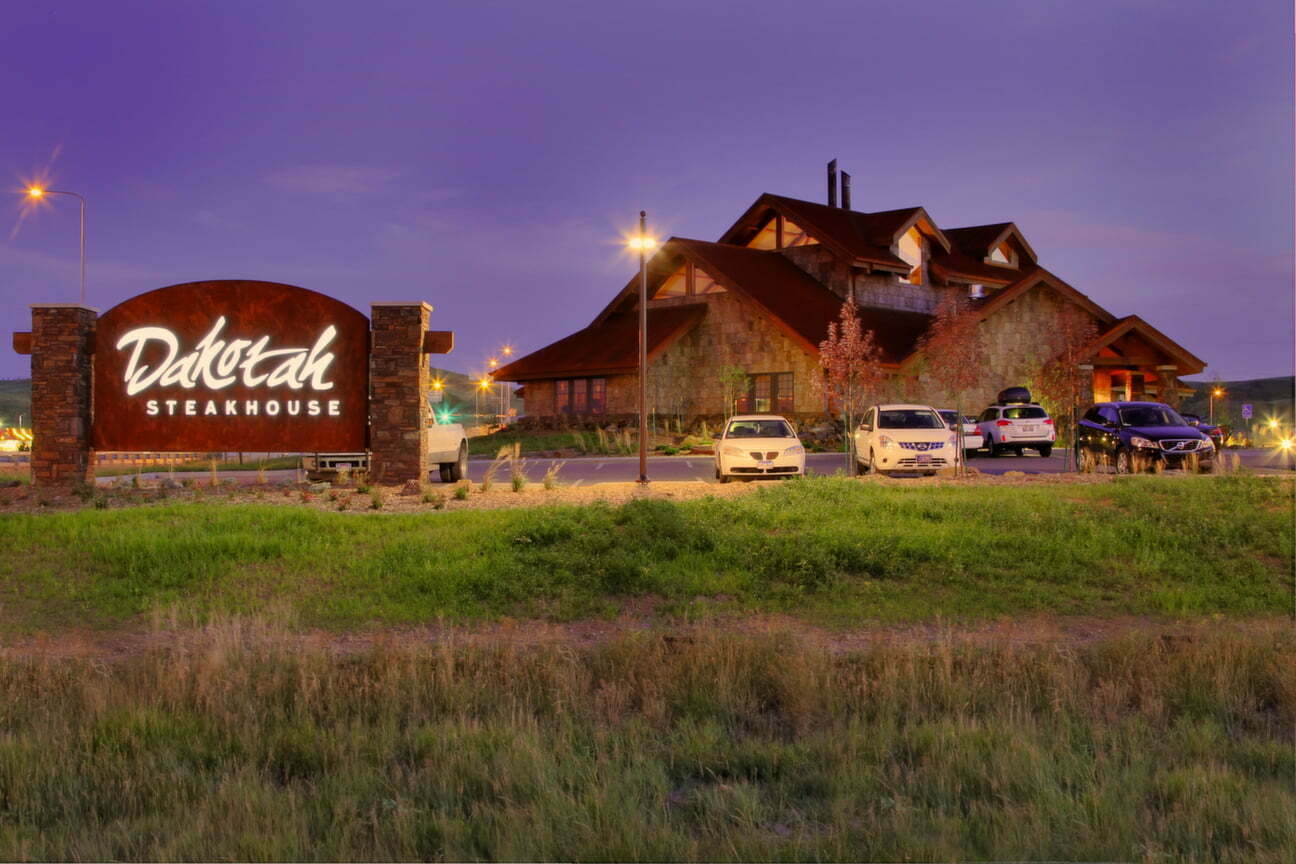 Meals can make or break a ride. Find the perfect grub joint for you and your riding buddies and you have a destination with a purpose. Here's a hit list of some terrific places to chow down in the Black Hills of South Dakota.
1305 Main St.
Sturgis, SD 57785
(605) 720-1500
Downtown Sturgis is where you'll find this wonderful place. Live entertainment is the specialty side order of the house, too. Bring an appetite for both and you'll be plenty happy. Herbs and spices dust succulent, melt-in-your-mouth beef tenderloin before a perfect flash-frying to a beautiful golden brown. The Loud American serves them so many ways you could make a personal mission during the rally to try a different one not each day, but each meal. Nearly 70% of Loud American's tickets have at least some kind of steak tip order on them.
The Loud American Roadhouse opened in the summer of 2001. Its concept is based around the local flavor of the area, the rich history of Sturgis, and motorcycle enthusiasts and live music. The only way the joint could be more biker-friendly is if they actually had an on-duty Harley mechanic. Steak tips are their tasty salute to the local cattle industry and a way for us to offer a specialty that tourists don't see all over the country.
931 1st Street
Sturgis, SD 57785
(605) 347-0106
If you want to be ground zero for the rally, you'll want to eat the The Knuckle Saloon. Just follow the delicious smell of fried steak tips down 1st Street.
Walk inside to this jam-packed saloon and you're treated to live music and an open air pavilion that holds up to 1,200 hard-partying bikers. In its entirety, The Knuckle Saloon covers half a block of prime downtown Sturgis. At any given time, over 2,000 people move in and out of here during rally time. The place is also packed with antiques and Sturgis memorabilia from days past.
Four large kitchens labor hard to keep all those people fed. You can feast on gyros, salads, burgers, and more but the steak tips are the star act in this show. You can get them breaded or sautéed, with mushrooms and onions, bleu cheese, butter, glaze, and more. After a hard night's partying, exorcise the hangover with the joint's build-your-own Bloody Mary.
You also need to try the in-house craft beer. The Knuckle Brewing Company of Sturgis competed in the third annual Beer Fest against forty-seven brewing companies and brought home Gold Medal honors during the sampling event in Rapid City on Saturday, January 17th. Every one attending the event had the opportunity to sample glasses of over 60 craft beers and 122 other beer varieties. The company's Knucklehead Red claimed the gold and its Rally Town Maple took third place honors to boot. That's not too bad for a bar that had only been crafting beer for six months!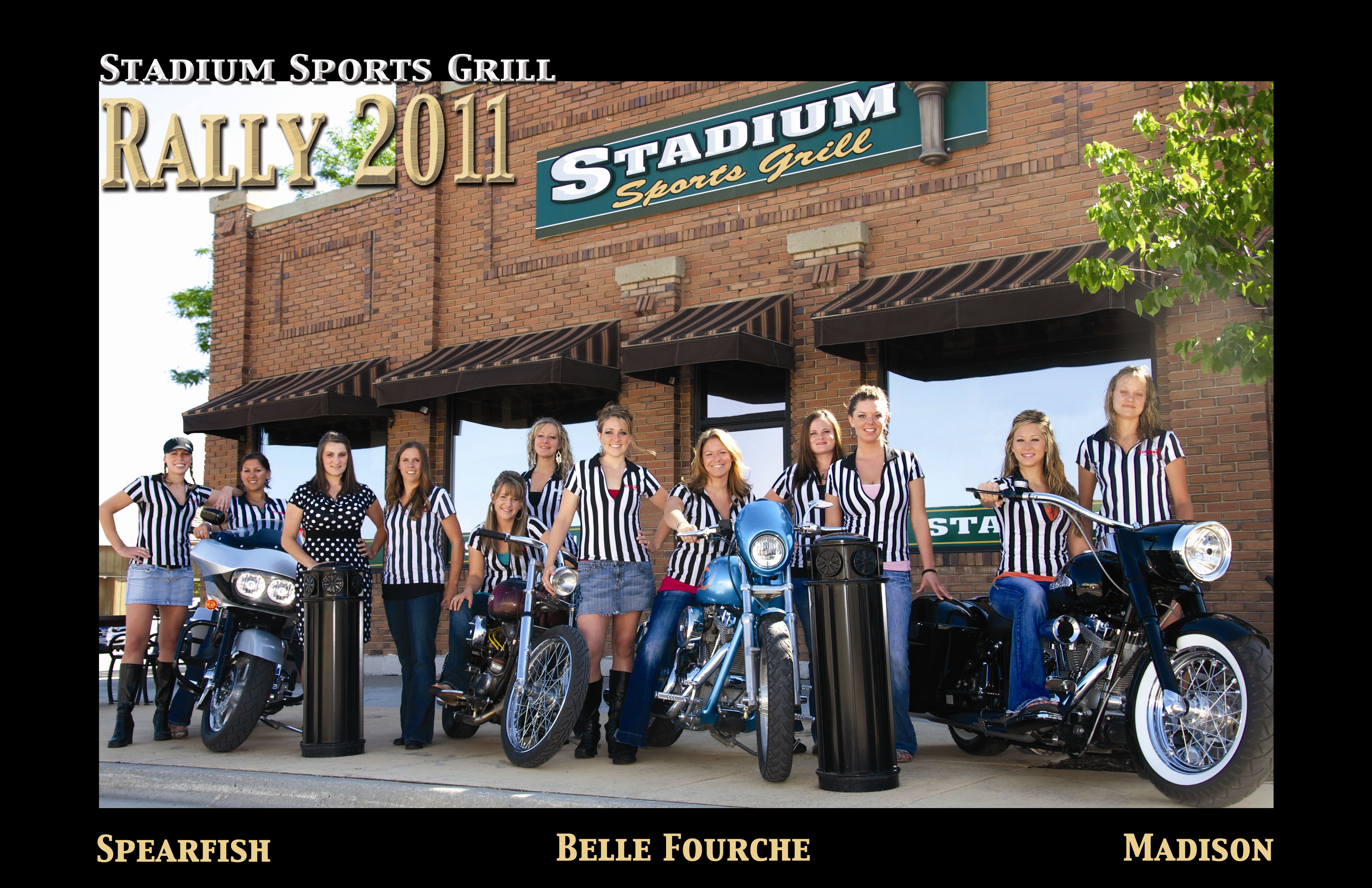 744 Main St.
Spearfish, SD 57783
(605) 642-9521
Steak tips are a signature dish in South Dakota. Longtime rally goers seem to have their favorite joints for them, too, be it The Loud American Roadhouse, The Knuckle Saloon, or Stadium Sports Bar. Stadium marinates their chunks of tender beef in their secret sauce, breads them, and fries them to a perfect golden brown. You can even get them rare and light on the batter. They're so good, in fact, that you should ride to one of their locations in Spearfish, Belle Fourche, or Madison just to try the tips. They're unbelievable.
Stadium also sells them in a variety of configurations. Try the small and dinner portions for one, or the macho size with fries or kettle chips for up to four ravenous bikers. One great way to sample this house favorite is on a skillet. Marinated, breaded, and lightly fried, they're then heaped atop a crispy tortilla. All of the options come with Texas toast.
Jon Van Patten's Nemo Road Barbeque/Normarke Farm Bed and Breakfast
12203 Nemo Road
Nemo, SD
(605) 578-2125
Nemo Road Barbecue may be the best kept culinary secret in Sturgis. It's not in a town, it's not even a restaurant. Owner/operator Jon Van Patten only operates it during the Sturgis bike event. Located along a wooded stretch of Nemo Road well outside of town, his open air operation only sees a couple of hundred people each rally. It's a simple setup of a grill, smoker, supply area, and a table or two to take a break from the crowds.
Jon started barbecuing in the late '80s, doing community events and catering. Two decades later, they opened a bed-and-breakfast in the northern Black Hills. Each year, a corner of that property becomes Nemo Road Barbecue. Jon dishes up pulled pork and beef brisket sandwiches, as well as his signature move, baby ribs. Unlike some other places during the rally, he's not rushed. This is genuine barbecue, low-and-slow, as the smoker gods intended. If you're out here early, you can catch Nemo Road the Saturday before the rally officially kicks off.
305 North 27th Street
Spearfish, SD 57783
(605) 642-1582
If you want something a little different in the food department, try Spearfish's Lucky 13 Pub. They have some fun house specialties for those looking to eat something out of the ordinary.
Lucky 13 gets busy during the rally but not to the point where you're going to wait forever to grab a beer or order a meal. They have plenty of seating available. Regulars visit several different times throughout their trip, not just once. When you have homemade tater tots that are essentially fried, loaded baked potatoes, in-house pizza rolls, and feature meat cooked on a wood-fired Churrascaria grill, people will come. In 2009, the owners decided to do a complete remodel and in 2010 Lucky's 13 Pub was born. Nowadays, Lucky's 13 Pub combines music, sports, and nightly promos with good food. The portions are huge, too. If you and your sweet tooth find yourself there for breakfast, try the Frosted Flakes French Toast.
811 Disk Drive
Rapid City, SD 57701
(605) 791-3773
Lintz Bros. Pizza loves to put its own spin on pie. That's what's so cool about this place. With one location in Hermosa, SD and another in Rapid City, you're not bound by being in either place for great, unique pizza.
Lintz Bros. Pizza has been open at its original location, one mile south of Hermosa, since September of 2005. Founder Brian Lintz says, "I wanted Lintz Bros. Pizza to be a place where family and friends can come and enjoy an excellent meal with an affordable price attached to it. Not only have we achieved that, but we've established ourselves as a local favorite for pizza in the Black Hills."
When I say "unique," I mean it. I'm not talking about barbecue chicken pizza, or hamburger pizza; you can get those here too, but Lintz Bros. makes pizza that's truly its own. The Oriental Texas Tornado blends Frank's Sweet Heat Hot Sauce with Lintz Homemade Red Sauce, chicken, onion, green peppers, pineapple, and the option of cashews on top. Then there's the Flaming German Samoan: Canadian bacon, sausage, pineapple, sauerkraut, and jalapeños. If you're feeling Mediterranean, try the Lean Greek (shown): A thin crust pizza with olive oil for the sauce, with garlic, chicken, spinach, black olives, tomatoes, and parmesan, covered in mozzarella, and topped with oregano and feta cheese.
Deadwood Legends Steakhouse at Silverado-Franklin Hotel
709 Main Street
Deadwood, SD 57732
(800) 584-7005
The Silverado-Franklin Hotel is about as historic as it gets when it comes to American hotels. Way back when the Black Hills gold rush got underway in the 1870s, The Silverado Gaming Establishment opened its doors a few feet away from ground zero. Gambling didn't stay legal in the Dakota Territory and by 1903 the former gaming hall was the new Franklin Hotel. Teddy Roosevelt stayed here while visiting his friend Seth Bullock, President Taft managed to shoehorn his bulk into one of the rooms, and both John Wayne and Kevin Costner have kicked their boots up there. Now the historic hotel and gaming establishment is home to one of the best places to eat in the entire region: Legends Steakhouse. Legends emphasizes trying new things when it comes to food. Case in point: the stuffed chicken breast.
Filled with chorizo, smoked gouda, and roasted red pepper relish, it's a great break from steak tips.The shrimp crepes with white wine sauce, Atlantic salmon with pineapple pico de gallo, and apricot glazed duck wings with crushed peanuts are also real good eating.
Hit Legends for breakfast while you're cruising the Black Hills and try the red velvet waffle. Topped with whipped cream cheese and chocolate chips, it's sweet sin on a plate. The Rumchata French Toast is pretty unreal, too. Drizzled with Rumchata maple syrup, it's also topped with a dollop of mascarpone cheese.
Diamond Lil's Restaurant at The Midnight Star
677 Main Street
Deadwood, SD 57732
(800) 999-6482
The Midnight Star casino is a Kevin Costner fan's Disneyland. He bought the place years ago and it's coated in memorabilia from his movies. Diamond Lil's is its bar and grill. Typical wait time during the rally is a half hour. Try early mornings or later evenings and you may be get a shorter wait. Breakfast is good here but my personal favorite is their Alex Marshall's Reuben sandwich. Piled high with turkey pastrami, sauerkraut, Swiss, and Thousand Island dressing, it goes great with a draft beer.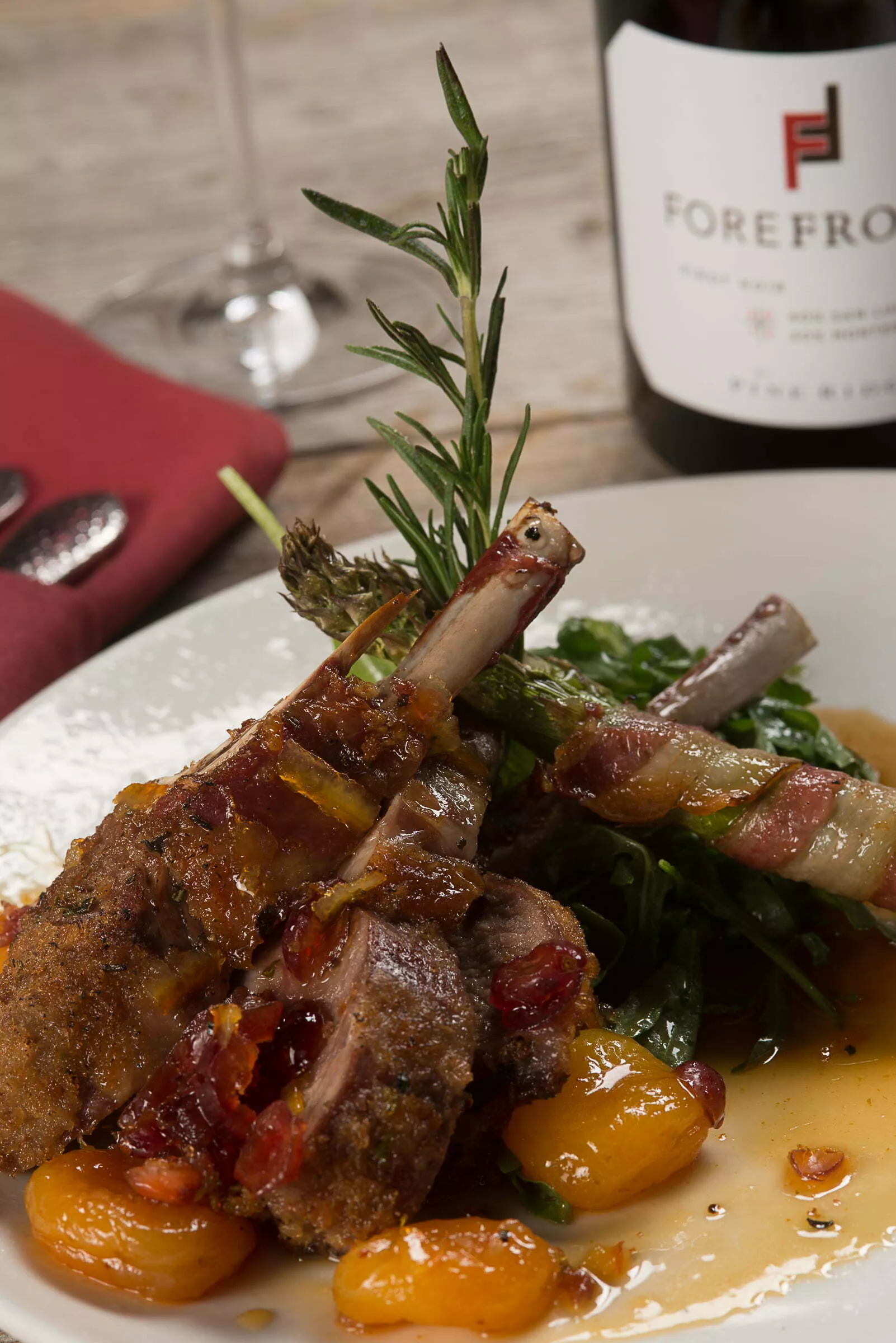 1325 North Elk Vale Road
Rapid City, SD 57703
(605) 791-1800
If you want to get away from the huge crowds for high-end steak at a place that's a little more kicked back than the bar scene, make the run to Dakotah Steakhouse in Rapid City. The place isn't as overwhelmed as some other restaurants, most likely because of their hours: 4-10 pm. Most of us are up at rally central during that time. Named "The Best Restaurant in South Dakota" by MSN and Business Insider, Dakotah Steakhouse is known for its 24-ounce bone-in Cowboy Rib Eye Steak. It's enough for two hungry bikers in and of itself. This place also offers excellent beef and bison steaks and burgers, but the appetizers and sides make Dakotah Steakhouse stand out. You may want to start off with the pheasant poppers, Chislic (deep fried seasoned sirloin bits), or the BBQ buffalo bone. At the end, finish your feast with Salted Caramel Cheesecake, all by the joint's massive fireplace.
Colonial House Restaurant & Bar
2315 Mt. Rushmore Rd.
Rapid City, SD 57701
(605) 342-4640
Ask Black Hills residents, and they'll tell you that if you're looking for cuisine that's made fresh in-house every day, the place to visit is the Colonial House Restaurant & Bar. Owned by the Beshara family since 1981, the Colonial House Restaurant & Bar has become a local staple for the comfort foods we crave most. Guests are welcomed like family and treated like old friends. Serving delicious American cuisine prepared fresh daily, the Rapid City restaurant brings a flare for exceptional dining that's perfect for all occasions and ages. Serving breakfast, lunch, and dinner, the Colonial House also offers lighter sized portions. The place is known for its mouthwatering caramel rolls and a renowned bakery helmed by a certified pastry chef. Thirsty? Belly up to a full bar serving everything from tap beer to barrel wine to specialty drinks like mimosas and Bloody Mary's. From pastas, steaks, and salads to BBQ and bakery, these "cooks with fire" truly sizzle.
Chubby Chipmunk Hand-Dipped Chocolates
420 Cliff St.
Deadwood, SD 57732
(605) 722-2447
There are many things you expect to see at a bike event; a chocolatier that's been featured in Grammy Award Gift Boxes isn't one of them. Yet, that's exactly what you'll find at Chubby Chipmunk Hand-Dipped Chocolates in Deadwood. Mary "Chip" Tautkus is the nurse-turned-entrepeneur behind this place. When she started baking chocolate from a Betty Crocker cookbook at age five, I doubt she dreamed of using the stuff to pay her way through nursing school, let alone go full time with a chocolate shop run out of a converted 1930s gas station.
Just so we're clear, I'm not sending you to a local version of See's Candy. Mary goes heavy on the throttle when it comes to creativity in her products. From her Signature Dark to the Hot Mama (habanero, jalapeno and cayenne pepper), she's not messing around. High quality gourmet chocolate that has no preservatives is Chip's personal standard.
For more Sturgis info visit the official website. Check out our more of our event info here.
Hot Bike contributor Mark Masker, who wrote this story, is launching his own motofood blog, Road Grub.