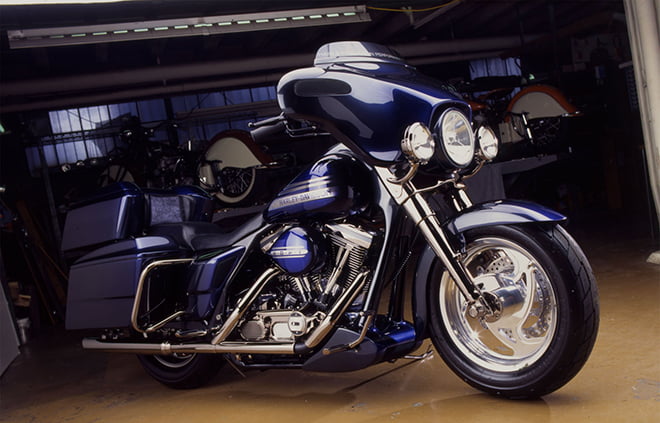 This article was originally published in the October-November 1998 issue of Cycle World's Big Twin magazine.
If you attended Harley's 95th anniversary blowout in Milwaukee, you probably wouldn't have noticed John Rank's bagger, even if it had been parked next to your ride. But all is not gold that glitters; sometimes, the most exotic customs are the stealthiest. Okay, so you might have made a remark about the bike's black nickel finish; but more than likely, you wouldn't have looked twice.
Your loss. Because this bagger is worth a second look.
Use a little patience and you'll spot all the work that's gone into this machine. Inspect it for latches and locks, for example; you won't find any. The fuel filler cap, the saddlebag latches and the tourpak latch are remotely controlled by the rider via hidden switches. (We'd like to point them out, but then they wouldn't be hidden anymore, would they?) Fuel is supplied to the S&S carb through an electric valve that is activated by turning the ignition key.
But that's not the best part. Not taking a passenger this trip? Simply unplug the rear pegs, unsnap the rear seat from its moorings, press a button, and the streamlined, hand-formed aluminum tourpak moves forward on its mounts, backrest snuggling tight to the rider's kidneys. Don't need to take along anything more than a toothbrush? The bags detach in seconds, leaving the back of the machine as naked as a sport-tourer's, with no ugly brackets or dangling wires anywhere.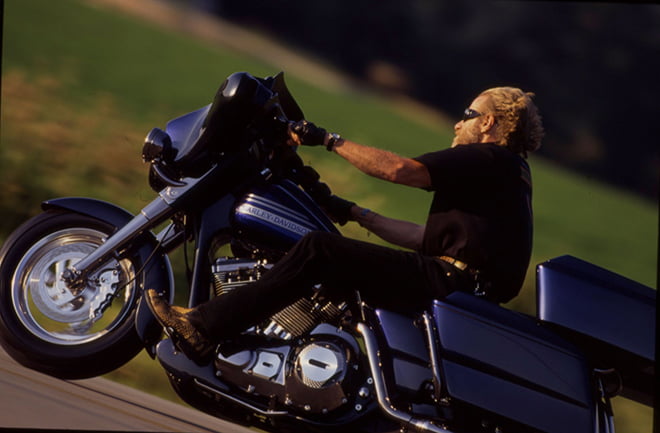 It's great fun to park this bagger next to a stock­er and then compare. You won't find two pieces that are similar, let alone identical. Every little part has been massaged, changed ever so slightly, to improve look, fit and function. Literally hundreds of machinist Henry Wehr's hours went into making all the changes.
That coal-black finish on the pipes and other metal parts is a black nickel coating, a new process under development at Southwest Plating, which does a lot of work for Harley-Davidson. Will we see black nickel on The Motor Company's bikes any time soon? Depends on how well the finish lasts on John's bagger. At the moment, after a few months and a couple of thousand miles, the nickel still gleams. It's better than the black chrome on his last bagger, the owner reports.
Henry Wehr operates out of his shop, called Autosport, in Santa Barbara, California. Rank, meanwhile, lives and works in Milwaukee, several bagger days away. But so high is the quality of Wehr's hand-made parts that Rank was happy to have his bike built by remote control.
When it comes to riding, though, John Rank is quite pleased to do that all by himself, thank you very much. And although he'd like you to notice his very special bike, he won't get upset if you don't.
| Specifications | |
| --- | --- |
| OWNER | |
| Name | John Rank |
| Location | Milwaukee, Wisconsin |
| BASE MACHINE | |
| Year | 1996 |
| Model | FLH |
| DESIGNER/FABRICATOR/BUILDER | |
| Name | Henry Wehr |
| Location | Autosport Engineering 725 Union Ave. Santa Barbara, CA 93103 |
| PAINT AND CHROME | |
| Molding | John Rank |
| Painter | Butch Brinza |
| Chroming | Southwest Plating, Milwaukee |
| ENGINE | |
| Year | 1997 |
| Model | S&S |
| Builder | R.A.S |
| Displacement | 103 cu. in. |
| Cases | S&S |
| Lower end | S&S |
| Rods | S&S |
| Pistons | Wiseco |
| Heads | Hemi Design |
| Valves | Baisley |
| Cam | Red Shift 655 |
| Pushrods | Crane adjustable |
| Lifters | Jims |
| Ignition | Crane single fire |
| Carb | S&S |
| Air cleaner | Autosport |
| Pipes | H-D |
| Mufflers | Autosport |
| TRANSMISSION | |
| Year | 1996 |
| Type | 5-speed, backcut gears |
| Primary drive | Stock |
| Clutch | Stock |
| FRAME | |
| Year | 1996 |
| Make | H-D |
| Type | FLH |
| Modifications | Chin fairing, bodywork frenched into lines of frame |
| FRONT FORK | |
| Year | 1996 |
| Make | H-D |
| Type | FLH |
| Modifications | Lowered 21/2", Progressive Springs |
| Rake | Stock |
| REAR SUSPENSION | |
| Year | 1996 |
| Make | H-D |
| Type | Stock air shocks |
| Swingarm | Reversed |
| Modifications | Rear lowered 21/2" by reversing swingarm & reworking mounts |
| FRONT WHEEL/TIRE | |
| Wheel | Sturgis Wheel Co. |
| Tire | Dunlop |
| Tire size | 140×16 |
| Rim width | 5.5" |
| Brake | 6-piston PM with 13" disc |
| REAR WHEEL/TIRE | |
| Wheel | Sturgis Wheel Co. |
| Tire | Dunlop |
| Tire size | 150×16 |
| Rim width | 5.5" |
| Brake | PM dual-piston |
| ACCESSORIES | |
| Handlebars | Stock |
| Grips | Stock |
| Mirrors | Autosport |
| Gas tank | Stock, with electric petcock and remotely operated filler |
| Oil tank | H-D |
| Front fender | Widened and stretched by Autosport |
| Rear fender | Widened and stretched by Autosport |
| Headlight | Headwinds |
| Taillight | Autosport |
| Turnsignals | Blended into fairing and tourpak by Autosport |
| Electrics | Internally wired |
| Speedo/tach | Sportster electronic speedo, stock tach |
| Seat | Autosport |
| Foot controls | Autosport, handmade |
| Rider pegs | Autosport |
| Pass. pegs | Quickly detachable |
| Other | Handmade, electrically adjustable aluminum tourpak, fiberglass saddlebags |