With a goal of introducing 100 motorcycles by 2027, the motorcycle company that made Milwaukee famous continues its rollout today, unveiling two high-bar Sportsters powered by the Evolution 1200 V-twin engine: the Forty-Eight Special and Iron 1200.
Originally introduced with an Ironhead overhead-valve engine in 1957, the Harley-Davidson Sportster has evolved through 30 production changes, with approximately 33 production models designed.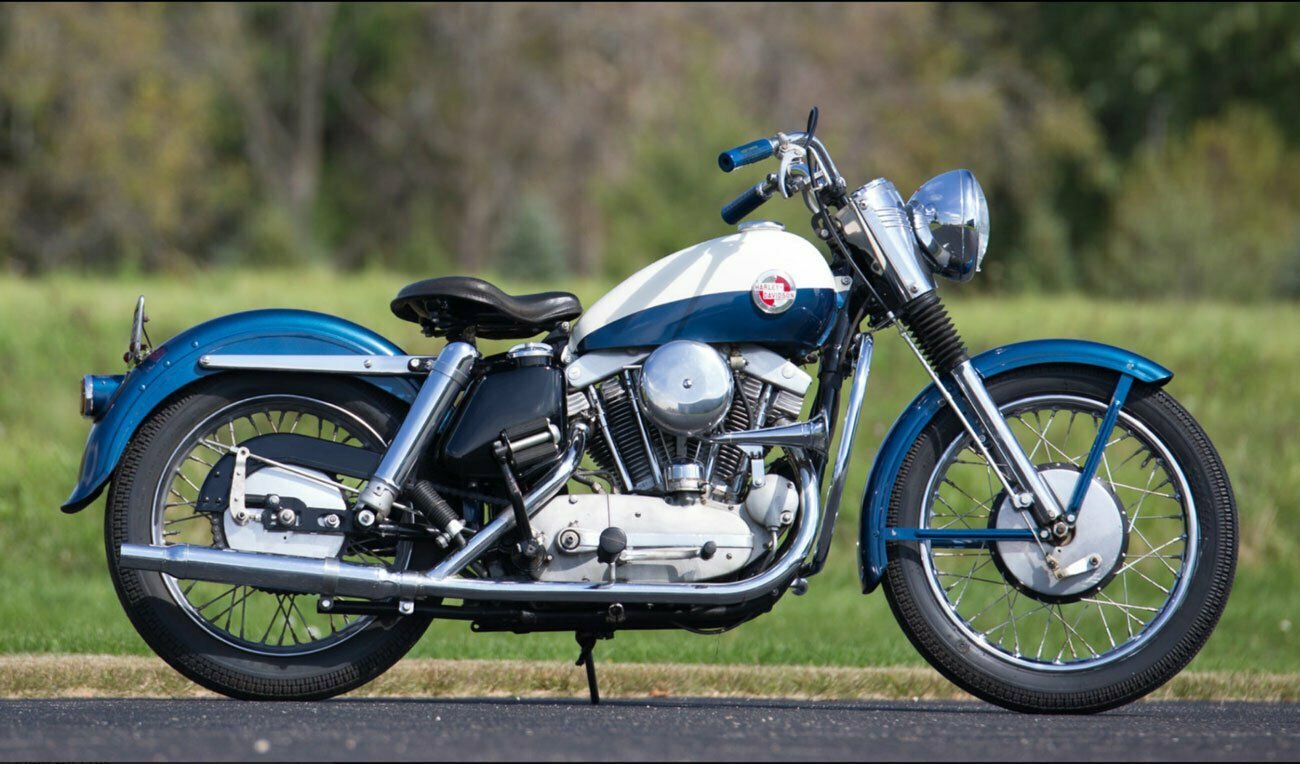 "Since its inception, the Sportster has offered the perfect combination of size, power, and character that makes it appealing to so many different riders," said Brad Richards, Harley-Davidson VP of Styling & Design. "A Sportster is a relatively easy bike to strip down and reinvent. What we've done to create the new Iron 1200 and Forty-Eight Special is what Sportster owners have been doing with their own bikes for generations."
2018 Forty-Eight Special: starting at $11,299
For 2010, Harley-Davidson introduced the XL1200X Forty-Eight model. Eight years later the new Forty-Eight Special maintains its nostalgically tiny 2.2-gallon peanut tank but gains a crossfit-esque front end with forged aluminum triple clamps and a 49mm fork, topped off with 7.25-inch-high Tallboy bars.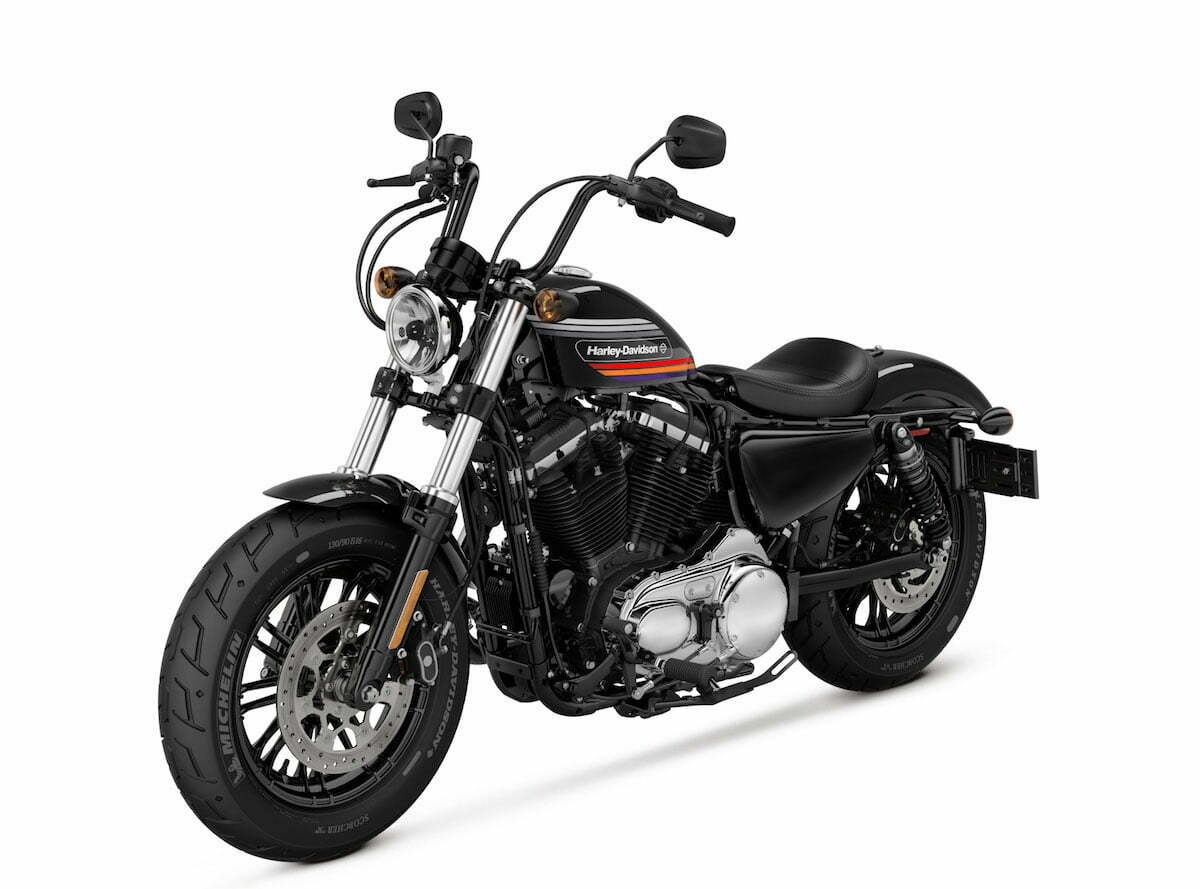 "We specifically selected the Tallboy bar for its shape," Richards added. "It offers less pullback than the Mini-Ape, a look that really works with the steamroller front end and the smaller fuel tank on the Forty-Eight Special model."
Compared to the 2018 Forty-Eight, the Special gets more chrome: primary, inspection, and derby covers, and solid chrome muffler and exhaust shields. Chrome lower rocker boxes, pushrod tubes, and tappet covers contrast with the black cylinders to highlight The Motor Company's signature V-twin engine shape. The 16-inch front and rear Black Split nine-spoke cast aluminum wheels roll on Michelin Scorcher 31 tires. Wet weight is reported to be 564 pounds.
2018 Iron 1200: starting at $9,999
The silhouette of the Iron 1200 goes beyond California cliché, with fast-back café solo seat flowing to the rear fender, and chopper-influenced Mini Ape satin black handlebars with an 8.75-inch rise, 32-inch spread, and 6.5-inch pullback. A gloss black speed screen offers some wind protection while maintaining the custom vibe of the bike.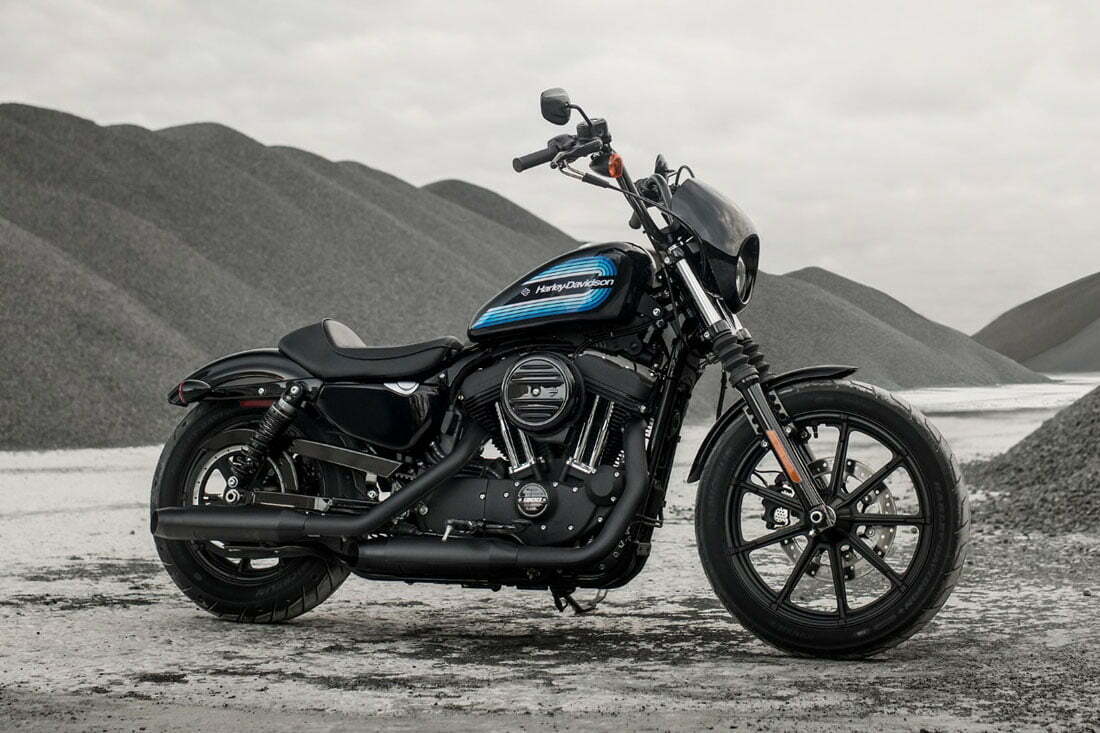 The Iron 1200 gets more range with its 3.3-gallon tank, dressed in multi-colored striped wraparound graphics. Fuel tank paint color options include Vivid Black, Twisted Cherry, and Billiard White.
While the Forty-Eight Special gets plunked with the chrome magic wand, the Iron 1200 goes dark almost everywhere: black upper and lower rocker boxes, black exhaust and muffler shields, and black timer, primary, and derby covers. Chrome pushrod tubes and tappet covers are the only shiny bits. The Iron 1200 rolls on 19-inch front and 16-inch rear all-black nine-spoke wheels. Wet weight is reported to be 564 pounds.
"The art on these two fuel tanks reflect contemporary trends we are seeing on custom bikes and in design in general, a move away from more complex and intricate art to a look that's very simple and clean," Richards said. "It's also important to note that these graphics respect the shape of the fuel tank and in the case of the Sportster, that tank shape is a classic design element in its own right."