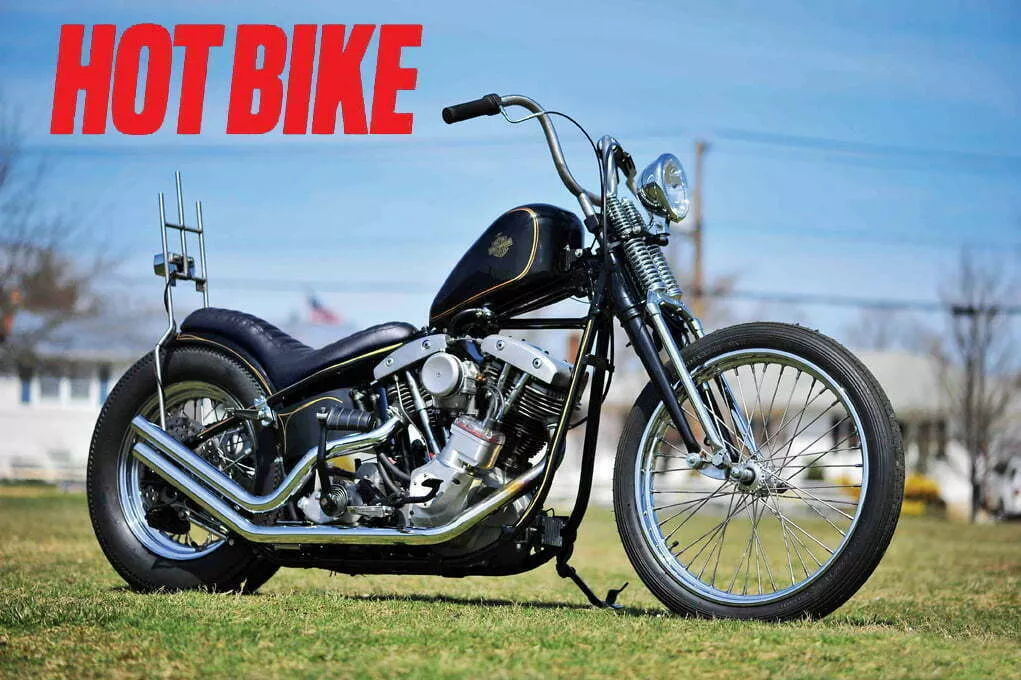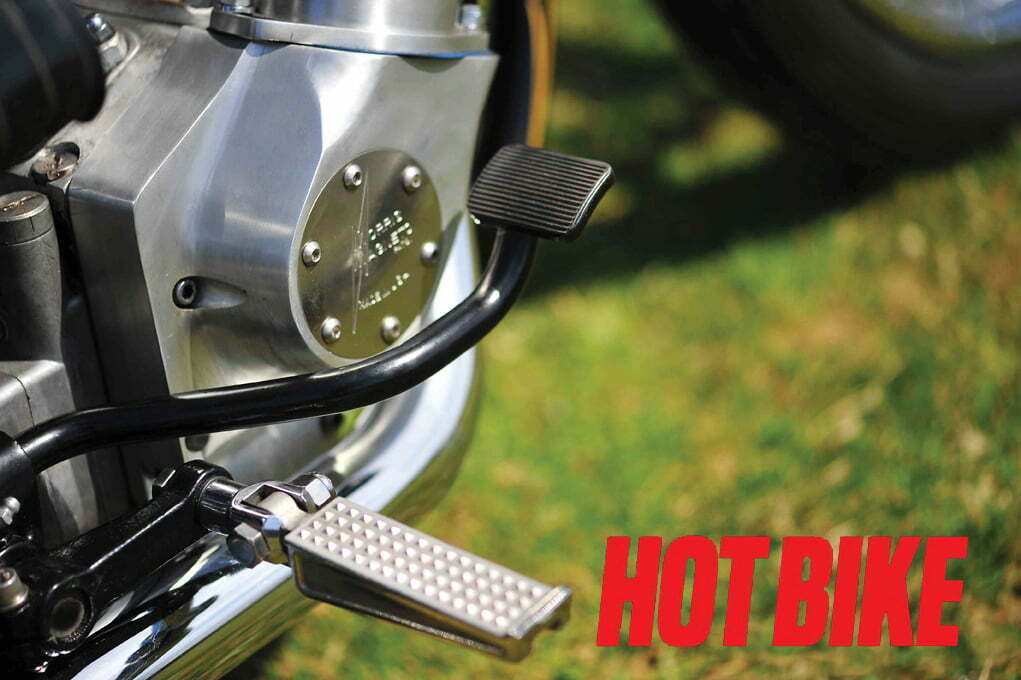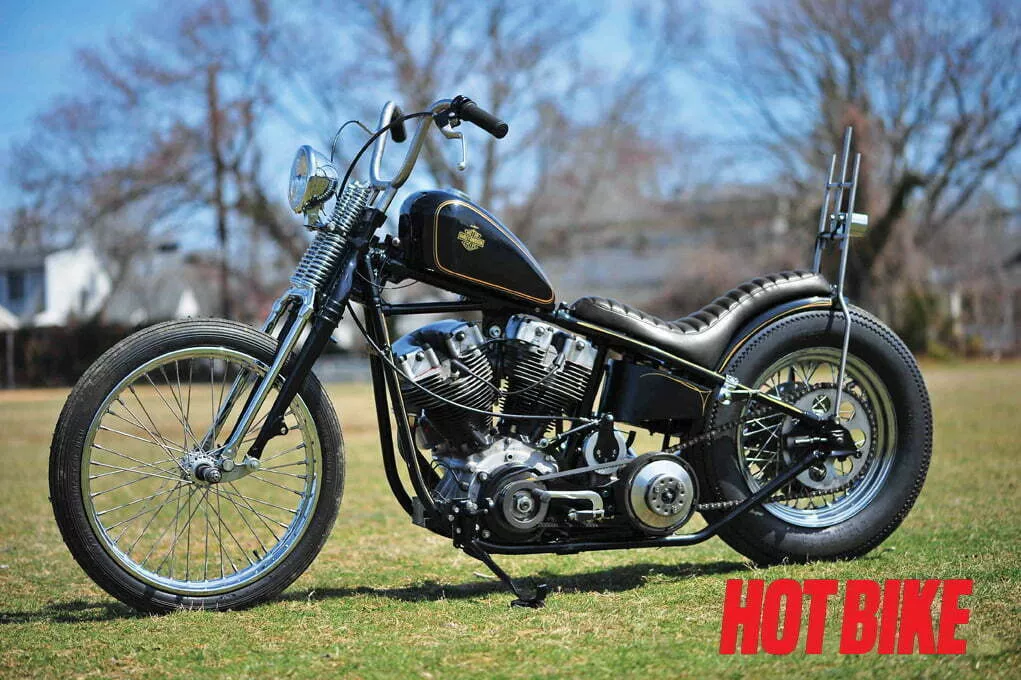 You ever been in a time machine? Like a real, mack-daddy-Bill-and-Ted's-Excellent-Adventure time machine? Corey Mitchell's '77 Shovel makes us reflect on simpler times when real-deal Shovelheads leaked oil in home garages and conversion vans o' plenty lined the freshly curbed streets of Mike Brady master-planned communities. Groovy, right?
Not so much. While the rest of the world was knee deep in disco land and bell-bottoms plagued the pop culture scene, rideable and stylish choppers had been carefully sprouting up in the garages and shops of a select few pioneers of this world —dudes like Arlen Ness, Denver Mullins, Bill Holland, John Harman, Sugar Bear, Mike Vils, and many others. Luckily, these gents paved the way for guys like Carmine Bellamore from Syndicate Choppers to carry on the torch of building period-correct style chops which were built for one thing: riding.
Syndicate Choppers of Long Island, New York, specializes in pre-1985 Harley-Davidsons. Carmine and company have made it a habit of turning old piles of shit into simple and clean-looking choppers. Luckily for you boys and girls, we just so happened upon it for the timeless classic magazine you now hold in your hands. Warm and fuzzy yet? Keep reading…
"This bike was built for a customer [Corey Mitchell] of mine with the plan and idea of a nice, simple bike that can be ridden and enjoyed anywhere," Carmine explains. "Corey was looking for a very classic, traditional-looking chopper without anything really over the top and definitely did not want a trailer-queen showbike that would sit parked in a garage."
What Carmine came up with epitomizes the aforementioned. Carmine encountered an FX Shovelhead in somewhat decent condition—somewhat decent in that it wasn't a complete turd and the motor and frame had matching VINs.
When Carmine got it back to the shop, he gave it the once-over… Hell, he tore the thing down to its skeletal structure, all to make sure his foundation was tip-top. Can't build a solid bike on a weak roller, right? Turns out, the bike checked out pretty flawlessly, and Carmine was ready to get it to where it needed to go.
"I began by stripping everything down to the bare frame and then sorting and organizing everything that was going to be restored or reused," Corey states. "The frame looked to be in excellent condition and was brought over to my good friend Mike at 47 Industries in Raritan, New Jersey." Carmine also tells us Mike is known for his exceptional framework, and his hardtail jobs are second to none. Being that Syndicate is without a frame jig at the moment, Mike is Carmine's go-to guy for frame jobs. There's a reason why great craftsmen get repeat business.
After just a few days with the '77's bones, Mike delivered as promised with a sturdy and stout centerpiece and ditched the swingam for a proper, period-correct hardtail chop. Carmine would take care of the rest.
"While the frame was out at Mike's I gave the motor and trans a thorough cleaning and a good once-over to ensure I did not miss anything on its initial check," Carmine recalls. Once the frame was received back at Syndicate's HQ, the M5 Morris magneto was installed, and the motor and trans were dropped back into the frame as soon as the early mock-up stages began.
"It's around this time when the bikes are at my favorite stage in the build process: just a clean raw canvas to work with. It's really hard to beat the look and stance of an OEM spec'd rigid frame with an OEM springer and the classic 16-inch/21-inch wheel setup. There really is no limit on what you can do with this setup," Carmine tells us.
Early into the build Carmine encountered a clean little AMF-style sportster gas tank. It still had the original decals and paint from the factory on it, and they were in excellent condition. He ran the idea by Corey, and the two decided it was a no-brainer.
"After I lined up the driveline on the bike, I set out at cutting and shaping the rear fender to match the radius on the rear tire and then started on the custom Trident-style sissy bar made from stainless round stock," Carmine says. "When the bike was finished as a raw finish roller, I spent some time setting the magneto timing and dialing the carb in and getting some road break-in miles on it. I was very pleased with how the bike handled the roads of New York City and was such a blast to cruise around on."
When Syndicate finished with the "go" aspect, Carmine called up his local pinstriper, Bobby Pinstripe, for a little "show." Turns out Carmine uses Bobby on a lot of projects because not only does he have a steady hand and unique vision, he's a stand-up guy, too. "Bobby is an old-time, straight-up solid dude who always lays down some great lines when he is called upon," Carmine says. Overall, the bike turned out exactly how it was supposed to in Carmine's eyes: a classic Shovel that would have made the dudes from yesteryear proud.