This is a really special bike build to us for several reasons. The project was supposed to have been put together several years ago when my wife and I purchased the heart of this beautiful machine in the form of a non-running 1962 Harley-Davidson Panhead. The night we bought this engine, it turned out to a be a night we wish never happened. My mother-in-law, Kim Hall, came over to see the engine we had been raving about scoring. Kim passed away tragically from a heart aneurysm just minutes after leaving our house.
Yes, we have all heard many married men rant on and on about their mother-in-law, but it was not the case with me. My beautiful and loving mother-in-law was the most amazing woman you would ever meet. She loved spoiling us and wanted only to see us happy regardless of the situation. Because of this, I decided that building this bike would be put on the back burner until the time was right.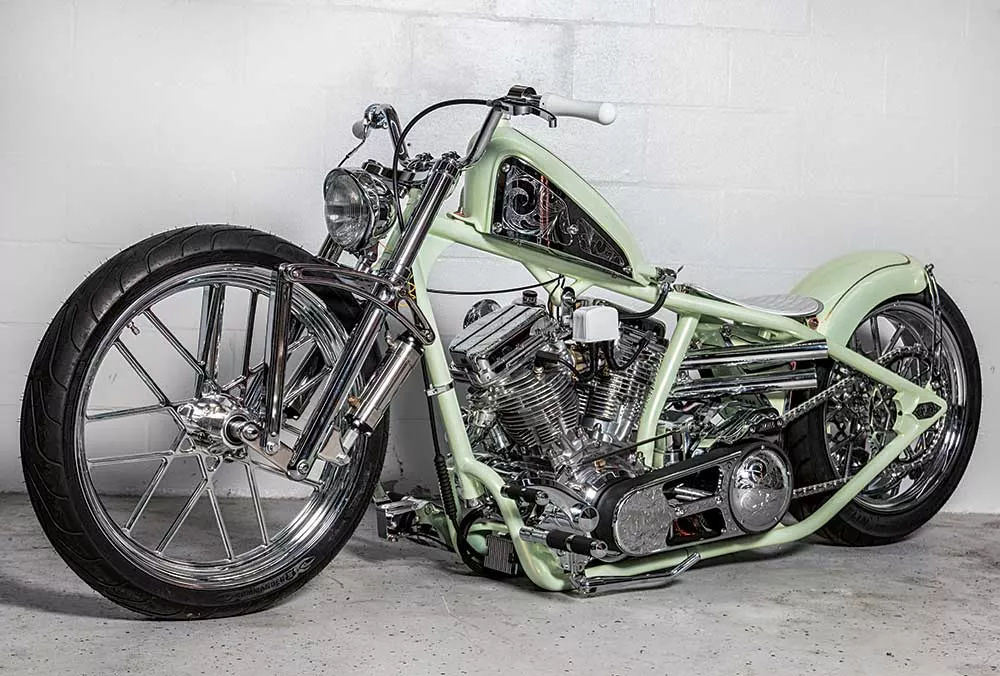 Fast-forward about three years, I received a phone call from the man himself Michael Lichter. Michael called and offered me the challenging opportunity of building a bike in less than four months. The bike was to be displayed at the world-famous "Motorcycles As Art" exhibit at the Buffalo Chip during the Sturgis Motorcycle Rally. I knew of the event and also knew that the bike was on display for more than two weeks under some bright, unforgiving lights for all the world to see. And it was going to be shown alongside some of the world's top young builders. Talk about pressure.
But by doing this show it opened up the opportunity to meet some of the greatest OGs of the industry who paved the way for us current builders—guys such as Willie G. Davidson, Sugar Bear, Dave Perewitz, Paul Yaffe, Bobby Seeger Jr., and Arlen and Cory Ness who stopped by to see the bike at the show and say good words about it. Due to the situation with my mother-in-law's passing, the time frame of the bike build, and the design of the bike, this has been by far the most important and most challenging builds of my career. And to do it with little to no sleep, I must have had an angel looking down on me.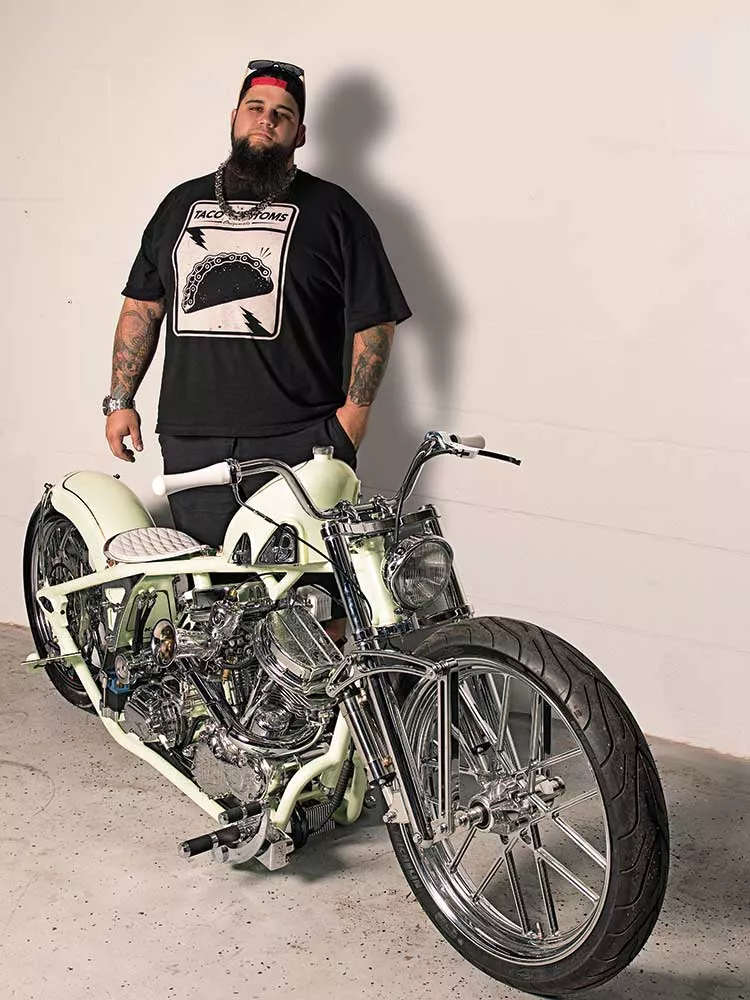 "The bike was on display for more than two weeks under some bright, unforgiving lights for all the world to see. And it was going to be shown alongside some of the world's top young builders. Talk about pressure."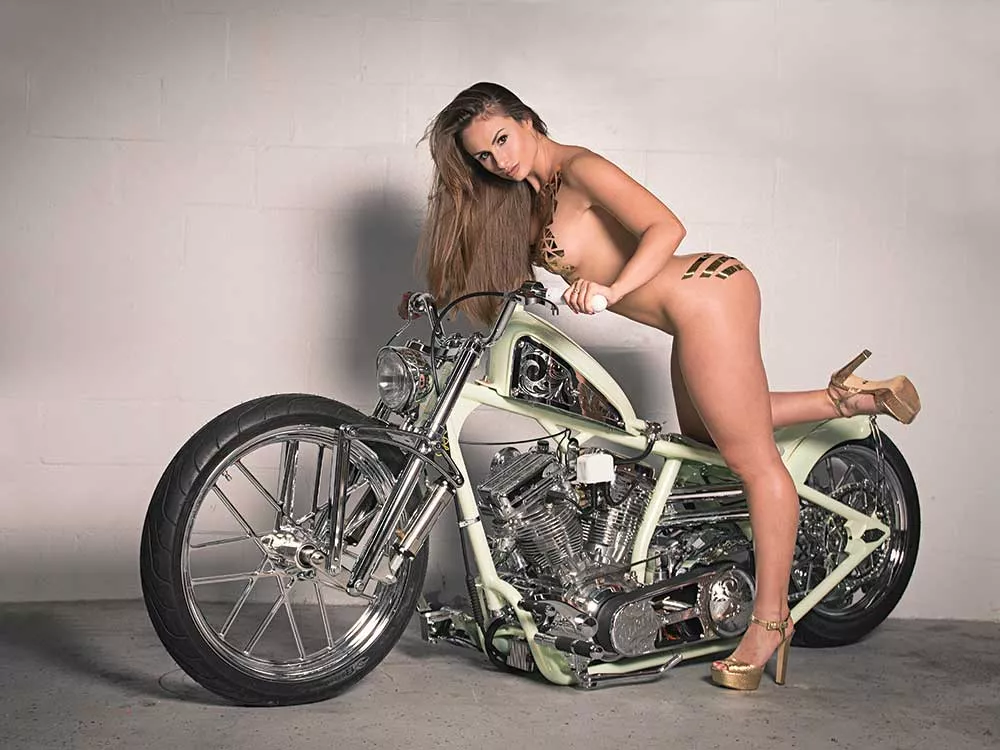 Specifications
| | |
| --- | --- |
| General | |
| Owner | Taco Rodriguez and Laken Hall |
| Shop | Taco Kustoms |
| Shop Phone | (386) 256-4086 |
| Website | tacokustoms.com |
| Year/Make/Model | 1962/Harley-Davidson/Panhead |
| Fabrication | Taco Kustoms |
| Build Time | 4 months |
| Engine | |
| Year/Type/Size | 1962/Panhead/74ci |
| Builder | Taco Kustoms |
| Cases | H-D |
| Cylinders | H-D |
| Heads | H-D |
| Rocker Boxes | H-D |
| Cam | H-D |
| Carburetor | SU |
| Air Cleaner | Custom |
| Exhaust | Taco Kustoms |
| Transmission | |
| Year/Type | 1977/Ultima/5-speed |
| Gears | Ultima |
| Clutch | BDL |
| Primary Drive BDL | |
| Frame | |
| Year/Type | Bling's Cycles |
| Rake/Stretch | 0 up, 0.5 out |
| Suspension | |
| Front End | Tricky Air & Billet |
| Length | Stock |
| Triple Trees | Tricky Air & Billet |
| Wheels, Tires, and Brakes | |
| Front Builder/Size | Lyndall/21 x 2.5 in. |
| Tire/Size | Michelin/21 x 3.00 |
| Rotors | Lyndall |
| Rear Builder/Size | Lyndall/18 x 4.00 in. |
| Tire/Size | Michelin/18 x 5.00 in. |
| Caliper | Harley/Brembo |
| Rotor | Lyndall |
| Sprocket | Lyndall |
| Finish/Paint | |
| Manufacturer | Chad Chambers Custom Paint |
| Colors | Mint Green Pearl/variegated gold leaf |
| Paint | Chad Chambers Custom Paint |
| Graphics | Pinstriping by Mikey |
| Plating | Hialeah Plating |
| Polishing | Perfect Polishing Daytona Beach |
| Powdercoating | Moto Stop Daytona |
| Engraving | The homie Big Rick |
| Accessories | |
| Rear Fender | Taco Kustoms |
| Struts | Chop Docs |
| Gas Tank | Modified Lowbrow |
| Handlebars | Taco Kustoms |
| Grips | Junkyard |
| Foot Controls | Accutronix |
| Pegs | Accutronix |
| Headlight | Hard Drive |
| Taillight | Chop Docs |
| License Mount | Taco Kustoms |
| Seat | Taco Kustoms |