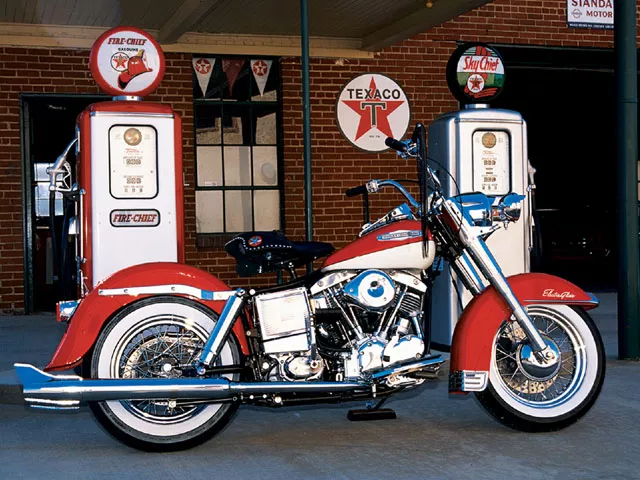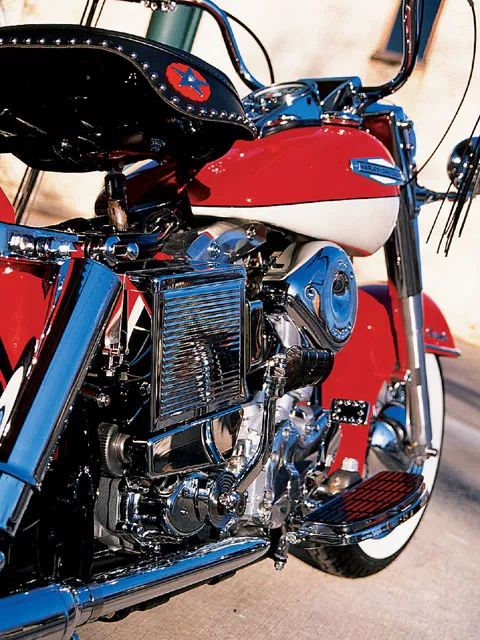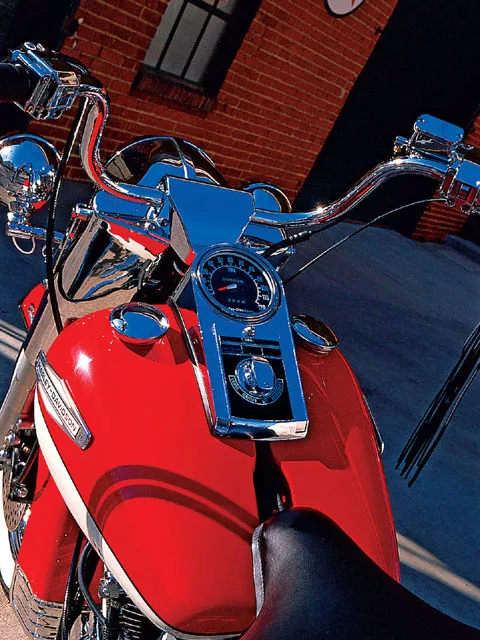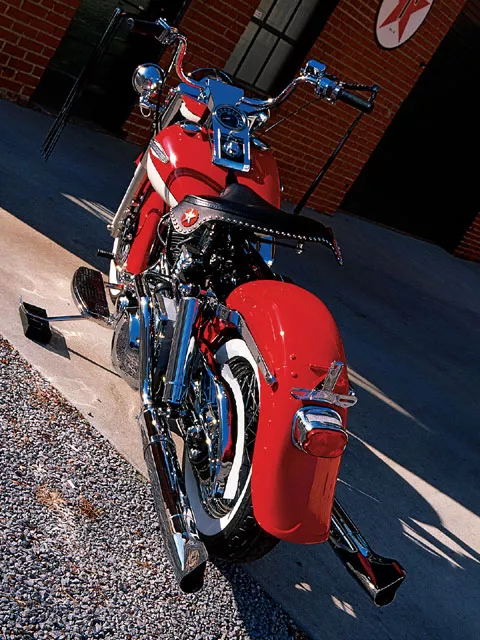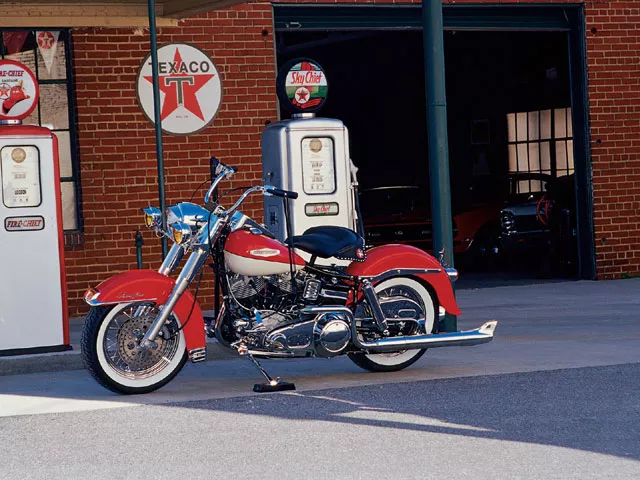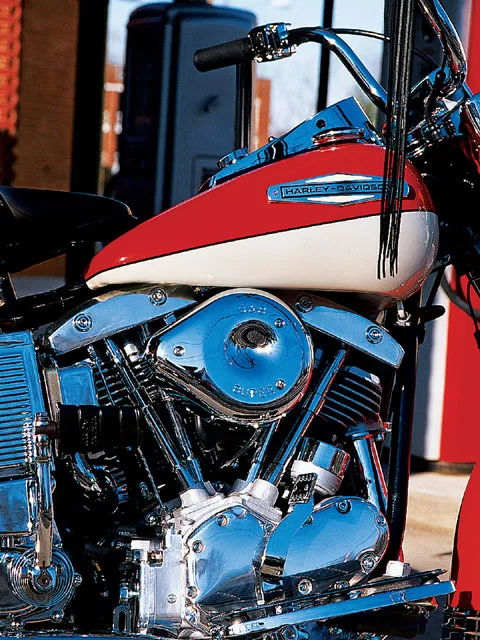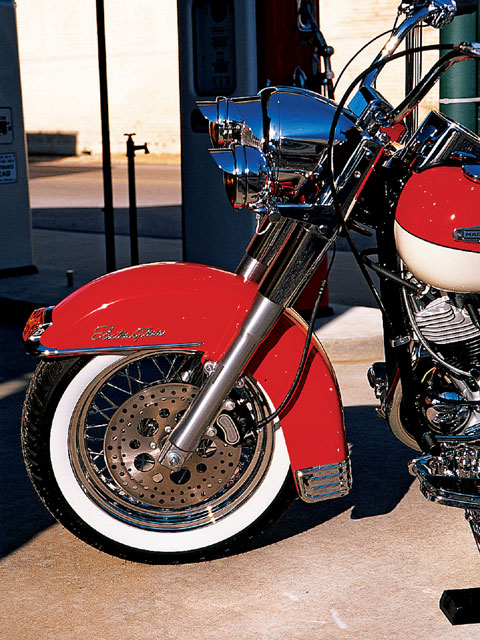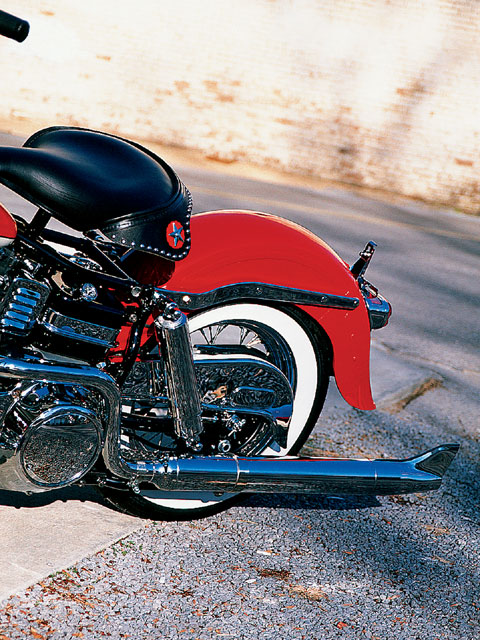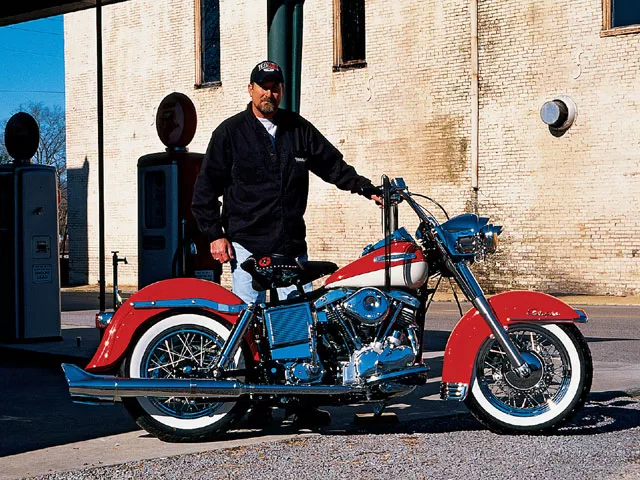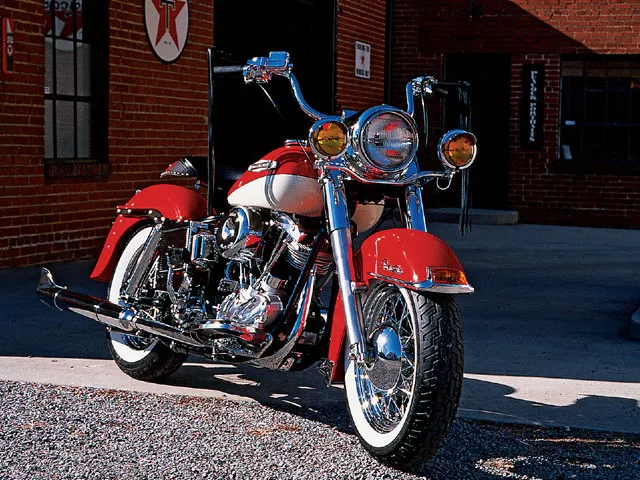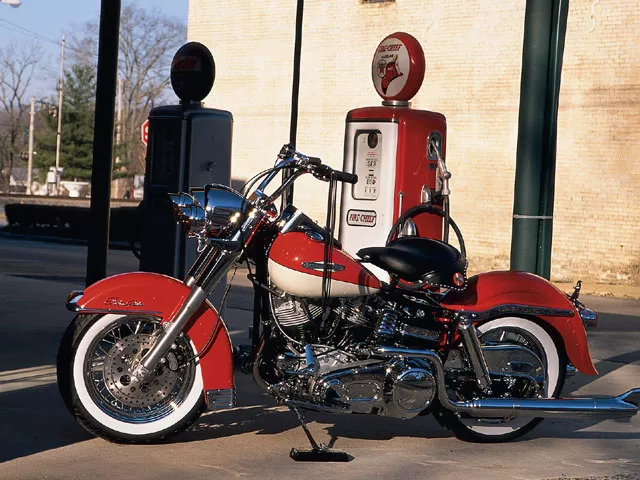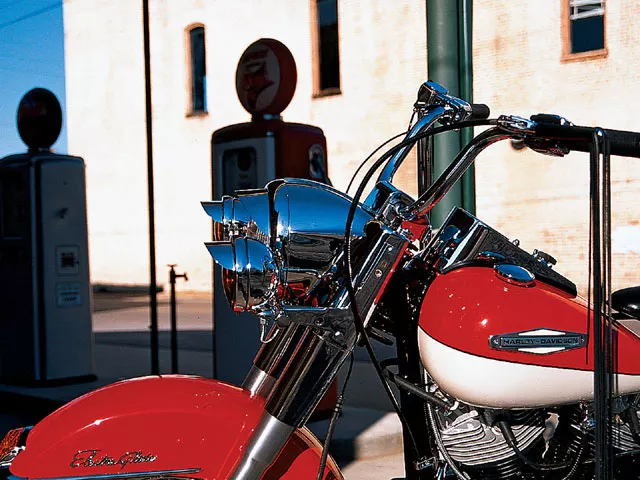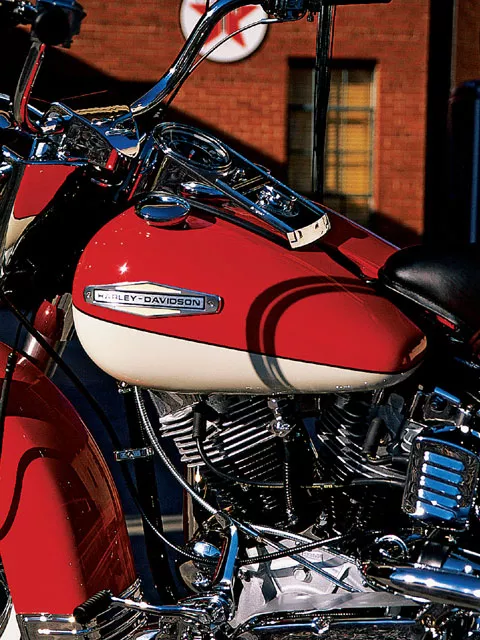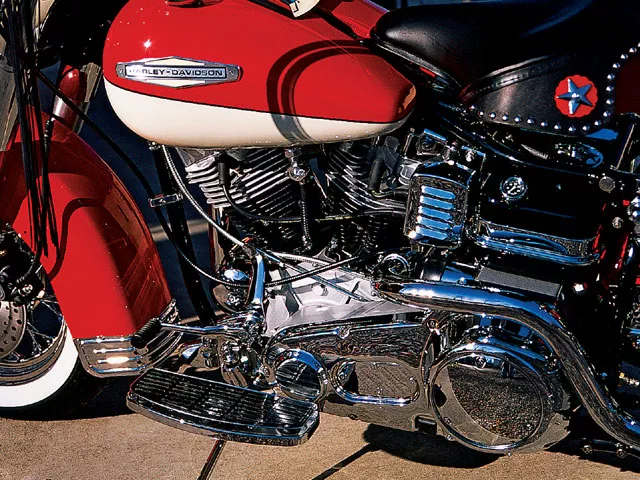 It was 1968, a pivotal year for Dave Chapman of Dave's Cycles/Copperhead Customs in Louisville, KY. "It was the year I got my first real motorcycle, even if it was a Honda 90," Dave said. "It was the first two-wheeler without a Briggs & Stratton engine I'd ever had."
It was only natural that for his latest restoration, a '68 Harley-Davidson Electra Glide was needed as a tribute to that meaningful year. Dave told us, "I searched for a restorable '68 Harley-Davidson for a while before I found the one you see here. Believe me, this bike was barely restorable when I got it, but I was determined to do it. Four and a half months later, here's the finished bike."
Getting his hands on this motorcycle is a story in itself, best told by Dave in his own words:
"It took a long time to find a suitable donor bike for this project. Most everything I found either had been cut and raked, had the motor or cases replaced, or was a basket case with lots of pieces missing. After about a year, I found the bike you see on these pages in a little town just west of Chicago. It was a three-owner example of Harley's finest, with the clock well above 50,000 miles. OK, that's what it showed, and it obviously hadn't worked in years. Anyway, I thought the price for the bike was fair. I was excited as I left for the Windy City, trailer in tow, for the four-hour drive to pick it up. It's one of the few bikes I'd found that had all of its parts, and the seller said it ran great.
"I'd seen pictures of it on my computer and talked to the owner every day for a week before I left to pick it up. Wrong! When I got there, it was like the seller was a ghost. The phone number that I was given to talk to him and his wife was answered by someone who said they'd never heard of him. And he wasn't where we had agreed to meet. After spending two hours looking around town and asking everybody if they knew him, I headed back home dejected, just knowing that someone in the parking lot where we were supposed to meet had offered him more money than I had, and now I was going home with money in my pocket but an empty trailer.
When I finally got back, there were four messages on my answering machine from the guy. The last message was him almost begging me to call him when I got home-at the same phone number, no less. Apparently, the guy in the parking lot must not have been able to come up with the money. I reluctantly called him back, pissed off that I'd just spent eight hours dragging a trailer to Illinois for no reason whatsoever. After a short conversation, he said if I still wanted the bike he'd knock off $100 and bring it to me in a day or two. Sure, I said, thinking I must have a screw loose, or maybe bumped my head one too many times. We agreed to meet at a local bike shop close to the expressway so that it would be easy for him to find me. He called two days later and said he'd be leaving at 10 a.m. and should be in my area around 3 p.m. Wrong! Three o'clock, four, five, six…the shop closed at 6 p.m., but the guys stayed, thinking just maybe he'd show up. At 6:30 p.m., he called and said he was right down the road and would be there in 30 minutes.
Well, he did finally make it. We unloaded the bike off his little wooden trailer. To this day I don't know what kept it on there. Hey, maybe that's what took him so long; he had to stop and put it back on a couple of times. Reluctantly, I counted the hundreds into his hand and sent him on his way. Of course the bike wouldn't run, had more oil on the outside than the inside, and looked like it had been painted with a can of Rust-Oleum. At least it was all there. The battery was dead, so the guys at the shop let me leave it there overnight on the battery charger and said I could get it the next day.
"The next morning I picked it up to ride to my shop. It was 28 degrees out, with light snow and 15-mph breezes out of the north. At that point I knew I'd bumped the old noggin one too many times. Five miles from the shop, people were looking at me like I was an alien. The motor was starting to miss because the junk battery was getting low, and it didn't have enough power to overcome the rusty locked-up front brake, which was pouring smoke. I thought it was going to burst into flames and ignite all that oil at any second. Well, I made it to my garage, pulled in, shut the door, scraped the ice out of my mustache, lit a cigarette off the front brake, and got to work. What you see here is four and a half months of hard work. I did take a little artistic license with this bike, like the '05 FLSTC disc-brake frontend. I wanted the bike to stop, and the front drum just wasn't going to cut it. But the rest of it is real close to original. It's going to be hard to let this one go, but some lucky owner is going to love this bike as much as I do. Most importantly, I got my piece of history."
| | |
| --- | --- |
| SPEC SHEET | |
| GENERAL | |
| OWNER | DAVE CHAPMAN |
| SHOP | DAVE'S CYCLES/COPPERHEAD CUSTOMS INC. |
| PHONE | (502) {{{968}}}-3186 |
| WEBSITE | WWW.COPPERHEADCUSTOMS.COM |
| YEAR/MAKE/MODEL | '68/H-D/FLH ELECTRA GLIDE |
| FABRICATION | DAVE CHAPMAN |
| ASSEMBLY | DAVE CHAPMAN |
| BUILD TIME | FOUR AND A HALF MONTHS |
| | |
| --- | --- |
| ENGINE | |
| YEAR/SIZE/TYPE | '68/74CI/SHOVELHEAD |
| BUILDER | DAVE CHAPMAN |
| CASES | H-D |
| FLYWHEELS | H-D |
| RODS | S&S; |
| PISTONS | KEITH BLACK (KB) |
| CYLINDERS | H-D |
| HEADS | H-D |
| VALVES | H-D |
| ROCKERS | H-D |
| ROCKER BOXES | H-D |
| PUSHRODS | H-D |
| PUSHROD TUBES | H-D |
| CAM | ANDREWS |
| LIFTERS | STOCK H-D |
| CARBURETOR | S&S; |
| AIR CLEANER | S&S; |
| IGNITION | H-D |
| EXHAUST | PAUGHCO DUALS/FISHTAIL MUFFLERS |
| | |
| --- | --- |
| TRANSMISSION | |
| BUILDER/YEAR/TYPE | DAVE CHAPMAN/'68/FOUR-SPEED |
| CASE | H-D |
| CLUTCH | H-D |
| PRIMARY DRIVE | H-D CHAIN |
| FINAL DRIVE STOCK | H-D |
| | |
| --- | --- |
| FRAME | |
| YEAR/TYPE | '68/FLH SWINGARM |
| RAKE | STOCK |
| STRETCH | STOCK |
| MOLDING | NONE |
| SWINGARM | H-D |