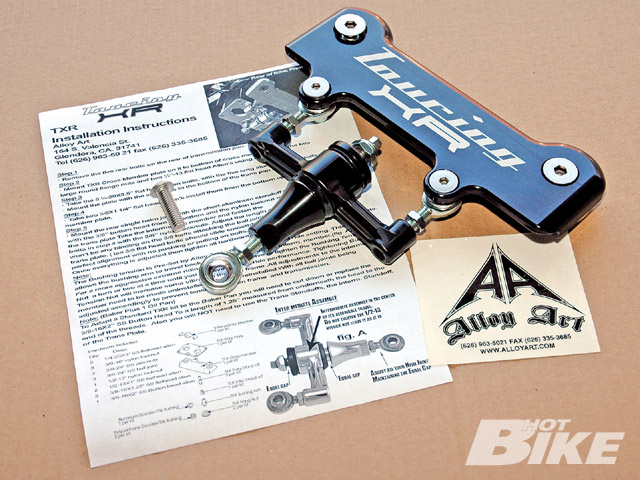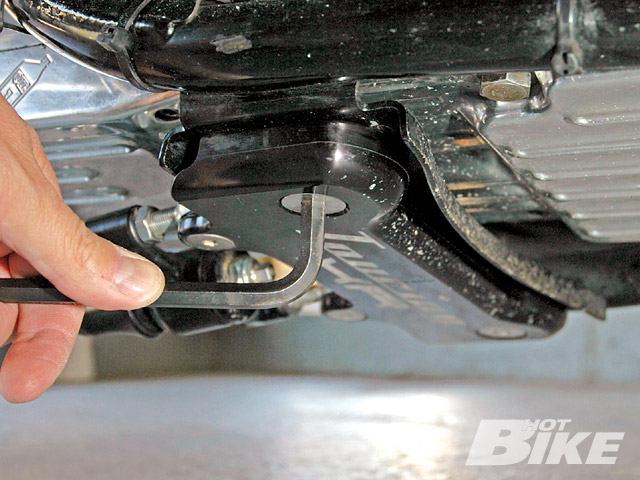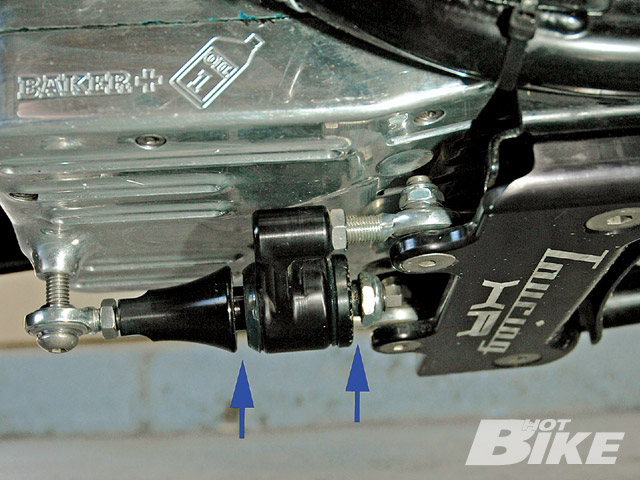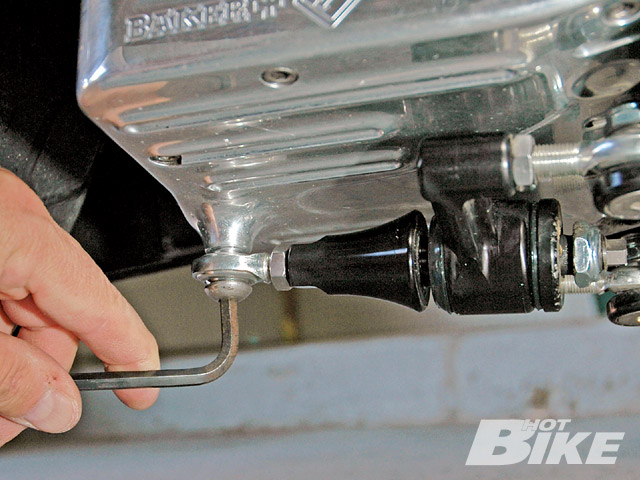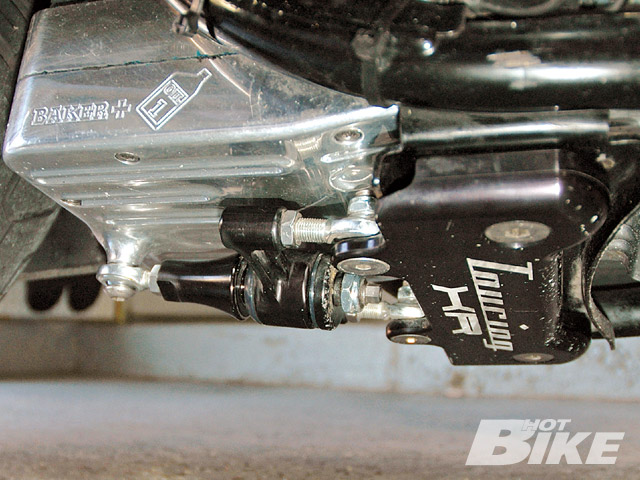 The first time we felt it was dragging a floorboard on our otherwise solid '07 Road King Custom through a big sweeping curve near Big Bend National Park in west Texas. The easy riding in that wide open country on a long winding road under an immense sky creates a joyful experience which quickly turns scary when the back end wobbles out like a rear tire going flat. A feeling you don't want in that situation. So, we were happy to install the Baker Drivertrain Plus-One oil pan (covered in a previous issue). Why? Because it comes with a built in boss for an Alloy Art Touring XR Stabilizer (TXR). Alloy Art says that its TXR for H-D FLH bikes will improve handling, control movement and oscillation of a rubber mounted motor, and eliminate frame wobble at high speed.
Installing the TXR ($399.95) with the boss on the Plus-One pan was a snap. But even if you don't have the Plus-One oil pan you can still install the TXR with the Alloy Art Trans plate. The TXR is remarkably well made of CNC machined 6061 T-6 aluminum with stainless steel hardware. Its heart is the adjustable intermediate member with integrated patented Gooden-Tite polyurethane and aluminum isolator bushings.
The TXR works by triangulating the motor and transmission to the frame crossmember. The bushing tension controls the amount of travel of the bushing arm through the intermediate member. Tightening the tension reduces the arm travel for a more aggressive riding style. Alloy Art presets the tension to the middle of its travel and recommends initial riding at this setting. Alloy Art also states that tightening the tension will increase vibration through the frame.
On our test ride out of the garage, we immediately felt more vibration on acceleration even at the preset bushing tension. The vibration was not enough to cause concern and our short test ride felt very stable so we left the TXR at the factory preset. Later, on a longer ride in the Ozark hills of Arkansas, the TXR had a chance to shine. The curves in Arkansas are usually tight and slow with plenty of S's. Throughout the Arkansas ride the Road King felt firm and secure. Weebles wobble but not our Road King.