This article was originally published in the June-July 1997 issue of Cycle World's Big Twin magazine.
Clay Southerland can always get what he wants. And if what he wants isn't readily available, it's no problem: He just makes it.
Southerland's custom Harley is a lesson in his own brand of make-it-yourself philosophy. It also proves that a designer's creative genius is in the details.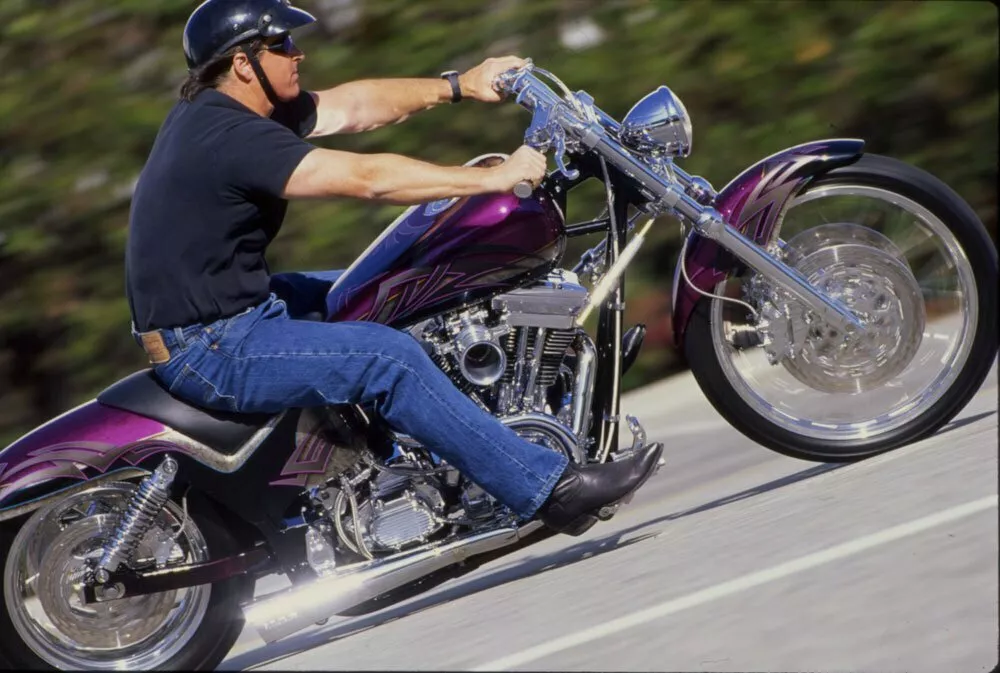 A steel fabricator who owns a shop that's filled with metalworking equipment, Southerland certainly has the wherewithal to turn blue-sky dreams into rolling, steel-and-alloy reality. "I'm able to make my vision come true," he says. "I can draw a part, then go out into the shop and work on it."
Southerland's latest vision began with a simple concept. "I had been wanting to build a rubber-mounted, swingarm bike that would be clean and that would turn heads," he ex­plains, "but that I wouldn't be afraid to get on and ride. A lot of custom bikes are stretched so far and raked so much that they're uncomfortable and they don't maneuver well. So, I set out to build one with top-notch engineering and intelligent frame geometry. I began by drawing lots of pictures. I knew what I liked and how I wanted to sit, and what tank configuration I wanted. I just started from there."
That starting point was a Kenny Boyce ProStreet frame, which South­erland modified to accept a wide rear tire and lay-down shocks. Into that he plugged a 90-cubic-inch, 100-horsepower Evo engine built on Delkron cases and an S&S lower end.
Assembled by Performance Techniques in Huntington Beach, California, the engine is one of the many places where Southerland's genius for details is evident. He milled the bottom fins off the barrels and the top fins off the heads, then polished the resulting smooth areas for an unusual and effective custom look.
---
---
Southerland also built the fenders, oil tank and fuel tank from scratch, using 10-gauge sheetmetal. Why? "Because I can," he shrugs. "There really wasn't anything out there that I liked. I put a lot of thought into this before I started poking and jabbing at it with welders, grinders and Dremel tools."
To be sure, his genius for poking and jabbing is evident everywhere: The bottom triple-clamp, for example, doubles as the reservoir for the front-brake fluid; he machined a smooth, beautiful front-axle nut simply cause he just hated the thought of a stock castle nut securing the wheel; he routed the rear-brake line and much of the bike's wiring through the frame tubes; he disguised and hid all the electrical switches; he conceived a custom front hub and brake system that mounts in perfect alignment without shims; and he equipped the fuel tank with a filler cap he got from a British aircraft supply house.
"There's a lot of me in this bike," says Southerland. "I'm a perfectionist. I can't see half-assing anything."
Especially not the paint. He got his idea for the graphics from an Oriental tribal tattoo he saw in a magazine. He then had Darrell Penney, at Excaliber Motorcycle Art in Fullerton, California, apply the paint.
Southerland says he's pleased with the finished product—but not so pleased that he'll keep it. Just like the other six machines he's built, he'll ride this one for a while, then sell it before starting on another creation.
You can bet that when Southerland does begin that next custom, his genius will again be evident. In the details.
| SPECIFICATIONS | |
| --- | --- |
| Owner | Clay Southerland |
| Designer/Fabricator | Clay Southerland |
| PAINT AND CHROME | |
| Molding | Darrell's Excaliber Motorcycle Art, Fullerton, CA |
| Base paint | Excaliber |
| Graphics | Excaliber |
| Chroming | T's Custom Polishing, Costa Mesa, CA |
| ENGINE | |
| Year | 1996 |
| Model | Evo |
| Builder | Performance Techniques, Huntington Beach, CA |
| Displacement | 90 cu. in. |
| Cases | Delkron |
| Lower end | S&S |
| Rods | S&S |
| Pistons | S&S |
| Heads | H-D |
| Valves | Manley |
| Cam | Red Shift |
| Pushrods | Crane |
| Lifters | Jim's |
| Primary cover | Stock |
| Ignition | Compu-Fire |
| Coils/wires | Crane |
| Carb(s) | Mikuni HSR42 |
| Pipes | SuperTrapp |
| Mufflers | SuperTrapp |
| TRANSMISSION | |
| Type | Delkron case, Andrews gears |
| Primary drive | Stock |
| Clutch | Bandit |
| FRAME | |
| Make | Kenny Boyce |
| Type | ProStreet |
| FRONT FORK | |
| Year | 1996 |
| Make | H-D |
| Type | Showa |
| Modifications | Billet Concept triple-trees, 2" under tubes |
| REAR SUSPENSION | |
| Type | Dual shocks |
| Make | Progressive |
| Swingarm | Kenny Boyce |
| Modifications | Widened swingarm 3/4", changed shock angle |
| FRONT WHEEL/TIRE | |
| Wheel | Akront |
| Tire | Metzeler |
| Tire size | 185/90 x 21 |
| Rim width | 1.85" |
| Brake | Performance Machine |
| REAR WHEEL/TIRE | |
| Wheel | Akront |
| Tire | Metzeler |
| Tire size | 160/70 x 16 |
| Rim width | 5" |
| Brake | Performance Machine |
| ACCESSORIES | |
| Handlebar | Drag bars |
| Risers | Accutronics 4" |
| Grips | Ness |
| Gas tank | OCI custom |
| Oil tank | Modified CCI |
| Front fender | OCI custom |
| Rear fender | OCI custom |
| Headlight | Headwinds |
| Taillight | Banzai Machine |
| Electrics | Mesa Cycle |
| Seat | Sticher Seats |
| Foot controls | PM |
| Footpegs | PM |