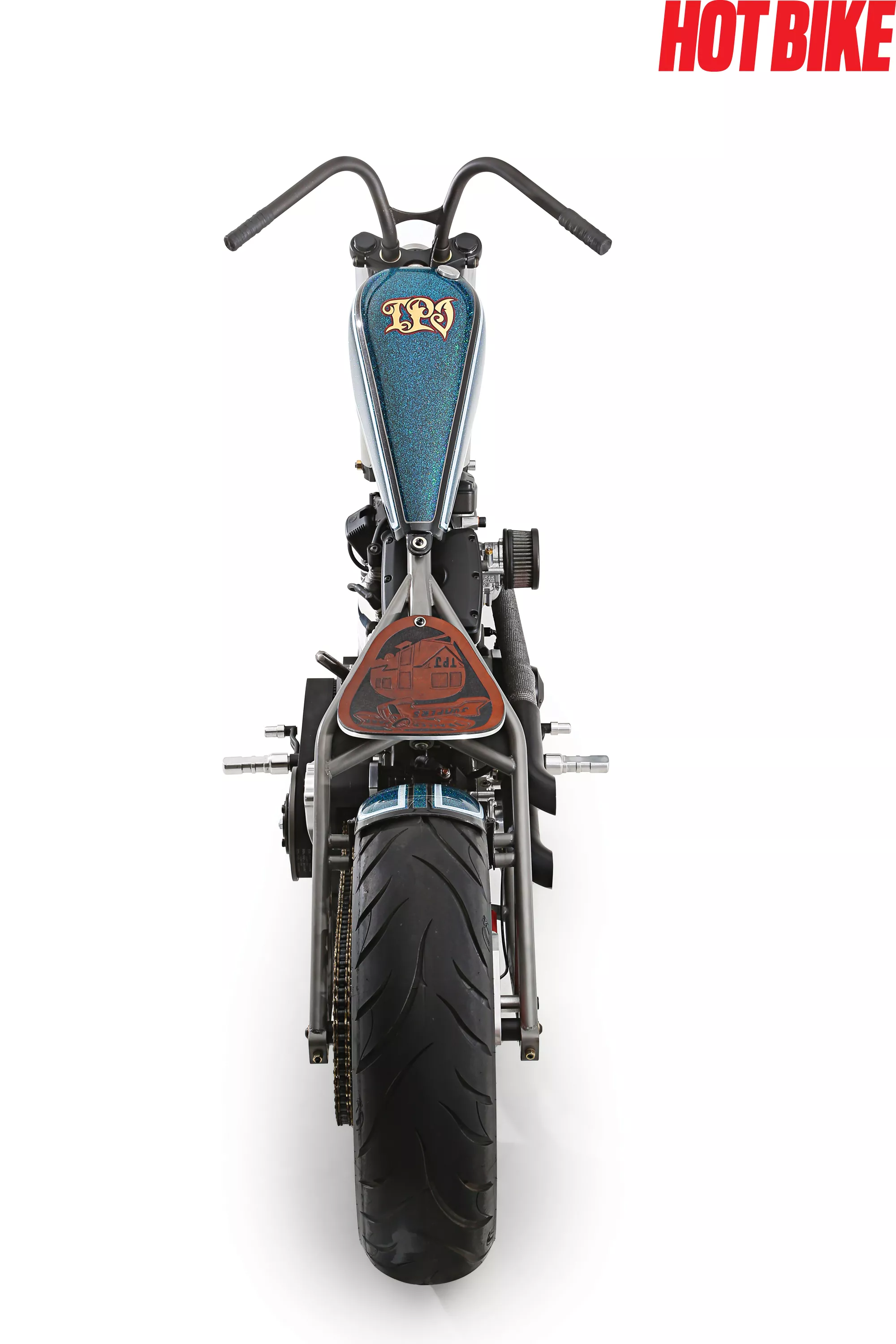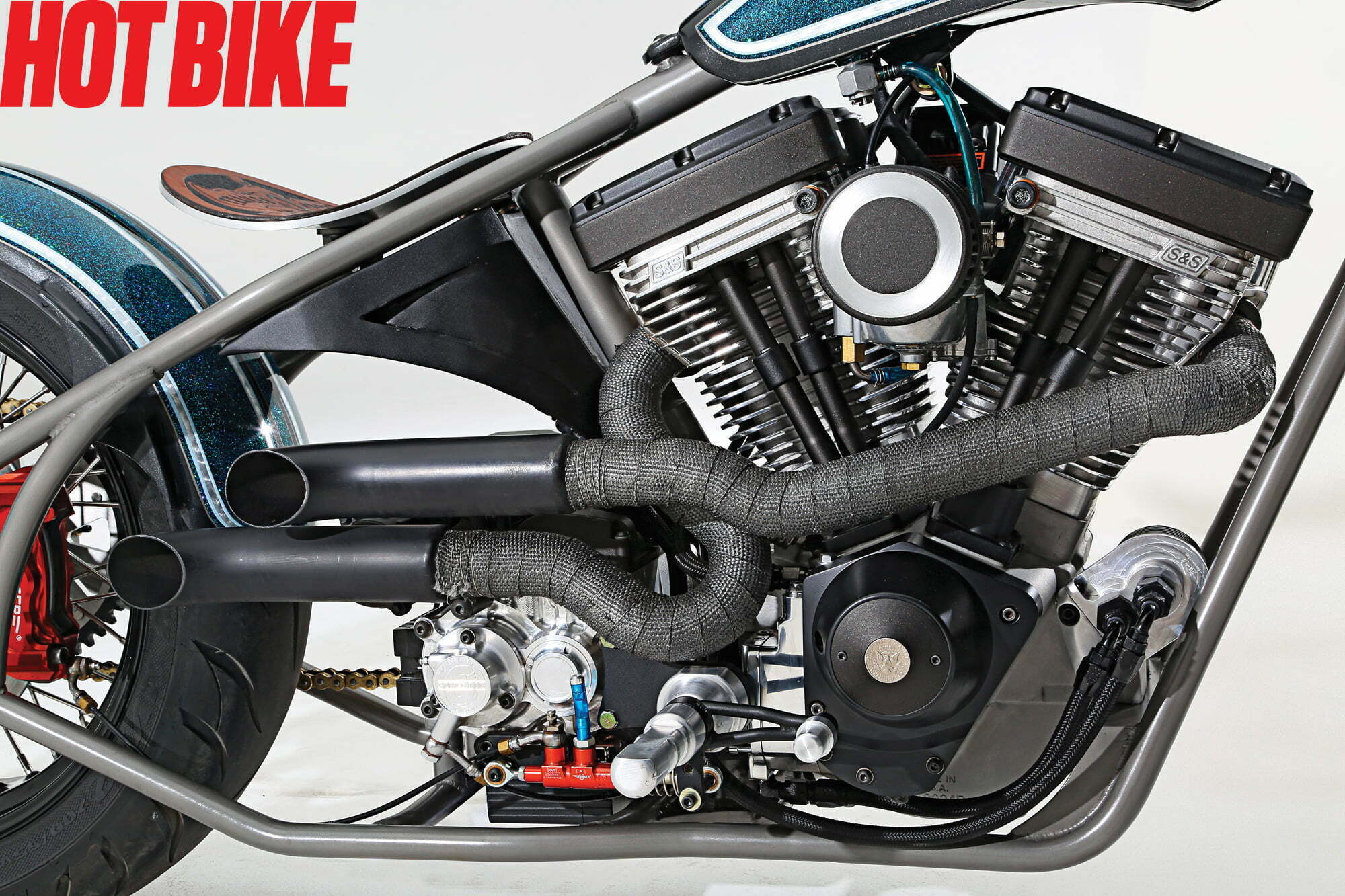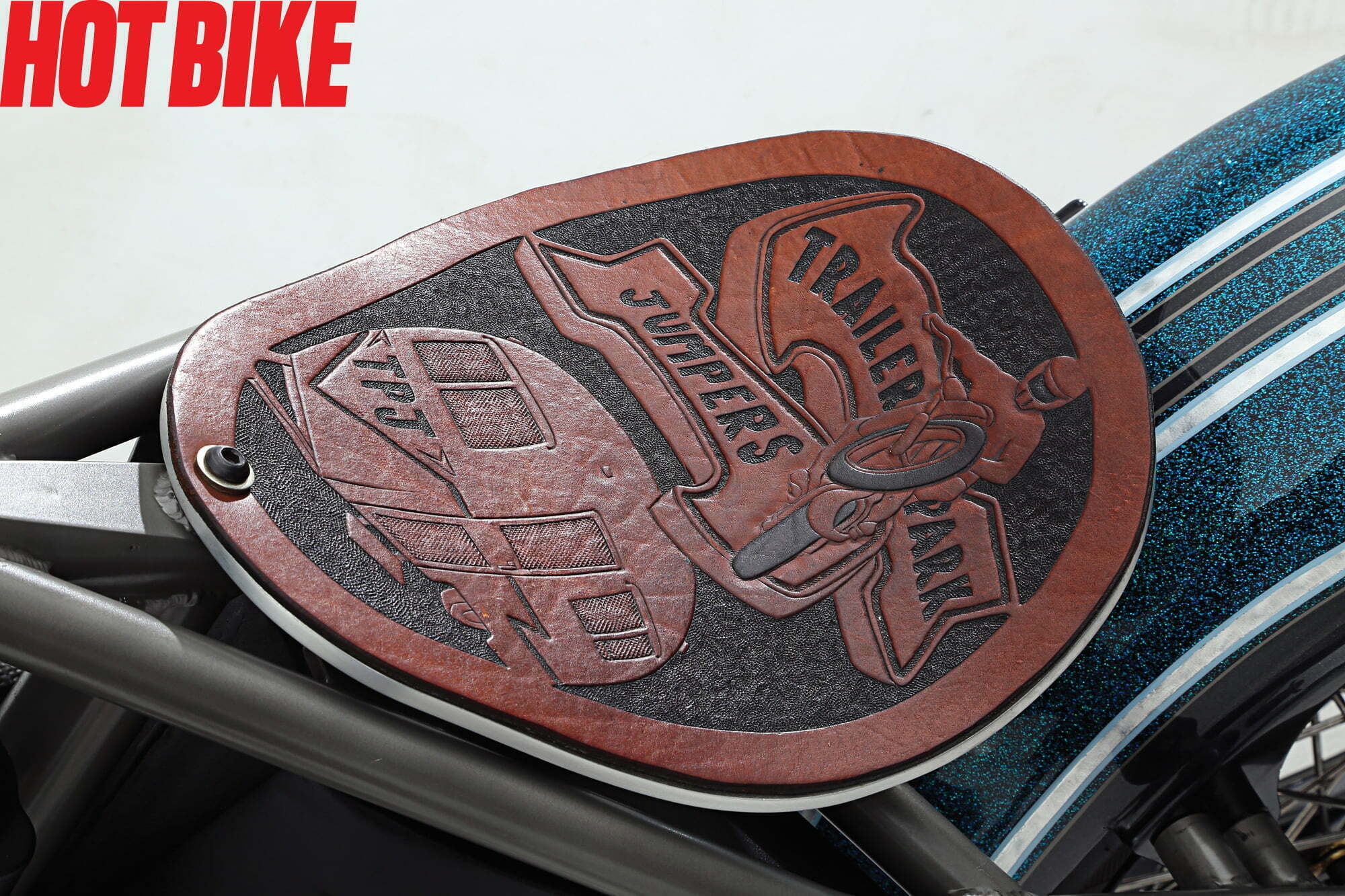 "In the future everyone will have their 15 minutes of fame." —Andy Warhol
Ah, the allure of the spotlight and a world where everyone knows your name. The promise of fame and fortune has been the rise—and downfall—of many a builder over the years. Television shows come and television shows go, and each and every day there is a new series promising to turn the average Joe into a supa-star.
Bryan Schimke from TPJ Customs is far from a starry-eyed new comer to the custom V-twin scene. His bikes have been featured in bike shows and magazines worldwide for years. When the TV series #BikerLive approached Bryan to be a part of the show, he had no problems signing up to build this custom chopper.
HB: Why did you build such a radical, for lack of a better category, chopper?
BS: I had just built a couple suspended sport-like bikes. I got a couple of comments from people that I was the guy who built sportbike things. I've built I don't know how many rigid bikes in the past, and I didn't like being classified into one category. So I went back to do a bike I've always wanted to do but never had a reason to because not many people want to roll with no front brake, jockey shift on a rigid. There is already a limited amount of people wanting to buy bikes anyways, and then I was going to cut it down even smaller. So it was the perfect time to do it for myself.
HB: This is a no-joke machine and not for the novice rider, correct?
BS: It's awesome. I just rode it down to BikeFest in Vegas about 700 miles each way.
It's made to ride and to feel. It's the ultimate ride. When you're on the road, you feel the road. You have to use your mind and not just go ripping through corners and then locking it up. You have to pay attention, especially with that 113 motor you can get going fast. You have to be careful. The Beringer brakes are so awesome because they stop progressive, but when you lock it up, it locks up! You see a yellow light and you're doing a sideways slide to get it to stop.
HB: The bike looks fast standing still. Was that the goal?
BS: To me that's what a motorcycle should look like—as clean as it possibly can be. It's just a totally different vibe with that bike. I want people to look at it and not think that it runs. Or if it sits out in front of the hotel they say it doesn't run until I get on it and take off.
HB: How was it working under the short deadlines?
BS: It was an awesome experience but hell for a month. They showed up, and we had 27 days to finish it start to finish. I built everything on the bike from the ground up, every little piece. I worked 20 hours a day every single day except for the eight or nine days that they were filming, and those were still 20-hour days, but we didn't get to work any part of it because they were filming; we were fake working.
HB: Overall, how was the experience?
BS: For our crew it was very positive. The crew was awesome. They didn't make us do anything we didn't want to do. There are a few things we threw in for TV like not having gas, but I would have never got to sit around for four-and-a-half weeks building a bike with my friends. They basically paid me to build myself a bike and to take a month and a half off to do it. I got to keep the bike, and we got a 15-minute commercial on the Discovery Channel. I didn't expect anything except that, and I think it was a great experience. I think we had the best showing of the shops. It wasn't just some shitty space in an industrial area.
HB: Are you a millionaire now?
BS: No [laughs]. People in the industry already knew who we are. But people outside of the norm got exposed to us. They'd have to pay me a little bit more, but I'd definitely do it again. For now, I'm going to keep doing what I'm doing for the last 12 years.
HB: Any thank-yous you'd like to share?
BS: Marc Ishibashi, Keith McCoy, Dom Weatherford, Scott Lerg, and Ed Bianchi. I could not have gotten it done in four-and-a-half weeks without their help. My wife and kids for letting me be missing for a month. And finally my dad.
| Specifications | | |
| --- | --- | --- |
| Bike Owner | TPJ customs | |
| Shop | TPJ customs | |
| Shop Website | tpjcustoms.com | |
| Year/Make/Model | 2014/TPJ/Leonor | |
| Fabrication time | 4.5 weeks | |
| | | |
| Engine | | |
| Year Manufacturer | 2014/S&S | |
| Builder | S&S | |
| Cases | S&S | |
| Cylinders | S&S | |
| Heads | S&S | |
| Rocker Boxes | S&S | |
| Cam | S&S | |
| Air Cleaner | TPJ Customs | |
| Exhaust | TPJ Customs | |
| Transmission | | |
| Year/Manufacturer/Type | 2014/Baker Powerbox | |
| Clutch | BDL | |
| Primary Drive | BDL/TPJ Customs | |
| Frame | | |
| Year/Type | 2014/TPJ rigid | |
| Rake/Stretch | 28º/-2-in. stretch | |
| Suspension | | |
| Front End | Custom Narrow Glide | |
| Length | -2-3/4 in. | |
| Triple Trees | Smoothed Sporty | |
| Wheels, Tires, and Brakes | | |
| Front | | |
| Manufacturer Front/Type | Black Bike Wheels/21 in. | |
| Tire/Size | Avon/21 in. | |
| Manufacturer Rear/Type | Black Bike Wheels/18 x 5.5 in. | |
| Tire/Size | Avon/18 in. | |
| Rear Brake | Beringer Brakes 6-piston | |
| Colors | Came Blue | |
| Paint/Graphics | Custom Design Studios | |
| Powdercoating | Precision Stripping and Coating | |
| Accessories | | |
| Handlebars | TPJ Customs | |
| Grips' | TPJ Customs | |
| Foot Controls | TPJ Customs | |
| Taillight | TPJ Customs | |
| Seat | TPJ Customs/OB leatherworks | |
| Rear Fender | TPJ Customs | |
| Gas Tank | TPJ Customs | |
| Headlight | Clearwater lights | |
| License Mount | TPJ Customs | |