This article was originally published in the February-March 1998 issue of Cycle World's Big Twin magazine.
Traditionally, the pages of Big Twin feature the latest and greatest exotic machines built by some of the world's most prominent customizers. But as wonderful as bikes of that caliber might be, we know that not all top-quality customs originate in the rarefied air of the super-builders. There are lots of fabulous bikes out there that have been constructed entirely by novices, many of whom are regular guys who had never before built a custom.
Such is the case with these two gorgeous customs, both built by a regular guy: One of them lays carpet in Sacramento, California, the other is an aircraft mechanic in Los Alamitos, also in California. Both bikes were built to be daily riders, and both perfectly illustrate the genius of everyday Yankee ingenuity.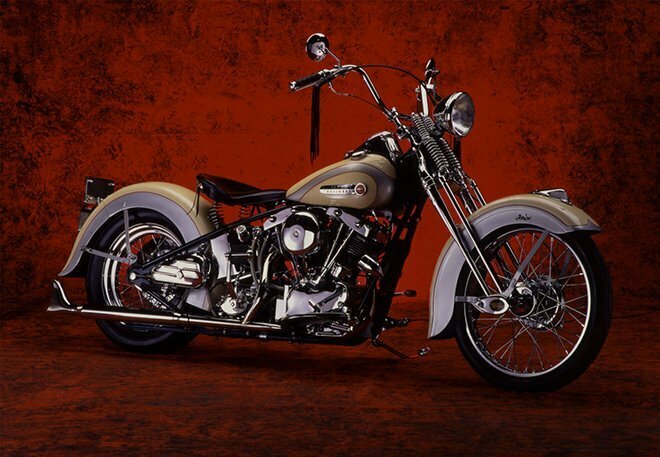 Our first custom was discovered quite by accident. We first saw Tom Luellen's sweet creation during the recent Street Vibrations run in Reno, Nevada. It wasn't up for judging as part of a custom show or displayed in a vendor showcase; it was just sitting there, parked unpretentiously at the curb.
Its creator is just as unassuming. When we contacted Luellen about us putting his bike on the cover of Big Twin, he said gee, that might be nice, but he wouldn't have any way to get to work while we were photographing his beloved custom. His bike is his only means of transportation, he ex­plained, and he rides it to work every day, rain or shine. We told him that some people consider it a real honor to have their custom on the cover of a national magazine, but he again politely told us that although he was sort of grateful, he did have a tight work schedule laying carpet, and asked if maybe we could just shoot it at a job site. Fortunately, we worked out a suitable compromise for both parties.
We found Luellen's complete lack of guile and ambition very refreshing. He cares not one whit about self-promotion or realizing any money-making potential from his custom; the mere fact that he built the machine himself is enough for him.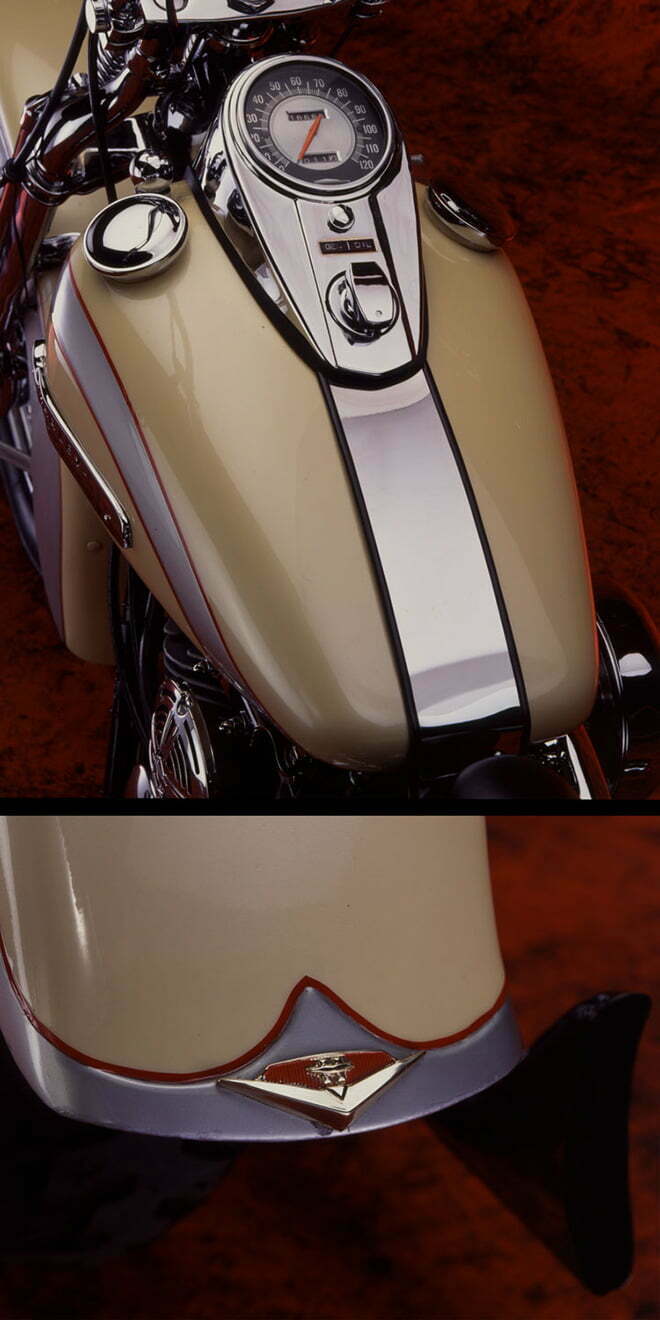 "I had a vision of what I wanted," says Luellen, "then I created it." That vision was far more important to him than any sort of antique restorer's purity. When he bought the bike, it was a mess, a beat-up chopper with cables running everywhere, electrical tape holding important pieces to­geth­er, and a front fork that had been kicked out to the next state. After he dismantled the bike, he slowly started rebuilding it in accordance with his vision. The parts he chose are as disparate as can be, but when assembled, they add up to exactly the bike Luellen had in mind.
"I'm not too sure about a lot of this stuff," he says. "I just got the parts and put them together the way I wanted. Someone told me that the frame is an early '60s Paughco Hardtail, but I don't know. I just bought the bike that way and went from there. The motor is a '68 Harley, the transmission is about a '65, the fork and triple-trees are in the neighborhood of the mid-1940s. I was told the gas tank is a '50s style because it has the gas valve in the tank.
"I want to say the front fender is a Springer from the '40s," continues Luellen, "and the rear hinged fender I think is a late '50s or early '60s, but I'm not sure of that, either. The tin primary cover is from the 1948 era; I just love that look. And I extended the rear of the frame and the muffler a little bit to give it that long look."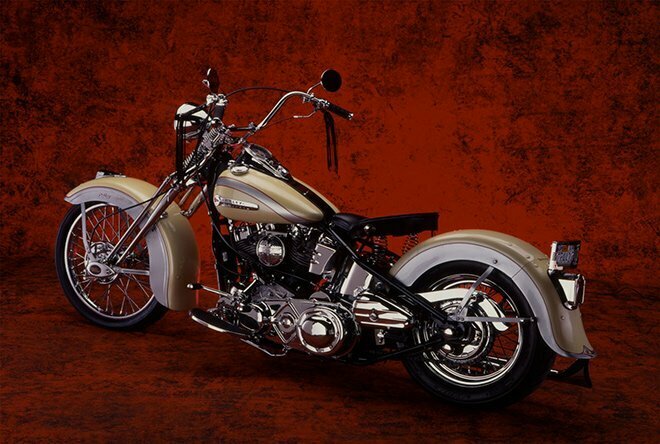 He makes it sound so easy, as if all these various parts were merely purchased and bolted together. Not so. Luellen spent untold hours conceiving and fabricating the brackets and fasteners needed to make his motorcycle look seamless and of a piece.
"I've done everything on this bike except for the chrome," he says. "But I didn't modify the motor very much; there's no performance stuff, other than the S&S carburetor and just a little bit of fabrication to make the carb fit. I had to do some aluminum fabricating, welding and stuff like that to make everything work."
Luellen's piece de resistance is his paint job, which, ironically, he didn't like until the bike was completed. He started with Nissan Maxima pearl and kept adding yellow, red and blue until he got the color he wanted—sort of. "I didn't like the color when I first made it," he says, laughing, "and I didn't like it as I was painting it. But as soon as I got the bike all together, then I liked it."
From start to finish, Luellen has invested a mere $13,000 in his quasi-classic, antique custom, less than the cost of most stock Harleys, and considerably less expensive than any other custom we've ever had on our cover. So, thanks for your time, Tom. You may now have your everyday transportation back.
| Specifications | |
| --- | --- |
| Owner | Tom Luellen- Sacramento, California |
| BASE MACHINE | |
| Special-construction | custom |
| Designer/Fabricator | Tom Luellen |
| PAINT AND CHROME | |
| Paint | Owner |
| Graphics | Owner |
| Chroming | Sherm's, Sacramento, CA |
| Polishing | Owner |
| ENGINE | |
| Year | 1968 |
| Model | Shovelhead |
| Builder | Owner |
| Displacement | 80 cu. in. |
| Cases | H-D |
| Lower end | H-D |
| Rods | H-D |
| Pistons | H-D |
| Heads | H-D |
| Cam | H-D |
| Valves | H-D |
| Pushrods | H-D |
| Lifters | Jims hydraulic |
| Ignition | H-D |
| Primary cover | H-D |
| Coils/wires | H-D |
| Carb | S&S Super B |
| Air cleaner | H-D |
| Pipes | Owner-made |
| Mufflers | None |
| TRANSMISSION | |
| Year | 1965 |
| Type | H-D 4-speed, kick-start |
| Clutch | Barnett |
| Primary drive | Primo belt |
| FRAME | |
| Year | Not sure |
| Make | Paughco |
| Type | Hardtail |
| Builder | Owner |
| FRONT FORK | |
| Year | 1940s |
| Make | H-D |
| Type | Springer |
| REAR SUSPENSION | |
| Type | None |
| FRONT WHEEL/TIRE | |
| Wheel | H-D |
| Tire | Avon |
| Brake | Stock H-D |
| REAR WHEEL/TIRE | |
| Wheel | Stock H-D |
| Tire | Avon |
| Brake | Hydraulic drum |
| ACCESSORIES | |
| Handlebar | 10" rise CCI |
| Risers | Paughco 2" rise |
| Grips | KüryAkyn |
| Mirrors | CCI |
| Gas tank | 1950 H-D |
| Oil tank | H-D pre-12-volt |
| Front fender | 1950s H-D |
| Rear fender | 1950s H-D |
| Headlight | CCI 6" |
| Taillight | Tombstone |
| Electrics | Stock |
| Speedo | 1968 H-D |
| Instruments | Stewart-Warner |
| Seat | H-D  |
| Foot controls | H-D |
| Footpegs | H-D |
| Other | Fuel tanks lowered |
---
---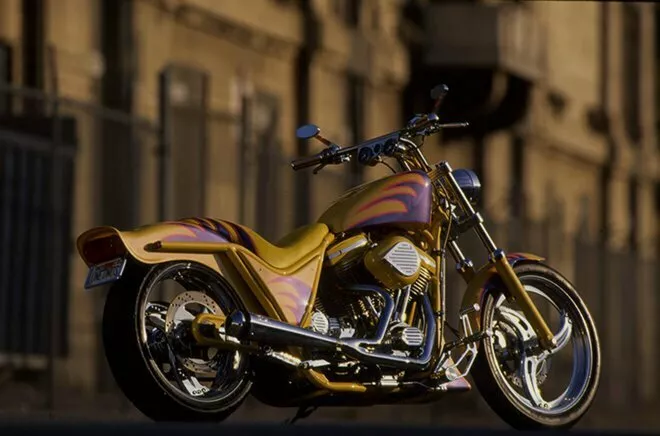 We learned of the other novice build­­er's bike in an entirely different way: through photographs he submitted in the mail. It's a great-looking yellow screamer currently owned by Borje Forsland but originally owned and built by Jim Oxford of Los Alamitos. Oxford built the bike just for the hell of it, and had every intention of keep­ing it as a regular ride; but then a sexy Road King beckoned and he couldn't resist, so he sold the yellow custom to Forsland.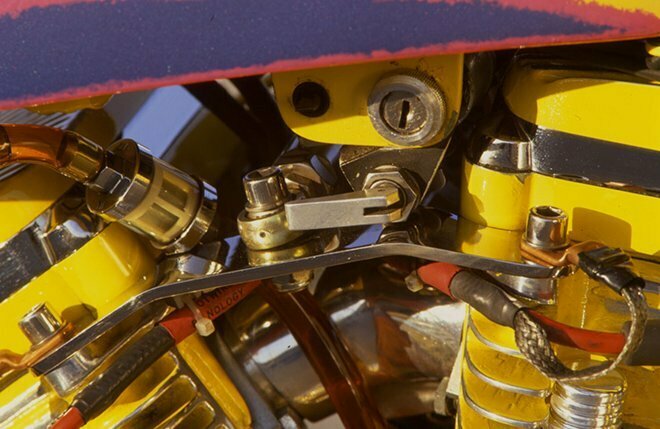 Oxford's handiwork is based on an FXR frame that has been cut and dipped under the seat to lower the rider, and widened at the rear to accept an ultra-fat tire. Notice anything else different? Check out the swingarm: no shocks.
Now, just cutting and lowering the frame is a difficult enough engineering challenge in itself. But converting an FXR to a lowered and widened Softail-style chassis complete with under-engine shocks is the sort of surgery performed by builders with resumes a mile long. But Oxford did it on his first try, and did it well.
Oxford admits that he got a lot of his customizing ideas from reading magazines. "As for turning the bike into a Softail, I designed all of that myself," he says. "I cut the frame so it would ride low like a Softail, and I widened it so the rear tire would fit. I used Fournales shocks for the rear suspension because they're the smal­lest and don't have any springs on them. Then I welded up the swing­arm out of chrome-moly steel tubing. I had to take a lot of stuff out of the frame underneath the bike to make everything fit correctly, but then I stiffened it all back up with other pieces." Pretty intricate work from a man who considers himself a motorcycle hobbyist.
After Oxford completed the frame, he went to work on all of the pieces that fit on the frame. He extended the rear fender to clear the chain and the battery box. He built a special handmade oil tank from 3/8-inch-thick alumi­num, and he ribbed the tank so it also acts as an oil cooler. For a gas tank, he cut a Sportster tank in quarters both sideways and lengthways, then stretched and widened it, and made a complete bottom panel from hand-formed steel. Hanging from the front downtubes are oil coolers he made to cool the savage brow of his monster motor.
And at 116 inches, this powerplant is definitely a beast. The basic motor is by Merch Performance, but with its four-inch bore, it needed a special head-bolt pattern. The problem was solved with heads made by Hyperformance.
Once the bike was completely as­sem­bled, Oxford transported it to the ­hang­ars where he works on airplanes and expertly painted it with Alumagrip aircraft paint. The result is a custom Harley that looks like the handiwork of a fa­mous, highly experienced bike customizer. Actually, both of these bikes have that look, the appearance of being ex­quisite customs fabricated by re­nowned master builders.
Come to think of it, now that these two fantastic customs have ap­peared in Big Twin, you can honestly say that they were made by famous motorcycle builders!
| Specifications | |
| --- | --- |
| Owner | Borje Forslund Yorba Linda, California |
| BASE MACHINE | |
| Year | 1988 |
| Model | FXR |
| Designer/Fabricator | Jim Oxford Los Alamitos, California |
| PAINT AND CHROME | |
| Molding | Jim Oxford |
| Paint | Jim Oxford |
| Graphics | Jim Oxford |
| Polishing | Jim Oxford |
| ENGINE | |
| Year | 1997 |
| Model | Evo |
| Builder | JR's Engine Svc., Long Beach, CA |
| Displacement | 116 cu. in. |
| Cases | Merch Performance |
| Lower end | S&S |
| Rods | S&S |
| Pistons | Merch |
| Heads | S&D, ported by Hyperformance |
| Cam | Andrews EV57 |
| Valves | Hyperformance |
| Pushrods | Andrews |
| Lifters | Jims |
| Ignition | Crane HI-4 |
| Coils/wires | Dyna/Nology |
| Carb | S&S G |
| Air cleaner | K&N |
| Pipes | SuperTrapp |
| Mufflers | SuperTrapp |
| TRANSMISSION | |
| Year | 1997 |
| Type | 5-speed |
| Case | Delkron |
| Gears | Andrews close-ratio |
| Clutch | Bandit |
| Primary drive | Chain |
| FRAME | |
| Year | 1988 |
| Make | H-D |
| Type | Modified FXR |
| Builder | Jim Oxford |
| FRONT FORK | |
| Year | 1988 |
| Make | H-D |
| Type | Narrow Glide |
| Modifications | Billet trees by Jim Oxford |
| REAR SUSPENSION | |
| Type | Handmade swingarm |
| Make | Fournales shocks |
| FRONT WHEEL/TIRE | |
| Wheel | RC |
| Tire | Metzeler |
| Tire size | 2.50 x 18 |
| Rim width | 2.5" |
| Brake | GMA |
| REAR WHEEL/TIRE | |
| Wheel | RC |
| Tire | Metzeler |
| Tire size | 180/60-18 |
| Rim width | 5.5" |
| Brake | GMA |
| ACCESSORIES | |
| Handlebar | Handmade stainless |
| Risers | Handmade stainless |
| Grips | DS |
| Mirrors | Ness Aeromech |
| Gas tank | Sportster, widened and extended, with aircraft filler |
| Oil tank | Handmade aluminum with built-in oil cooler |
| Front fender | DC |
| Rear fender | Sumax |
| Headlight | Headwinds |
| Taillight | CCI |
| Turnsignals | Whiskers |
| Electrics | Jim O |
| Speedo | CCI |
| Instruments | Billet instrument panel by Jim Oxford |
| Seat | Travelcade  |
| Foot controls | Legends |
| Rider pegs | Legends |