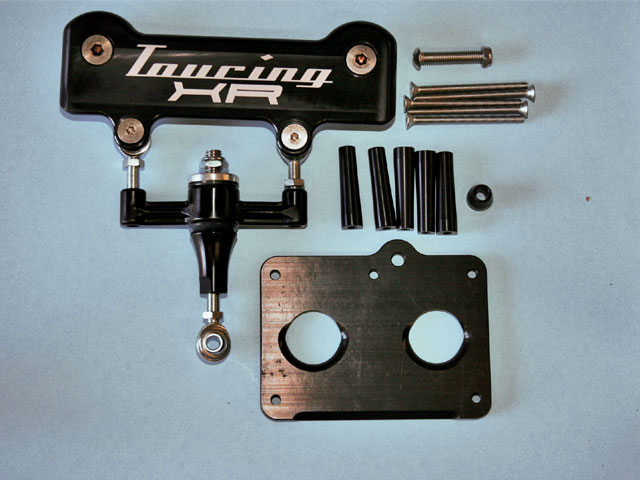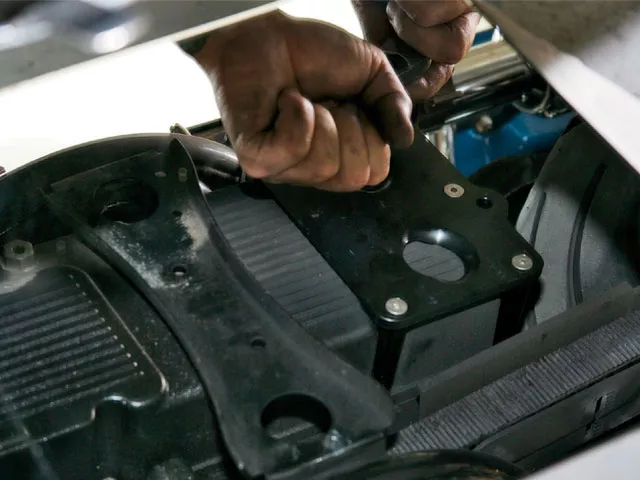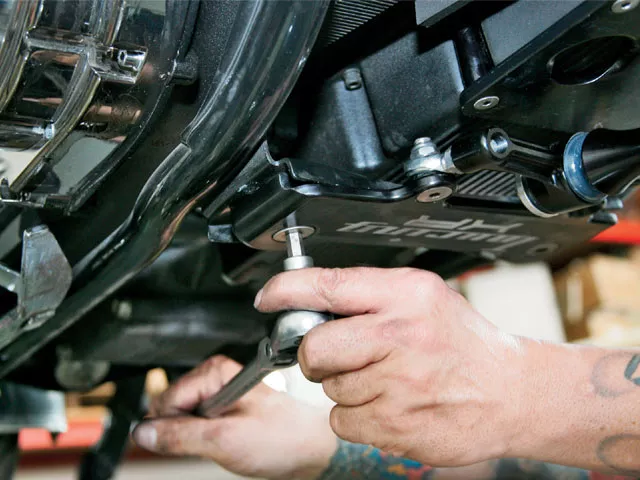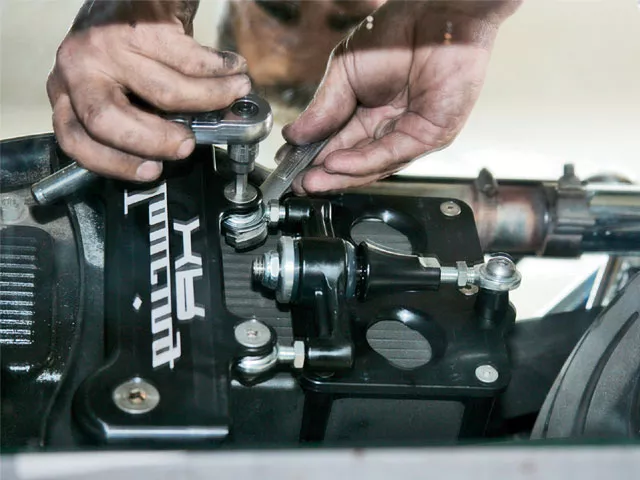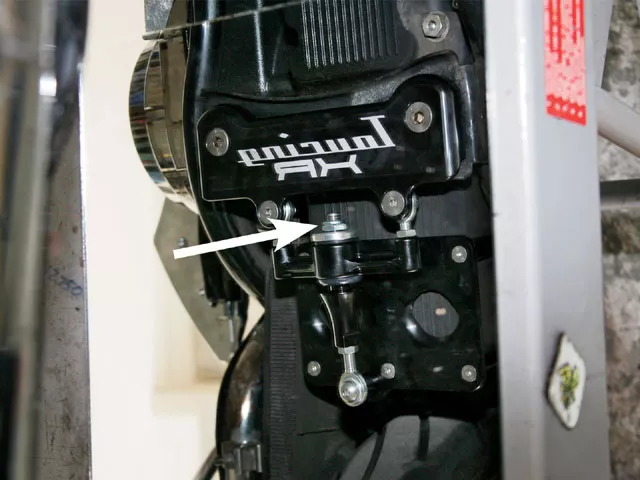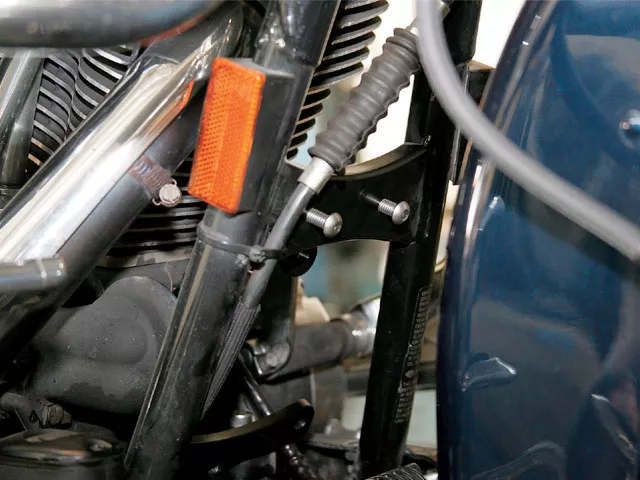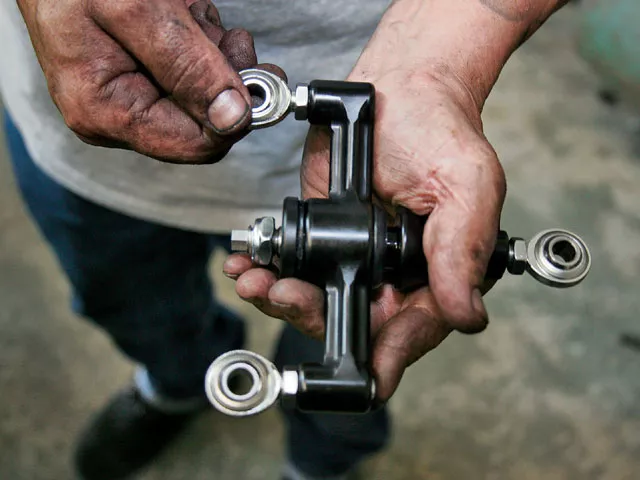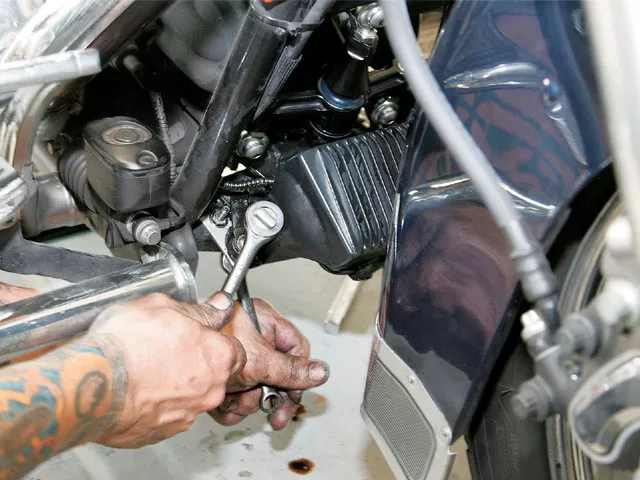 You and your touring bike are heading down the highway at a good speed (nothing that would break the law) when the road has a few switchbacks. As you head into the turns, do you feel comfortable, or do you worry that the rear wheel may un-track with the bike, losing control due to frame wobble? Well, if you have a frame stabilizer mounted to the bike, you would head into turns knowing the bike will handle through them, and corner without any wobble-the weight of the bike should have nothing to do with it.
What is a frame stabilizer, you ask? It's a bolt-on part that mounts to the underside of the frame and transmission. This triangulating of the motor and transmission to the chassis keeps them straight while turning at high speeds and helps eliminates frame wobble. What happens is that the rubber bushing in the swingarm compresses and tends to flex or shift as you head into a turn. This situation allows the rear wheel to change direction slightly and actually pushes the rear of the motorcycle on a separate tack from the frontend. You should have the bike looked at if you have this problem; it could be a minor thing, like the tire may have low air pressure or cracked, worn bushings. However, if the bike still doesn't handle securely, then you may want to think about a frame stabilizer. We were having this happen to one of the staff bikes, an '04 Road King. When we were come back from Sturgis this past year through the mountains of Colorado, the bike was all over the lane at speeds around 70 mph. As soon as we got home we talked with the guys over at Alloy Art about their TXR Touring Stabilizer and TRI-Link mounts. This was just what the bike needed.
This is a two-part install; first the TXR does just what we were talking about earlier, it triangulates the rear of the motor and trans to the chassis, then the new addition to this is the TRI-Link. This replaces and relocates the front motormount, also triangulating the Motor to the chassis, which eliminates the floating feel in the handlebars at high speeds.
To get started, we stopped off at James Crosby's-TXR and TRI-Link designer-shop in Pomona, California. James checked the alignment of the bike before moving on with the install, and he checked and insured the rear axle and swingarm shaft are exactly the "same distance" apart on both sides of the motorcycle, then checked the bushing. All checked out fine.
We placed a mirror on the lift to help with some of the shots; so a few photos may look backwards.
Write [email protected]