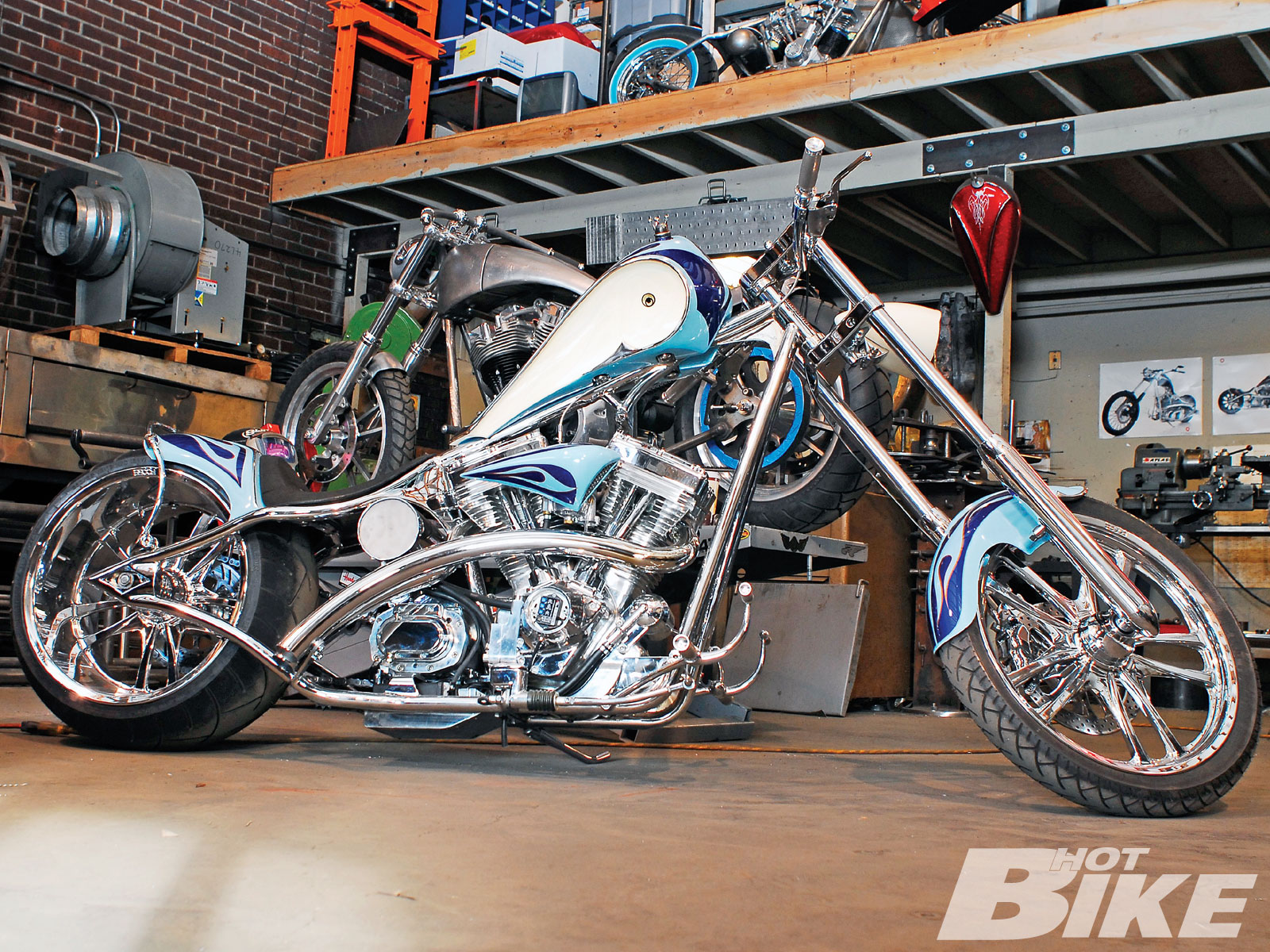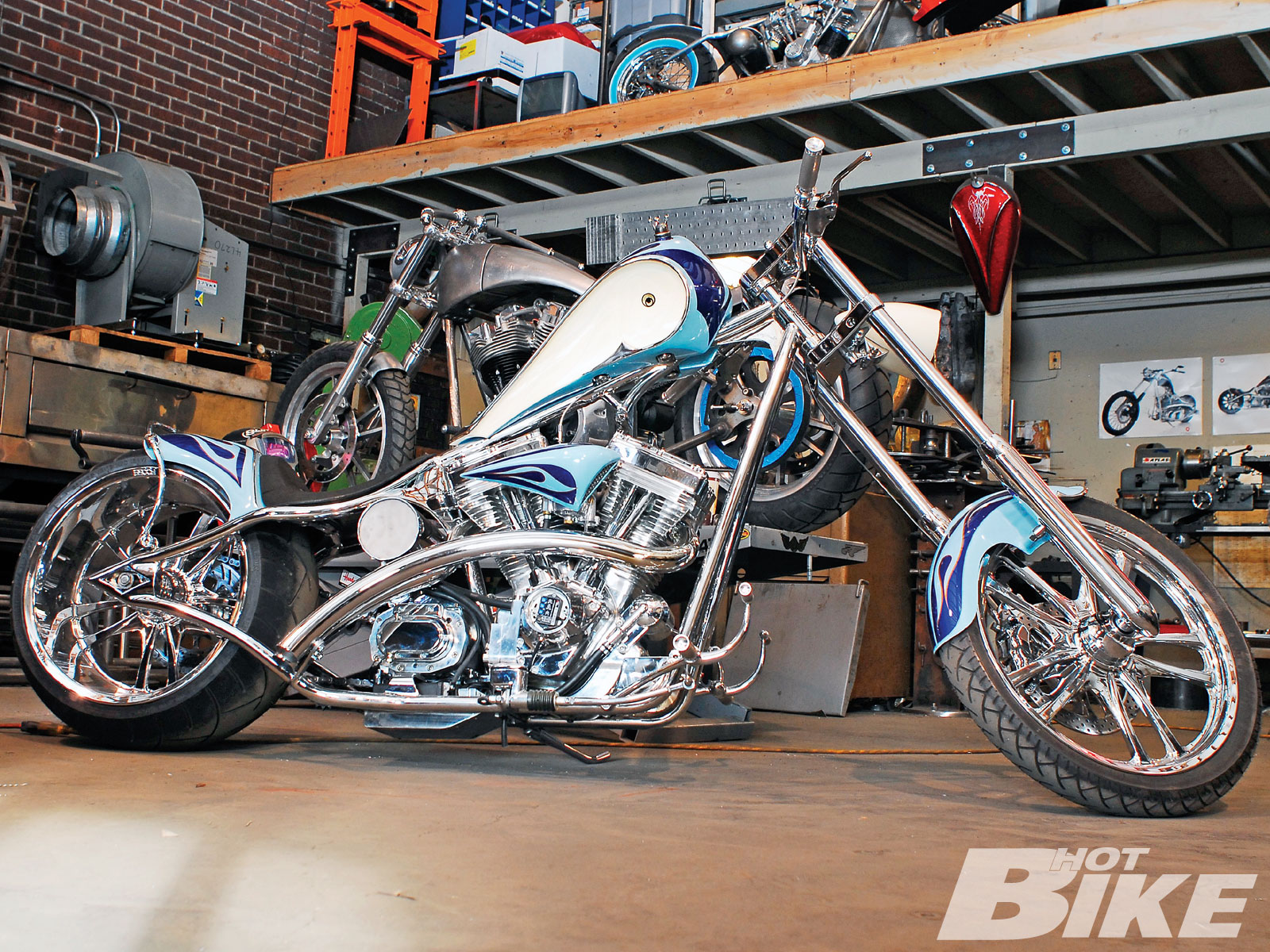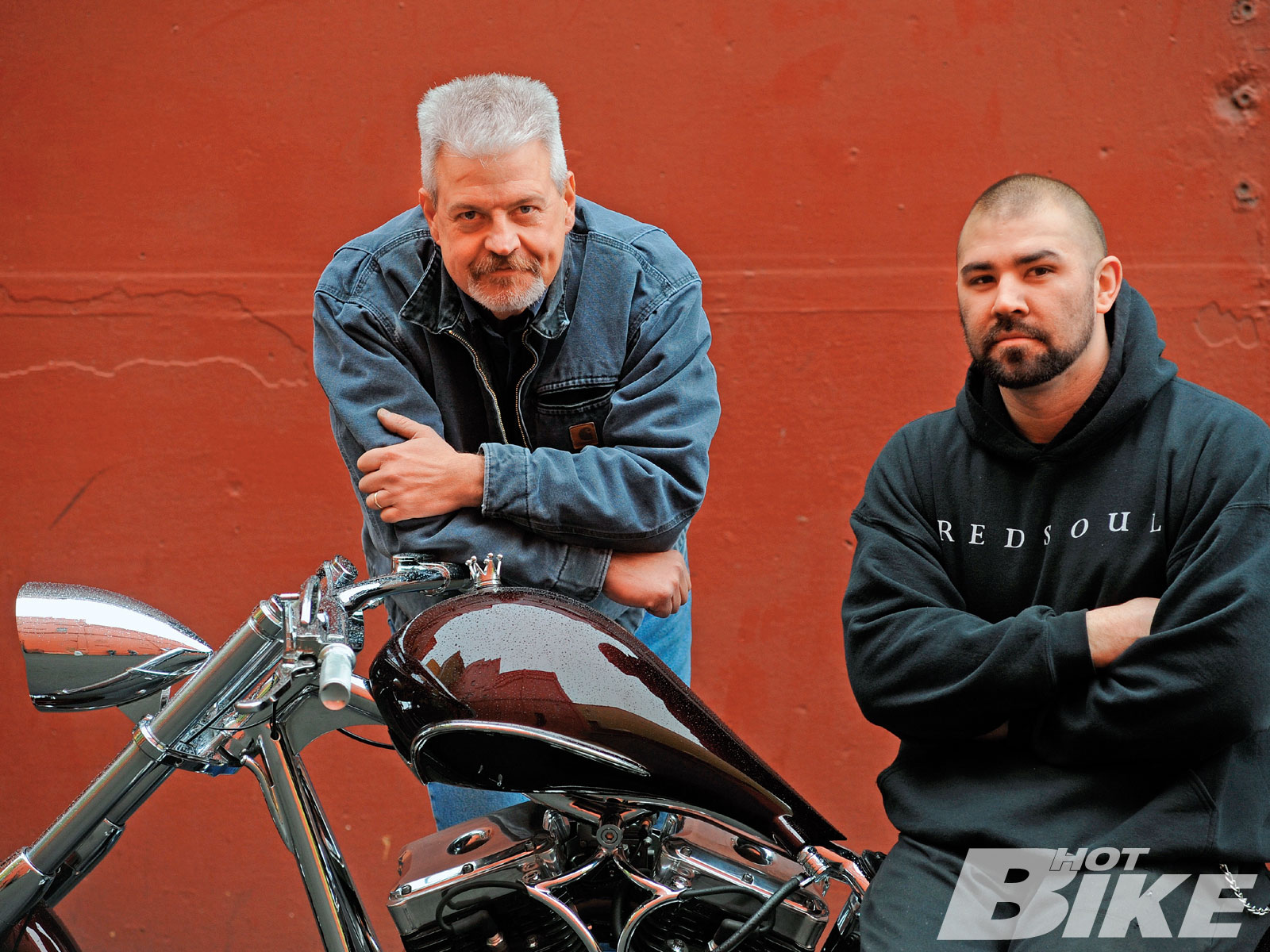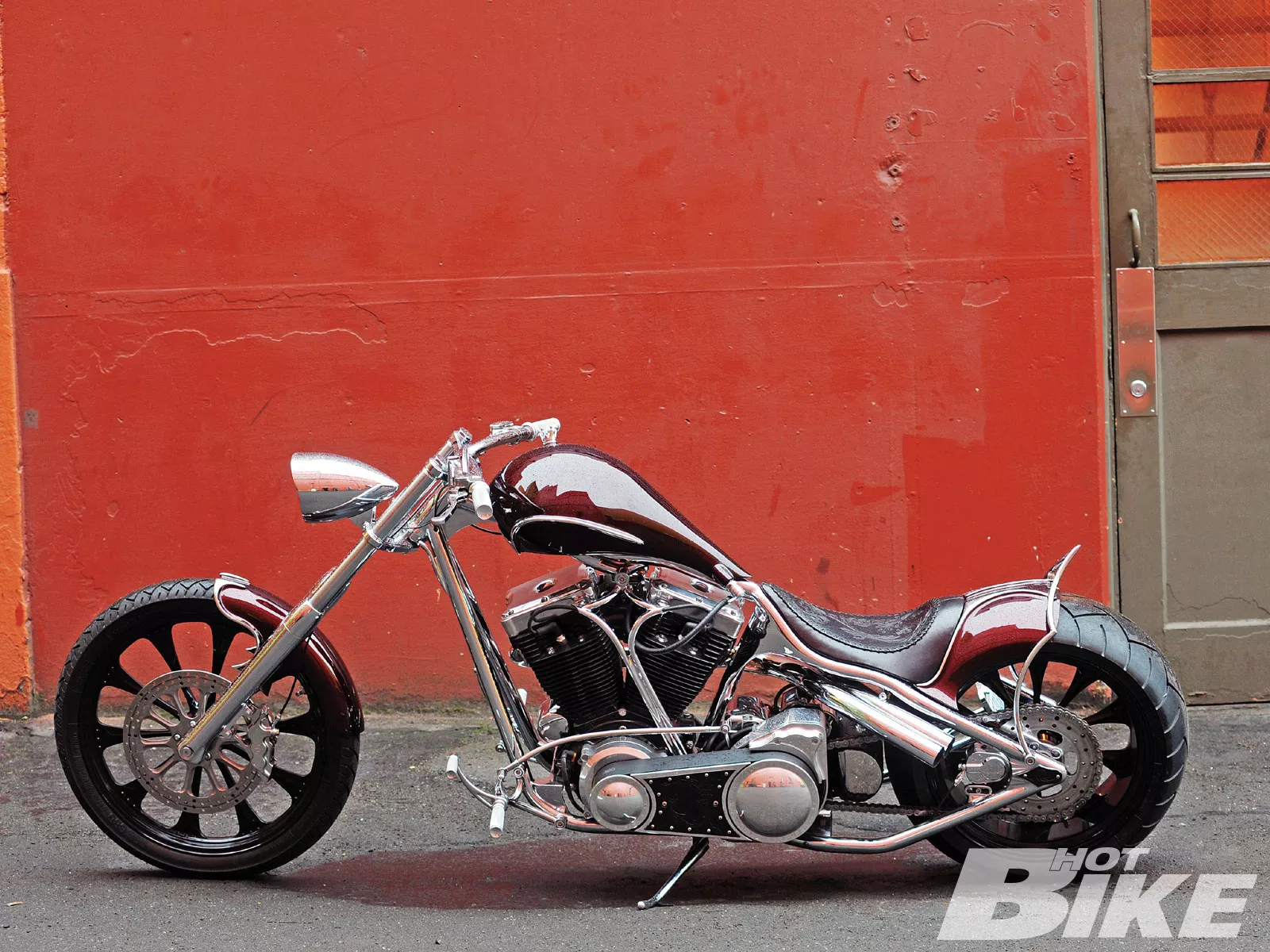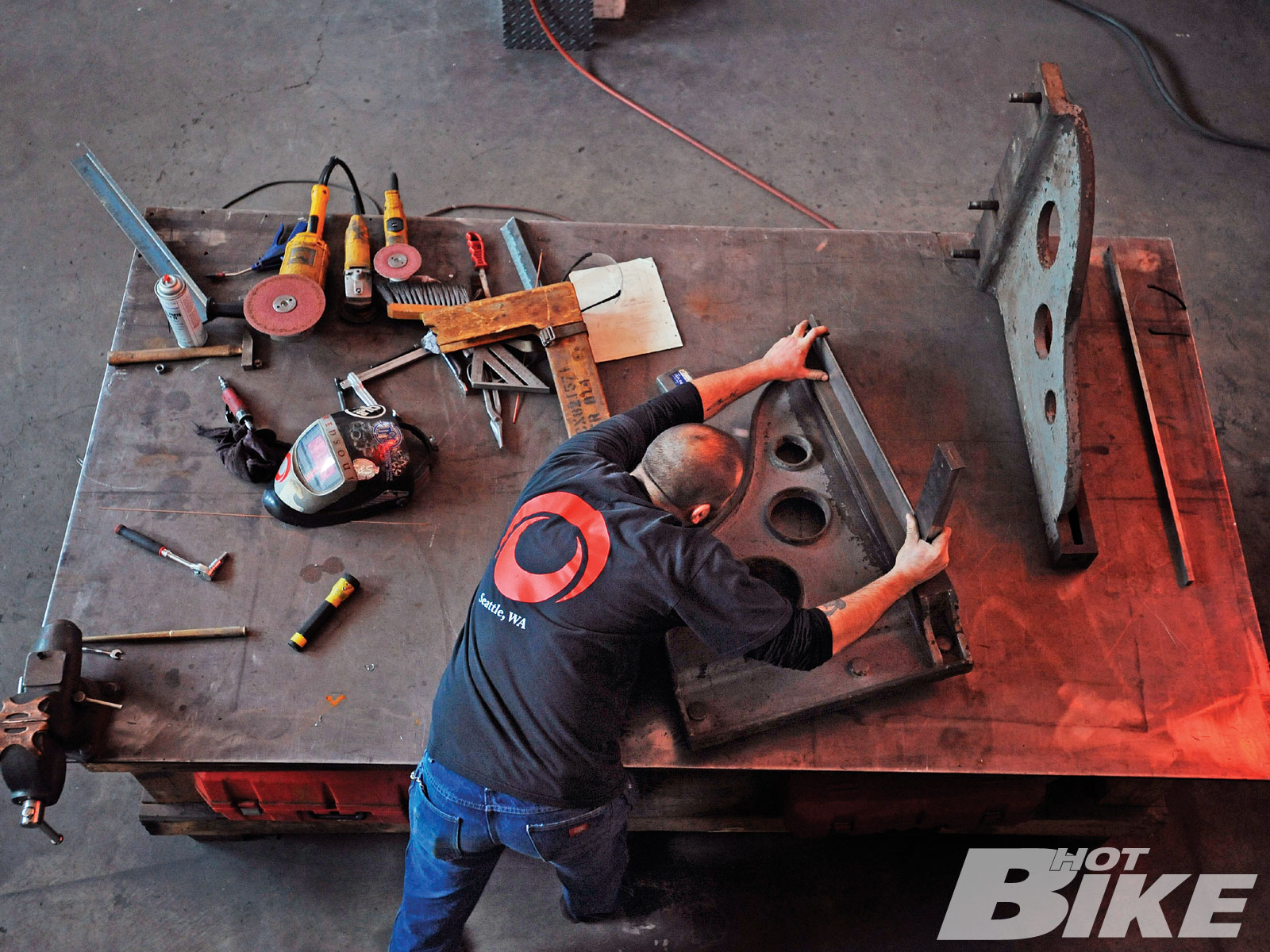 In the day of Merlin the Magician, alchemists were always searching for the magic means to turn lead into gold. Supposedly old King Midas just needed a touch of his hand to turn anything, lead or otherwise, into the shiny stuff. Now time warp a few centuries forward and land yourself in Seattle, where Red Soul's (redsoul.com) Matt Adams and Don Schumacher have apparently found both the secret formula and the magic touch when it comes to transmigrating common steel, aluminum, and even leather into semi-priceless works of mobile art. Matt is not shy about taking up the gauntlet in the highly competitive world of custom bike building, "My goal is to lock down Red Soul as the best source for Northwest custom bikes," said Matt. Cool, custom, creative, in both metal and leather, that's the plan," Matt stated. One look at his gallery of beautifully hand-sculpted bikes and it's easy to see he's well on the way.
Matt and Don bring to the table (and they design and build tables as well) both street smarts and book smarts. Don has spent years milling away at all things metal with more than 15 years of experience as a highly detail-oriented and technically focused machinist. After Matt earned an art degree from Lower Columbia College he was accepted into the University of Washington's architecture program, literally ready to leap tall buildings in a single sweep of the designer's hand, but instead he heeded the siren call of motorcycles, choosing to earn his bike building chops over a period of six years working at Seattle's well-known Lucky's Choppers. Matt opened his own shop in 2006 having built a well-earned rep for world-class fab work. He's got attitude going, but the constructive kind. "I hate buying anything off the shelf," says Matt. That goes not only for his metal fabrication, but also for his custom seat building, his highly detailed leather carving, and stitching another one of his signature offerings. The ink on his forearms sums up his attitude when he tackles a bike build: "Never Quit."
Summing up his own modus operandi, Matt says his bikes reflect a blending of the original West Coast-style chopper with his own architectural training where form and function feed off each other. That's evident in his one-off gas tanks that flow seamlessly into his custom seat, the "architectural" influence percolating through the overall design of each bike.
Speaking of architecture, a few years ago Matt and Don moved into their new headquarters in the Georgetown section of Seattle occupying a section of a century-year-old building. Red Soul's 3,000 square feet and three floors are crammed full of mills, lathes, and a English Wheel or two. The 1886 vintage building, restored over the last 10 years by the city, once housed the Rainier Brewery and has soaked up some serious history. "I spent several days plasma cutting a 100-year brewing vat out of the second floor, it was a huge tank," said Don. "It's now the floor where the public enters the showroom with the bikes on display while the bottom floor is the work area." The building is now also the headquarters for Tully's Coffee, is part of the Seattle skyline, and is also a city landmark along with the Space Needle and Qwest Stadium. The complex is highly visible, along with Matt's handcrafted Red Soul shop sign, from I-5. With its close proximity to Qwest stadium, several of the Seattle Seahawks football players are Red Soul customers. The area is also home to Seattle's steel, ball bearing, and plating companies, all strategically located about five minutes from Red Soul.
Speaking of that highly visible all steel sign, Red Soul designs and manufactures a wide spectrum of steel products, including very sophisticated architectural furniture, even custom bars and pool tables. There's also the 800-pound steel door and the 10×15-foot steel sign it uses for its own bike displays at shows and events including MMA competitions, having also built the "cages" used in the fist-and-foot-flying sport. The shop's lobby also features its custom furniture, basically creating its own environment from floor to ceiling including its multi-show winning bikes on display.
"Although motorcycles are our passion, it was a conscious decision to call it Red Soul rather than Red Soul Choppers because we make large pieces of art work, high-end architectural furniture, custom leather motorcycle seats, and even custom leather bar stools; all kinds of artistic expressions, you name it," says Don. "Every Monday we sit down and discuss our game plan for the week. The sparks are really flying and it's all been clicking." Matt's signature is the melding of different metals, a molding and sculpting process that's radical and unique and makes his bikes truly one-off blends of architecturally sculpted performance machines. Each bike is tailored to its owner. For example, when Red Soul's gas tank is first sculpted in foam, the shop has the owner check it over and sign off on it before the final fabrication. As far as powerplants, again the shop can have whatever twists its throttle, from cross-country cruiser to a rocket ship. Basically if you can imagine it, Red Soul can build it.