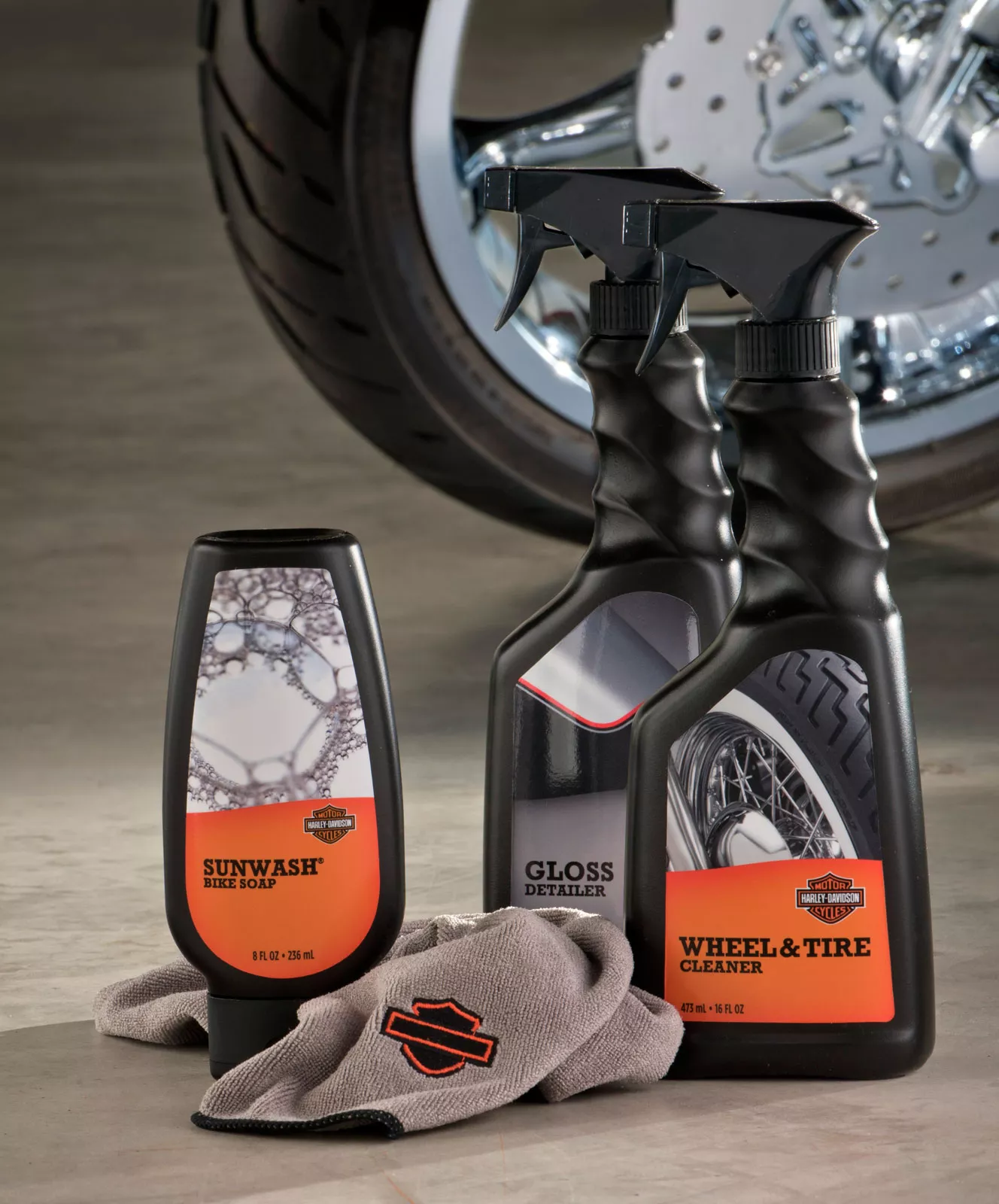 MILWAUKEE (March 14, 2012) - Harley-Davidson® has created new packaging for its popular surface-care products designed to make those products easier to use and store. Most products now have new labels with descriptive features and benefits, and more detailed use-instructions. The labels are also film-coated to better withstand wet conditions. New spray bottles are easier to grip with wet hands, and inverted bottles and jars make other products easier to dispense.
Key Harley-Davidson surface-cleaning products include:
Sunwash® Bike Soap (P/N 93600023, $5.95) can be used in direct sunlight, unlike most bike-wash products that should be used only on cool days or in the shade. Sunwash Bike Soap has a unique formulated sheeting action that minimizes hard-water spots and rinses clean. Safe for use on all vehicle surfaces including denim paint. Biodegradable. 8-fl. oz. bottle.
Wheel & Tire Cleaner (P/N 93600024, $8.95) safely removes brake dust and road grime from wheels, tires and whitewalls in seconds. It is also recommended for cleaning Harley-Davidson black-coated exhaust pipes and mufflers. Biodegradable. 16-fl. oz. spray bottle.
Gloss Detailer (P/N 93600062, $9.95) produces the highest possible gloss finish in the shortest amount of time. Formulated to enhance luster and provide UV protection between waxes, this non-abrasive quick detailer can be applied to paint, clear coat, chrome, powder coat, windshields, vinyl and plastic. Gloss Detailer contains no waxes, silicones, oils or hydrocarbon solvents, and will not remove Glaze Poly Sealant. Biodegradable. 16-oz. spray bottle.
Microfiber Detailing Cloth (P/N 94663-02, $9.95) is a super-soft and absorbent synthetic material that can be used for washing, cleaning or buffing. The cloth can be used wet or dry and is safe for use on all surfaces and finishes. This durable 16-inch square cloth is mildew-resistant and machine washable.
Harley-Davidson Motor Company produces heavyweight custom, cruiser and touring motorcycles and offers a complete line of Harley-Davidson motorcycle parts, accessories, riding gear and apparel, and general merchandise. For more information, visit Harley-Davidson's Web site at www.harley-davidson.com.