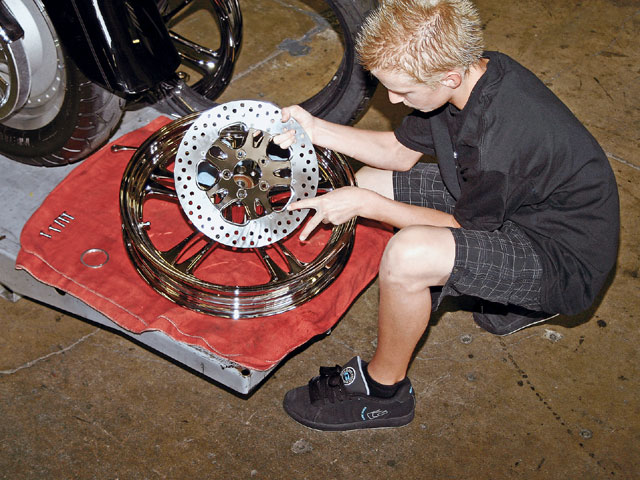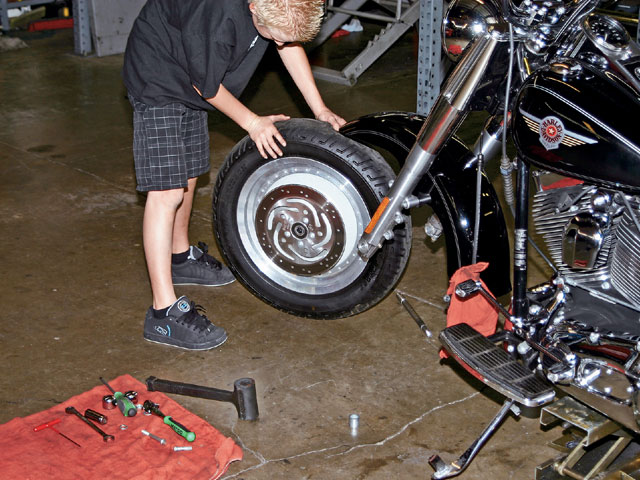 Remember when you were a kid watching your pops wrench on the old scoot or fix mom's station wagon? Remember the countless hours you spent sitting on the side just waiting for dad to hand you a wrench and say "Here, loosen this bolt"? We're firm believers in the hands-on technique. Sure, you can learn by watching, but you'll learn a heck of a lot more by doing.
We met this kid named Troy who is interested in motorcycles. He's your average 12-year-old who likes playing XBox and PlayStation, watching South Park, listening to his iPod, and hanging out with his friends. While he's a good student, Troy hasn't had any motorcycle modification or repair experience, nor has he attended any special classes. In fact, Troy had only picked up a wrench once before this story was shot.
To help Troy get a jump-start on what might possibly be his motorcycle wrenching future, we decided to walk him through upgrading the wheels on a bone-stock '04 Fat Boy (who says child labor is a bad thing?). We were swapping out the stock tires and wheels for a set of Performance Machine Villain 18-inch wheels with matching rotors and pulley. Since we were upgrading the wheels from the stock 16-inch units, we had to get some new rubber to go with it. The tire of choice was Metzeler. With all of the parts in place and the bike on the lift, it was time to get started.