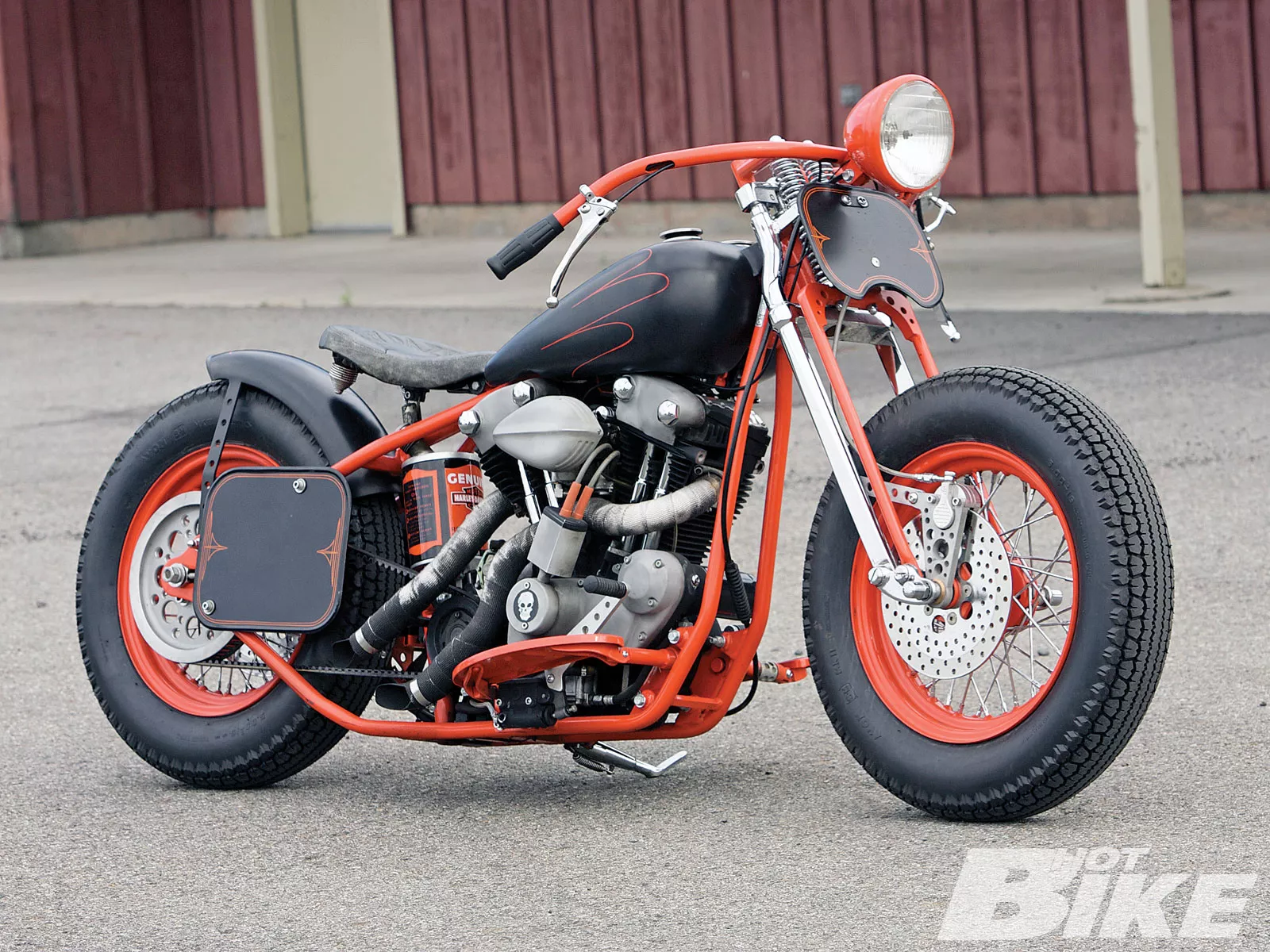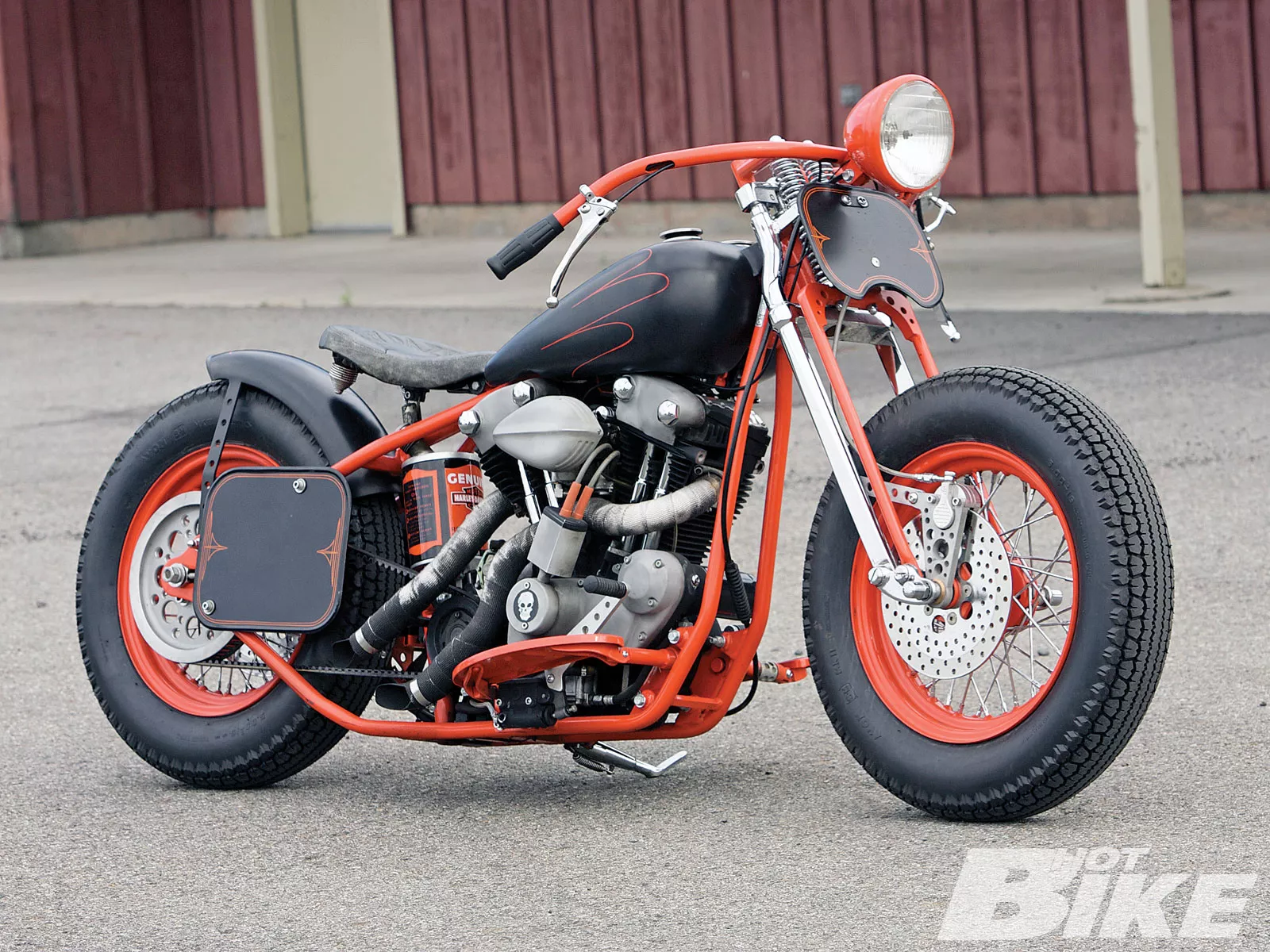 Before motorcycle racing was a big-money enterprise, the riders of the early part of the last century did it for fun, the camaraderie of the other racers, and the thrill of competition. Some achieved a degree of notoriety, while others died penniless and broken, but they all traveled from place to place, earning their pay from track to track, wandering to wherever the purse money would buy them their next meal. So it's fitting that a bike meant to emulate the glorious racers of the post WWII-era has lead a similar existence.
Created in Hastings, Nebraska, by Fred Cuba of Fred's Speed and Sport (FS&S;), this bike fairly accurately portrays a racer of the era. However, instead of an expensive, high-maintenance antique engine (a real Knuck), it was powered by a high-performance, inexpensive '99 Buell motor, dressed to look the part with a set of CCI rockers. But the illusion didn't stop there, with a fake magneto containing a Crane Ignition, an almost period-correct un-damped springer, and holes drilled all over the place in an age-old technique to reduce weight. The oil bag and fuel tank are both hand-fabricated from aluminum in a subtle move that further reduces the weight of the machine. The seat is an original "tractor seat," but is finished with a hand-tooled top, while custom heat-wrapped race pipes and a Goodson air cleaner finish the look. Coated in hot rod black, with orange pinstripe flames and powdercoat, the finished bike might have been mistaken for a restored '50s racer for the unobservant.
Fred took his creation to a show and swap meet in Denver (he's not even sure which one), and promptly sold it. We caught up to it at least two (possibly three) owners later at Spokane's 100 Years of Motorcycles. Kim Ridley of Portland, Oregon, had picked up the little vintage racer wannabe at Portland's Silver Auction (for collectible vehicles). He said the former owner claimed to have traded it for a hot rod he was unloading, and sold it since it just didn't fit his 6-foot-plus frame. Despite being a vehicle dealer, Kim was all over the bike, planning to make it one of his "keepers." As such, he subjected it to a bit of an overhaul.
He had his friends at Custom Harley and Auto go through it to make sure it was mechanically sound. The original Coker Tires wouldn't balance, so they were jettisoned for a set of Avon Tires. Some wiring was also re-done, while the GMA Brakes were in need of some adjustment (bleeding) and a remounted rear master cylinder, but other than that, the bike was a runner. "Rudy from Custom Harley and Auto gave it a tune-up, and installed some big, nasty cams. Fred's done a great job on the bike; it was just little stuff. I like to make sure my vehicles are perfect," said Kim.
While mostly pleased with the way the bike looked, the white number plates stood out a little too much for Kim's taste, so he painted them black to match the bike, and had local pinstriper Beyke adorn them in matching orange.
Kim loved riding this bike; the Buell engine mixed with even bigger Screamin' Eagle Race cams make the Knuckster a fire-snorting beast. Yet, instead of a purposeful race bike look, it has the look of a fragile antique. He rode it all the time and took it to bike shows where it got a lot of attention. "Don't ride this bike if you don't want to talk to people," Kim quipped. And yet the plight of an independent dealer is always that there are too many bikes and cars to keep, and still have room for anything to sell. So he sold it after a year. Not finding a local buyer, he took it back to the same Silver Auction where it fetched a solid price for a four-cam engined bike.
"I never end up keeping anything very long," says Kim.
Kim's pretty well-connected in the Pacific Northwest hot rod and bike scenes and has kept tabs on the little Knuckster, watching it go through a few more owners since he parted ways with it last year. Will the little black bike ever settle down to a nice long retirement? Or is it destined to wander forever? And if we saw it again today, would we even recognize it?
| | |
| --- | --- |
| SPECIFICATIONS | |
| BIKE OWNER | Kim Ridley, Ridley's Rides |
| SHOP NAME | Fred's Speed and Sport (FS&S) |
| SHOP PHONE | (402) 462-4436 |
| YEAR/MAKE/MODEL | '99,'04/Buell/Custom |
| FABRICATION | FS&S |
| ASSEMBLY | FS&S |
| BUILD TIME | Two Weeks |
| | |
| --- | --- |
| ENGINE | |
| YEAR/MANUFACTURER | '99/Buell, H-D |
| TYPE/SIZE | Evolution four-cam/1,203 cc |
| BUILDER | H-D/FS&S |
| CASES | H-D |
| CYLINDERS | H-D |
| HEADS | H-D |
| ROCKER BOXES | CCI Knuckster |
| CARBURETOR | S&S Super E |
| AIR CLEANER | Goodson |
| EXHAUST | FS&S |
| | |
| --- | --- |
| TRANSMISSION | |
| YEAR/MANUFACTURER/TYPE | '99/H-D/Five-speed |
| CASE | H-D |
| CLUTCH | H-D |
| PRIMARY DRIVE | Chain |
| | |
| --- | --- |
| FRAME | |
| YEAR/MANUFACTURER | '04/Paughco |
| RAKE | 30 degrees |
| STRETCH | None |
| | |
| --- | --- |
| SUSPENSION | |
| MANUFACTURER FRONT | DNA Springer |
| LENGTH | 2 inches under |
| TRIPLE TREES | DNA |
| SWINGARM | None |
| | |
| --- | --- |
| WHEELS, TIRES, AND BRAKES | |
| MANUFACTURER FRONT/TYPE | H-D/Spoke |
| SIZE-WIDTH/HEIGHT | 3.5×16 |
| TIRE/SIZE | Avon/5×16 |
| CALIPER | GMA |
| ROTOR | Russell |
| MANUFACTURER REAR/TYPE | H-D/Spoke |
| SIZE-WIDTH/HEIGHT | 3.5×16 |
| TIRE/SIZE | Avon/5×16 |
| CALIPER | GMA |
| ROTOR | Russell |
| | |
| --- | --- |
| FINISH/PAINT | |
| COLOR | Hot Rod Black, Orange |
| PAINTER | Clod |
| GRAPHICS | Beyke pinstripe flames, Portland |
| Penny orange striping on number plates | |
| | |
| --- | --- |
| ACCESSORIES | |
| REAR FENDER | FS&S 7 inch |
| FENDER STRUTS | Flat Strap by FS&S |
| GAS TANK & CAP | FS&S Custom Aluminum |
| OIL TANK | FS&S |
| HANDLEBARS | FS&S |
| RISERS | FS&S |
| MIRROR | CCI |
| HAND CONTROLS | CCI/Barnett |
| FOOT CONTROLS | FS&S |
| FOOTPEGS | FS&S |
| HEADLIGHT | CCI 7 inch |
| TAILLIGHT | FS&S |
| LICENSE MOUNT | FS&S |
| SEAT | Kevin Lehan (hand stitched) |