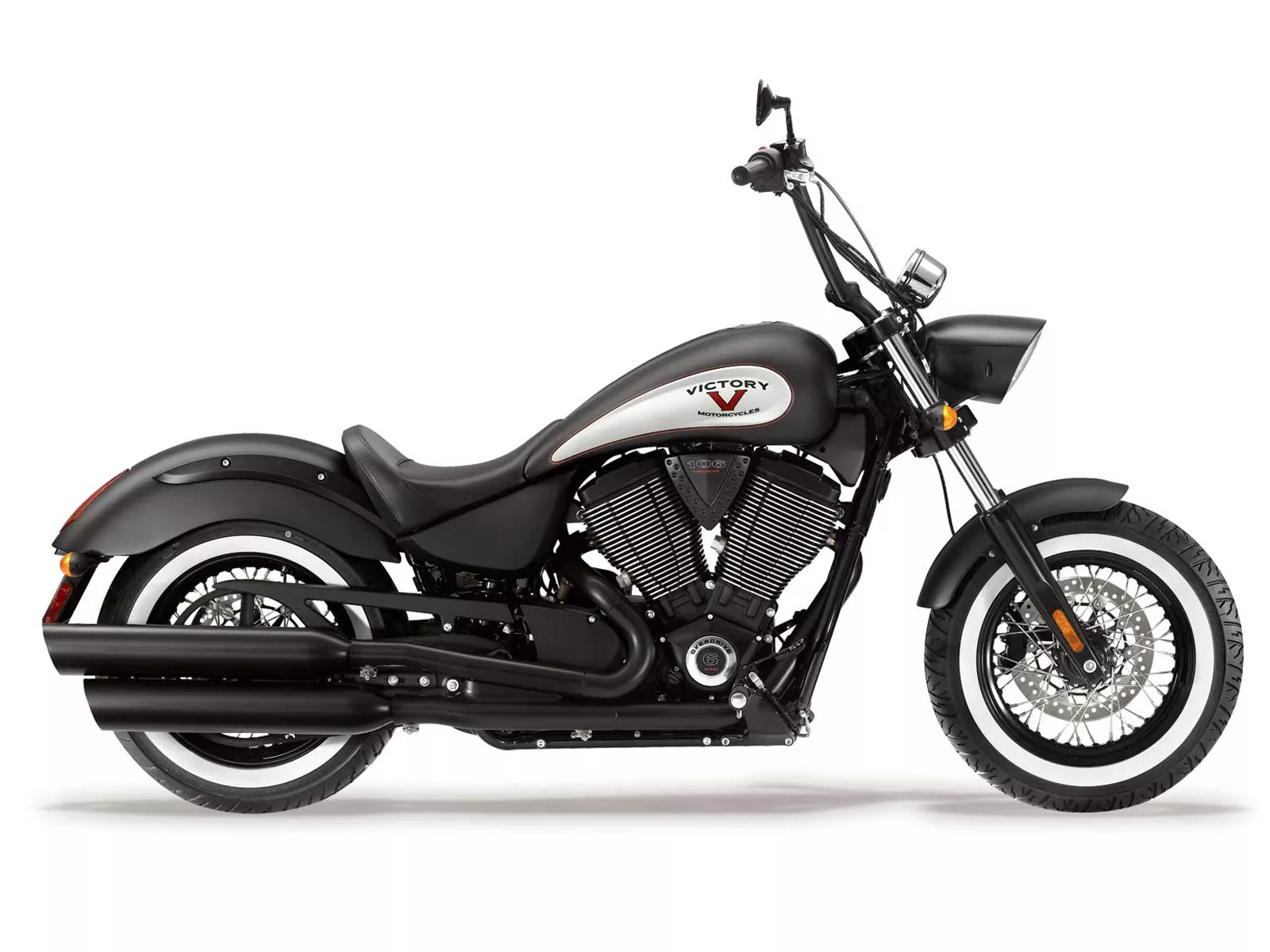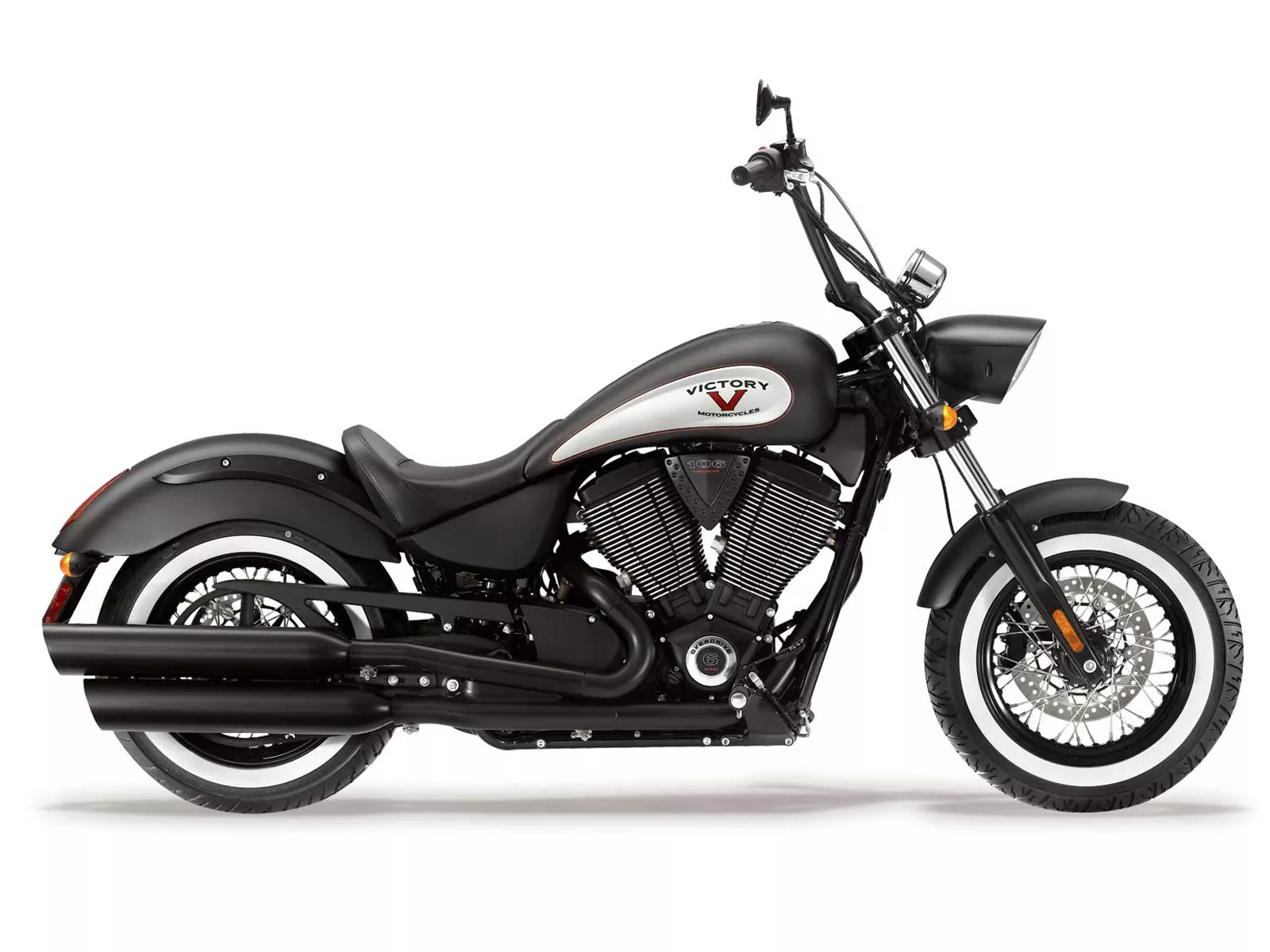 | | |
| --- | --- |
| Just the Facts | |
| Engine: | 106ci |
| Trans: | Six-speed overdrive with constant mesh gears |
| Rake/Trail: | 31.7 degrees/ 6.7 inches |
| Fuel Capacity: | 4 1/2 gallons |
| Front/Rear Brakes: | 300mm floating rotor four-piston/ 300mm floating rotor two-piston |
| MSRP: | $13,499 |
Victory Motorcycles: High-Ball
Dubbed an aggressive brawler-type motorcycle, the men in black (Victory brass) went with an old-school aesthetic with its newest model, the High-Ball. Like a stiff Scotch and soda, the High-Ball doesn't need any frilly accessories to catch your attention. With its retro bobbed stance and triple-digit displacement, stage two powerplant, the High-Ball might be simple in appearance but it will put your ice cubes in a bunch once you put it to work.
Sporting dual 16×3-1/2 inch wire wheels wrapped in wide whitewall Dunlop tires, a 130 front and 150 rear, and coupled with the shortest wheelbase (64.8 inches) in Victory's lineup, the High-Ball was designed to look stout yet still let you hit the corners with a smile on your face (4.7 inches of ground clearance). Looking like a hot rodder's throwback from the '50s, the High-Ball is all about the future for Victory as they're curiously calling it a 2012 model. No matter the year, it's evident what Victory's intent is with this model: to go after Harley's Cross-Bones crowd. Seeing as how the H-Ball has more balls (10 more cubes) and costs about $3,500 less than the X-Bones, we'd say 'ol Vic might have a fighting chance.
Color's Not An Option
Like the classic look of the black and white wheel/tire combo? Well get used to it because the High-Ball is only available with the simple matte-black and white tank two-tone paint scheme.
Sit Low, Hang 'Em High
The High-Ball rolls with the second lowest seat height in Victory's lineup: 25 inches. To offset the low seat height, and give the bike an edgier attitude, riders hang their hands from 11 1/2-inch apes mounted in 3-inch risers.
Up O Down?
Can't reach the bars? Or is "the man" on your ass because you're vertically challenged and your hands are higher than your shoulders with the bars in the upright position? No worries, the apes on the High-Ball can be rocked back and the hand controls have two detents to accommodate either the high or low handlebar positions.
Power Hour
At the heart of the 'Ball is the Freedom powertrain: a 106ci mill backed by a six-speed overdrive tranny. Like a hot rodder, Victory couldn't leave well enough alone as the powerplant features the company's stage two kit with high life cams, and a blacked-out, staggered, slash-cut dual exhaust with cross-over putting out a claimed 97 hp and 113 lb-ft of torque.