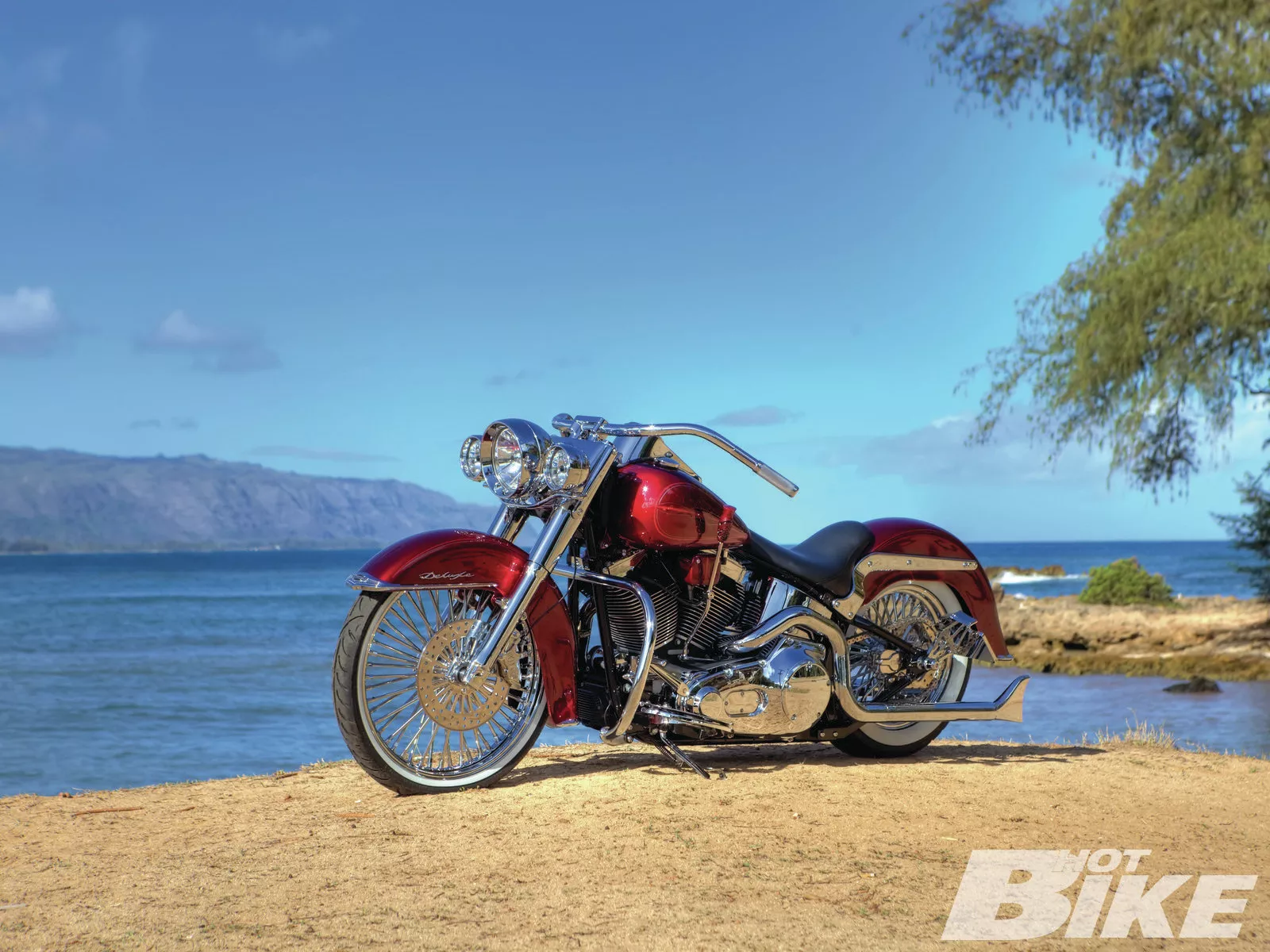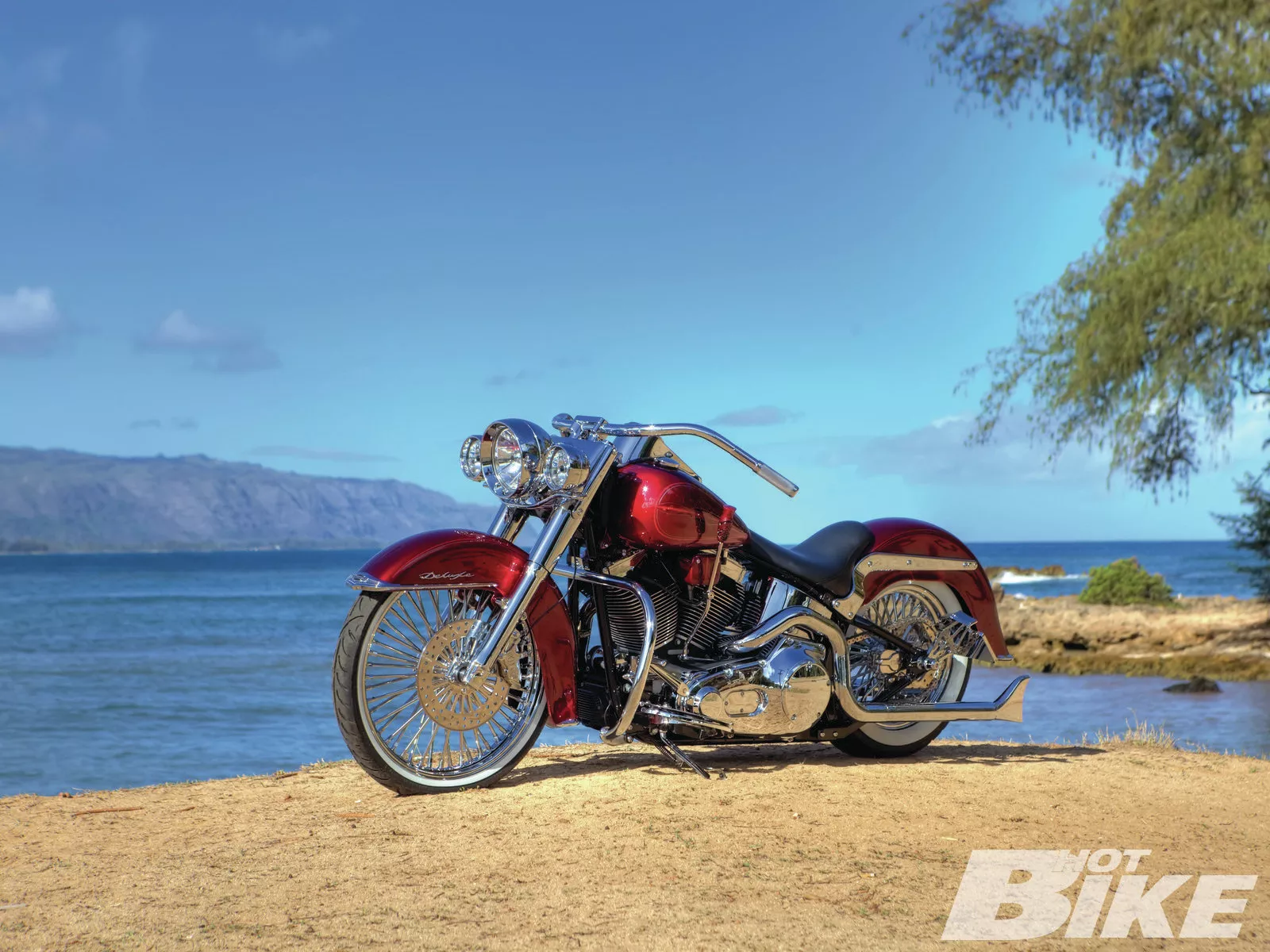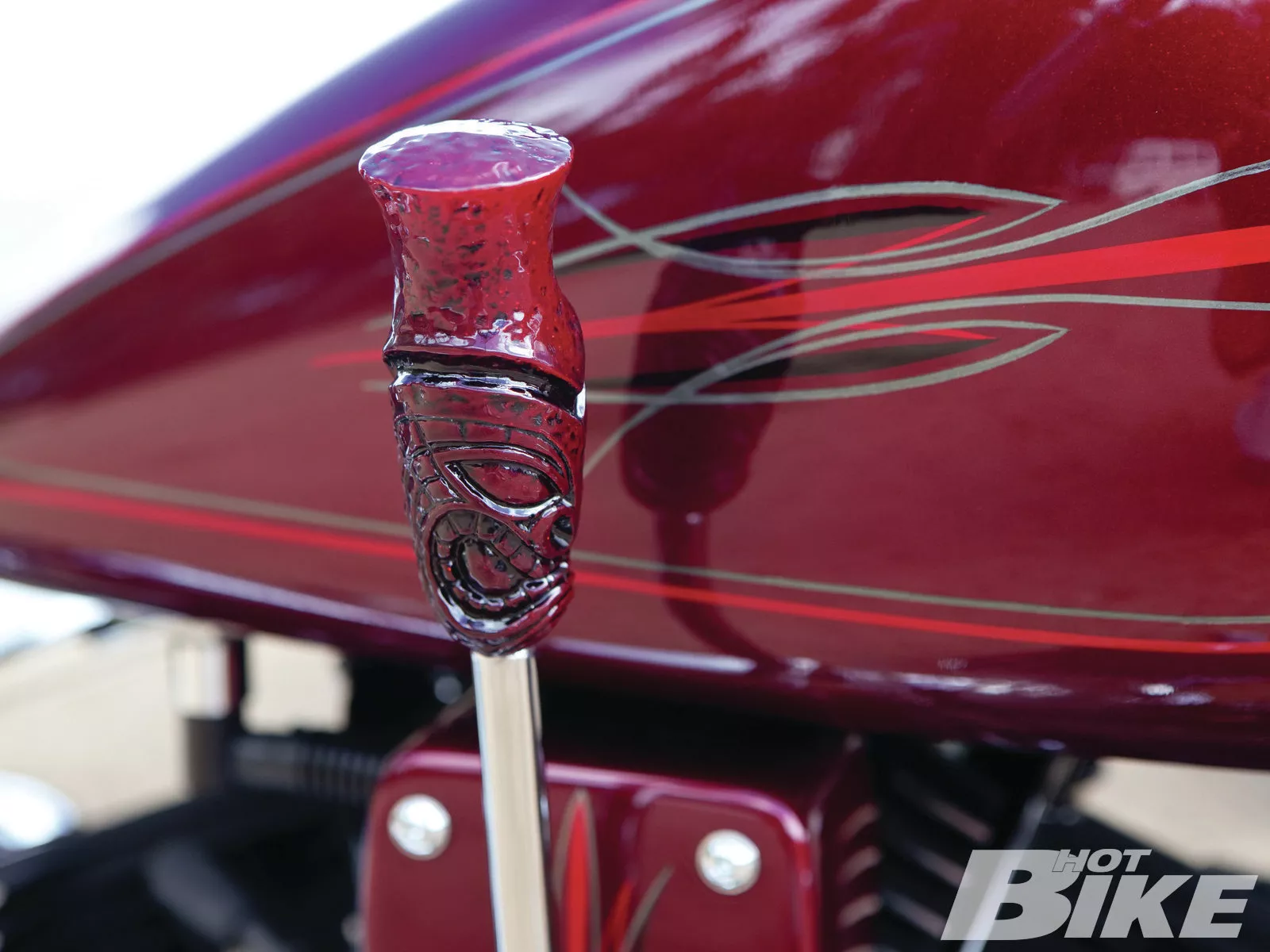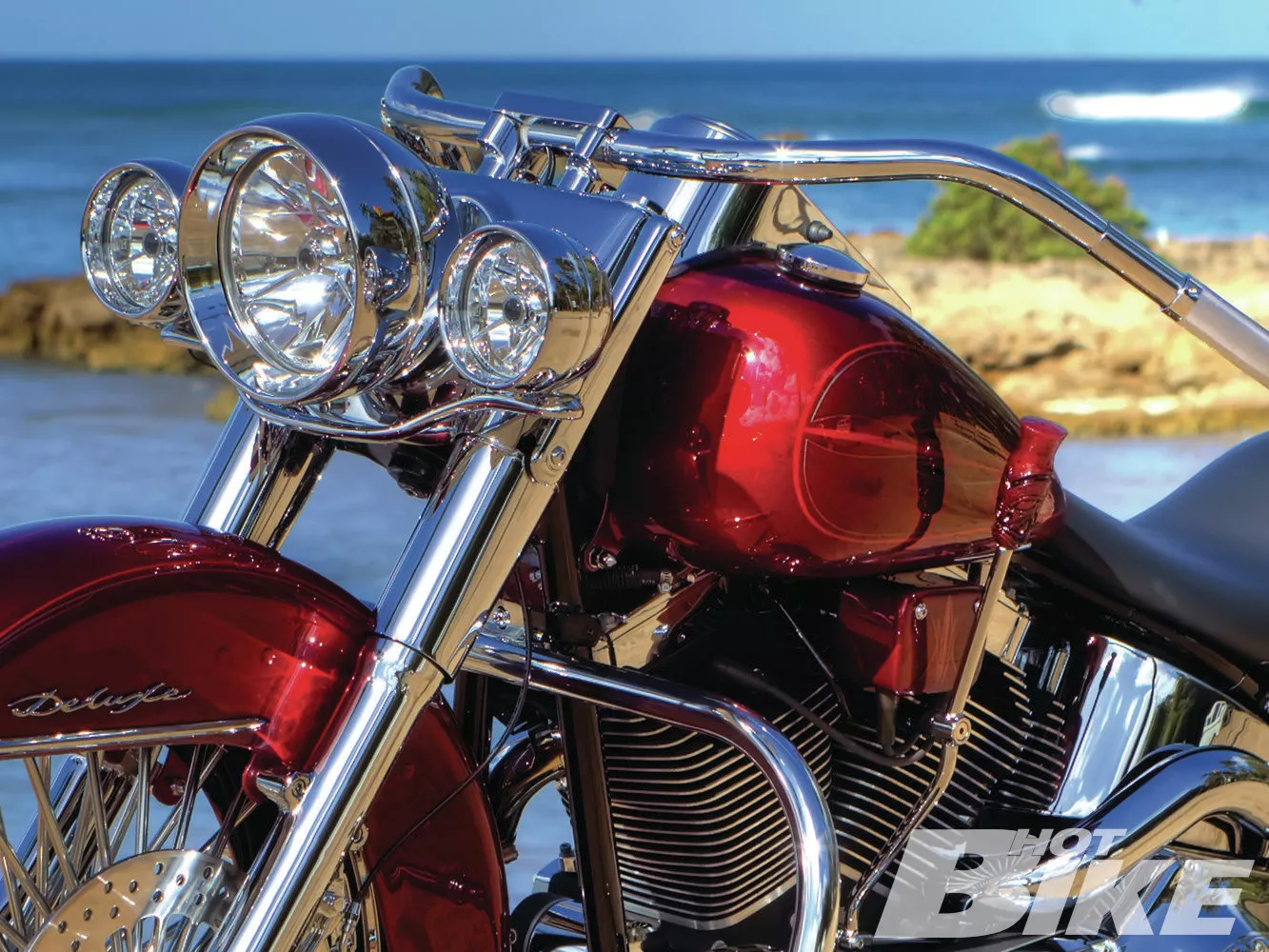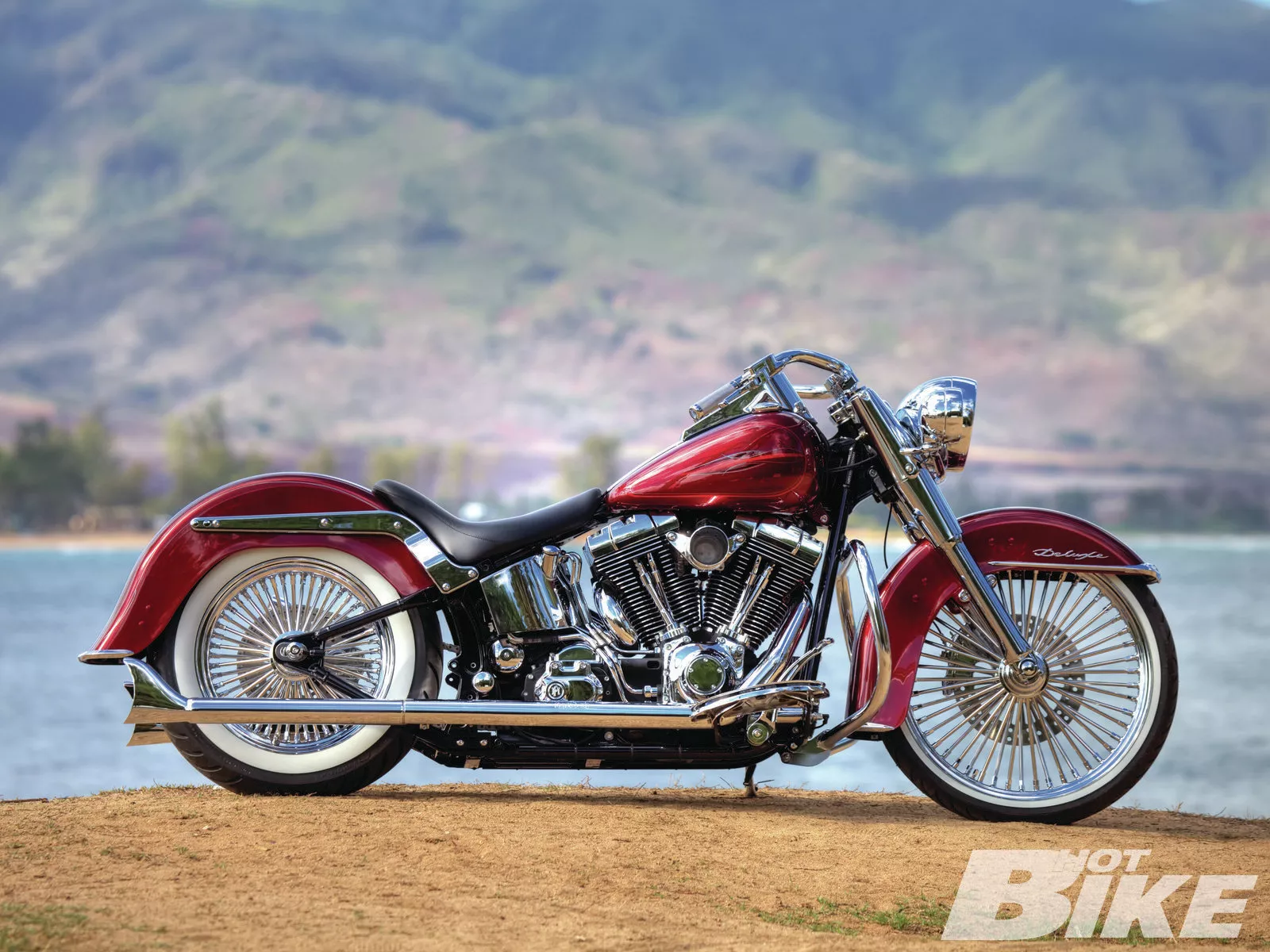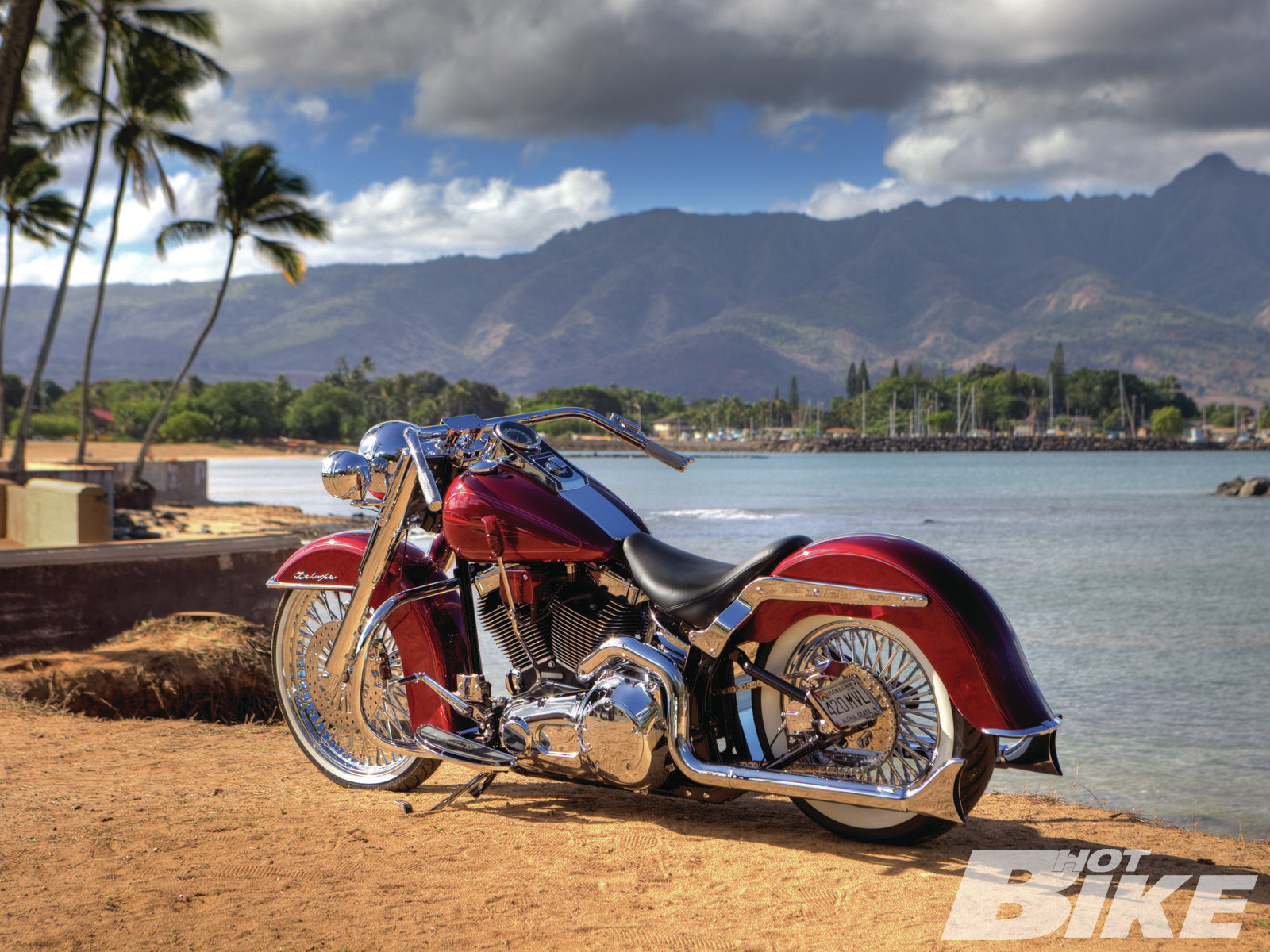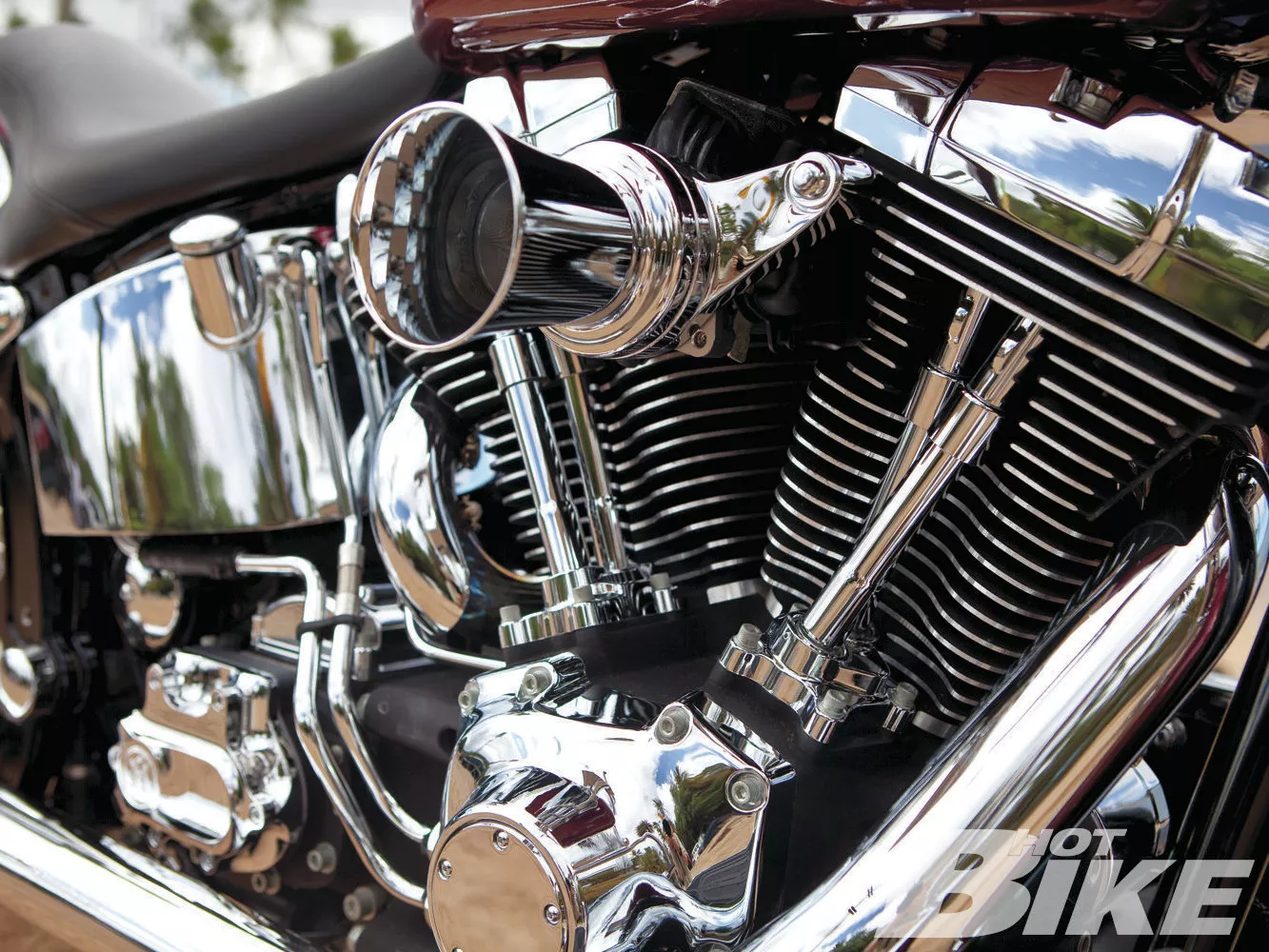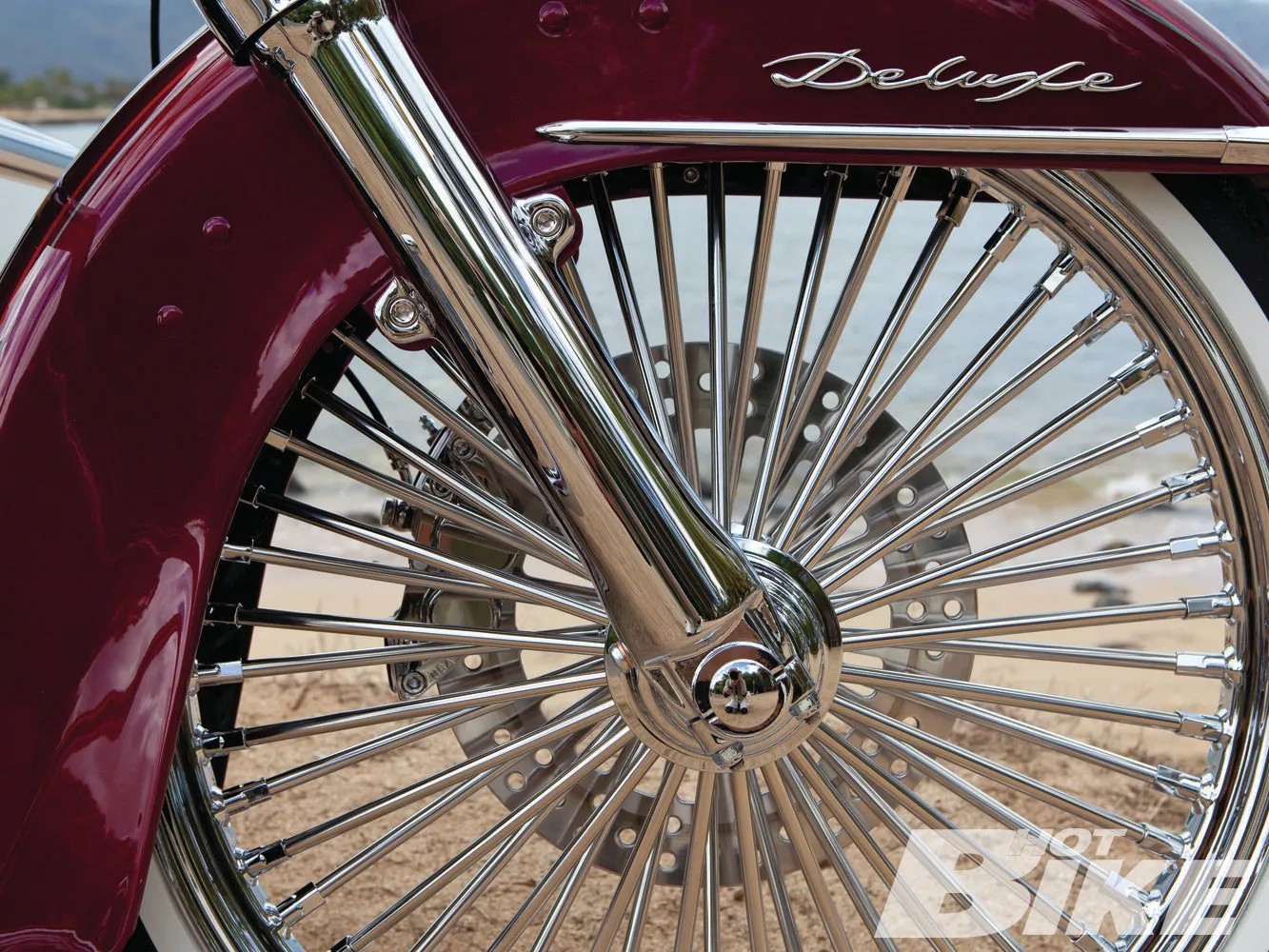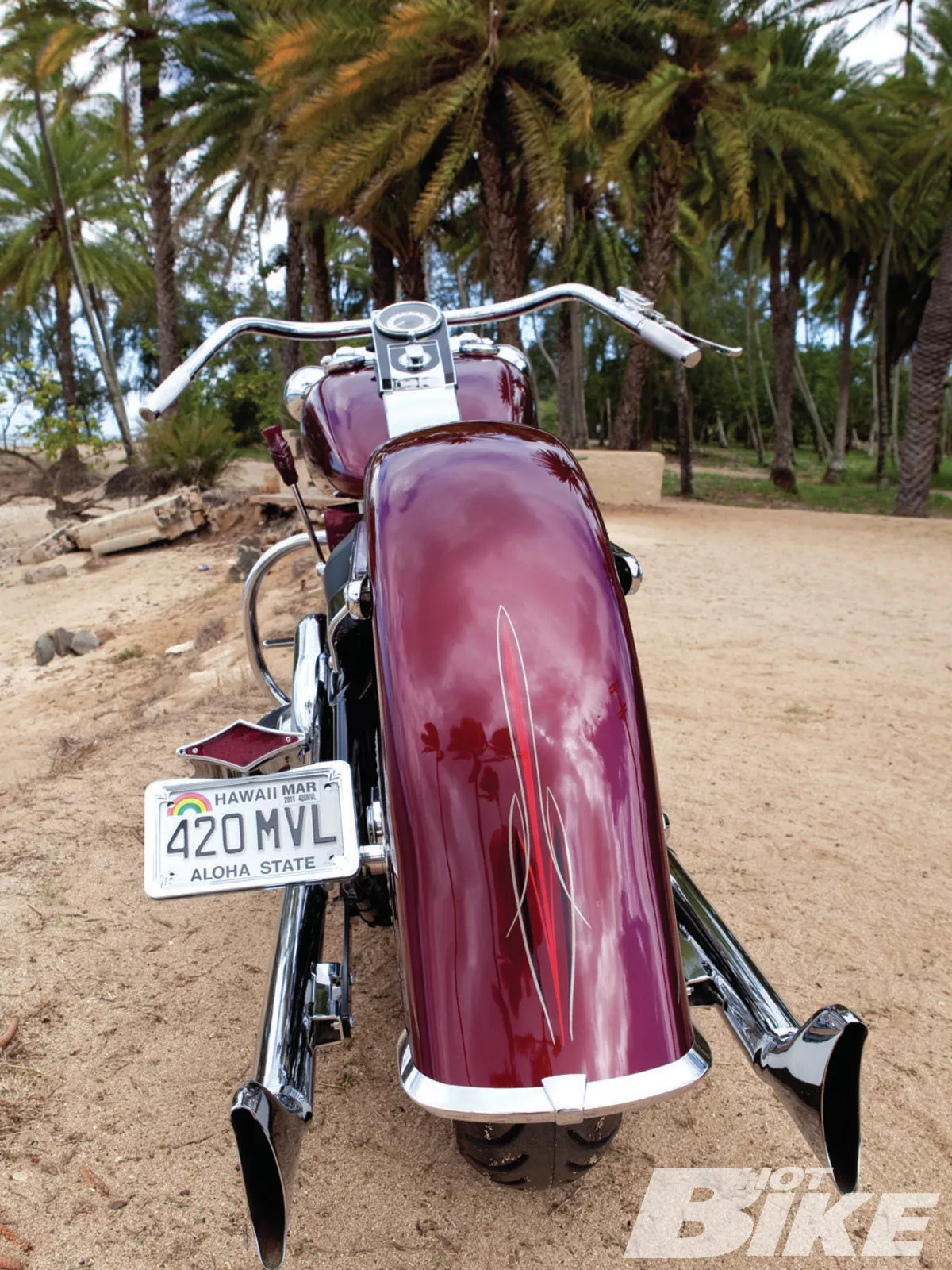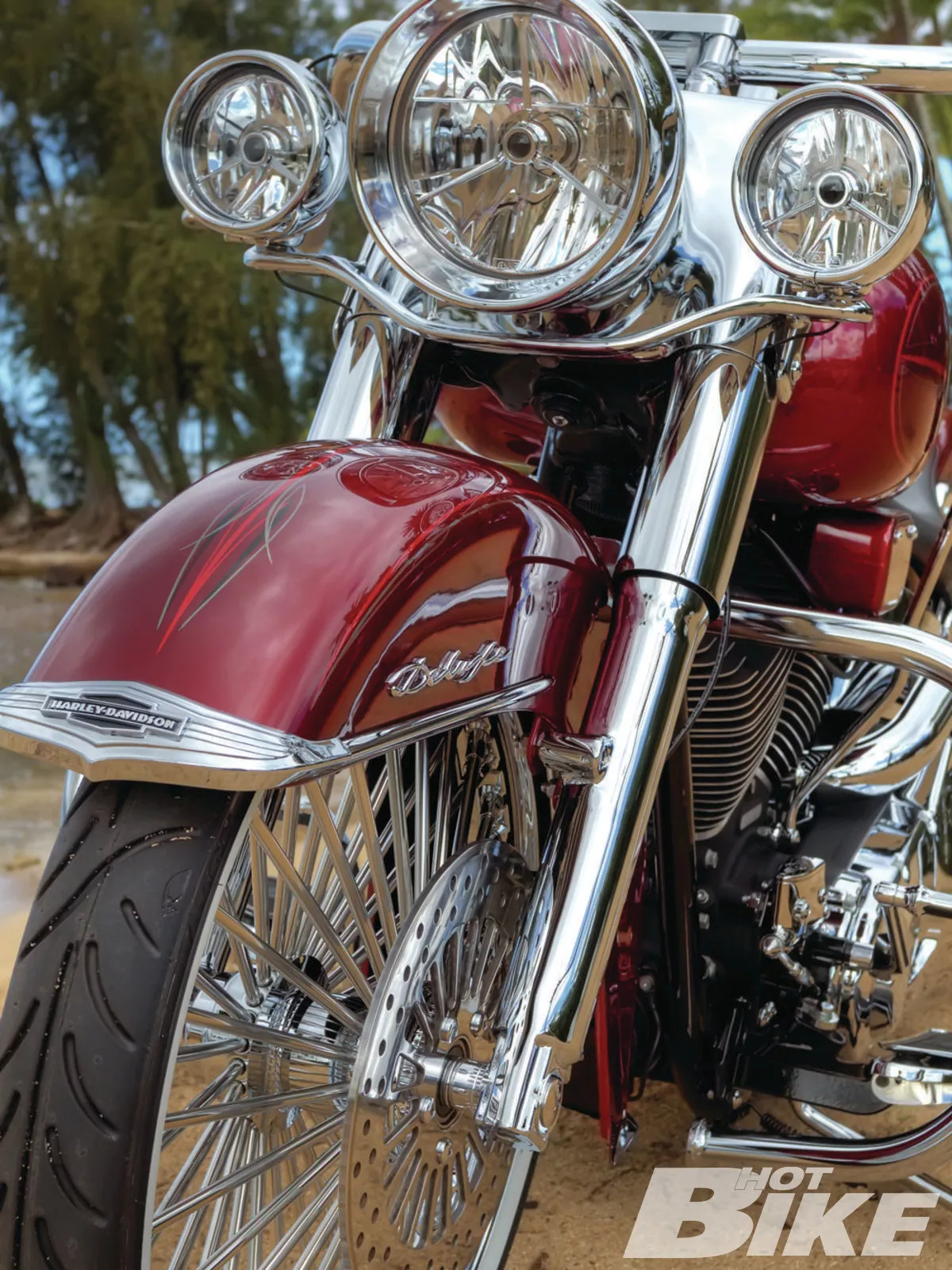 My name is Shad Bolosan. I live on the island of Oahu, Hawaii, and I am lucky to be able to say that I was born and raised on the beautiful North Shore.
A few years ago, my wife and I bought our first house. As many of you know, when the time comes for that really important purchase, you often have to sacrifice some things. Unfortunately for me, that meant selling my beloved Hardlife Custom that my friends and I built. It was a really nice radical custom bike, but I did what I had to do. Luckily, my wife is very understanding, so she was cool about it when I told her that I'd sell it, but I wanted to at least get a good secondhand Harley to still be able to ride, sort of a downsizing, so to speak. So that's how I came about owning my '06 Deluxe. It was only a year old when I got it, and only had about 4,000 miles on it. It was still in perfect shape, and I got it for a really good price.
My original intention was to just do a few things to the bike to make it look cool, nothing major. But as anyone who's into bikes knows, it's only a matter of time until you get the bug and want to really do some serious work to your bike. The Deluxe is a very popular bike here in Hawaii. One of my bros, Ryan Lau, is the president of a local MC here, Tattoo Krew. The majority of the members have some really cool Deluxes and they do a really good job of customizing them. So after a few years of seeing them cruising around, I couldn't fight the urge anymore. I gave in to temptation, deciding to dive in head first and totally re-do my bike.
The game plan was to take a little of all the things I liked from bikes and put it together with my own twists. Staying true to what I first learned about building bikes from my good friend, Nui Kauhane, I decided to build my version of a Hawaiian Beach Boy. The Beach Boy and the Local Boy are the two styles of bikes that are unique to Hawaiian builders. Though it is similar to the Lowrider style that has been made popular by the Californian builders, there is a difference between the two. Hawaiians have been building Beach Boys and Local Boys here for a really long time, and I think there is no one better at it than Nui. I am also a really big fan of Matt Hotch, I just love how clean his bikes are, so I wanted to try and keep everything as clean-looking as possible.
And so the journey began. With the use of my friend, Gilberts, lift, which he was kind enough to let me borrow, I started taking the bike apart. I gave the rear fender to my friend, Rodney Medeiros, who is an awesome welder, and I had him clean it up and fill in all of the holes. Then I started the fabrication that needed to be done. I wanted to go with a jockey shift; I hadn't seen it done on a Deluxe yet, so I thought it would be cool. I made the hydraulic foot clutch setup myself using a PM reservoir. Rodney made the shifter mount off of the top motor mount for me. I then made the coil run off of the top motor mount as well. To clean up the back of the bike, I decided to run an Exile chain-driven Sprotor setup with a Ride Wright 50-Spoke Fat Daddy rim. With the swingarm off, I chopped off all of the stock tabs and brackets. After smoothing everything down, I sent the swingarm and the rest of the parts that needed powdercoating over to my friend, Tyler, at Hi Tech Coatings. He did a really good job of matching it to Harley's black coating. I adjusted the stance of the rear of the bike by using Arlen Ness Slam Kit. For the frontend, I went with a 21-inch rim and a Klock Werks flush-mount front axle. I changed the lower legs to chrome and 86'd the turn signals. and ran an internal throttle through the beach bars that I made. To keep it looking clean, my good friend, Keith Denis, came over and helped me figure out Harley's wiring so we could move the starter button and the on/off switch to the back of the headlamp tins. I decided to keep the engine stock for now, so I didn't mess with it. When it was time for paint, I sent the tins over to my good friend, Scott Kamalii of Preczion Autoworx. There he did the bodywork and laid down that gorgeous Kandy Burgundy. We then called in Colin of Stripes and Things to put some pinstriping on it.
Once I got everything back from paint and chrome, it was time to start putting it back together. It was a big help to have my buddies Keith, Gilbert, and Garret come over a few times to help with the final assembly. And the most help of all was from my wife, Nelly, and my daughter, Nicole. They were the best assistants/helpers a guy could ever ask for! It was also great to have my friend, Roger Kuwahara of Kustom Fab, to go to when I had a problem I needed help solving. They don't just sell you parts there; Roger takes the extra time to explain things and help you out in any way he can.
So there you have it, that's how this Hawaiian Beach Boy came about. I tried to take a little of everything: the Beach Boy, Matt Hotchs cleanliness, the Lowrider style, and make it all work together. I'm really happy with how the bike turned out. Once again I really do need to thank all of my friends who helped me, without them I never would have been able to do it. Thank you so much Keith, Rodney, Roger, Gilbert, Garrett, Scott, Nelly, and Nicole. 'Til next time, aloha. HB
To keep it looking clean, my good friend, Keith Denis, came over and helped me figure out Harley's wiring so we could move the starter button and the on/off switch to the back of the headlamp tins.
| | |
| --- | --- |
| Specifications | |
| Bike Owner | Shad Bolosan |
| Year/Make/Model | '06/Harley-Davidson/Deluxe |
| Fabrication | Shad Bolosan/Rodney Medeiros |
| Assembly | Shad Bolosan/Friends |
| Build Time | Four Months |
| | |
| --- | --- |
| Engine | |
| Year/Manufacturer | '06/H-D |
| Type/Size | 88ci/Twin Cam |
| Builder | H-D |
| Cases | H-D |
| Cylinders | H-D |
| Heads | H-D |
| Rocker Boxes | H-D |
| Efi | H-D |
| Air Cleaner | D&M Cycles |
| Exhaust | Samson |
| | |
| --- | --- |
| Transmission | |
| Year/Manufacturer/Type | '06/H-D/Five-Speed |
| Case | H-D |
| Clutch | H-D |
| Primary Drive | H-D |
| | |
| --- | --- |
| Frame | |
| YeAr/Manufacturer | '06/H-D |
| Rake | Stock |
| Stretch | Stock |
| | |
| --- | --- |
| Suspension | |
| Manufacturer Front | H-D |
| Length | Stock |
| Triple Trees | Stock |
| Manufacturer Rear | H-D/Ness |
| Swingarm | H-D/Owner |
| | |
| --- | --- |
| Wheels, Tires, And Brakes | |
| Manufacturer Front/Type | Ride Wright/Fat Daddy |
| Size-Height/Width | 21×2.15 |
| Tire/Size | Avon/90/90-21 |
| Caliper | PM |
| Rotor | Ride Wright |
| Manufacturer Rear/Type | Ride Wright/Fat Daddy |
| Size-Height/Width | 16×3.5 |
| Tire/Size | Avon/140-16 |
| Caliper | Exile |
| Rotor | Exile |
| | |
| --- | --- |
| Finish/Paint | |
| Color | Kandy Burgundy |
| Painter | Scott Kamalii-Preczion Autoworx |
| Graphics | Colin-Stripes And Things |
| | |
| --- | --- |
| Accessories | |
| Front Fender | H-D/Owner |
| Rear Fender | H-D/Rodney Medeiros |
| Fender Struts | H-D |
| Gas Tank And Cap | H-D |
| Oil Tank | H-D |
| Handlebars | Owner |
| Hand Controls | Pm |
| Foot Controls | Pm/Owner |
| Floorboards | H-D |
| Headlight | Adjure |
| Taillight | CCI |
| License Mount | CCI |
| Seat | Danny Gray |