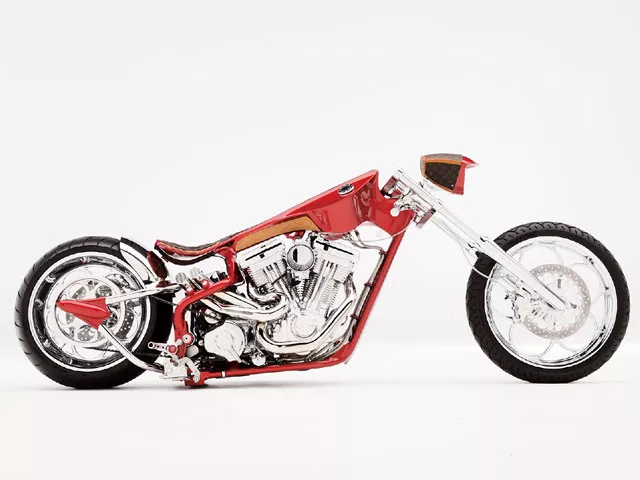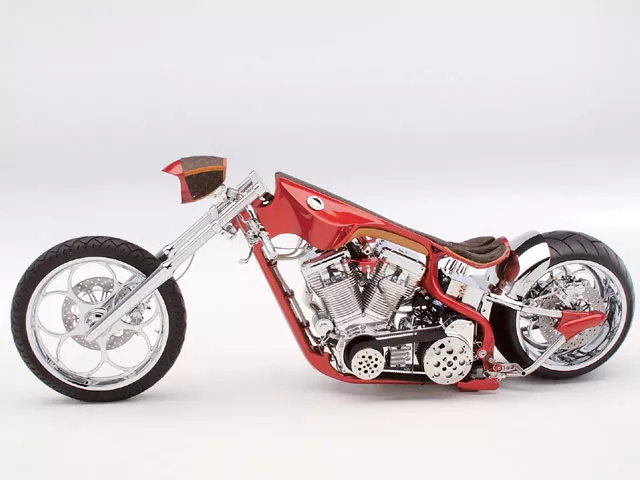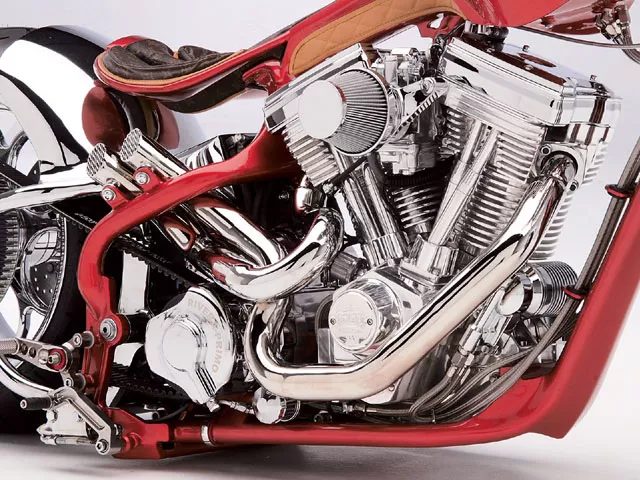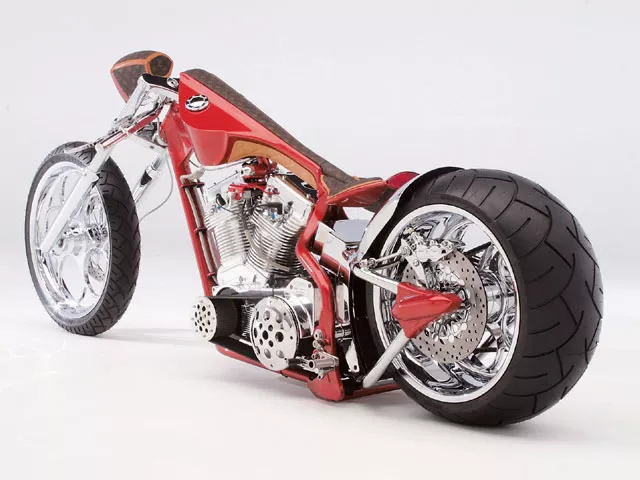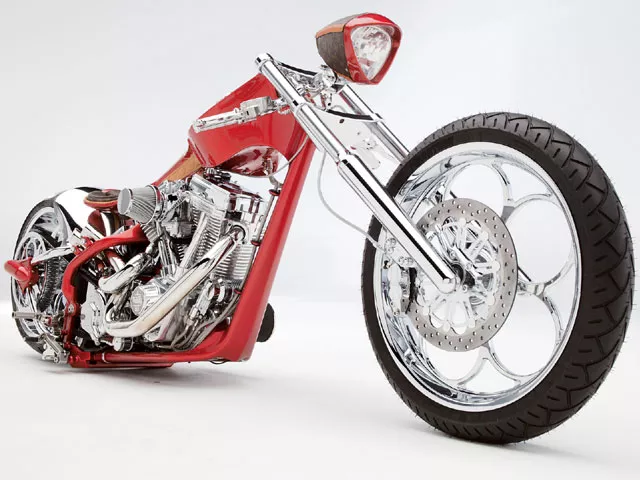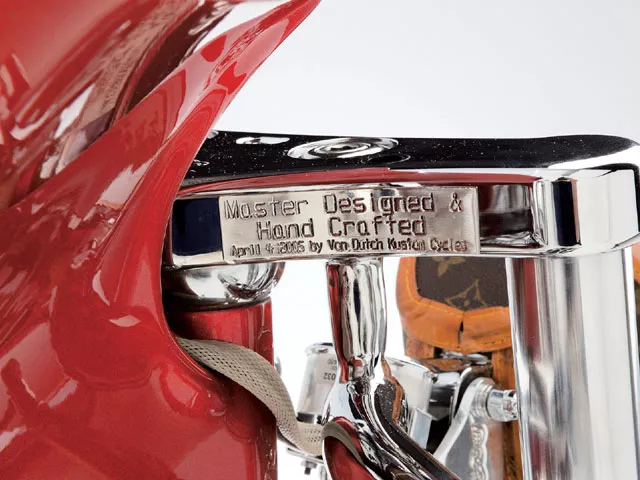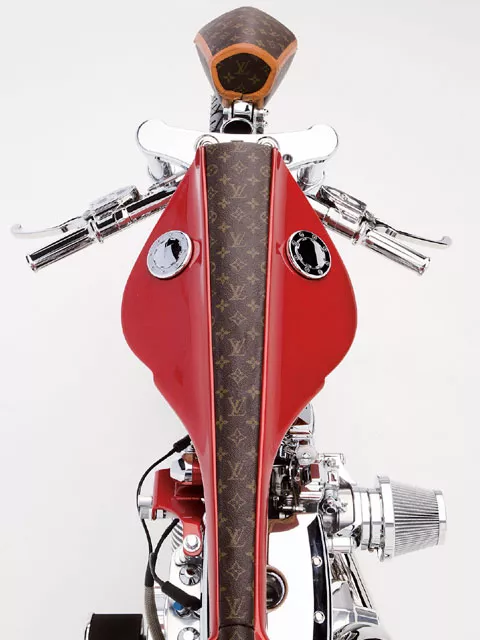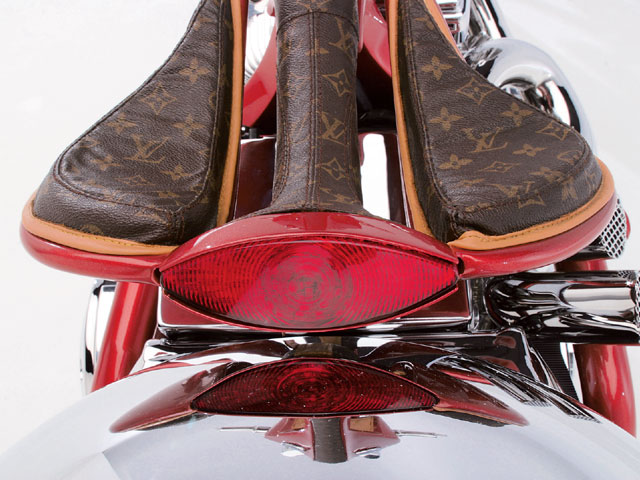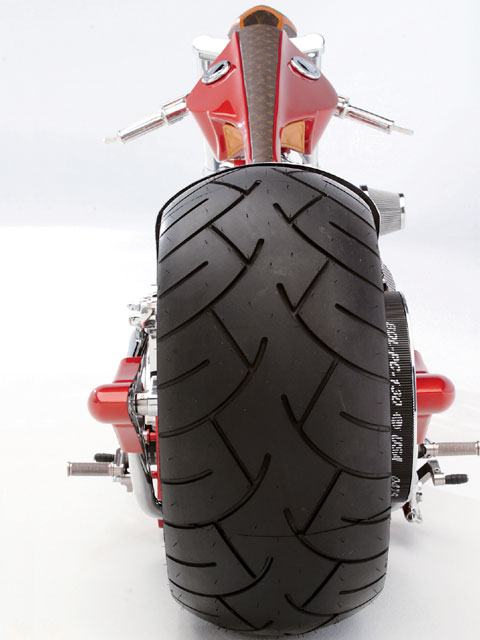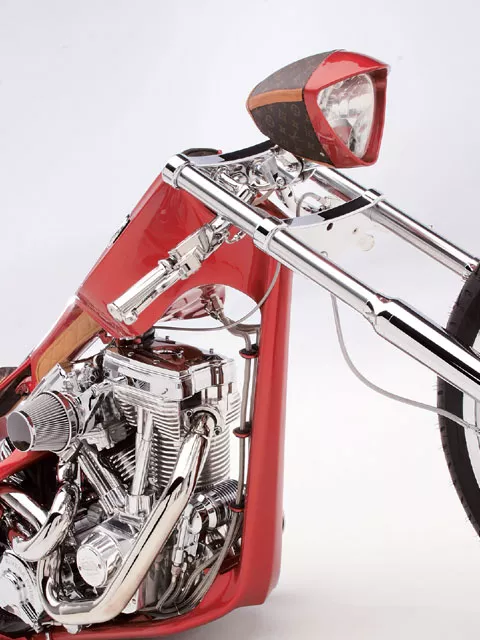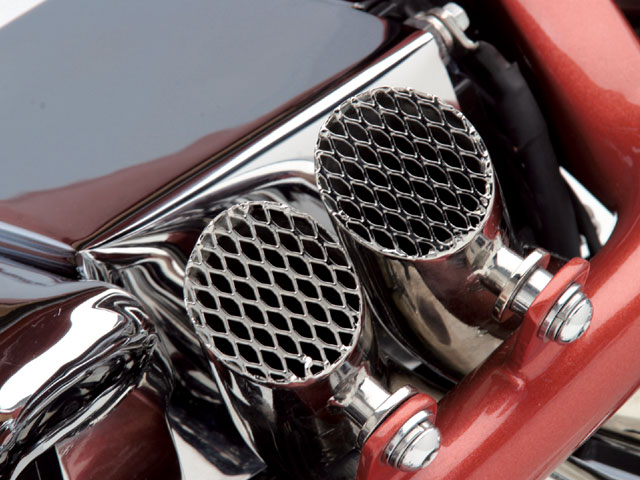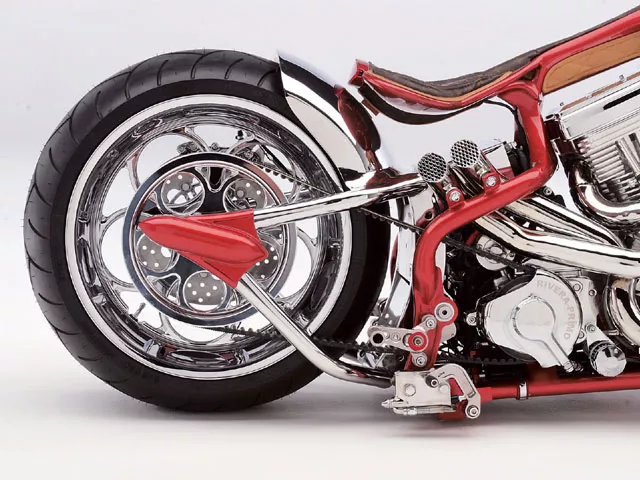 Two years ago we featured a mirrored chrome and blue metalflake hot rod from Von Dutch Kustom Cycles (VDKC). Although at the time VDKC was a fairly new entry into the custom motorcycle-building scene, the name "Von Dutch" conjured up a long history of pinstriping and custom creations that influenced countless painters and fabricators as well as cultivated a way of life-Kustom Culture.
To perpetuate the Kustom Culture lifestyle that the company's namesake inspired, VDKC CEO and master designer Alex Mardikian, along with his crew of skilled mechanics and fabricators, never rest. "My motto is to keep challenging those around me to never be content with where we are at, because when you stop, that's it. That's the end," says Alex.
Ever since we featured that first bike two years ago, VDKC has been burning the midnight motor oil to stay on top of its game. The company has become a licensed motorcycle manufacturer offering more than a dozen different high-end models ranging from Pro Street bikes to bobbers and has established a nationwide-soon to be worldwide-dealer network, thanks in part to VDKC's new V.P. of sales and dealer development, Ron Starrantino.
In fact, it was a white-knuckled, curb-hopping, racing-down-the-Las-Vegas-strip-in-the-cab-of-a-pickup-truck meeting with one of the company's newest dealers that inspired the one-off VDKC custom you see here. With the ink still wet on the contract establishing Richard Weisman, owner and CEO of Exotic Cars at Caesars Palace, as the only VDKC dealer in the state of Nevada, Alex and Richard hit the strip to grab a bite to eat. As Alex drove, Richard discussed marketing ideas to help celebrate the grand opening of the exotic-car dealership, which was to take place in two months. Richard pitched the idea of building a one-off bike specifically for the star-studded event, and Alex's brain automatically went into design overload.
"Alex is a design genius. He is so full of creativity and energy-once he gets going, he just doesn't stop," Richard said. "I have three kids, and he has more energy than all of them put together. He was driving down Las Vegas Blvd., sketching out ideas on a wrinkled-up Burger King receipt, saying 'What if I did this? What if I did that?' I'm surprised we didn't mow down any pedestrians."
Determined to build a bike worthy of sharing floor space with the cream of the crop of luxury and exotic cars such as Bentleys and Ferraris, Alex immediately returned to his Rancho Cucamonga, CA, motorcycle shop so his team of fabricators could start turning his rough design into rolling art. Right from the start the VDKC team had strong doubts that the design could be replicated in metal. "Whenever my fabricators say we can't do something, I like to prove them wrong. So I secured a Chopper Guys' Softail frame to a lift, pulled out the cutting wheel, and started tearing through the frame," said Alex. "All that was left was the downtube and lower motor mounts, and I turned to the guys and said, 'Now we have to re-create it. We have no choice; there's no looking back. It's only metal.'"
So with a relatively clean slate to build upon, the fab department began bending and cutting steel tubing to mimic the frame design they had in front of them on a crumbled receipt. When the frame was finished, it was exactly as Alex had planned. The chassis featured elegant, smooth, and sweeping lines accentuated by a one-piece backbone/gas-tank seating area that puts the rider into a forward-facing seating position with his chest lying against the tank, like a futuristic cockpit. The gas tank is actually two tanks in one; the left side holds the oil, while the right side stores gas. To further enhance the aggressive look and feel of the bike, the foot-control mounts for the Ducati titanium controls were welded to the rear of the frame, while up front a Perse frontend with custom-made handle bars mounted to the underside of the top triple-tree was bolted in place. "The way I designed this bike, the rider becomes one with the bike. You don't ride this bike-you are the bike," Alex stated.
Cradled between the framerails is the same powerplant VDKC uses in all of its bikes: a 113ci Patrick Racing billet motor. "We've been using Patrick Racing motors from the beginning," said Alex. The guys at VDKC backed up the motor with a six-speed right-side-drive transmission from Primo Rivera coupled to a 3-inch open belt drive from the same company. Adding to the exotic look of the bike, the VDKC team crafted a set of twisted pipes with chromed wire mesh welded into the ends.
To hold up the back of the bike, a custom swingarm wide enough to hold a massive 280mm chunk of Metzeler rubber was fabricated and bolted to the frame along with a Hi-Lo Rider air-ride system. Being the detail-oriented person he is, Alex said the swingarm had to be dipped in chrome eight times just to get the deep, wet, mirror look he wanted, while the frame was drenched in multiple layers of Coppertone reddish orange. Speaking of details, Alex knew the grand opening would be packed with celebrities and sports figures. He also knew that when it comes to their vehicles, celebrities are never happy leaving them in their stock form, especially in regard to the interior. Since motorcycles don't have interiors, Alex did the next best thing and had the headlight, backbone, and seat wrapped in his wife's Louis Vuitton luggage bag.
"I saw the bag sitting in my office and thought it would be perfect for the project. We didn't just cut up my wife's Louis Vuitton suitcase-we pulled out every stitch by hand," said Alex. "I was surprised to learn that it's not even leather; it's some kind of high-quality vinyl, but it costs 50 times more than the European vegetable-tanned leather we normally use. I worked with my seat and leather guy, Pascal of Riff Raff Leatherworks, and we basically had to invent the process in which we were able to get the material to form to the bike. I'll just say it involved a torch, rubber cement, and a lot of ingenuity."
When it was all said and done, Alex and his VDKC crew had turned a nearly unintelligible sketch into a luxurious yet menacing machine to be debuted among the fastest and most exquisite cars in the world. "Everything happened so fast, and we encountered a lot of problems along the way. It was so chaotic in the shop during the six weeks we worked on this project that we dubbed the bike 'Mayhem.' The best thing about this project was that it inspired our newest production bike, the Flying Dutchman," Alex said.
When Richard saw the bike for the first time, he was in awe of the artistry and craftsmanship Alex and his crew had put into the bike-but he had expected nothing less. "I'm not a big motorcycle guy, but I know what I like," said Richard. "The grand opening was a huge success, and everyone loved the Mayhem bike. In fact, we didn't want to sell it right away; we wanted to keep it on display for a while. So we put a price tag of $150,000 on it, but even that didn't discourage a couple of all-star basketball players and a few well-known celebrities from making offers. The bike is definitely a real attention-getter."