Weego, innovator of portable jump starters and rechargeable battery packs, has just announced three all-new accessories: Marine/Auto Tether, Powersports Tether and SAE 12V DC Adapter. The addition of these new accessories make jump starting much easier, more convenient and increase the functionality of the existing Jump Starter line.
The Marine/Auto and Powersports Tethers are 24-inch long cables that connect permanently to a vehicle's battery terminals. The tethers allow users the ability to jump start or trickle charge without having to directly access the vehicle's battery terminals, which can be difficult to reach on some cars, boats, motorcycles, personal watercrafts, and all-terrain vehicles. The user simply attaches the eyelet rings to each of the terminal posts and positions the cable's jump starting jack – that is built into the opposite end – for easy access when needed. Included with the tethers is an SAE trickle charge adapter which converts the tether's jump starting jack into a standard SAE connector for regular battery maintenance.
Safety is always a top priority for Weego, so both tethers come standard with an inline fuse and diode to protect the vehicle and Weego jump starter from drawing too much current or connecting cables in reverse during a jump start. If the user over cranks their ride, Weego is on their side — shutting them down before anything bad happens. The Marine/Auto Tether has a 400-amp fuse and 10 mm eyelet rings making it easy to connect to a large automotive or marine battery. The Powersports Tether has a 200-amp fuse and 6 mm connectors designed specifically for motorcycle and powersports batteries. Both tethers make the jump starting process safe and simple.
"One of the cool features of our SAE trickle charge adapter is the weather-resistant cap that covers the SAE end. We recommend keeping the adapter attached to the tether so the working end remains clean and at-the-ready", says Gerry Toscani, CEO of Weego. "Motorcyclists will especially appreciate this since more times than not, the tether will be exposed outside the bike's seat."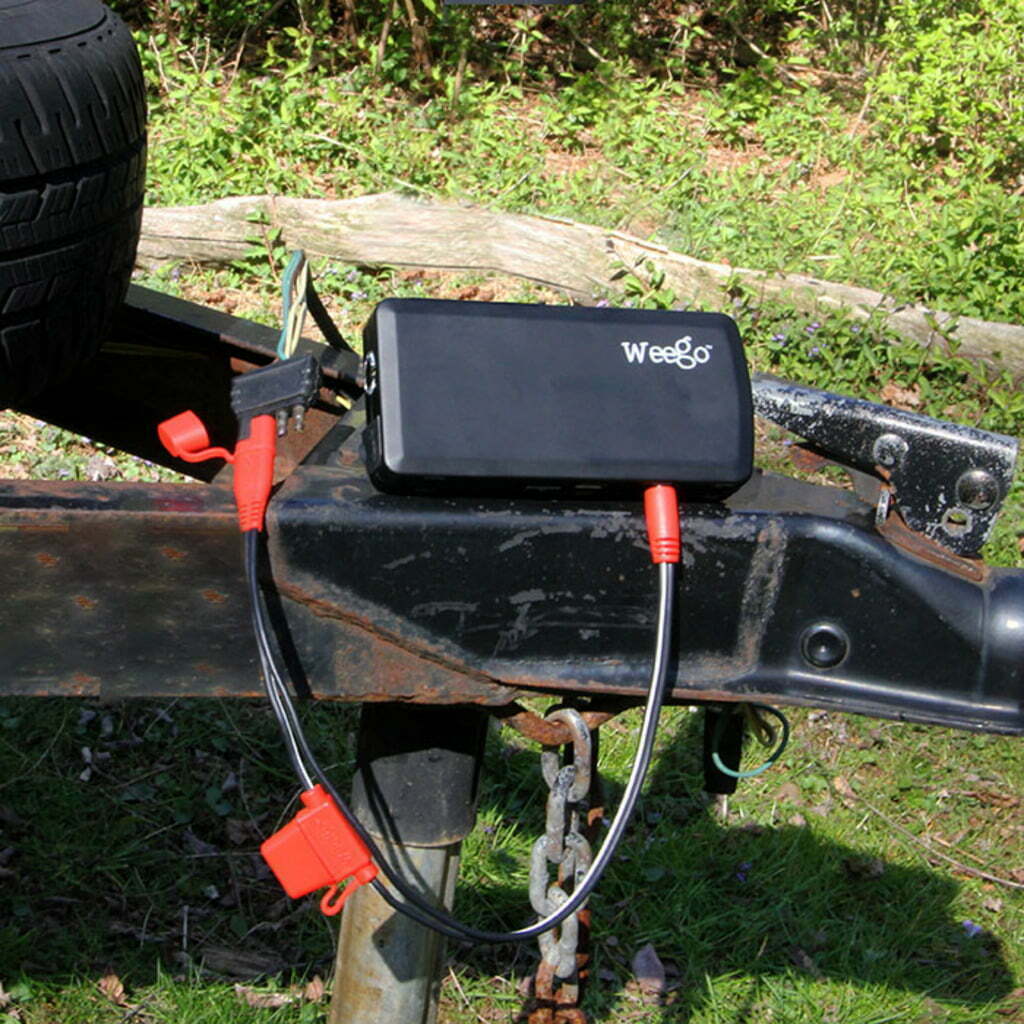 The SAE 12V DC Adapter is a 15-inch long cable that connects to the 12V accessory port of the Heavy Duty or Professional Jump Starter Battery+. It provides power to an SAE connector for a variety of different 12V devices like heated clothing, air compressors, GPS, fish finders, trailer lights, and more. This accessory is great for the "do-it-yourselfer" who needs portable, SAE power and doesn't have access to an SAE connector on a boat, car or truck. The SAE 12V DC Adapter comes with a replaceable 10-amp inline fuse.
"We are very excited to announce the availability of these three new accessories to the existing jump starter accessory lineup. An overwhelming number of Weego customers attest that accessing the battery on many bikes, boats and ATVs can be a big headache, so our tethers are designed to make jump starting and trickle charging these machines fast and easy," said Toscani. "The new SAE 12V DC Adapter is a must-have for any serious motorist that has the need to power portable electronics with SAE connections built in. By listening to our customers across marine, auto, powersports and outdoor markets, we are able to make products that really increase the utility of our Weego jump starter line."
The Marine/Auto and Powersports Tethers have an SRP of $29.99 and come with an SAE trickle charge adapter plug. Both tethers are compatible with the Standard and Heavy Duty Jump Starter Battery+ models. The SRP for the SAE 12V DC Adapter is $9.99 and is designed to function with the Weego Heavy Duty and Professional jump starters.
These three products are in addition to the recently launched Weego accessories: 12V DC Adapter and OBDII 12V Memory Saver.
All accessories are now available at www.myweego.com and at major online and brick-and-mortar retailers nationwide.
About Weego
Weego is a brand of portable power products including compact, lightweight, lithium-polymer jump starters for cars, trucks, motorcycles, boats, ATVs and more, complementary jump starter accessories, as well as rechargeable battery packs that charge phones, tablets, speakers, and more. Founded in 2014 by Paris Corporation, Weego has already received awards in product innovation and branding excellence in consumer electronics, auto, marine and office supply channels. For more than 50 years, Paris Corporation has built a reputation on quality stationery products and excellent service and support, serving more than 30 years in the food, drug, mass, consumer electronics and hardware channels.