This article was originally published in the 1999 August-September issue of Cycle World's Big Twin.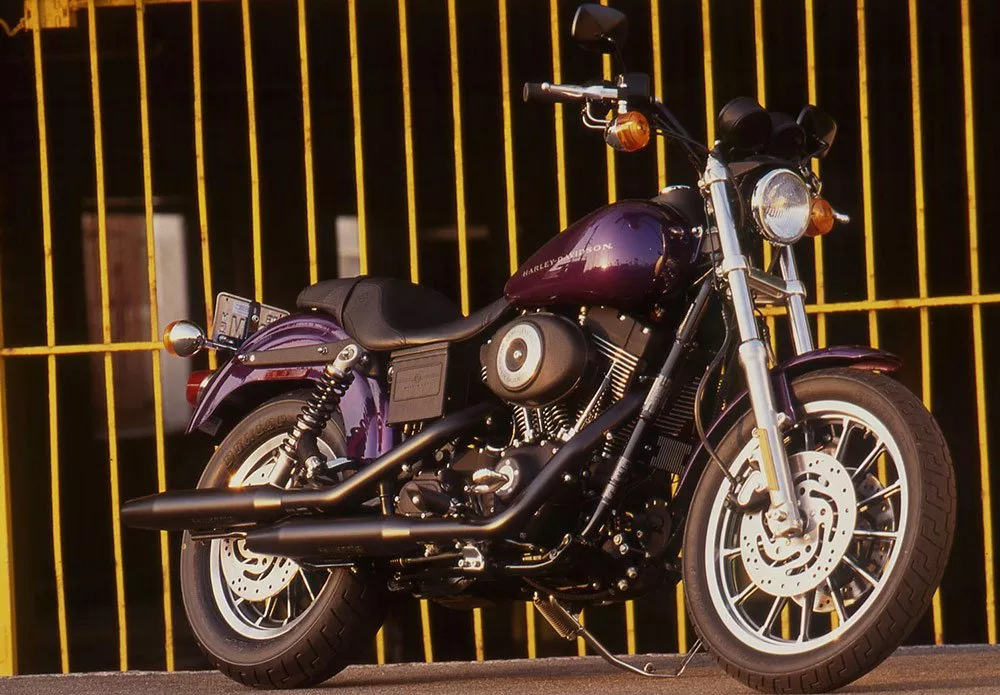 The third millennium came early, at least for Harley-Davidson. The Motor Company found its '99 model sales so strong, and its inventories so low, that it had to pre-announce most of its 2000-model-year range to the press in May. That meant Y2K models of Dynas, Sportsters and FLs were scheduled to be in dealerships well before the traditional early August dealer show.
Almost more telling, though, was what was not announced: new Softails. Instead, the press was invited to attend a special showing of the rest of the Harley range (i.e., Softails) in New Hampshire in July. Harley probably wouldn't be inviting us to travel from one coast to another just to see new paint and chrome treatments on existing Softails, so this may well may mark the debut of something really new—hopefully, the Twin Cam engine in the Softail chassis.
In the meanwhile, no new models were added to the Sportster, Dyna and FL series, but there have been significant technical up­grades across all three lines, as well as major changes to a few models.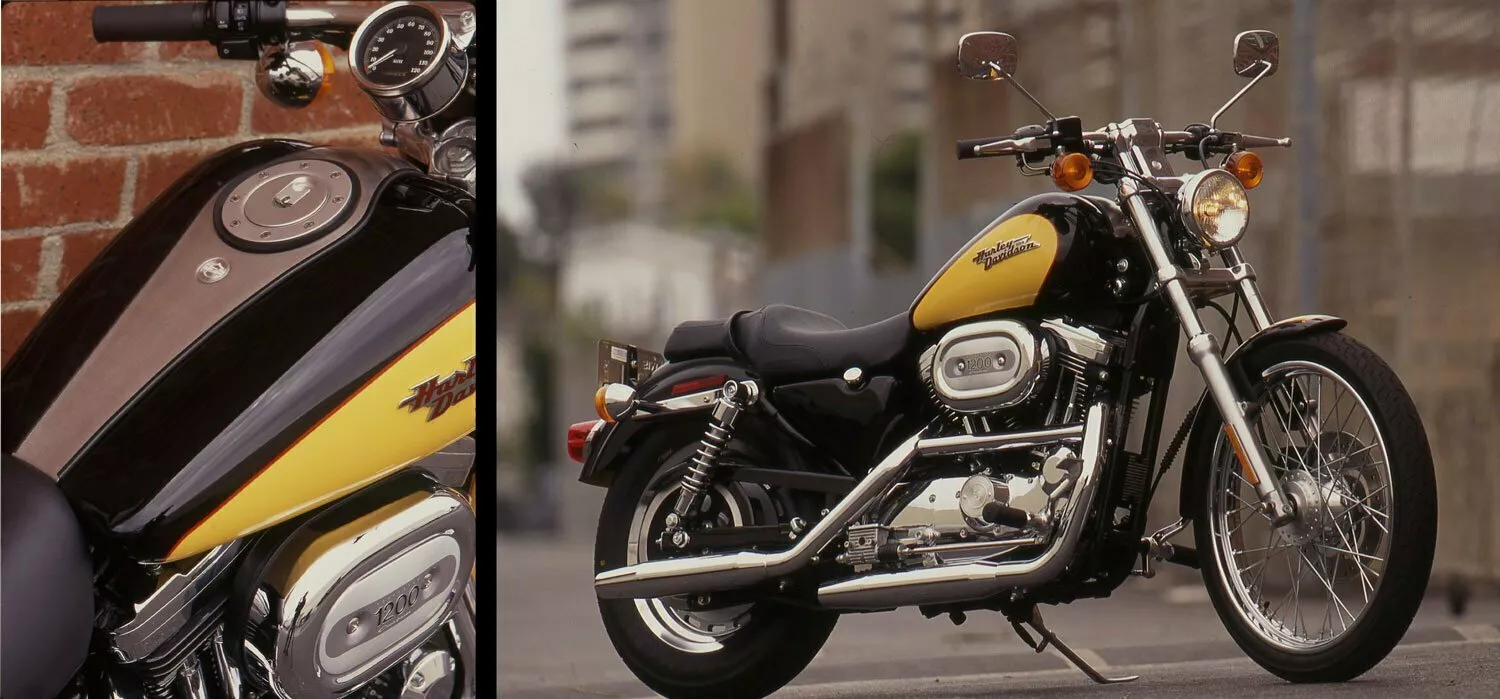 For starters, every new H-D gets re­de­signed brake discs and calipers. The brakes are still manufactured in the U.S. by Kelsey-Hayes, but they use a fixed-caliper/fixed-disc design that is entirely new for Harley. The calipers for both front and rear brakes are equipped with four pistons, two on each side of each caliper. This allows brake-piston movement to take up and provide disc-to-pad clearance, so the caliper can be entirely immobile, with no sliding joints required. The four-piston design also allows wide, yet radially narrow pads to be used, and thus grabs a brake disc closer to its outside radius, increasing the effective leverage of the brake. In addition, it allows the brake calipers to be either lighter or stiffer compared to two-piston designs whose cal­ipers effectively have to reach down farther on the disc.
Working with the new calipers are innovative, one-piece brake discs. Typically, brake discs on motorcycles have been made in two pieces because of problems with thermal ex­pansion. On a one-piece disc/carrier unit, the outer edge of the disc runs hot and the inner edge near the axle cool, so the tendency is for the whole thing to distort much like a potato chip. That's why you see "floating disc" designs that don't tie the disc itself rig­idly to the carrier. Harley engineers, how­ever, have taken a simple and innovative approach by building some flexibility into the disc to compensate for the differential in thermal expansion. By cutting out much of the center of the disc while leaving small, flexible "arms" connecting the center to the outer rim, they provided the disc enough flexibility to resist distortion without the complexity and cost of a two-piece assembly.
The bottom line on these brake systems, though, is not that they will necessarily allow the new Harleys to stop any faster; the old brakes would already lock the tires, and you can't do much better than that for pure power. But through improved hydraulic and mechanical leverage, the new brakes will provide a given level of stopping with lower effort on the rider's part; and with their simple and stiff design, the brakes will likely provide better control feel while doing it. So, the change amounts to better braking through improved ergonomics, not more power. The new brakes come fitted on everything from 883 Sportsters to Electra Glide Ultras, though some models will still have a single disc in front while others will use dual discs.
Also fitted to all Milwaukee machines are new wheel bearings with integral seals. They were designed to do two things: provide 100,000-mile-plus service life, and to resist power-washers—like you'll find at the local coin-operated car wash—better than anything else. It's never been a good idea to point a high-pressure washer at any bearing or shaft seal, but the new Harley bearings, according to Motor Company engineers, will shrug off the typical car-wash spray as long as it's held four inches or more away from the bearing. At one inch, even the new seal gives way, but that's still much better performance than the engineers found on the seals of imported motorcycles. Because the new seals run directly on the bearing's extra-wide inner race and not on the wheel spacers, the spacers could be simplified, helping to pay for the more expensive, beefier bearings.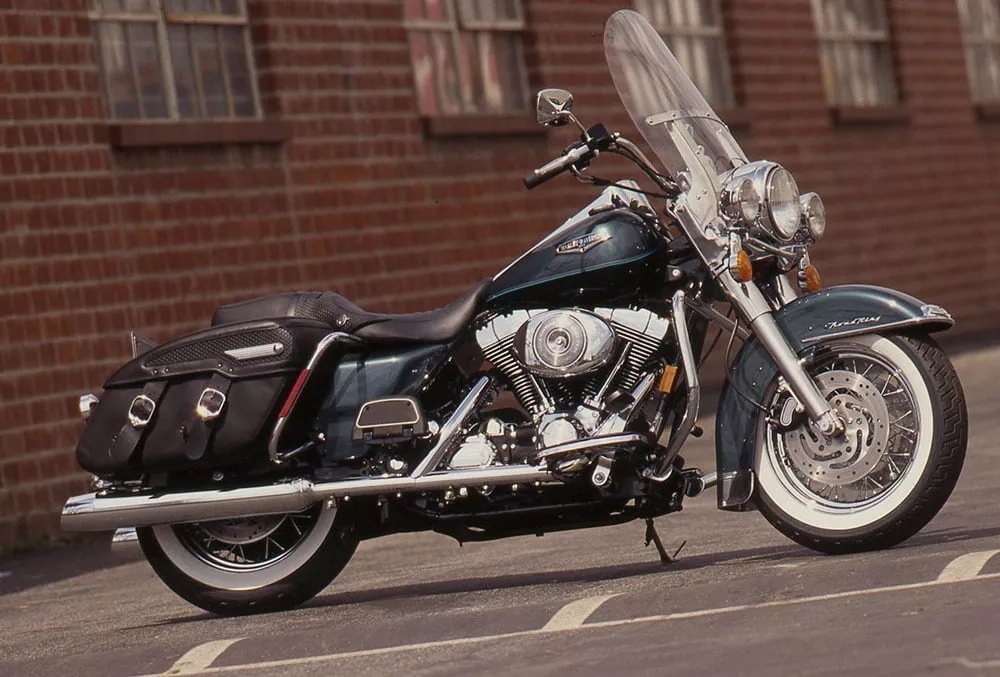 In more specific model news, all Sportsters get several mechanical refinements, while the XL1200C Sportster Custom gets a bigger gas tank and a new look. A straight, pressed-in crankpin, like that used on the Twin Cam 88, makes its way to all Sportsters. The result is a stronger, stiffer crankshaft. Other Twin Cam technology is evident in the integral tappet blocks, steel-body tappets and redesigned tappet seals on all the XL models, though this improvement did require all Sportsters to have new crankcase castings. The entire XL series also gets a new second-gear ratio. With previous five-speed Sportys, the drop in rpm when shifting from first gear to second was unusual in that it actually was less than the drop between second and third. The new, taller second corrects that oddity and will make an aggressive downshift from third to second feel less like you accidentally skipped a gear.
---
---
The 1200 Sportster Custom gets a new, 4.4-gallon fuel tank that'll provide 200-mile-plus range, as well as giving the ma­chine a chunkier, meatier look—more like a Big Twin. Although the tank is longer than its predecessor, it can be retrofitted to all Sportsters from 1982 to present. It uses an aircraft-style flush-mount fuel cap, apparently the same one found on Buells. Accompanying the tank is a new, better-padded saddle that should help 1200 Custom owners exploit the extended mileage range.
Dyna models also get a number of across-the-line changes along with the new brakes and wheel bearings. All Dynas now have a fused electrical system that replaces the circuit breakers used previously. Access to the electrical box under the left sidecover—and the new fuses—is improved, as the cover now is simply a slip-fit into rubber grommets and can be pulled free without tools. A sealed, maintenance-free, made-in-America battery now runs exposed on Dynas without the previous cover. And all Dynas get an improved final-drive belt. Whereas the previous, Kevlar-reinforced belt was 11/2 inches wide, the new carbon-fiber-reinforced belt has shrunk to a 11/8-inch width, all while offering improved durability and less stretch. That new belt combines with some rede­signed fender hardware to make room for wider-than-stock rear tires.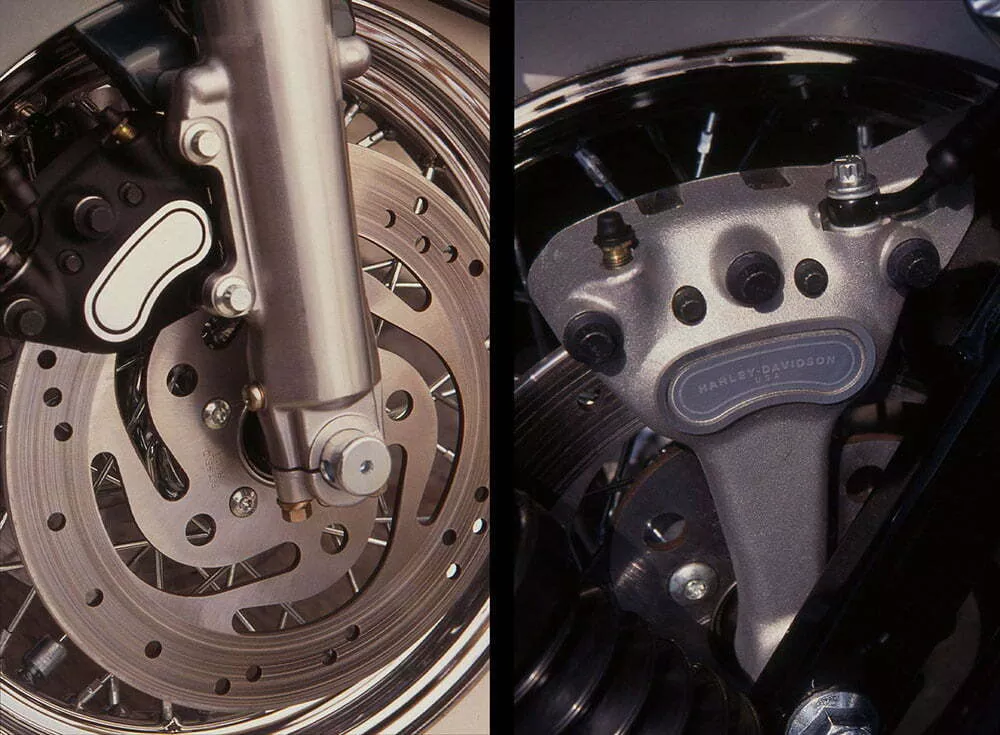 One Dyna model takes advantage of that extra space: The FXDX Dyna Sport now comes fitted with a 150/90-16 sport-compound rear Dunlop—though that tire might really prefer something a bit wider than the bike's standard, 3.0-inch-wide rear wheel.
The Dyna Sport came off a very successful introductory year in 1999 and gets several changes to help keep the sales momentum building. Along with the fat rear rubber, the sportiest Dyna now blacks out its exhaust system with a new coating that passes what Harley claims are very difficult durability tests. Larger, 31/4-inch mufflers boost power by about a horsepower or two while giving the bike a deeper exhaust note. A cartridge-design fork now holds up the front end and offers adjustments for spring preload, as well as compression and rebound damping. New gas-charged shocks do the same for the rear suspension while offering adjustments for both spring preload and rebound damping. Harley claims that the upgraded suspension improves the Dyna Sport's already impressive handling. And in one other bit of evidence of the success of the Dyna Sport, the FXD Super Glide—the least-expensive Dyna—comes with the FXDX's low-and-wide, dirt-track-bend handlebar rather than the high, buckhorn bar used in prior years.
Changes for the FL series were less extensive, though all 2000-model FLs do receive the new wheel bearings, brakes and sealed batteries. In addition, new cast wheels for FLs improve the ride via reduced unsprung weight. The weight reduction comes from hollow spokes, a design that also results in a wheel that's easier to clean, with fewer crannies in which dirt can hide. Electra Glides get a recontoured seat intended to improve comfort, and the standard Road King (with hard bags) is now offered in both carbureted and fuel-injected versions, whereas you could only get it with a carb last year.
Now all we have to do is wait for the an­nouncement of the new Softails—and hope they are the new-and-improved, Twin Cam smoothies we've all been anticipating.