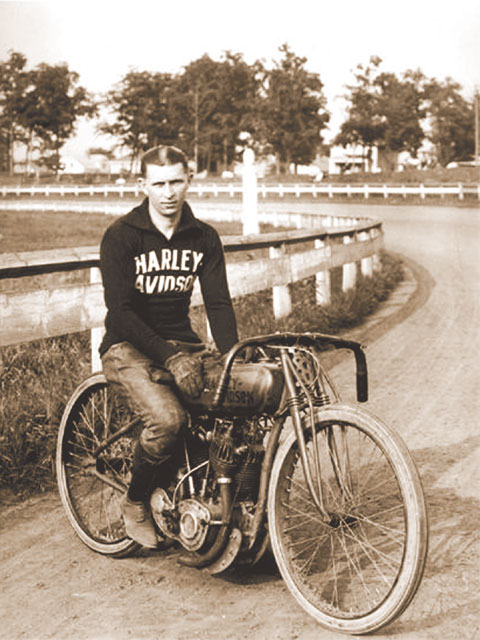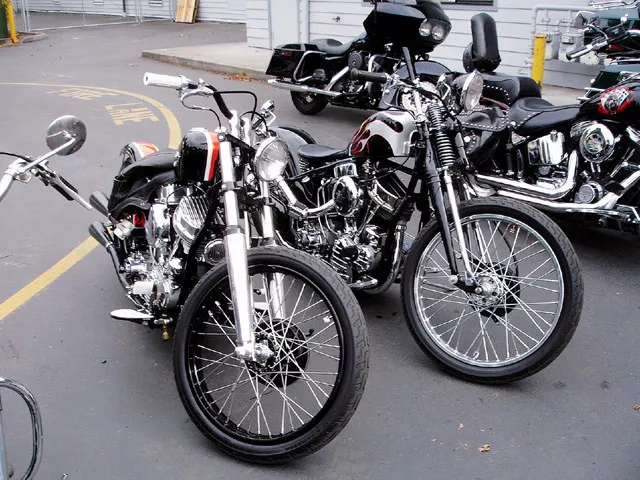 Part Two
They say numbers don't lie. I say they don't tell the whole truth, either. Usually that's because these numbers are presented in isolation, not in context. This exercise might be no different in the end, but I think it's worth a go, if only to try to shed a little light on a storied history.
Just to keep things somewhat manageable, I'll stick to a few ground rules. First of all, the only motorcycles included in these annual production figures are overhead-valve V-Twin models. Second, the stats begin in 1936, because that was the first year of overhead valves. Third, I'm lumping all models together for each year. Fourth, all notes, snide remarks, coy ramblings, and useless trivia are of my very random selection from various sources and reference materials-including my imagination.
The purpose is a bit nebulous, but hopefully enlightening and somewhat entertaining. The hope is that you'll get something out of it you may not have thought of before, and that will help you appreciate what the last 70 years have been about for this company, its machines, this nation, and the riders who came before.
Last issue was our first installment, which covered the years from 1936 to 1950. So naturally we're picking up where we left off.
Note: All production numbers are cited from The Encyclopedia of the Harley-Davidson by Peter Henshaw & Ian Kerr, Chartwell Books, 2006.
1951: 8,303. MacArthur was fired by Truman, the Rosenbergs got fried for revealing atomic secrets, and the 22nd Amendment took effect, so we couldn't keep a president for more than two terms. Indian lost the war. Harley barely had time to catch its breath before another one started, this time with the British. It's true that Norton and some others snuck over here way earlier, but it was Edward Turner's Triumph twins and England's "export or die" policies that turned a trickle into a tide.
1952: 6,700. Practically everybody in prosperous post-war America was not buying motorcycles. They were buying cars! Detroit could do no wrong, most folks couldn't spell Volkswagen (yet), motorcycles were noisy and dangerous and ridden by ruffians, after all-but none of it was Harley's fault! The Company tried for that squeaky-clean apple-pie image in all its ads, to no avail. Production slipped, Charlie Chaplin left the country in exile, Nixon went on TV to explain away a shady $18,000 slush fund, and Ford and GM built more damn cars-millions of 'em-than they would for the next 30 years! It didn't help that panheads got about 10 percent more expensive than the year before, coming in at $970.
1953: 5,337. As BSA, Triumph, Norton, and some lesser luminaries such as Velocette and Vincent started showing up in more garages and on more starting grids, H-D looked less and less viable. The Big Twins cost a lot more than the competition (and weren't really competitive in competition), and the flathead K-models weren't close to fast enough, compared to a new Triumph Thunderbird 650. The big deal for H-D this year was that it finally sold more foot-shift Big Twins than tank-shifters! Meanwhile, Stalin croaked, and Ike started building freeways. In the movie The Wild One, the good guy pretended to ride the Triumph, and the bad guy ("more fun" Marvin, ex-Marine) really rode the Hog. 'Nuff said?
1954: 4,757. Harley's whole range was getting a bit stale…no changes…nothing really new and exciting, except maybe the company's 50th anniversary. The I Love Lucy show had more going for it as the most popular thing on TV. Nixon wanted us to step in and help the French with a little problem they were having in Dien Bien Phu Vietnam, and Eisenhower announced the explosion of the first hydrogen bomb.
1955: 5,142. "Rock Around the Clock" was Bill Haley's contribution to the soundtrack of the film Blackboard Jungle. Rock and roll may not have been born then, but that was sure as hell when it started kickin'! The Motor Company decided to hot-rod the pan a little by debuting the FLH, with 8:1 compression and polished and flowed intake ports.
1956: 5,806. Jeez-polio vaccines, Allen Ginsberg poetry, Presley's "Hound Dog"…and Peyton Place! Who says the '50s were tame? Even the FLH got hotter cams to go with all the goodies from the previous year's model, and you could buy one for $1,123. The only trouble was that the damn Brits were outselling the only surviving American by quite a bit-and for a lot less! The one thing that wasn't as successfully imported from England was the Caf Racer culture. Kind of cool to start a bike at a roadside caf, drop the needle on your favorite rock-and-roll tune, then blast through your favorite "loop" as close to the "ton" (100 mph) as possible and get it all done before the song was over. Shame we missed out! Best use of a record we ever heard of, long-playing or otherwise!
Ah…1950…no freeways (jammed or otherwise), no Elvis, no eight-track players, Lucy & Desi yet to be loved-lots less to worry about. All the same, there were still robbers and cops, and a select few of the latter were privileged to ride police bikes like this one. Plenty fast enough in those days to catch most any speeder, even without the Motorola! Indian was still selling the odd copsickle,but most were set up like this panhead, complete with left-side front brake lever, tank shifter, and mechanical siren that rubbed on the tire, giving out that peculiar wailing noise we remember best from classic film noir.
1957: 7,599. Harley's ammunition in the Brit wars arrived (again) in the form of overhead valves. (Total production figures, shown here, include this addition to the OHV club in Milwaukee.) This time the opening salvo was the Sportster, a totally appropriate name for an all-American weapon of mass attraction, finally deployed in combat against the likes of Atlas, Tiger, and Rocket. It speaks volumes for The Factory's finances and internal inertia at the time that it took even longer for the XL to show up in its time of crisis than the knuck some 20 years earlier.
1958: 7,567. The novel Lolita was a bestseller (talk about repressed sexuality…the '50s must've damn near perfected it). It appears the free spirits of the time were On the Road-like Kerouac-and mostly mounted on motorcycles. Come to think of it, they buried the heaviest dude of all time in July, a 32-year-old named Robert Earl Hughes. It took a crane to lower his 1,067-lb carcass in a coffin the size of a piano case to do it!
1959: 7,815. Castro took over Cuba, and we haven't had a good cigar since! Alaska became the 49th state, the first of seven astronauts was selected, Hawaii became the 50th state, and Harley was on an even footing with the English invaders at last. The new street-legal XLCH Sportster was fast, fast, fast! For the time being, Big Twins still outsold the X-engined machines, but Honda Motor Co. (already building more than a million bikes per year) started selling in the U.S.
1960: 8,737. The population reached 180,000,000, and there were plenty of new high-speed interstate highways for them to move around on. Never in history had there been a population so mobile and so constantly on the go.
1961: 6,941. Kennedy created the Peace Corps, Russia put a man in orbit, an airplane was hijacked for the first time, Roger Maris broke Babe Ruth's home-run record, and the New York Metropolitan Museum of Art paid a record $2.3 million for Rembrandt's portrait, Aristotle Contemplating the Bust of Homer. (Really odd, when you consider that Rembrandt had no idea what either person looked like, nor even whether the "contemplating" ever happened.) Much easier to contemplate the purchase of an XLCH for a paltry $1,335 or an FLH for the bargain price of $1,400! Still, that was the price of a new VW Bug back then, so maybe it wasn't so cheap, even in hindsight. On the other hand, you could get one of the newest of the new Harleys, the Italian-built OHV single-cylinder Sprint, for much less than half that amount.
1962: 7,182. Marilyn Monroe was found dead under suspicious circumstances; John Glenn orbited the earth three times; the first privately owned satellite, Telstar, relayed TV across the Atlantic; and the Seattle World's Fair boasted a so-called Space Needle, monorail, and a 25,000-lb cake baked by Van de Kamps. The U.S. blockaded Cuba and pissed Kruschev off royally-and we narrowly averted nuclear incineration. Nothing as exciting going on in Milwaukee, but H-D kept on truckin' with tiddlers such as the Sprint filling in the gaps between V-Twin production and the grand total: a modest 9,868 machines.
1963: 5,679. Martin Luther King, Kennedy, civil rights, assassinations, and Warner Bros. selling the TV rights to the most expensive turkey ever filmed, Cleopatra, just to break even! Corvettes got a bitchin' new body style, independent rear suspension, and a suicidal back window. Harley-Davidson wasn't the only entity with issues in the '60s! The Topper/Ranger/Pacer/Scat/Sprint combo actually outsold the XL line that year but couldn't beat the Big Twins.
1964: 6,933. Devastating Alaskan earthquakes, China as the fifth nuclear power, Dylan on a Triumph, and "Beatlemania" seemed to keep an awful lot of folks off American motorcycles. The company was languishing and pretty much broke. The machines kept selling, but not at the volumes or for the profits The Factory would need to invest in badly needed new products and models. Meanwhile, Ford built a half-million Mustangs-just to warm up.
1965: 10,700. So we said hello to 12-volt electrical systems and starters, but good-bye to the panhead. During its 17-year run, a smashing total of 122,003 units were made, or an average of 7,177 a year! Compare that to the figures we'll soon see for the 21st century of The Motor Company, and be humbled or even awed that things turned out as well as they did. Hell, you could even add and average totals for both the knuck and the pan, and they'd still be peanuts compared to Twin Cam numbers. Coincidentally, there just happened to be 125,000 troops in South Vietnam that year as well-with the "Guv'mt" announcing that number would soon be doubled. We wish every one of them had the chance to own a panhead and ignore Nader's Unsafe at Any Speed.
1966: 12,600. Federal prohibitions on LSD, the world's largest opera house opened in New York, Bill Russell became the first black NBA coach, Dr. Robert Weaver becomes the first ever black Cabinet member, and Harley's shovelhead breaks cover
Come to think of it, often as not, the motor cops in the '50s and '60s were chasing these. Plenty of GIs discharged from action in either WWII or Korea had a lot of steam to let off but not nearly as much money. So-called "gypsys" became so-called "outlaws," mostly because they rode in groups from town to town on bobbers and choppers such as these. No big deal until Hollywood hype turned it into one with an overblown 1953 film based on an equally overblown "rumble" with citizens in a small California farm town in 1947.