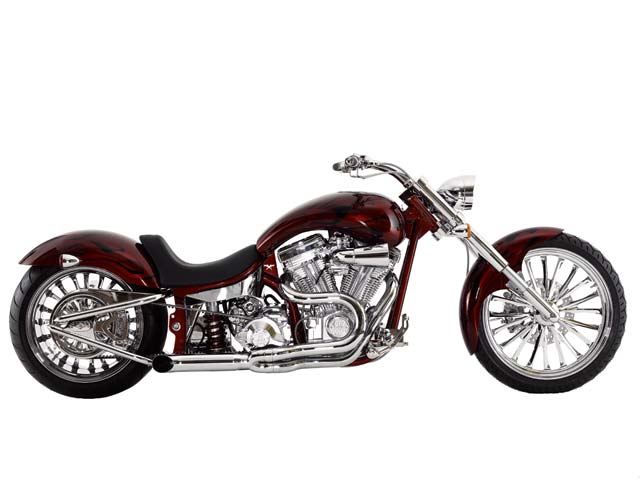 ** Exotic Motorcycles with Powerful Engines!**Wild West Motor Company announced that it has forged a new relationship with Patrick Racing. The company's motorcycles are now available with Patrick Racing's 120-, 125-, and 128ci engines. Wild West CEO Paul Seiter explains, "For over a decade we've been engineering and crafting some of the most exotic motorcycles in the world. In the tradition of offering only the best in motorcycles, we've stepped up our powertrain to include the finest of V-Twin engines."
Patrick Racing's high-performance engines offer several unique features and advantages. The billet-aluminum cylinders and cylinder heads are 48-percent stronger than the typical cast aluminum found in most V-Twin engines. Patrick Racing heads feature ports that are fully CNC-machined, producing greater airflow and a substantial increase in overall horsepower.
Dynamically computer-balanced flywheels, forged JE pistons, roller rocker arms, and a state-of-the-art electronic ignition all add to the engine's power and smoothness. The Mikuni 45mm carburetor used on the engine is famous for its responsiveness and tuneability. The oil pump, tappet blocks, rocker boxes, and pushrod covers are all made of billet aluminum, adding strength and style.
Wild West, located in San Diego, CA, was established in 1995. The company manufactures two premium V-Twin motorcycles, the Vigilante Gunfire and Dragoon. Wild West designs, tools, and manufactures its own frames, swingarms, fuel tanks, and many other components used in the company's motorcycles. The motorcycles are found in Kelly and N.A.D.A. blue books, and are financeable, insurable, and sold through a nationwide dealer network of 25 premium dealers.
Customers can find dealers, request brochures, and learn additional information about Wild West's motorcycles at www.wildwestmc.com.