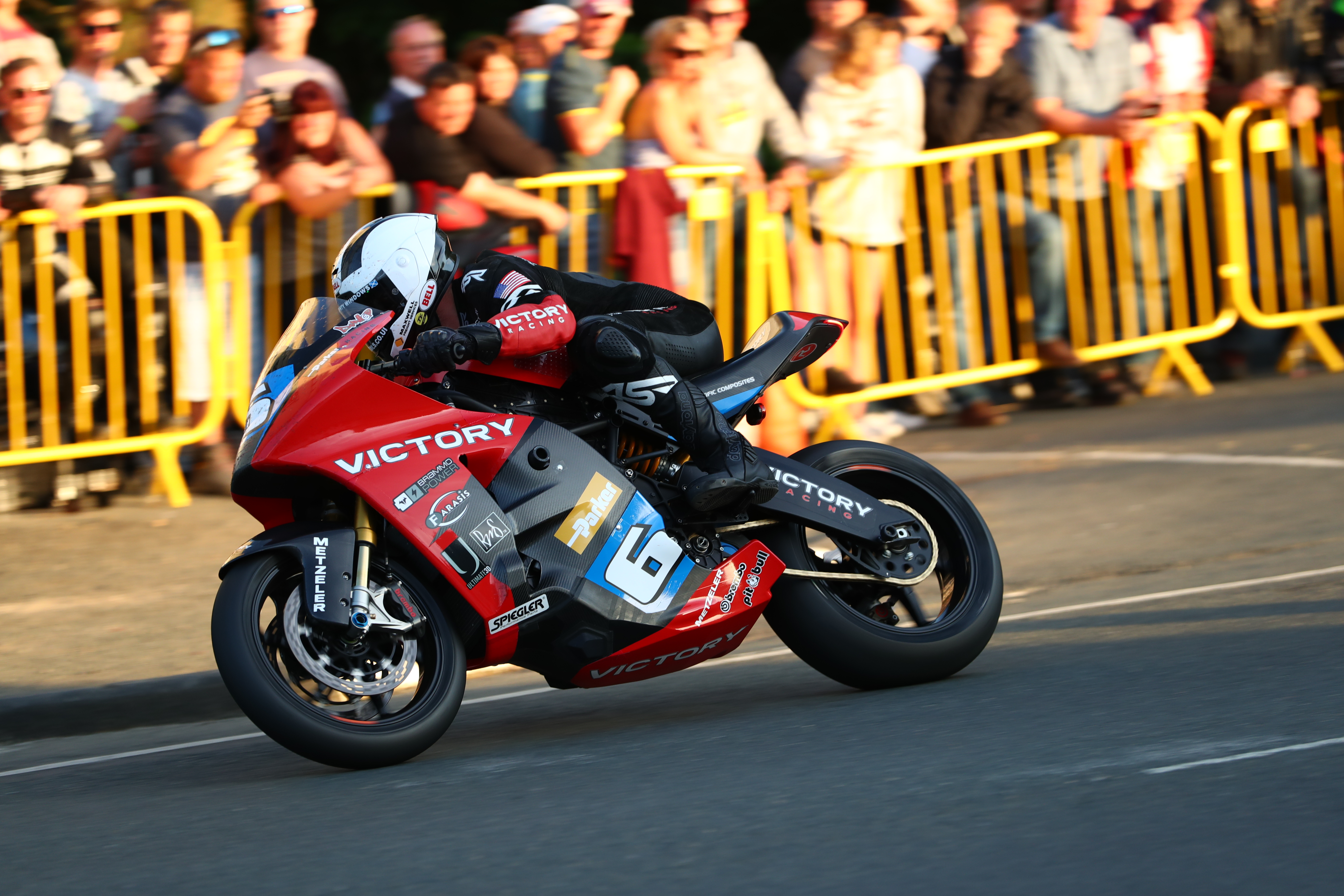 Victory Racing has successfully run its new Victory RR bike in the first of three practice sessions ahead of the TT Zero race, beating the fastest lap speed set by the team last year.
William Dunlop rode one lap of the course, achieving an average speed of 112.85mph – some 8.7mph faster than his 104.18mph lap last year. His laptime was 20:03:630 – just three seconds over the 20 minute mark.
William was 18mph faster through the Sulby speed trap compared to last year – hitting 158.3mph.
And the Victory RR bike was the fastest machine through the Grandstand at the end of the lap hitting 142.52mph compared to John McGuiness' 125.90mph.
Much of the increase in speed has come from the upgraded Parker GVM electric motor coupled to a more advanced battery, developed by Brammo.
Five teams chose to enter the first SES TT Zero practice (Victory Racing, Mugen, Brunel University and Lito Sora).
William Dunlop was third fastest behind the two Mugen riders John McGuiness and Bruce Anstey who put in 117mph and 114mph laps respectively, showing that Victory Racing has significantly stepped up its performance.
Team manager Brian Wismann said the Victory RR has a new battery with a higher energy density compared to last year as well as an upgraded Parker GVM electric motor with new windings.
"We knew the Victory RR would be faster than last year's Empulse RR," he said. "And we have clearly closed the gap on Mugen reaching almost 113mph compared to Bruce's 114mph and John's 117mph laps. We knew William would perform well tonight because during testing at Jurby earlier in the week he was consistently 5 to 6 seconds faster around the test track compared to last year. Now our focus is on analysing the data from this practice lap and looking at what we can change ahead of Saturday's session."
William Dunlop said: "That was really peaceful, it was real nice. Even though I only did one lap last year, I feel much more comfortable riding this new bike. I saw 156mph on the clock and it felt much faster than it did while I was testing at Jurby. I rode a 104mph lap last year, so it's great step up."
The next TT Zero practice session will be on Saturday 4th June with the third and final practice session on Monday 6th June. The TT Zero race takes place at 16:25 on Wednesday 8th June.