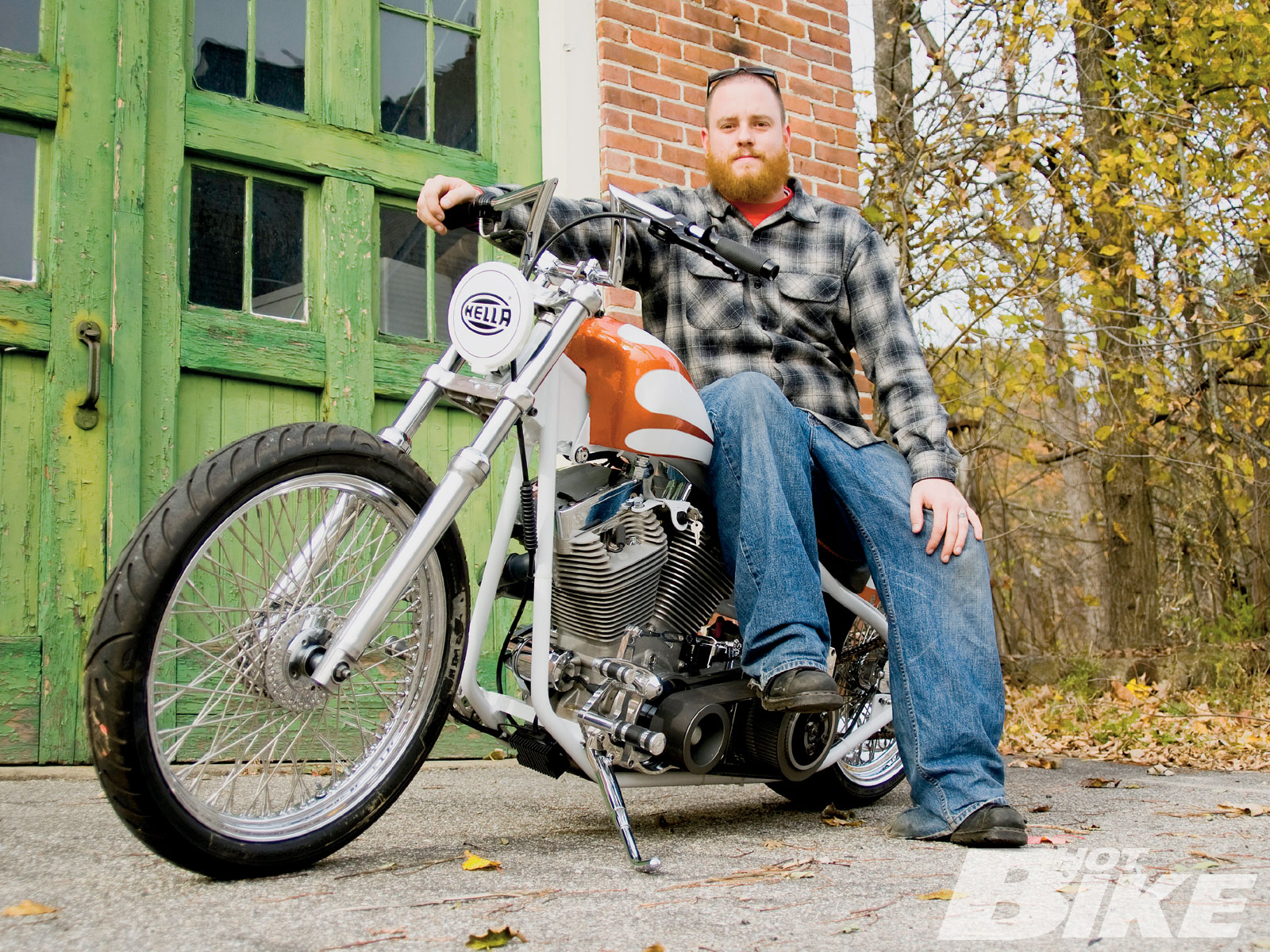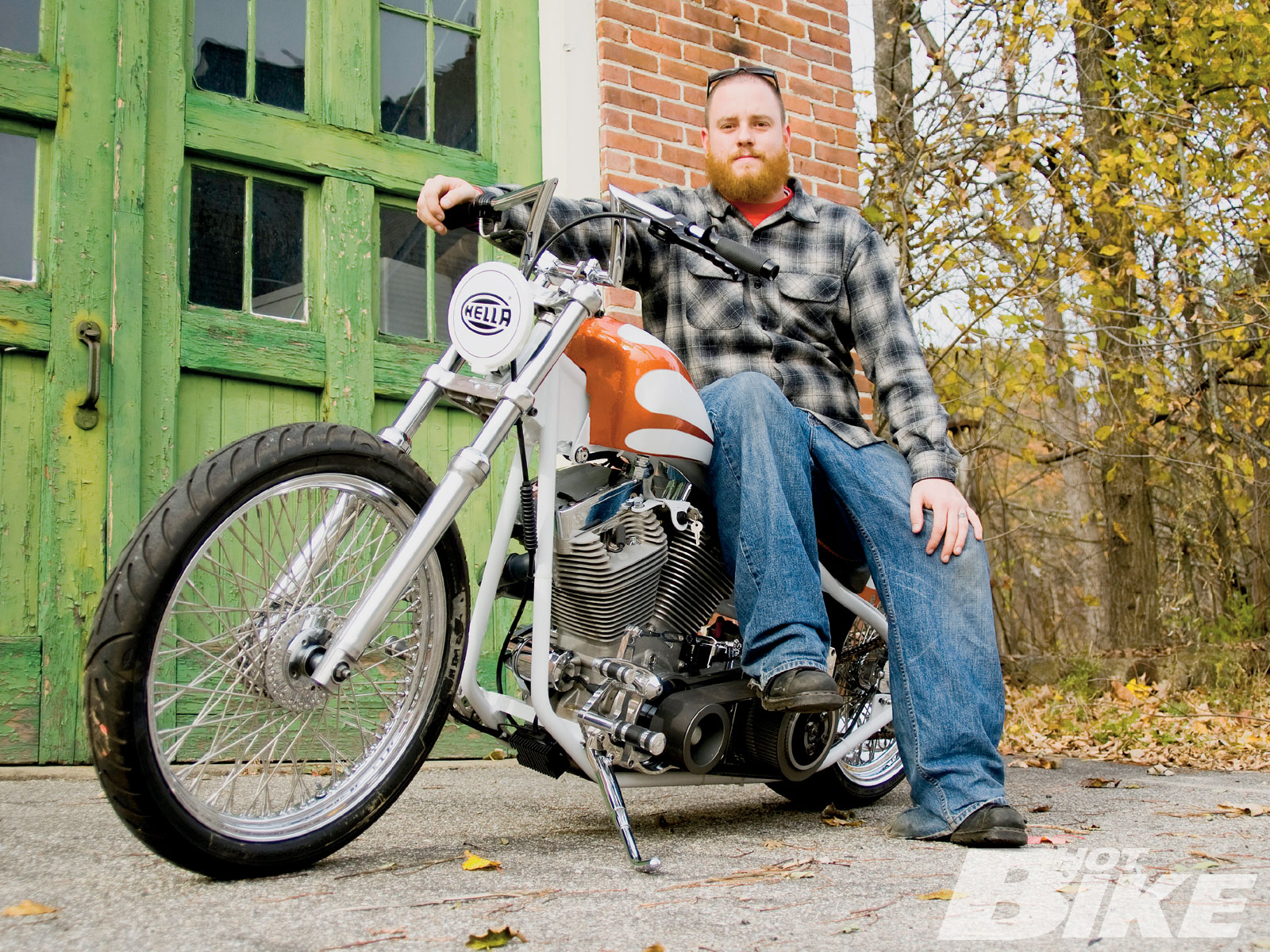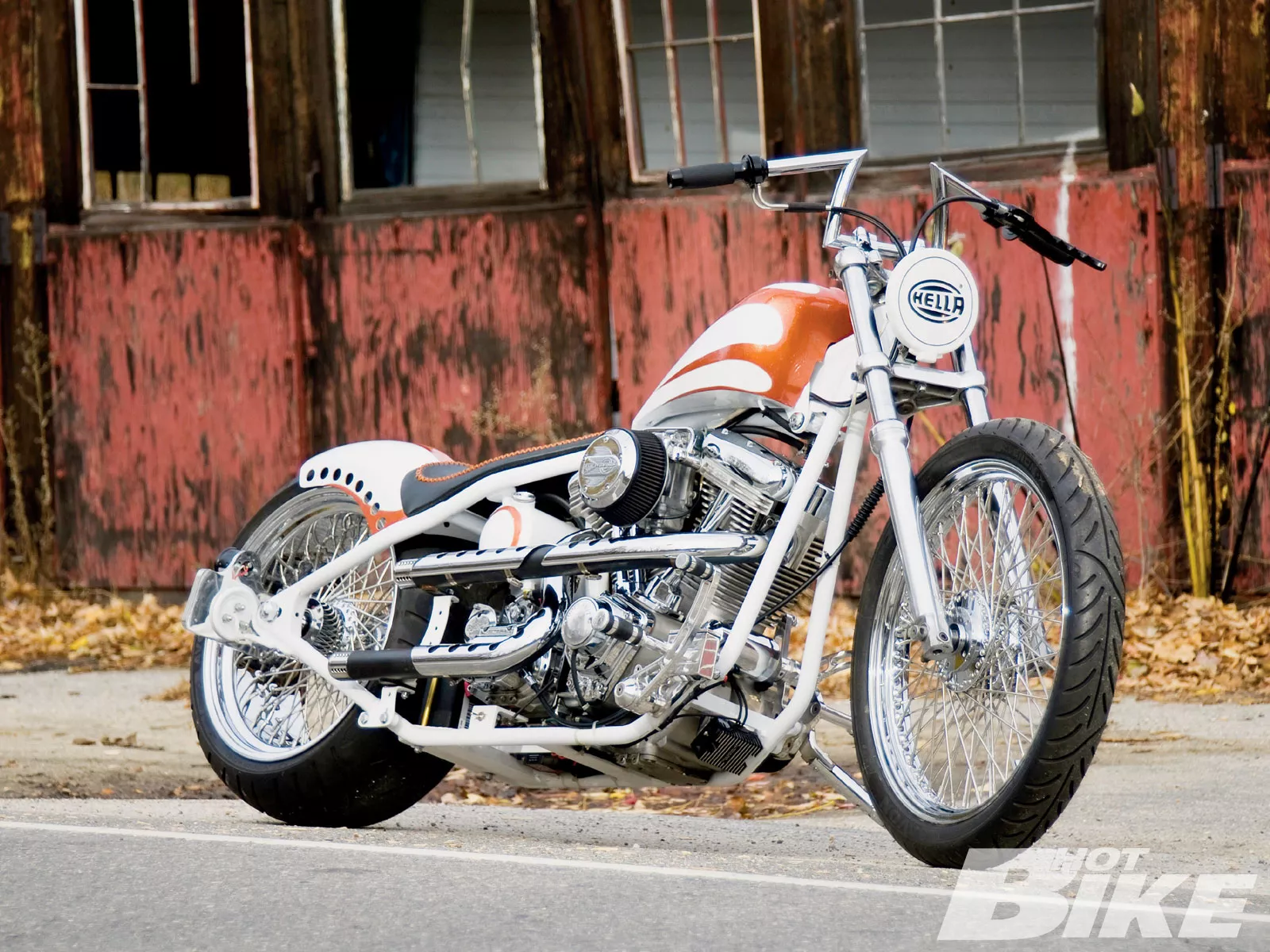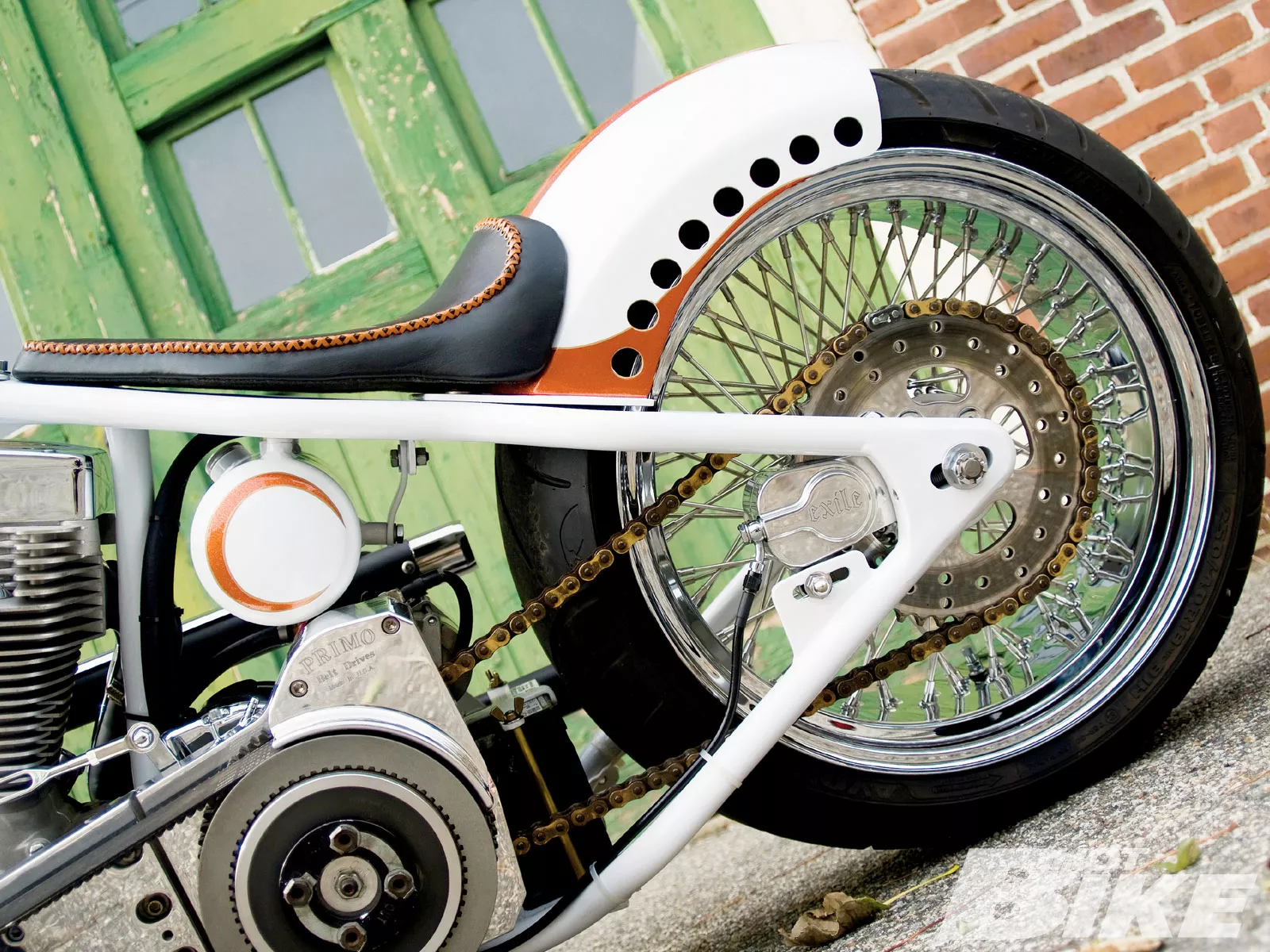 Sometimes a customer dictates the style of a bike and sometimes it's just what is popular at the moment. Sometimes the style arises from an intuition, inspiration, or whim, and sometimes it's a combination of all those things, a medley of steel parts, not fitting into any box or mold, but existing as a testament to past, present, and future. From the 240 rear tire to the oil bag from Led Sled and Sportster-styled stance, this bike fits that description, and looking at it is like looking at a brief history of custom motorcycling's past.
Zach Densmore has been building bikes since he got his first V-twin, an old Ironhead. Or put another way, one could say that the temperamental old Ironhead forced him into it. When the bike needed work, which it inevitably did, Zach had to learn to work on it. At that time, around 1999, there weren't as many aftermarket parts for Sportsters as there are today, so when he decided to customize it, he had to do it himself. He ended up hardtailing it and doing a bunch of other work. Eventually he had the bike looking the way he wanted and friends began asking him to work on their bikes. After a couple years, in 2002, Zach decided to start his own shop, Chop Shop Cycles.
Zach always kind of specialized in Ironheads and other Sportsters, because that's where his roots were, but he eventually branched out into the full custom world, building ground-up bikes. After he sold his last full custom, Zach took a look around and decided to build a personal ride from the spare parts lying around the shop. Two years later he had a unique machine that is a hodgepodge of a bunch of different motorcycling trends-but still looks good and cohesive.
Since Zach was building this bike for himself, he wanted something rideable but still cool. Starting with a US made Santee frame, Zach rummaged around and found some wheels, ending up with the 240 that was left over from the days when he was doing wider tire stuff. Next he grabbed a Sporty frontend that was lying in a corner and shaved it, then made a mount for the Hella headlight. The bars came from Biltwell since Zach is one of their dealers.
For power he went with a RevTech 100ci motor fed by a Mikuni carb. The tranny is also a RevTech and the clutch and primary are both Primo.
Zach and his dad did all the sheetmetal work. His dad retired from construction about the time Zach opened the shop and loves to hang out fabricating and welding all day. The gas tank is a Cole Foster tank and the oil bag is from Led Sled, leftover from a Sportster build.
Zach is friends with Duane Ballard and worked on Duane's Funkenstein, a radical Honda CB750. Duane did the seat for him as a favor for helping out with the build. Zach's good friend, Jim Fabbs, did the paint and Bonehead Designs did all the graphics.
Lately Zach has been keeping busy customizing a ton of older metric stuff. With the economy the way it is a lot of guys don't want to spring for the high-end stuff these days and are happy spending a little money on an old Honda or Suzuki and sending it Zach's way for a going over. Like they say, you gotta work with whatcha got.
| | |
| --- | --- |
| SPECIFICATIONS | |
| BIKE OWNER | Zach Densmore |
| SHOP NAME | Chop Shop Cycles (CSC) |
| SHOP PHONE | (603) 672-5619 |
| SHOP WEBSITE | chopshopcycles.com |
| YEAR/MAKE/MODEL | '09/CSC/Custom |
| FABRICATION | CSC |
| ASSEMBLY | CSC |
| BUILD TIME | Two years |
| | |
| --- | --- |
| ENGINE | |
| YEAR/MANUFACTURER | '06/RevTech |
| TYPE/SIZE | Evo/100ci |
| BUILDER | RevTech |
| CASES | RevTech |
| CYLINDERS | RevTech |
| HEADS | RevTech |
| ROCKER BOXES | RevTech |
| CARBURETOR | Mikuni |
| AIR CLEANER | CSC/H-D |
| EXHAUST | Yafee/CSC |
| | |
| --- | --- |
| TRANSMISSION | |
| YEAR/MANUFACTURER/TYPE | '06/RevTech/Six-speed |
| CASE | RevTech |
| CLUTCH | Primo |
| PRIMARY DRIVE | Primo |
| | |
| --- | --- |
| FRAME | |
| YEAR/MANUFACTURER | '06/Santee |
| RAKE | 35 degrees |
| STRETCH | None |
| | |
| --- | --- |
| SUSPENSION | |
| MANUFACTURER FRONT | H-D/CSC |
| LENGTHS | Stock |
| TRIPLE TREES | Narrowd |
| | |
| --- | --- |
| WHEELS, TIRES, AND BRAKES | |
| MANUFACTURER FRONT/TYPE | 80 spoke |
| SIZE-HEIGHT/WIDTH | 21×2.15 |
| TIRE/SIZE | Avon/90/90/21 |
| MANUFACTURER REAR/TYPE | 80 Spoke |
| SIZE-HEIGHT/WIDTH | 18×8.5 |
| TIRE/SIZE | Avon/240/40/18 |
| CALIPER | Exile |
| ROTOR | Exile |
| | |
| --- | --- |
| FINISH/PAINT | |
| COLOR | White scales/candy flake orange |
| PAINTER | Jim Fabbs |
| GRAPHICS | Bonehead designs |
| | |
| --- | --- |
| ACCESSORIES | |
| REAR FENDER | CSC |
| GAS TANK & CAP | Cole Foster/CSC |
| OIL TANK | Led Sled/CSC |
| HANDLEBARS | Biltwell |
| RISERS | H-D |
| HAND CONTROLS | Joker |
| FOOT CONTROLS | Cheap |
| FOOTPEGS | Cheap |
| HEADLIGHT | Hella |
| TAILLIGHT | CSC |
| LICENSE MOUNT | CSC |
| SEAT | Duane Ballard |