This article was originally published in the February-March 1999 issue of Cycle World's Big Twin magazine.
Harley-Davidson has made zillions of dollars proving that nostalgia is far better than it used to be. So, when someone starts talking about customizing a Road King, the first question that comes to mind is … why? The RK successfully emulates the look of the Panhead-era Duo-Glides, yet is arguably the most "roadable" machine in the H-D stable, and the company's best seller. What could anyone possibly do to improve the classic, timeless lines of the King?
A lot, apparently.
Gary Dixon of Maui bought a fuel-injected '97 Road King to keep in his garage, for use by friends who might like to tour Hawaii on a Harley. Dixon, along with several of his co­horts, is an avid rider, and he figured that having a spare bike lying around would make visits by his pals a lot more fun.
A very magnanimous gesture—except that once Dixon tried the bike himself and discovered its wonderful road-worthiness, he fell so in love with it that he decided to make it his exclusive personal mount. What could be a grander platform from which to view the Hawaiian Islands than a Road King?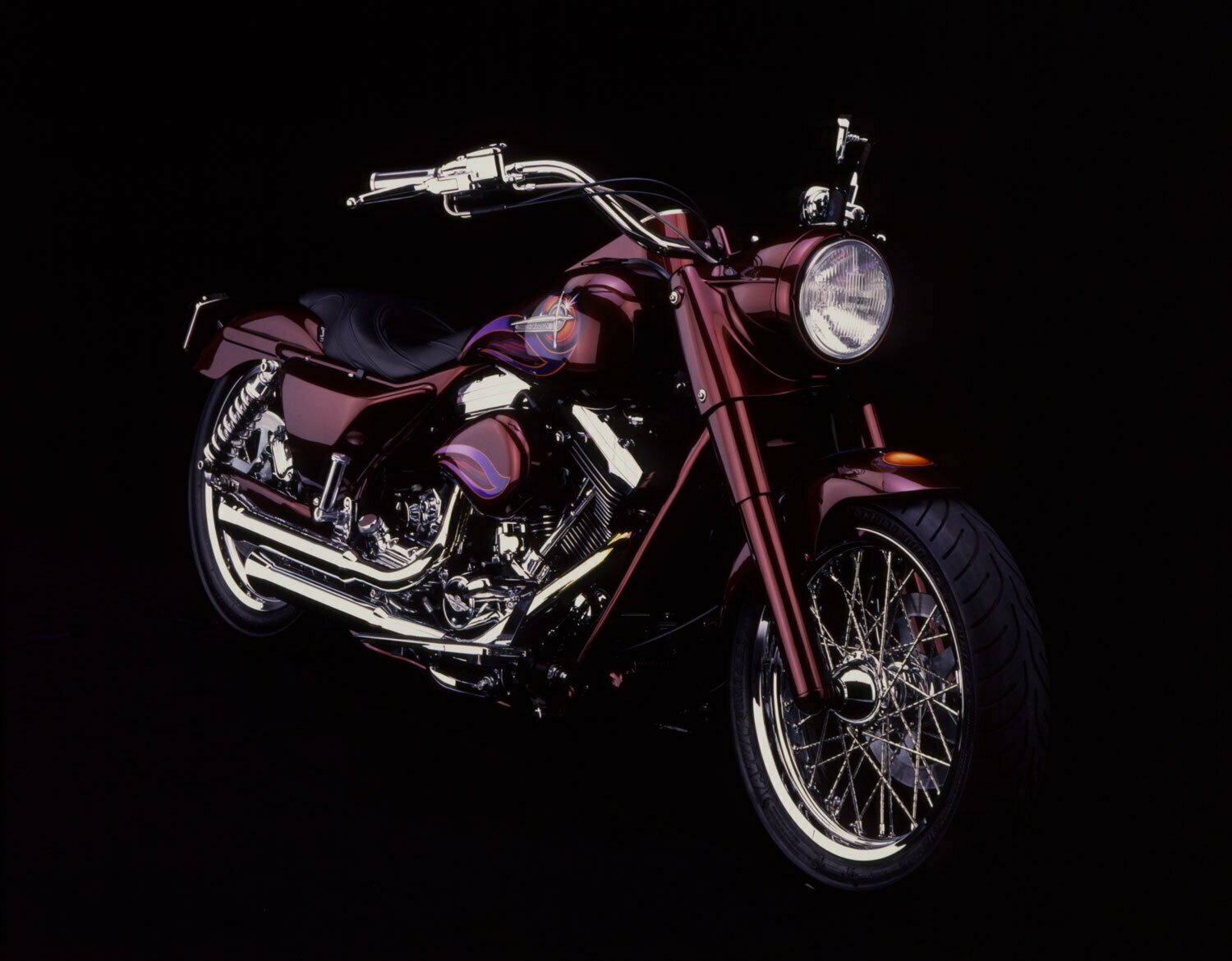 Well, a custom Road King might be nice, thought Dixon. To that end, he shipped the bike off to master builder Dave Perewitz at CycleFab in Brockton, Massachusetts, along with instructions to give the King a complete makeover.
Sometimes, turning a customer's vision into rolling reality involves a bit of artist's intuition. "When people tell me what they want in a bike," Perewitz explains," they often ramble on and on, but certain things in the conversation usually stick in my mind. In this particular case, though, Gary sent me some pictures that gave me a pretty good idea of what he was looking for. He wanted the back of the frame done like an old FX—an early style, four-speed Shovelhead kind of look. So, we built the appropriate fender rails into the frame, and we changed the shock location and the shock angle to get that early Harley look."
One rarely thinks of a bike built on an FL frame to be lean, but Perewitz achieved a sparse look with some styling trickery. His goal was to make the Road King look fat in the front and skinny in the rear, and he ac­complished that effect by leaving the cowling on the front fork and headlight; aft of the gas tank, all nonessential hardware was tossed to allow the leanest presentation possible. "We used 18-inch wheels," says Perewitz, "which give the bike sort of a high look, even though it has been lowered a bit." Wire wheels aid in lending the bike a more spartan appearance. "Just about everything we build these days has billet wheels on it, so it's a nice change to use spokes once in a while."
---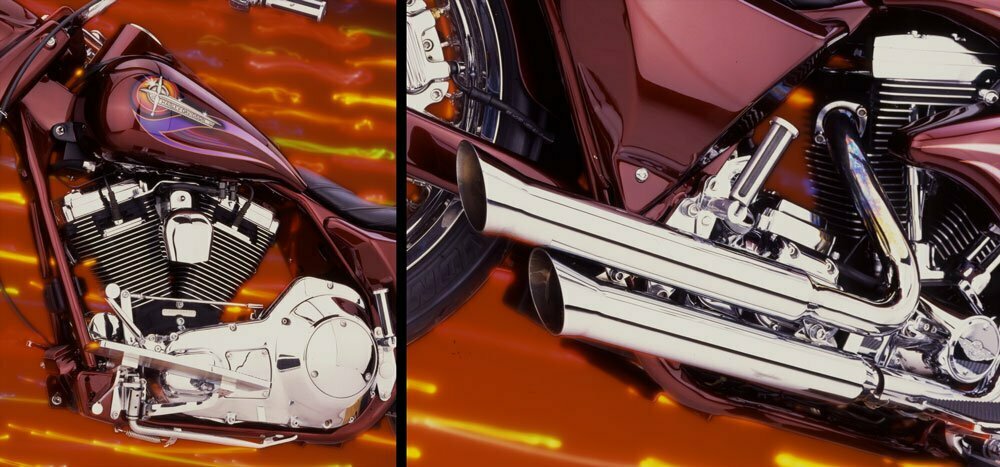 Of the many custom bikes we've ridden, Dixon's ranks among the better-handling ones. "The main reason this bike handles so well," says Perewitz, "is that we used Works Performance shocks in the rear. Each set is custom-made to order, and they do a fabulous job of con­­trolling the rear end's be­havior. The additional shock angle helps to a point, and so does raking out the frame. When you do all of that, in ad­dition to stripping the bike down, the handling definitely benefits."
As for paint, Dixon's only requirements were that the words "Harley-Davidson" ap­pear on the tank, and that the bike get painted some sort of dark colors. Other than that, Perewitz was free to create to his heart's content. The result is indeed pleasing.
Dixon's bike exemplifies the current trend toward more functional customs, even the more exotic ones. They're now being built to ride longer distances than just from bar to bar. Perewitz says he could easily sell every bagger he could possibly make, and we hear the same thing from lots of other builders around the country.
If this sweet-handling custom is a manifestation of that trend, sign us up.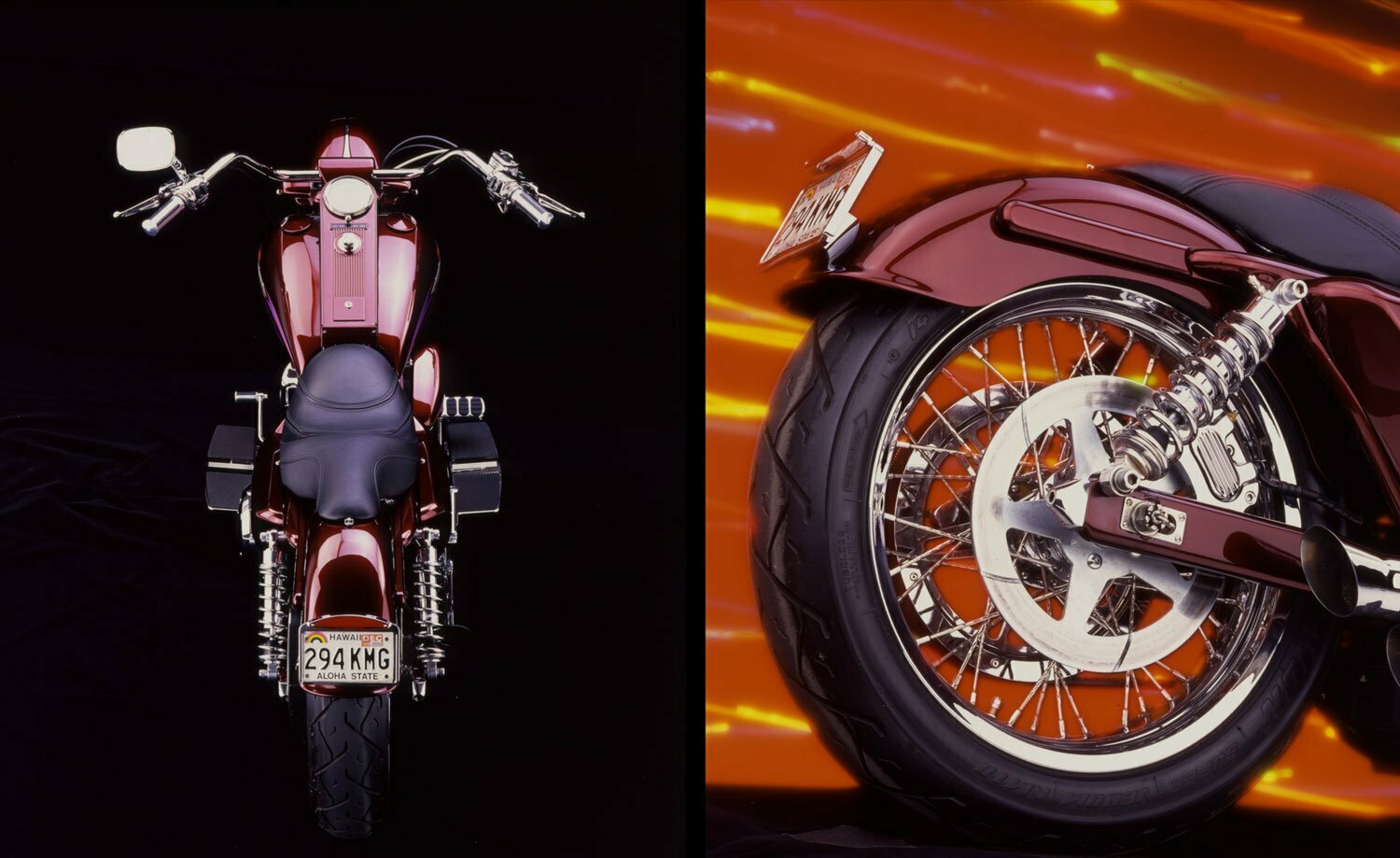 Specifications
| | |
| --- | --- |
| Owner | Gary Dixon |
| Location | Maui, HI |
| Base Machine | 1997 Road King |
| Designer/Fabricator/Builder | Dave Perewitz/CycleFab |
| PAINT AND CHROME | |
| Molding | Chris, CycleFab |
| Paint | Russ, CycleFab |
| Graphics | Russ, CycleFab |
| Chroming | R.I. Tech |
| Polishing | Tom Farrar |
| ENGINE | |
| Year | 1997 |
| Model | Evo |
| Builder | Don, CycleFab |
| Displacement | 80 cu. in. |
| Cases | H-D |
| Lower end | H-D |
| Rods | H-D |
| Pistons | H-D |
| Heads | H-D |
| Valves | H-D |
| Cam | V-Thunder |
| Pushrods | V-Thunder |
| Lifters | V-Thunder |
| Ignition | V-Thunder |
| Coils/wires | H-D |
| Carb | Fuel injection, V-Thunder kit |
| Air cleaner | CycleFab |
| Pipes | CycleFab |
| Mufflers | CycleFab |
| TRANSMISSION | |
| Year | 1997 |
| Type | H-D  5-speed |
| Clutch | H-D |
| Primary drive | H-D |
| FRAME | |
| Year | 1997 |
| Make | H-D |
| Type | Road King |
| Builder | Rick's Fab |
| Modifications | Raked to 360; rear widened; early FX style fender rails |
| FRONT FORK | |
| Year | 1997 |
| Make | Perewitz Billet |
| Type | Wide Glide |
| Modifications | 2" under |
| REAR SUSPENSION | |
| Year | 1997 |
| Type | Twin shock |
| Make | Works Performance |
| Swingarm | CycleFab |
| Modifications | Moved shock location |
| FRONT WHEEL/TIRE | |
| Wheel | Ness |
| Tire | Avon |
| Tire size | 130/70-18 |
| Rim width | 3.25" |
| Brake | GMA 4-piston |
| REAR WHEEL/TIRE | |
| Wheel | Ness |
| Tire | Avon |
| Tire size | 150/60-18 |
| Rim width | 4.25" |
| Brake | GMA |
| ACCESSORIES | |
| Handlebar | Ness Wide dresser |
| Risers | Ness |
| Grips | Ness |
| Mirrors | Ness |
| Gas tank | Jed, CycleFab |
| Oil tank | Road King |
| Front fender | Jed/Jesse James |
| Rear fender | Jed/Jesse James |
| Headlight | Road King |
| Taillight | Perewitz LED billet |
| Turnsignals | None |
| Electrics | Russ/CompuFire |
| Speedo | Road King |
| Tach | Road King |
| Instruments | Road King |
| Seat | Danny Gray |
| Foot controls | Road King |
| Footpegs | EFI |
| Pass. pegs | CycleFab |