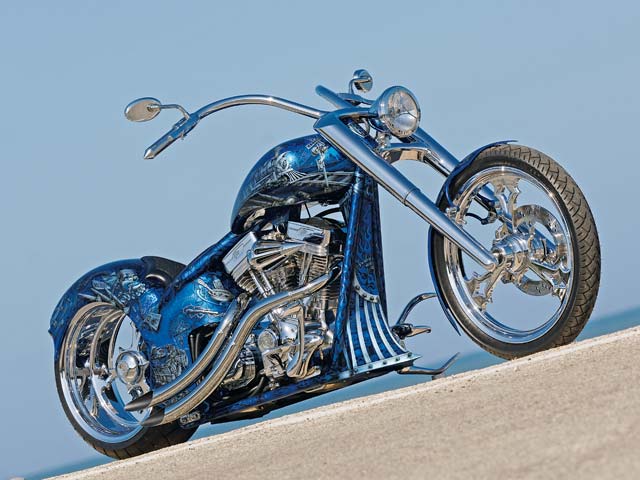 This bike, named "Krime of Passion," came to life during a meeting amongst friends at a local watering hole. After owner Bill Frank tried unsuccessfully to buy a famous TV builder's bike, he turned to his friend Dave Aulita for some helpful advice. Dave's an ex-New Yorker who relocated to sunny Sarasota, FL, to open his own custom shop, Xtreme Cycles of Sarasota. Xtreme's been set up as a do-it-all V-Twin shop, providing services from tune-ups and parts to one-off ground-up customs.
During early discussions, Bill and Dave brainstormed ideas for the custom project. As the concepts and ideas came together, Bill decided to place no limits on what Dave and his crew could do–a blank check, so to speak. After another trip to the Beer Church, one of Bill's friends suggested that the bike's paint should tell Bill's life story. Apparently, Bill has led quite the interesting life, and the stories consumed much of the night. We're not at liberty to discuss all of the details contained in the paintwork, so you'll have to ask Bill the next time he's out cruising the big, bad, blue bike.
Once some of the preliminary details of the build were worked out, Dave ordered an RC Components single-sided swingarm frame that was stretched 2 inches up in the downtubes and 2 inches out in the backbone. Dave formed the downtubes and created a "cow catcher" at the bottom that conceals all of the bike's electronics. Not seen until actuated are hidden turn signals that are concealed within the chin spoiler. The 40-degree raked neck combined with a sleek Roger Goldammer frontend was the perfect candidate to show off the RC Warlock billet wheels. On the rear, the wheel and the 240 Metzeler skin really shine in all their glory with a clean right side, thanks to a swingarm that attaches only on the left side of the frame. Keeping the right side even more clean was the addition of a combination brake rotor/belt pulley on the left side. A chromed four-piston Hawg Halters caliper clamps the unit. Up front, the brake line was hidden in the forks by carefully drilling a passageway connecting the master cylinder and the caliper. All was going well until a fire in Dave's shop slowed down the production of Bill's dream sled.
For the complete story, pick up the Febuary 2007 issue of Hot Bike, on newsstands now!