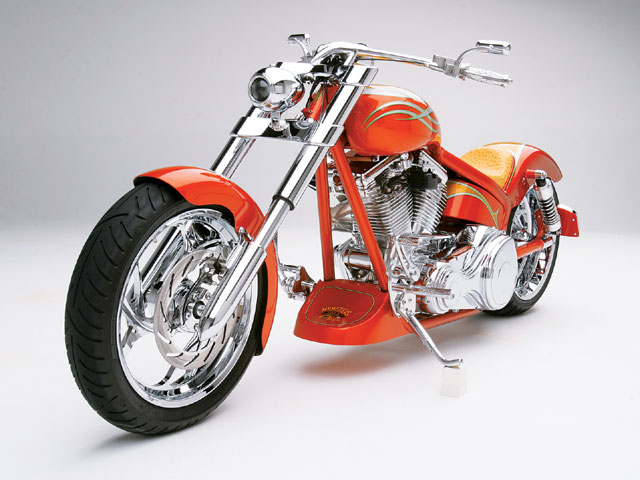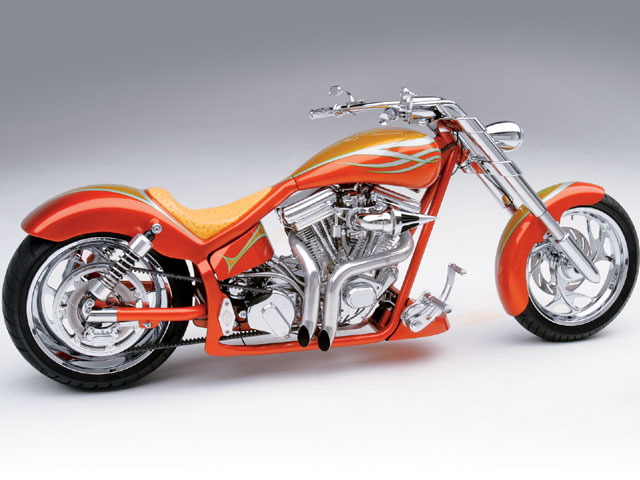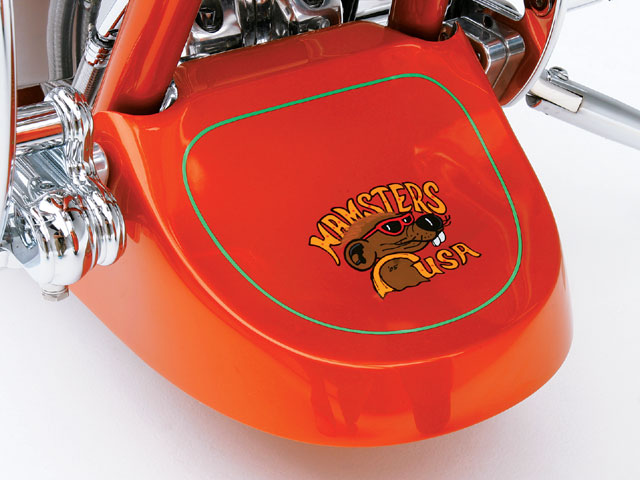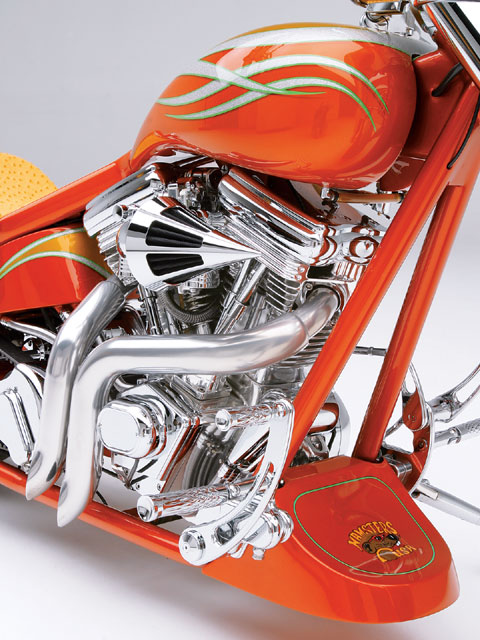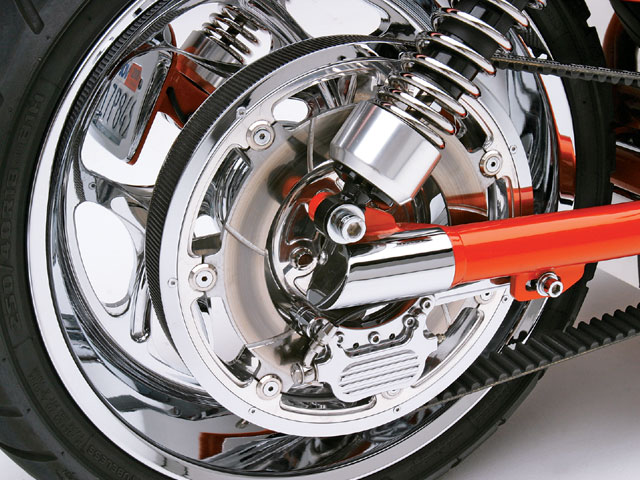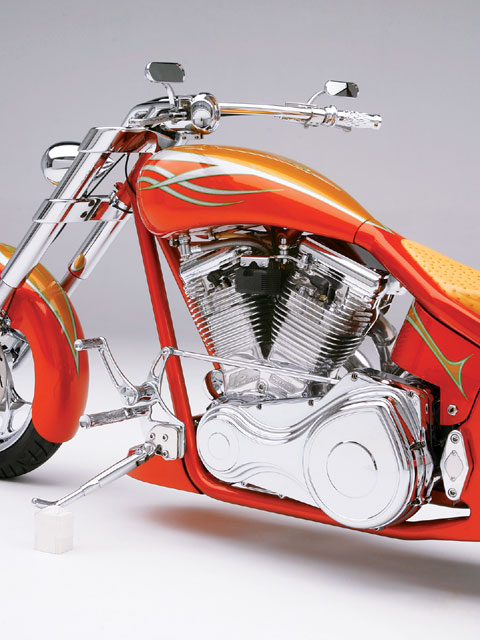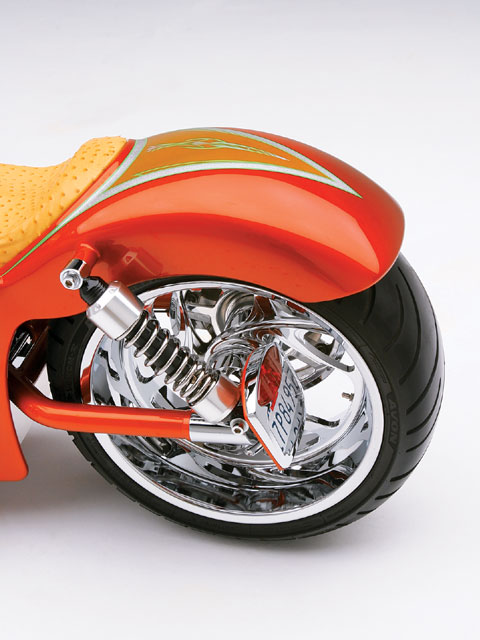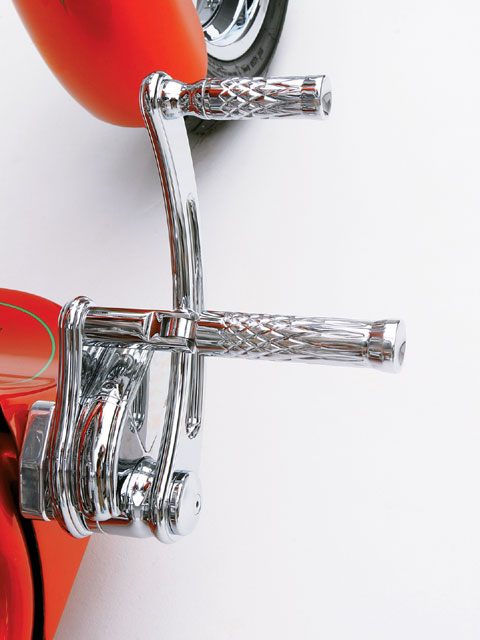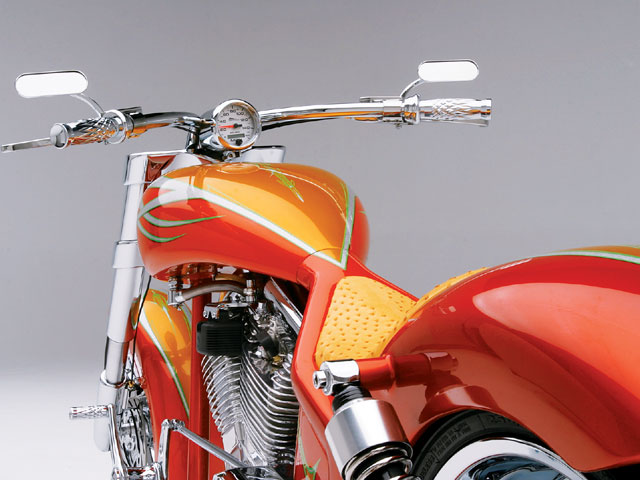 Three years ago, if you came across Ira Greenberg on a ride, chances were he was on a rigid, looking cool but feeling sore. All of that changed one day when his buddy Ron showed up on a new rubbermount, looking cool and feeling better.
That did it for Ira. He'd logged plenty of pilot time on hardtails, and now it was time for something more forgiving over cracked pavement. He turned to the same guy who'd made Ron's bike: Barry Cooney. Ira and Barry knew each other from the previous year's Hamsters run to Sturgis, and they worked out a battle plan for Ira's new motorcycle over a few beers.
Barry's a longtime builder who's made all kinds of chops and scoots in the 35 years he's been at it. In that time he's turned into a rubbermount lobbyist, advocating the smooth-riding characteristics of Dyna and FXR-style machines. That suited Ira just fine, but what he really wanted was the same bike as Ron's, only different.
Barry knew that one of the easiest ways to do that was to base the bike on a different frame. Ron's was a Ness Y2K, but Daytec's Episode rubbermount chassis is no slouch, so Barry ordered one up for Ira's project and got down to business. A Ness inverted frontend and a pair of Progressive shocks later, Ira's machine was on its way to comfort city.
Ira wanted the same bike as Ron's, only different, and while the frame certainly isn't the same, there's an Arlen Ness influence on both machines; Ron's via its Y2K frame and Ira's, well, you'll find Ness style all over it, from the 18-inch wheels and calipers to the headlight and foot controls.
A rubbermounted roller means less vibration and more "aaah" on the road. It's also a good excuse to use a bigger motor. After all, if you're taking out the shake, why not use something more powerful, right? Like, say, a 121-inch TP powerplant. While you're at it, you can mate it to a six-speed RSD tranny. Funny enough, that's what happened with Ira's bike, with the end result being a fast, smooth, comfy rider.
Ira also had a longstanding mandate with any of his bikes, though-no matter how they handled, they had to look good. No exceptions. Coincidentally, Barry likes his work to look sharp and professional, so they were in total agreement. Barry got together with metal magician Russ Wernimont, and the two of them worked out a gas tank/seatpan/rear fender combination that came together smoothly and set up a sleek profile from neck to swingarm. Moreover, the Yaffe bars sit low atop the Ness forks and really unify the front of the profile with the rest of the bike.
The final finishing fell to Kevin Norton, who smoothed the frame and metalwork over with some strategic molding, then shot it all with Candy Orange paint.
It took six months to get this puppy on the road, but it was worth the wait. Barry knew he'd put together a smooth blend of comfort and power, but the big test came when Ira threw a leg over his new bike for the voyage from the West Coast to Sturgis; a good litmus test if ever there was one. He wasn't disappointed. His new rubbermount looked every bit as good as a rigid chopper, but without all the spinal abuse hardtails have been known to dish out.
| | |
| --- | --- |
| **SPEC SHEET**** | |
| **GENERAL**** | |
| OWNER | Ira Greenberg |
| SHOP | Barry Cooney |
| YEAR/MAKE/MODEL | '05/Special Construction |
| FABRICATION | Barry Cooney/Wernimont |
| ASSEMBLY | Barry Cooney |
| BUILD TIME | 6 months |
| | |
| --- | --- |
| **ENGINE**** | |
| YEAR/TYPE/SIZE | `05/Evo/121 cu. in. |
| BUILDER | TP Engineering |
| CASES | TP Engineering |
| FLYWHEELS | TP Engineering |
| RODS | TP Engineering |
| PISTONS | TP Engineering |
| CYLINDERS | TP Engineering |
| HEADS | TP Engineering |
| VALVES | TP Engineering |
| ROCKERS | TP Engineering |
| ROCKER BOXES | TP Engineering |
| PUSHRODS | TP Engineering |
| PUSHROD TUBES | TP Engineering |
| CAM | TP Engineering |
| LIFTERS | TP Engineering |
| CARBURETOR | Mikuni |
| AIR CLEANER | Wimmer |
| IGNITION | Crane |
| EXHAUST | Samson |
| | |
| --- | --- |
| **TRANSMISSION**** | |
| YEAR/TYPE | '05/Roadmax |
| CASE | Roadmax |
| GEARS | Roadmax |
| CLUTCH | Primo Pro clutch |
| PRIMARY DRIVE | Primo |
| | |
| --- | --- |
| **FRAME**** | |
| YEAR/TYPE | '05/Daytec Rubbermount |
| RAKE | 38 degrees |
| STRETCH | 2 inches up and out |
| | |
| --- | --- |
| **SUSPENSION**** | |
| FRONT | Arlen Ness |
| TRIPLE-TREES | Arlen Ness |
| REAR | |
| SWINGARM | Daytec |
| SHOCKS | Progressive Suspension |
| | |
| --- | --- |
| **WHEELS, TIRES, AND BRAKES**** | |
| FRONT | |
| BUILDER/SIZE | Arlen Ness/18-inch |
| TIRE/SIZE | Avon/130 |
| CALIPER(S) | Arlen Ness |
| ROTOR | Arkeb Ness |
| REAR | |
| BUILDER/SIZE | Arlen Ness/18-inch |
| TIRE/SIZE | Avon/250 |
| CALIPER | Arlen Ness |
| ROTOR | GMA |
| | |
| --- | --- |
| **FINISH/PAINT**** | |
| COLOR(S) | Candy Orange |
| PAINTER | Kevin Norton |
| GRAPHICS | Kevin Norton |
| MOLDING | Kevin Norton |
| | |
| --- | --- |
| **ACCESSORIES**** | |
| FRONT FENDER | Russ Wernimont Designs |
| REAR FENDER | Russ Wernimont Designs |
| GAS TANK | Russ Wernimont Designs |
| OIL TANK | Daytec |
| GAUGES | Pro Cycle Speedometer |
| HANDLEBARS | Paul Yaffe |
| MIRRORS | Arlen Ness |
| HAND CONTROLS | PM |
| FOOT CONTROLS | Arlen Ness |
| FOOTPEGS | Arlen Ness |
| HEADLIGHT | Arlen Ness |
| TAILLIGHT | Russ Wernimont Designs |
| TURN SIGNALS | None |
| LICENSE MOUNT | Russ Wernimont Designs |
| SEAT | Danny Gray |