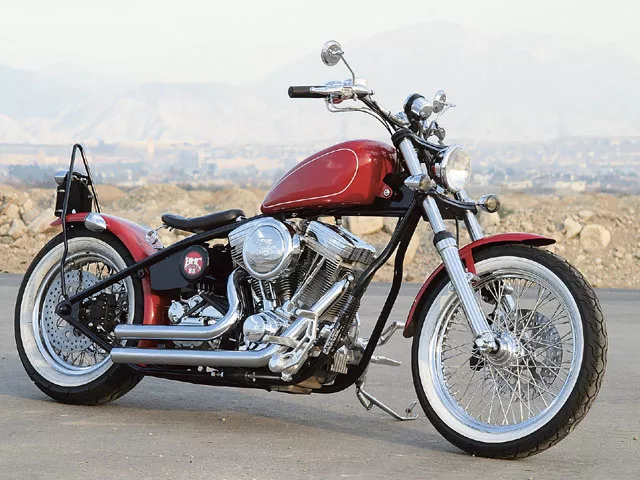 Readers of Hot Bike are no doubt familiar with the road tests we perform on a monthly basis. Normally we focus on a single bike as we run it through its paces over a 30-day trial and pass it along to various staff members to get their opinions. This month we are going to change things up a bit from the norm. Instead of giving you insight on just one bike, we've decided to present to our readers a pair of bikes cut out of a similar mold. The beginning of the new year has our offices brimming with some great motorcycles that would be of interest to our readers, so we decided to run these two bikes concurrently in the same article.
The industry has, over the last year, become inundated with what many manufacturers are calling "bobbers." While we take issue with that term, which we feel is being tossed around far too flagrantly these days (see the article "Got Bob?" in the Mar. '06 issue of HOT BIKE, p. 76), we do love all the cool little stripped-down motorcycles being manufactured under that moniker.
The thought of simple motorcycles wearing tires in the sub-200mm category and powered by smaller-displacement engines than much of what we are seeing these days is definitely refreshing. Many of these bikes have the ability to bring us back to a time that was less complicated. A lot of riders will no doubt be reminded of some of their first rides back in their younger days.
The two bikes we are testing this month are built by Covington Cycle City of Woodward, OK, and BMC (Big Mike's Choppers) out of Bend, OR. The fact that we are running the two bikes in the same article should in no way be construed as a comparison of one bike to the other, but rather as a look at a couple of different ways of tackling a particular style of bike. While the bikes are similar, they do have their differences-read on.
BMC Bobber
For the past few years, BMC has operated out of two different facilities: one in Bend, OR, and the other in Santa Cruz, CA. In September 2005 operations were consolidated at the Bend plant, which boasts 10,000 square feet of shop space housing various CNC and other machines that allow BMC to manufacture frames, sheetmetal, and billet components. An additional 15,000 square feet houses the bike-building portion of the business, where BMC produces its line of six different models, which are available through any of its 31 dealers located in 43 states.
Mike's idea for this bike came as he talked to quite a few old-timers, picking their brains about the style of bikes from the '40s and '50s. The concept was to keep the bike simple, reliable, and fun to ride, all while ensuring it was 50-state legal. The little red rigid on these pages is the result of Mike's efforts.
The foundation for the bike is one of BMC's own wishbone-style frames manufactured in-house using 1-1/2-inch and 1-1/8-inch DOM American-made steel tubing. Heavy gusseting is used to reinforce the 32-degree neck as a direct response to Mike's riding style. Mike likes to ride hard-make that real hard. Over the years HOT BIKE has displayed images of Mike performing wheelies on just about every model he sells. So with that in mind, the bike had to be tough enough to stand up to that kind of abuse. A pair of black-anodized BMC triple-trees set in a wide configuration secure 41mm, 2-inch-under fork tubes and chrome lowers.
What's a bobber without spoked wheels, you ask? Nothing! DNA 60-spoke chrome wheels accent the front and rear of the bike as they anchor a 100/90/19 up front and a 130/90/16 out back, both wide whitewalls. Brakes on the bike are second to none, with a four-piston Brembo caliper and 11-1/2-inch Russell rotor picking up most of the braking chores on the narrow front wheel, while a single Brembo takes care of things in the back.
Considering that the bike only weighs 500 lbs, Mike's motor of choice was a Gen III RevTech 88-incher. The motor comes with some serious backing from the factory in the form of a three-year/30,000-mile warranty. Likewise, the RevTech five-speed transmission comes with an almost unheard-of five-year/50,000-mile warranty. A wet-chain primary connects the two, while a full-width belt is used to spin the rear pulley. Completing the motor is a two-into-two Santee baffled exhaust system, a Mikuni 42mm carb, and a RevTech ignition. The crew at BMC came up with an electrical box with built-in diagnostics connected to the wiring harness. If and when an electrical problem pops up in the system, the diagnostics help a technician isolate the cause.
Controls on the bike consist of billet forwards and CCI chrome hand controls on a set of somewhat flat bars fashioned to 2-inch urethane bushed risers. Completing the bars is a small Auto Meter speedo with resettable odometer, and a pair of small round mirrors.
Mike wanted to keep the sheetmetal simple and did so by using a Sportster-style King Tank, small front fender, and a flat rear fender accented by an old-style, round sissy bar securely mounted to both the fender and frame. The oilbag does a good job of blending old and new by way of a 3-quart round tank with rear-facing wings designed to conceal the battery. Sitting above the battery is a cool-looking flat seat hinged at the front and suspended at the rear with a pair of hairpin coil springs. The bike comes complete with turn signals and all the necessary lighting to make sure you can see and be seen.
Mike told us he was looking to build a fun bike; well, he nailed it. Just jump on it and spin the starter, and the motor comes to life easily with a nice sound emanating from the pipes. Pick the bike up off the kickstand, and you quickly realize how light and balanced it is. The motor is deceivingly quiet due to the baffled exhaust pipes. As you let out the clutch, the bike responds in a smooth, quick fashion. Shifting through the gears brings the bike up to speed quickly. The solid-mounted motor and the rigid frame work well in combination with each other, allowing enough vibration through the frame to remind you that you're on a rigid; yet, when combined with the frontend, wheels, and tires, it's smooth enough that you sometimes forget there is no suspension on the back of the bike.
We've ridden a lot of rigids, and on this particular bike Mike has struck just the right balance between a smooth ride and the sensation of a rigid. Does this mean you can get your eyes up off the road? No way-the bobber still lets you know when you have traveled across hazards such as pot holes, pavement transitions, railroad tracks, and the like. That being said, the boys up in Bend worked out just the right combination of parts and dimensions to give the little bike a very good ride.
Ergonomically, the bike is laid out nicely. Once you're seated, the controls are in easy reach of both your hands and feet. The clutch feel is nice and light, and the Brembos do a good job of bringing the 500-lb bike to a stop. One problem we did come across was the seat, which works well at first, but in no time your backside has a tendency to slide back a bit. This causes the upturned back edge of the seat to create an uncomfortable sensation as it runs across your flesh. Mike told us that he is in the process of coming up with a new seat design to address this issue. In addition, the new piece will make checking the oil easier. About the only other thing we would like to see is some sort of cover on the diagnostics package, or possibly relocation of the unit. For a bike of this style, an electrical component containing LEDs should not be so prominent.
Bottom line, this is a blast to ride, has plenty of power, a great price, and a hell of a warranty. What more could you want?
Covington Cycle City Speedster
Jerry Covington's inspiration for the building of his Speedster model is twofold, and covers a long span of time. Years ago Jerry bought himself a '46 Knucklehead that was bobbed by one of the previous owners. After owning the bike for years, Jerry sold it to a friend. Once the bike was no longer part of his collection, Jerry realized just how much he missed it. As Jerry's fortune would have it, his friend gave him a call five years later and offered it back to him. Jerry jumped at the chance. That was in 2002 and coincided with a little project Jerry had come up with. He approached the guys in the fab shop and told them he would supply the parts for six of the guys in the shop and turn them loose so that each of them could build his own version of a bobber. Well, the guys teamed up and helped each other build the bikes. Each time one bike was finished, a customer would buy it right out from under them. That got Jerry thinking seriously about turning the idea into a production bike. The Speedster is the culmination of those efforts and one in a series of five different bikes in Covington's bobber line.
In order to make the bike rider-ready, Covington bolted a thin, flat sprung seat to the backbone, which makes the transition from the backbone to the rear fender seamless. Once you're on the seat, the reach to the billet forward controls is an easy and comfortable one. The bars are a different story, though. Set into a pair of 3-inch risers are flat track-style handlebars that have been rotated downward, then flipped end to end. While the bars have a good look to them, you need to have long enough arms to comfortably reach them. Covington does offer different bar and riser combinations to alleviate this problem. Completing the cockpit are a pair of clean-looking hand controls, small round mirrors, and a pair of comfortable black rubber grips. The bike we tested was not equipped with a speedo or turn signals, but Jerry tells us that the production models being sold to the public will have both.
Our bike wore an optional two-tone paint job complete with gold-leaf graphics (the up-charge for this is $850). All the frames come standard with a powdercoat finish. The bikes are available directly from Covington's Cycle City or through one of the company's six dealers (as of press time). All the bikes come with a one-year warranty.
Riding the Speedster is a blast. The seemingly small 80-inch motor gives the little bike all the power you need, although there is always the option of hopping it up! Sitting on the bike, you get a good feel, as the locations of the seat, bars, and foot controls give you a slight forward-leaning position. Rolling on the throttle brings the motor's rpm up quickly. We noticed shifting was smooth, although the clutch effort was more than expected, probably due to a clutch cable that was shorter than it should have been. Once you get the bike up to cruising speed, you observe nothing unusual in regard to handling. If you have never ridden a bike with a Springer frontend, you will notice it does not feel as smooth as a telescoping frontend. Does this translate into a harsh ride? No, although it does allow you to get a little more road feel through the suspension. Engine and road vibrations are noticeable mostly in the thick rubber handgrips, due to a solid connection between the risers and the springer frontend.
The bike's light weight makes for easy maneuverability at both high and low speeds, although you will notice the frontend does have a bit of a heavy feel cruising through parking lots and making low-speed turns. Speaking of slow speeds, don't try and make it out of a gas station or other stop quickly, or you will soon find out what a conversation piece this bike is as it draws a crowd.
If you are in the market for a bike that won't cost you an arm and a leg and will help you rediscover how much fun riding can be, the Speedster may be just what you're looking for.
| | |
| --- | --- |
| SPEC SHEET | |
| BMC BOBBER | |
| WHEELBASE | 68 INCHES |
| LENGTH | 93-1/2 INCHES |
| SEAT HEIGHT | 25-1/2 INCHES |
| DRY WEIGHT | 500 LBS |
| DRIVELINE | |
| ENGINE/DISPLACEMENT | REVTECH/88CI |
| INDUCTION | MIKUNI 42MM |
| PRIMARY DRIVE | WET CHAIN |
| TRANSMISSION | REVTECH FIVE-SPEED |
| FRAME | BMC WISHBONE |
| RAKE | 32 DEGREES |
| FRONT TIRE | {{{100}}}/{{{90}}}/19 |
| REAR TIRE | 130/90/16 |
| PRICE AS TESTED | $15,995 |
| | |
| --- | --- |
| SPEC SHEET | |
| CCC SPEEDSTER | |
| WHEELBASE | 66 INCHES |
| LENGTH | 92 INCHES |
| SEAT HEIGHT | 25-1/2 INCHES |
| DRY WEIGHT | 525 LBS |
| DRIVELINE | |
| ENGINE/DISPLACEMENT | HARLEY-DAVIDSON/80CI |
| INDUCTION | CV CARB |
| PRIMARY DRIVE | BDL 3-INCH |
| TRANSMISSION | BAKER 5-SPEED |
| FRAME | COVINGTON |
| RAKE | 34 DEGREES |
| FRONT TIRE | 80/90/21 |
| REAR TIRE | 150/80/16 |
| PRICE AS TESTED | $19,{{{900}}} |