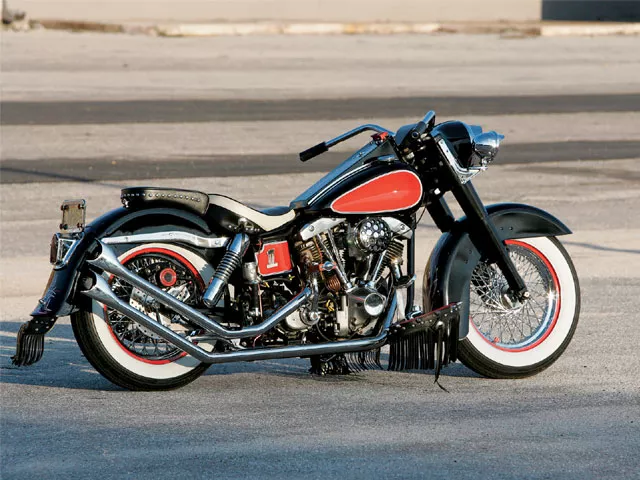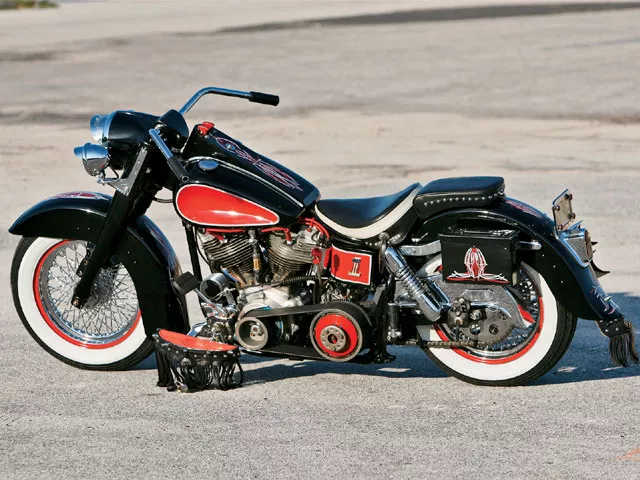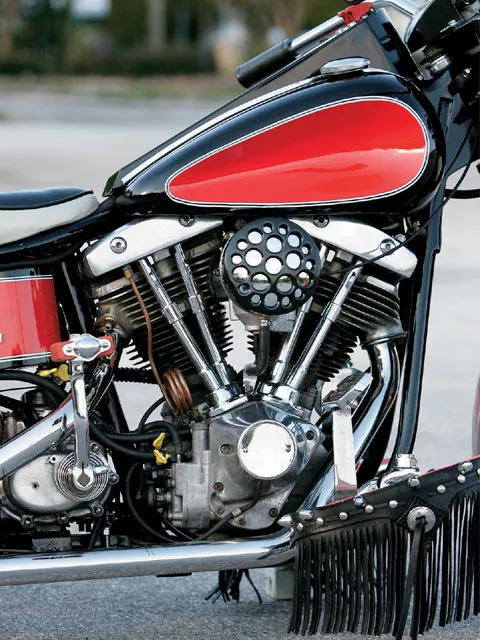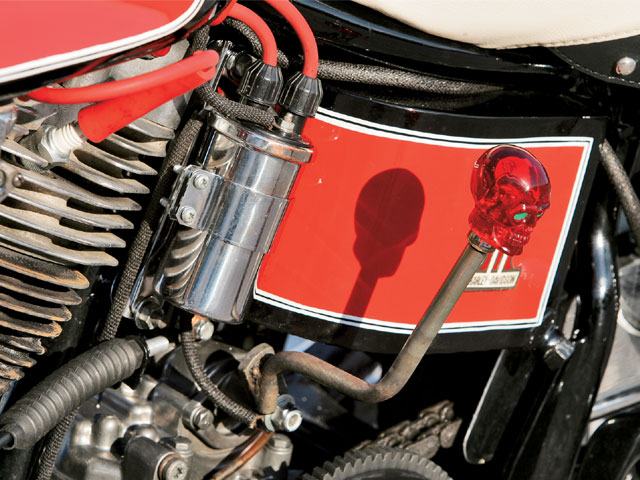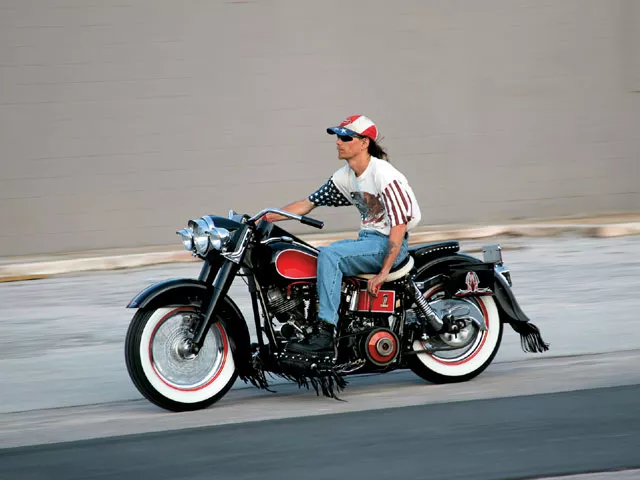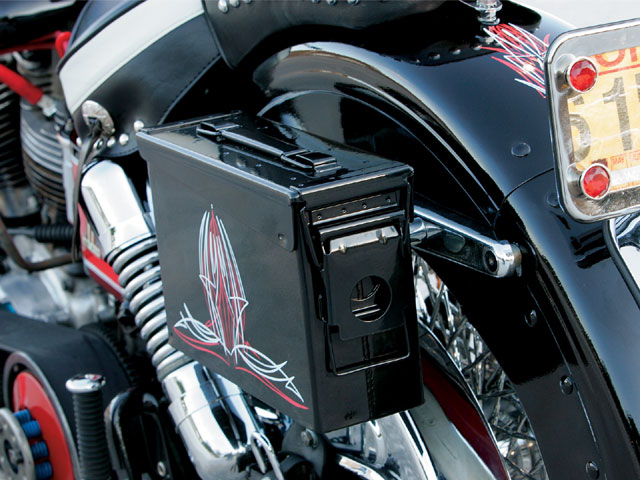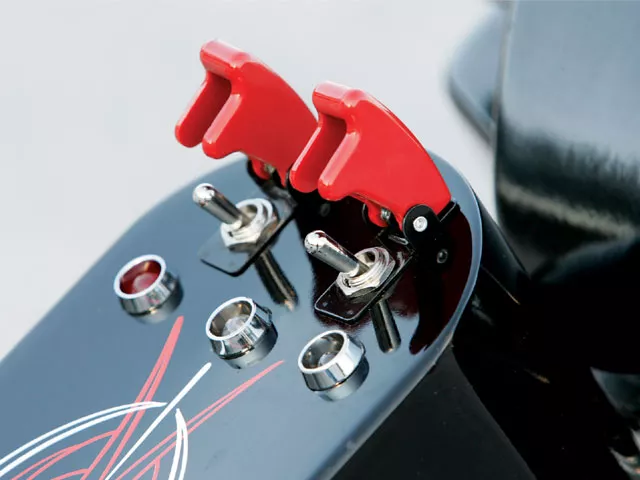 Here at HOT BIKE, we get a lot of rides-Harleys, hogs whatever you want to call them-submitted by our readers. Pick of the Pen is an opportunity to dedicate a few pages to our favorite readers-submitted bike each month. This month's pick of the pen comes to us from Rick "Dakota" Kempf.
The whole bike started as a pile of parts spread all around our shop, Dakota Classic Cycles. We were going to Daytona '07 with one of our restorations to showcase what we can do. Six days before we were scheduled to leave we were informed that the parts we ordered were lost in the mail and would be on back order for three more weeks. I already paid for the show, so instead of loosing $35 I decided to see if that Biker Build-Off timeframe could be cut in half and that I could actually make something presentable.
Day 1: The next morning I thought of all the bikes I had ever built and what I liked most about each, and what I'd change. You can never go wrong with classic Milwaukee iron. I called my friend and good bodyman to come help dish the tanks, mold the frame, and lay down some nice paint. The paint took up most of the first three days. While the dust settled and the paint dried, I built the motor and tranny. Both were basically rebuilt to stock specs to keep it reliable.
Day 2: I couldn't decide what bags to put on it (I needed somewhere to keep my tools-It was an AMF bike, after all), my Rottweiler was constantly after this squirrel all day, and when I had enough I decided to just fire a warning shot over the squirrel's head with my 12-gauge. I opened the ammo box and noticed it was waterproof; what a great place for important papers. I sent it and my forks to the powdercoater.
Day 4: I got the front forks back from powdercoat, then started assembling the frame and mounting the motor and trans. By now I needed rest, so I called it a night.
Day 5: I started by wiring the bike-heatshrinked all the ends and covered them with cloth covers. We installed the 3-inch primary and filled the tanks with fuel (and some Jack Daniels for good measure). Three kicks later she purred like a kitten-a really big kitten. Then, on the night of the fifth day with all the fresh, wet paint on the bike, I loaded up and headed out for some fun in the sun. After driving for 20 hours (only stopping for gas, flat tires, Georgia State Troopers, and Taco Bell) the rain finally set in on Main Street, Daytona (what great timing I have).
The next morning I made my way over to the pinstripe booth by Beachside Auto parts, run by Curtis Denton of Classic Air and Graphics. He laid down the perfect line you see here; the others were done by me. I hope this goes to show that anyone can build a great bike with a few good friends and a garage full of swap meet parts. I'd like to thank Gary Jones, Curtis Denton and Paul Schneider for all their help on this bike. Without you guys I'd never had gotten it done in time. This one is for you.
P.S. I never did shoot the squirrel; actually, she had babies and now there are four running around while I build a bike for the '08 show.
Spec Sheet
| | |
| --- | --- |
| OWNER | Rick "Dakota" Kempf |
| SHOP | Dakota Classic Cycles |
| YEAR/MODEL | '80/H-D FX/FL |
| BUILDER/ASSEMBLY | Dakota Classic Cycles |
| ENGINE SIZE | 80ci |
| PIPES | Homemade Fishtails |
| TRANSMISSION | H-D four-speed |
| GAS TANK | Dished 5-gallon |
| FRONT FENDER | '05 Road Glide |
| REAR FENDER | '69 Pan/Shovel |
| FRONT SUSPENSION | '72 FL |
| REAR SUSPENSION | '80 FX |
| WHEELS | Dakota Cycles 80 Spoke |
| HANDLEBARS | Dakota Cycles |
| SEAT | Dakota Cycles |