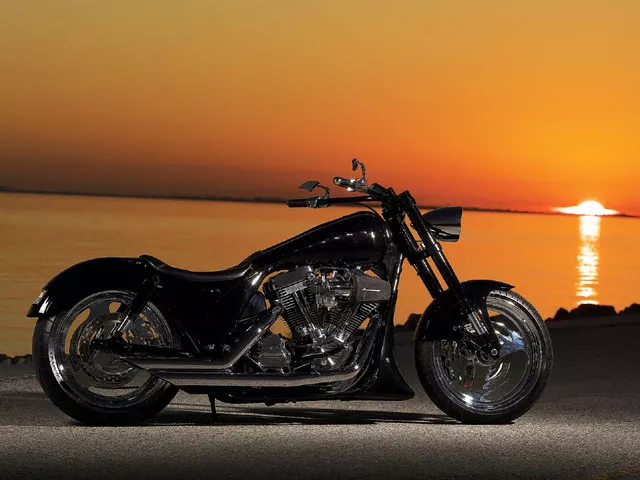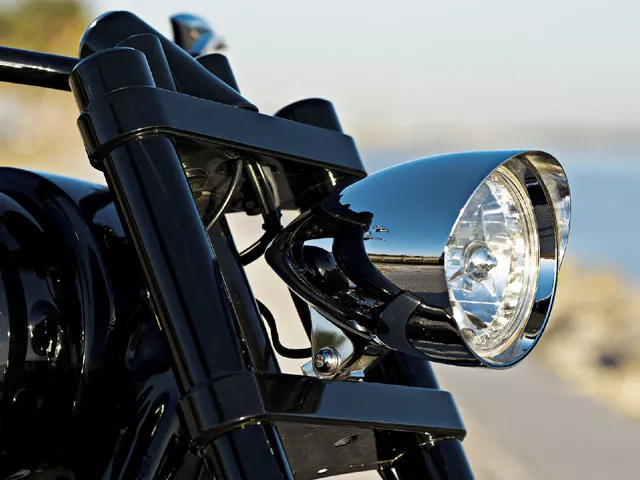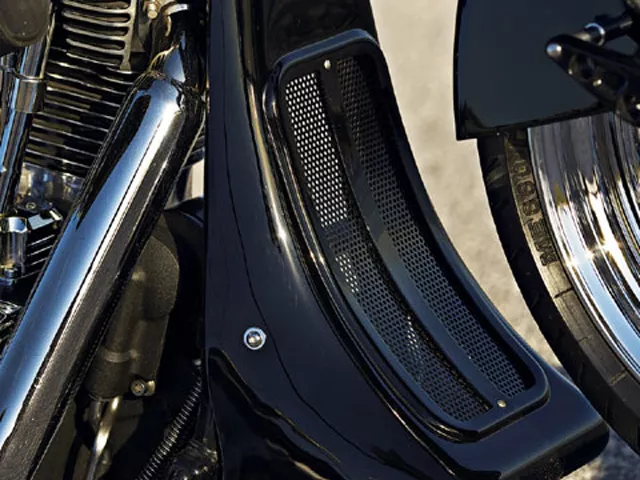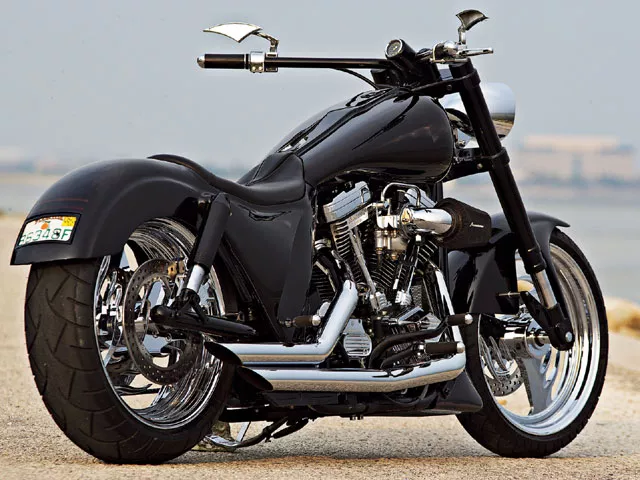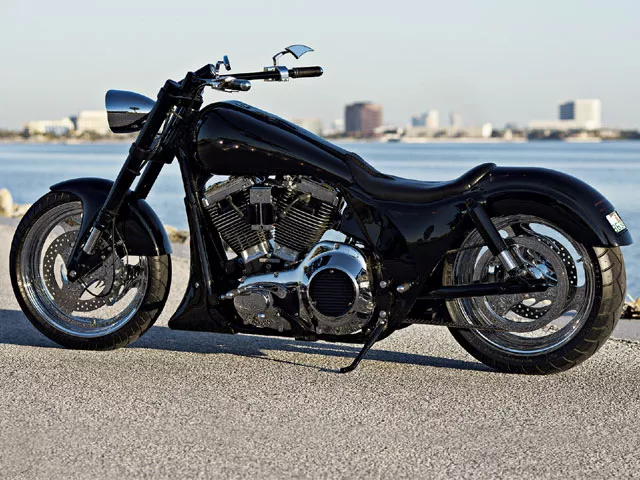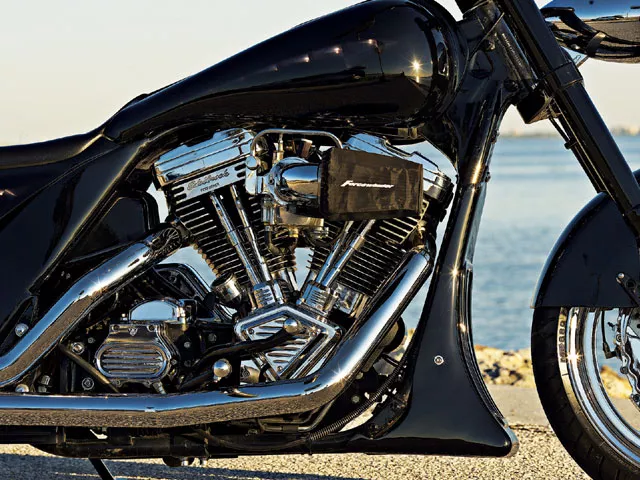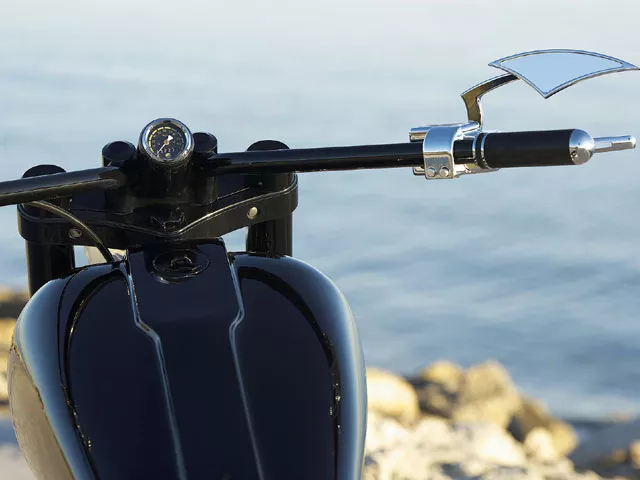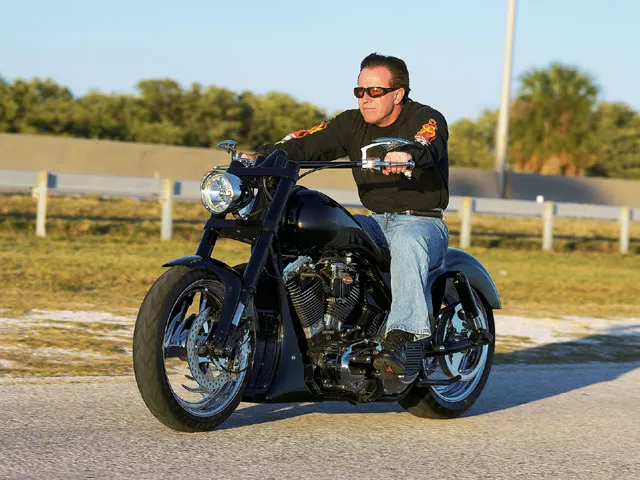 HB: What would you do differently if you had to build it all over again?
Jim Schmit: Nothing. Not a thing. The stance is great. I park this thing around a bunch of flashy choppers and when I come back, my bike's the one drawing a crowd. It's just very clean and neat.
--Bike Owner Jim Schmit, during our interview regarding his FXR
That's big talk, but it's not really bragging, since he's got the bike to back it up and did a lot of the work himself. Jim Schmit's riding days started on the trails of upstate New York when he was kid. Dirt bikes and flat tracks were his bread and butter back then; it wasn't until later when his biker dad introduced him to the custom street bike scene and hooked him with that bug. It's been a few years since then, and now the younger Schmit hot rods his own iron. With his background, we weren't surprised when he told us his biggest concern in a bike is making it fun to ride, like his '93 FXR.
Stylistically, it's low, angry, and somewhat sportbike-esque for a cruiser. That's not the end of the cruiser/sport/custom hybridization, though. Ride-wise, it's a balancing act between quick, tailor-made handling and not losing the smooth feel and FXR handling he fell in love with in the first place. "I wanted to go complete custom on my favorite Harley model, but I didn't want to compromise the handling by changing the frame," Jim elaborated. Like me, he's vertically challenged; some stock Big Twins are less than optimal for our ergonomic needs. That's how he fine-tuned his FXR. A lot of the changes were made for better fitment, mostly the lower suspension and the new handlebars.
Other modifications served to sport the bike up a notch or two. Although he left the displacement alone, he optimized the existing Evo with a new breathing setup, ignition, pistons, and barrels. Further, the new fenders and stretched Harley tank give it a streamlined, no-nonsense look that's pure aggression.
It's his second go at customizing an FXR. The first was a strictly bolt-on affair, but he upped the ante for the sequel by actually making some of the parts himself. He described it as a long process, whereby he'd get frustrated at some points, invent a few new swear words, then take a few weeks off and come back when he felt like it. He didn't just dive into the water, though. Brad Rule at The Wrench is a buddy of Jim's, and let him work on the FXR in his shop at night. Brad's skills were a huge help in the lowering department and when it came time to weld the extended gas tank. Without The Wrench's aid, the project never would've left square one.
Maybe they'll help him with project number three. Jim's taking the lessons learned from the first two and applying them to a Road King. Hopefully his dad can keep up when Jim takes it across the U.S.
Spec Sheet
| | |
| --- | --- |
| OWNER | Jim Schmit |
| SHOP | The Wrench |
| PHONE | (813) 248-4443 |
| WEBSITE | www.thewrenchonline.com |
| YEAR/MAKE/MODEL | '93 Harley-Davidson/FXR |
| FABRICATION | Owner/The Wrench |
| ASSEMBLY | Owner/The Wrench |
| BUILD TIME | You can't put a time limit |
| | on building your dream bike |
| | |
| --- | --- |
| ENGINE | |
| YEAR/TYPE/SIZE | '93/ H-D/Evolution/80ci |
| BUILDER | H-D |
| CASES | H-D |
| CYLINDERS | H-D/JE Pistons |
| HEADS | Edelbrock RPM |
| CAM | H-D |
| CARBURETOR | S&S; |
| AIR CLEANER | Forcewinder |
| EXHAUST | Donnie Smith |
| | |
| --- | --- |
| TRANSMISSION | |
| YEAR/TYPE | '93/H-D |
| CASE | H-D |
| CLUTCH | H-D |
| PRIMARY DRIVE | H-D |
| | |
| --- | --- |
| FRAME | |
| YEAR/TYPE | '93/H-D FXR |
| RAKE | 34 degrees |
| STRETCH | None |
| | |
| --- | --- |
| SUSPENSION | |
| FRONT | WP |
| LENGTH | 2 inches under |
| TRIPLE-TREES | WP |
| REAR | |
| SWINGARM | Rowe Machine |
| SHOCKS | B&T; Manufacturing |
| | |
| --- | --- |
| WHEELS, TIRES, AND BRAKES | |
| FRONT | |
| BUILDER/SIZE | PM 3.5×18-inch |
| TIRE/SIZE | Metzeler/130/70/18 |
| CALIPER(S) | PM |
| ROTOR | PM |
| REAR | |
| BUILDER/SIZE | PM 5.5×18-inch |
| TIRE/SIZE | Metzeler/180/55/18 |
| CALIPER | PM |
| ROTOR | PM |
| | |
| --- | --- |
| FINISH/PAINT | |
| COLOR | Black |
| PAINTER | List Design |
| GRAPHICS | Black Hologram |
| MOLDING | The Wrench |
| | |
| --- | --- |
| ACCESSORIES | |
| FRONT FENDER | WP |
| REAR FENDER | WCC/Jim Schmit |
| GAS TANK | H-D modified by Jim Schmit |
| | and The Wrench |
| OIL TANK | H-D |
| GAUGES | Arlen Ness |
| HANDLEBARS | Paul Yaffe/Jim Schmit |
| MIRRORS | Paul Yaffe |
| HAND CONTROLS | Arlen Ness |
| FOOT CONTROLS | H-D/Arlen Ness |
| FOOTPEGS | Paul Yaffe |
| HEADLIGHT | Adjure |
| TAILLIGHT | Jim Schmit (frenched |
| | into the fender) |
| TURN SIGNALS | Left arm |
| LICENSE MOUNT | WCC |
| SEAT | Jim Schmit/St. Pete Seat |